Having a good trim on your meat is essential for producing a delicious bark. The fat layer needs to be cut consistently, leaving 1/8th of an inch of fat on top.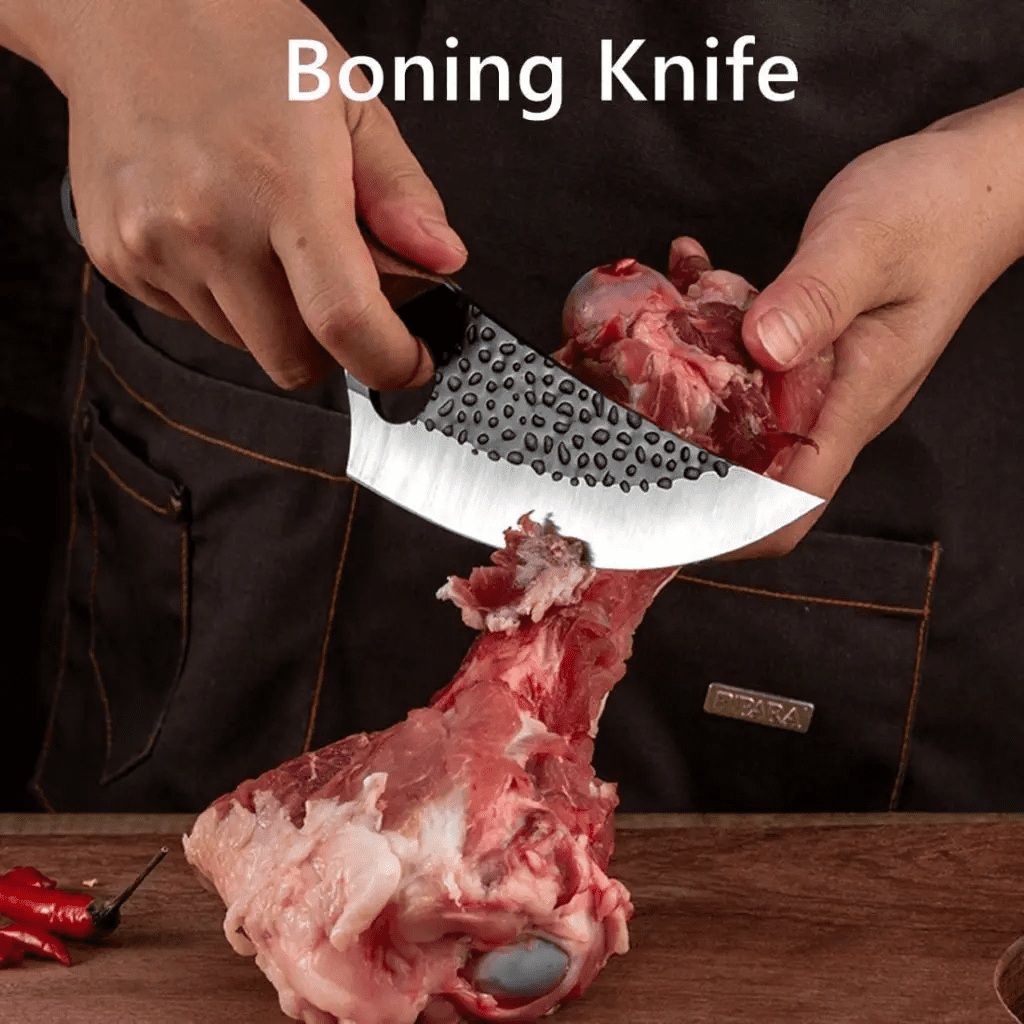 A good quality brisket trimming knife will do the job smoothly. With so many tools in the market, it's hard to choose the right tool.
Luckily, In this grillcuisines.com guide you will learn
Brisket Trimming Knife Buyers' Guide
What type of knife to use for trimming brisket
Best knife for trimming brisket
and much more
Our Top Pick For Best Knife For Trimming Brisket
Without a doubt, Aaron Franklin's brisket trimming knife comes on top of the list. If you are on a budget, explore various Japanese options and Mercer Culinary Genesis 6-inch Boning Knife is a best choice.
Peruse the knife buyers' guide and the pros and cons of various knives and take your pick. Scroll down to find out the other options for the best knife to trim brisket fat. Let's go!
Brisket Trimming Knife Buyers' Guide
Cooking a brisket is not a piece of cake. You should know the optimum temp for smoked brisket, the temp for a brisket stall, and the best temp for serving brisket.
It has a chemistry of its own. Similarly, when finding the perfect knife for trimming brisket, you will come up with a lot of options like a serrated one or a curved one, etc.
This has a science of its own as well and it is the knowledge that every brisket lover should have in their arsenal.
Electric vs. Manual: An electric trimming knife may be a time-saving option but a manual knife gives more precision to the trims and is much more affordable.
Blade Type: The blade of a brisket trimming knife is always round and smooth. In rare cases, it may have air pockets to diffuse pressure and easier cutting.
Knife Material: Stainless steel knives are the best options in the market. High-carbon blades are also a good option.
Sharpness: You need to get a knife with a durable, razor-sharp blade. A cheap blade that loses its sharpness frequently is of no use if you have a large quantity of meat to trim daily.
Handle Type: Professionals choose a handle with an ergonomic design and easier grip.
Length of blade: Most trimming knives are within the 6-inch to 10-inch length. That is a good size to handle the brisket as you will be cutting through the fat layer with this knife only.
What type of knife to use for trimming brisket
There are specialist knives that are used for various purposes in the kitchen, especially while preparing brisket. 
Brisket Carving Knife: Most web articles use the terms carving and slicing knives interchangeably. However, they are different tools for entirely different purposes.
We use this knife for carving small slices of crispy brisket bark. It has an 8 to 16 inches long blade with a sharp pointy end to avoid squishing the fresh brisket.
Brisket Slicing Knife: It has a narrower blade with a blunt tip as compared to the carving knife. This is because it needs to make thin and consistent slices as opposed to puncturing or carving the bark of brisket.
It has a Granton edge which creates air pockets while slicing so the brisket does not shred.
Brisket Trimming Knife: A trimming knife is used for trimming the fat from the brisket's top. The cut needs to be uniform, without any ragged edges.
The best boning knife for brisket would make this process faster and smoother for a professional chef.
Aaron Franklin prefers to use a stiff, curved, eight-inch boning knife that allows him to slice into the fat and piece of meat more easily than a knife with a straight blade.
Can you just use a regular knife for trimming brisket?
Yes, you can use a standard knife if you are in a fix. The cut would be raggedy, the cooked bark won't be smooth and it will not be Instagram-worthy. But if the end goal is to serve guests and lots of customers, or if you are a fan of having your meals look appetizing as well as delicious, you should scour the internet to find the best brisket trimming knife. Read on to find our top picks for brisket trimming knives.
Brisket Trimming Knives – Top Picks 2023
With a 4.5 inches oak handle, this Franklin and Weige collaboration has a super thin and flexible tip. The blade is 7 inches long and is the best boning knife for brisket. 
Price: This Aaron Franklin brisket trimming knife retails for $415.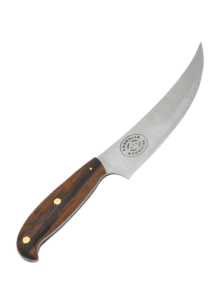 Pros:
It is a stainless steel blade.
The blade is rounded which is best to trim brisket fat to 1/8th of an inch in a single smooth cut. The curve makes sure there are no rough edges to the brisket fat.
The flexible tip of this brisket trimming knife is perfect for the brisket's hard fat layer without breaking the blade.
Cons:
Such knives are always prone to stains and rust, hence, they require special care and cleaning.
The blade requires premium care as it needs to be cleaned by hand and then oiled for retaining its quality.
It has a hefty price compared to the other options on this list.
Franklin knives are exclusively found at their online store.
Aaron Franklin himself uses this boning knife to cut 1500lb of meat a day. He has termed it as the best knife to trim brisket fat. 
Price: $19.45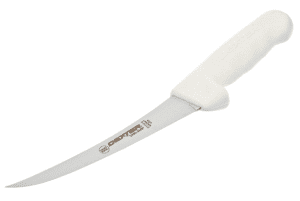 Pros:
This is also a stainless steel blade.
The blade is flexible, curved, and very thin to make precise cuts while trimming brisket fat. 
It has a grip-text handle which means it is shaped with curves for good grip and user safety.
The blade is enclosed within its handle to increase the safety and sturdiness of this brisket trimming knife.
It is an extremely economical option for trimming brisket on the market.
Cons:
It is a shorter blade in comparison to other options and may not be suitable for larger pieces of meat.
The handle is not premium quality but may be long-lasting if handled with care.
The Quantum series is a Japanese brisket knife that comes in super cool and safe packaging. This brisket trimming knife has a curved blade version and a straight blade version. It is a strong, sturdy knife that trims the fat off with smooth, long strokes.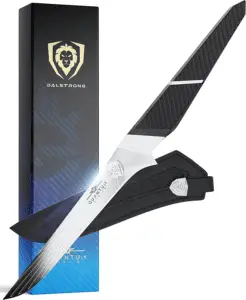 Price: $120
Pros:
It is a high-carbon steel blade.
The blade is tapered at the end for effortless and extremely precise trims.
This brisket trimming knife has undergone nitrogen treatment which increases its flexibility and toughness manifold.
The blade has a unique pattern which ensures there is no drag or roughness while trimming brisket fat.
It comes with a button clip sheath to ensure blade protection and user safety.
The Dalstong knives boast a money-back guarantee on Amazon which is quite brave of the manufacturers and highlights that it is the best boning knife for brisket on the market.
Cons:
The non-curved blade may be a hurdle to trimming brisket fat, once the knife loses its sharpness. 
It is one of the pricier options in the Dalstrong series.
The hybrid steel handle may be prone to catching rust, hence, it should not be soaked in water for longer periods.
It is a 6-inch German blade forged from high-carbon steel. It is considered one of the best boning knife for trimming brisket on the market worldwide. It is an easy-to-use blade for beginners. 
Price: $35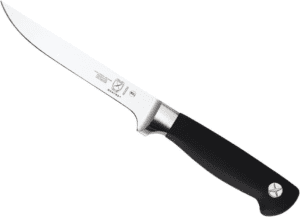 Pros: 
It is a high-quality knife at a very economical price range.
The manufacturer offers a lifetime warranty for this blade which is an amazing offer considering the price of this well-made trimming knife.
It is considered one of the best trimming knife for brisket as it boasts of staying sharp for a long time.
This knife is NSF certified.
Cons:
The steel is durable but not very hard. It could have been made into a stronger blade by the manufacturer.
The blade can become smaller after sharpening it multiple times and the quality may even fall further.
It is not the best boning knife for brisket if you are a large-scale user.
It is a 6-inch, durable Japanese steel blade which is the cheapest option on our list. The make is well-designed and long-lasting and the handle is very user-friendly.
For someone, who does not trim brisket fat daily, this may be a great and cheap option.
Price: $16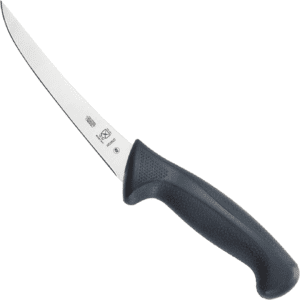 Pros:
It is extremely affordable, the cheapest boning knife on the market with extremely good quality. The thousands of 4-star Amazon reviews are proof of that.
The grip of its handle is very user-friendly and extremely durable.
The knife itself is very sharp but loses this sharpness fairly quickly and may need sharpening more frequently.
Cons:
The knife needs to be sharpened quite frequently. After ten uses, it will most probably need to be sharpened again and again.
Although it has a durable blade, however, it is not the sturdiest option as compared to other brisket trimming knives.
It is a 6-inch, flexible blade knife which is a high-precision tool for your kitchen. It is the best knife for trimming meat in an affordable range and simple yet sharp design.
Price: $65

Pros:
The 6-inch blade is the perfect size for maneuvering while trimming brisket fat.
It is a durable and flexible blade that gets the job done very smoothly. 
It has a very user-friendly handle which provides a strong grip and total control while trimming meat.
It is the best trimming knife for large-scale use and gives thin and smooth trims.
Cons:
The price is a bit high for this standard brisket trimming knife. It leaves the user wanting more within the blade's qualities.
It has no design or ridges on its blade which might cause brisket fat to shred and become rough while trimming.
It does not offer any warranty.
This is the best curved boning knife for brisket with an affordable price range. The best characteristic of this knife is that it comes in various versions; from a highly flexible blade to a semi-stiff blade option. The blade is curved and semi-stiff.
Price: $27

Pros:
It is a stainless steel blade with a plastic handle.
The curved blade allows for clean trims close to the meat of the bone without creating any roughness on the brisket bark.
It works great with thick cuts of meat as well. Its semi-stiff blade gives some bend while boning while also staying strong to get the best angle cuts.
The handle is non-slip and has a Fiber Pro grip which means it was made for a comfortable trimming experience.
It is also extremely easy to clean and has a user-friendly handle.
Cons: 
Many Amazon users found that the tip of the blade was blunt and not as sharp as the manufacturer was boasting. This can cause a ragged trimming of brisket fat.
Its price is not at par with other similar options on our list which are much sturdier and cheaper as well.
It has a high carbon, high manganese steel blade with caveman-like features. This Japanese brisket knife comes in a protective sheath. 
Price: $19.20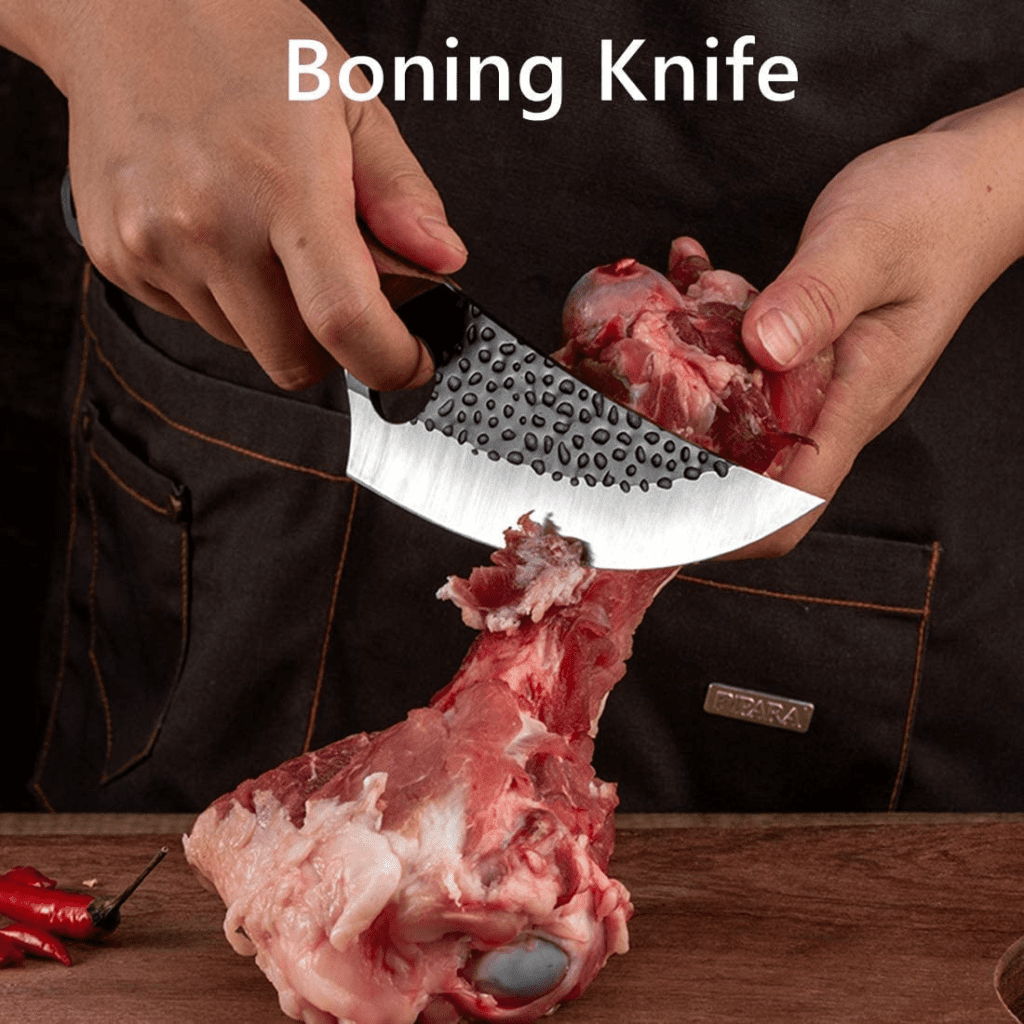 Pros:
It is a semi-flexible blade which means it's flexible enough for a smooth brisket trim but sturdy enough to cut through thick cuts of meat.
The blade is hand forged with a 45 degrees curved tip for fine and precise trims.
It is a multi-purpose kitchen knife that comes with a 2-year warranty.
Cons:
The blade is prone to catching rust, hence, it needs to be dried readily after each wash and should not be soaked in water for long.
It is a multi-purpose knife which means it is not a specialist boning knife.
Knife Care Guide
It is of utmost importance to provide correct care and maintenance to your knife.
Many of these carbon steels are prone to catching rust and many do not have proper sealing around their handle to prevent decay.
It is important to not soak them in water or throw them in the dishwasher without first understanding their maintenance procedure. Below are a few tips for their proper care:
Knives must be hand washed and dried thoroughly always.
For the long life of its sharp blade and user safety, keep the knife in a sheath or cover when not in use.
Invest in a good quality knife sharpener to keep your brisket trimming knives in sharp condition.
How to Trim Brisket?
Trimming a brisket is an essential step in preparing this popular cut of beef for smoking or cooking.
Trimming brisket is important for removing excess fat, shaping the meat to cook more evenly, enhancing the flavor, and improving the presentation of the finished dish.
While it may seem intimidating, learning how to trim brisket properly can make a big difference in the final taste and texture of your dish.
By removing excess fat and properly shaping the meat, you can ensure that your brisket cooks evenly and is packed with flavor.
Watch the video below on how to prepare, and trim brisket.
Brisket Trimming Knife FAQs:
Why are brisket trimming knives rounded?
While preparing bark, one should leave 1/8th of an inch of fat on top of brisket meat.
This requires a very smooth and precise cut, otherwise, the brisket bark will be rough and jagged.
The rounded feature of a trimming knife not only ensures a precise trim but also makes sure that the user stays uninjured.
Are trimming knives serrated?
No, a serrated knife would produce jagged, uneven trims on the brisket top layer. The blade must be smooth for smooth trims and a crisp, even bark.
Can a filet knife trim brisket?
Yes, a filet knife has a durable and flexible blade so it could be a good brisket trimming knife.
However, it may not provide a smooth finish to the trim and that's why it's important to use a specialist boning knife.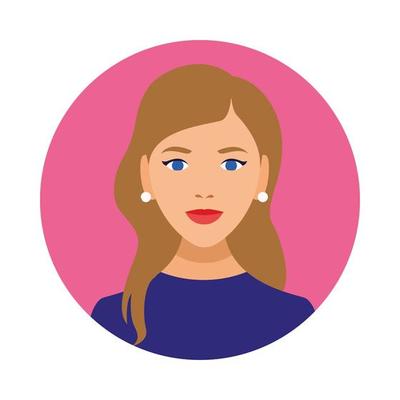 I am a writer, editor, and publisher of Grillcuisines.com – an online blog dedicated to sharing grilling tips, accessories, and recipes to encourage more people to get outside and grill.
I'm off to find out the different types of grill foods, their seasons, and how to conduct outdoor cooking properly. I'll also show you some of my grill-worthy cooking tools & accessories!