Shrimp is one of the most popular foods that you can cook on a griddle, so if you're looking for something new to try out, these Blackstone shrimp recipes might be your best bet!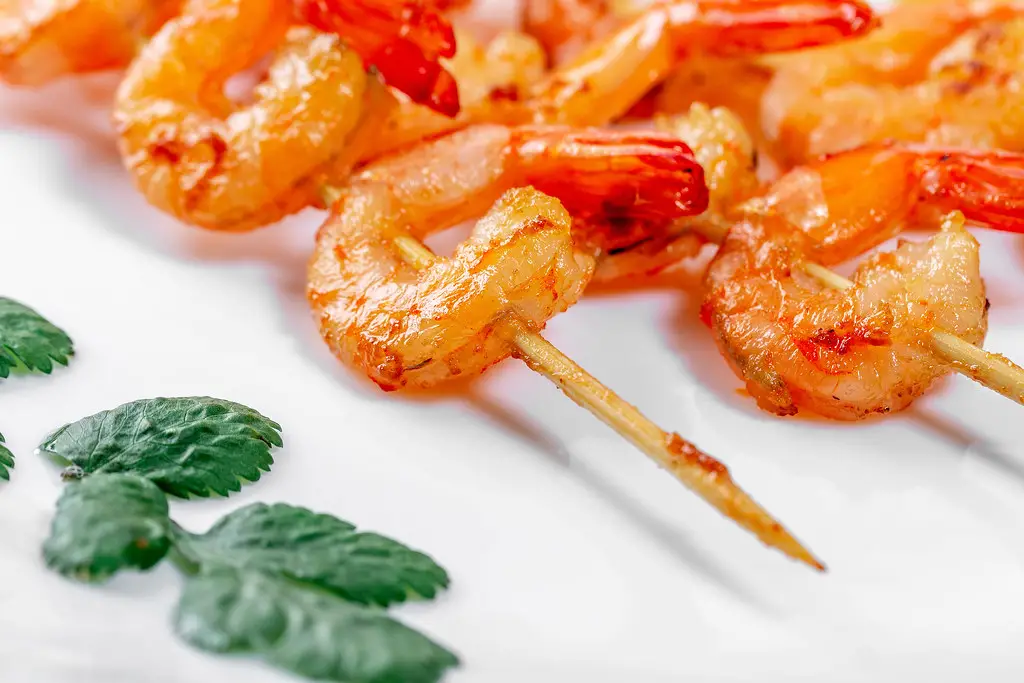 If you are addicted to seafood, then try out tempting Blackstone grilled shrimp this weekend.
Grilled shrimp on Blackstone turn them juicy, pretty, and flavorful. On top of that, these Blackstone grilled shrimp can be cooked within 15 minutes. 
Best Ways to Grilled Shrimp on Blackstone Griddle: 
Shrimp is a very delicate fish, so it needs to be handled with care when it comes time to prepare it for cooking. First off, you'll need to wash your hands thoroughly with soap and water before handling any cooked food—just in case any bacteria is lurking on the kitchen countertop. Then follow these simple steps to cook shrimp on a Blackstone griddle. 
Preparing The Shrimps and Blackstone Griddle: 
Tools You Need
Tossing seafood can be a difficult task but with appropriate tools, you can make it a breeze! 
Spatula
Thermometer
Fish basket
Grill brush
Tongs
Grilling Process: How to cook shrimp on Blackstone
You can make perfectly seasoned shrimp in no time by following these simple steps: 
Prepare griddle: Preheat the Blackstone griddle to medium-high heat at a temperature of 350-400 degrees Fahrenheit. 
Add shrimp: Melt approximately 2 tablespoons of the butter and then toss the shrimp on it. 
Grill shrimp: Sauté the shrimp for 3 minutes on each side until the shrimp is pink. Try not to flip the shrimp more than once or else it will break.
Add seasoning: Make a center in between the griddle by moving the shrimp. Then add the butter and the seasoning you like. You can salt, pepper and Old Bay seasoning.
Serve and Enjoy: Remove the shrimp from the griddle and place them on a platter. In order to enhance their taste, squeeze lemon juice and it's ready to enjoy! 
How Long To Cook Shrimp On Blackstone Griddle?
Make sure to preheat the Blackstone griddle before adding shrimp to it. It will take a few minutes to cook properly with an adequate supply of heat. 
On medium high heat on the Blackstone grill, large shrimp sear on the outside quite quickly. When Blackstone is well heated, the shrimp will take 4-5 minutes to cook.
What type of shrimp can you cook on a Blackstone griddle?
You can grill any type and size of shrimp on the griddle. The ideal shrimp size to grill is jumbo, colossal, or large. Mostly, people prefer peeled and deveined shrimp.
But you can grill shrimp with the shell on. If you want to make your grilling process hassle-free, you can use shrimp with the peel on too. 
Can You Grill Frozen Shrimp? 
If you want to grill shrimp on Blackstone griddle, then it's advised to use fresh raw shrimp that you buy from the meat counter. If the shrimp are frozen, then make sure to thaw them before cooking. It will take about 20-30 minutes to thaw out. 
Keep the shrimp in a colander and run it through cold water. You can also place the frozen shrimp bag in the refrigerator and let it rest overnight to defrost.
What Temperature do you cook shrimp on a Blackstone griddle?
The Blackstone griddle must be preheated until the temperature reaches 350 degrees Fahrenheit. Use a temperature gun to determine the temperature adequately.
What should be the internal temperature of Shrimp?
One of the signs of overcooking shrimp is constriction. If you will cook them longer, then they will lose their juiciness and ultimately become tough.
In order to grill them perfectly, look out for a change in color (light pink). Furthermore, the internal temperature of 120 degrees Fahrenheit is a significant internal temperature to tell you that the shrimp are now ready to come off heat. 
What to serve with Blackstone Shrimp?
Blackstone Grilled Shrimp is a great way to enjoy the flavors of shrimp without all the work. The shrimp is cooked and then served over a bed of rice or pasta, which makes it a quick and easy meal when you're in a hurry.
There are tons of sides to choose from when you're cooking up some Blackstone grilled shrimp! Here are just a few: 
Green beans: Season the green beans with garlic powder, salt, and pepper. Then cook them on a griddle with some olive oil.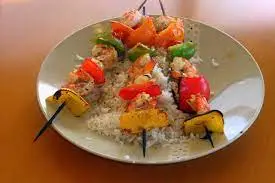 Mashed Potatoes: Mashed potatoes are another classic side that pairs well with grilled shrimp
Coleslaw: This classic slaw is a fresh and crunchy addition to any meal. Just make sure to use fresh vegetables and add some pickle relish on top!
Salad: A salad is always good when you're having grilled shrimp, but this one's got a twist: instead of using lettuce, try using watercress or basil!
One of the most important things to remember when serving your Blackstone Grilled Shrimp is that you should serve it as soon as possible after cooking, or else it will lose its taste.
4 Tips For Cooking Shrimps on Blackstone Griddle
Check the temperature: Use a temperature gun to check the temperature of the griddle and shrimp
Usage of raw shrimp: Always use raw and fresh shrimp. You can also use pre-processed shrimp but they are more likely to get overcooked. 
Shrimps with tails: It's your call to keep the tails of the shrimp or take them off. 
Grilling shrimp on a stovetop or gas grill: You can imply the same recipe whilst cooking the shrimp on a stovetop or a gas grill. 
Quick Easy Blackstone Shrimp Recipes: Lime Garlic Shrimps Skewer with Rice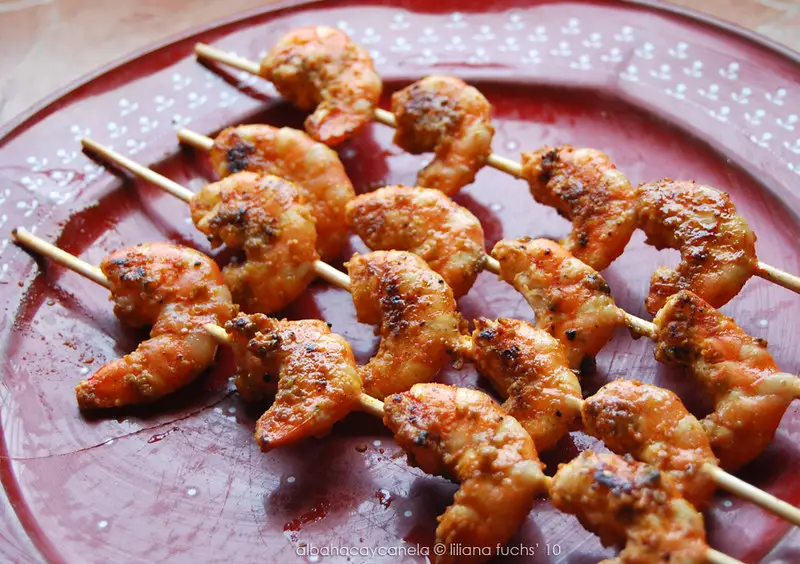 You can grill a whole shrimp, slice it into medallions, or skewer it with toothpicks and serve it as an appetizer.
If you want to savor your taste buds with Lime Garlic Shrimp Skewer and rice this weekend, then follow this recipe.
It's one of the best Blackstone shrimp recipes that can be served as perfect lunch or dinner meal.
Ingredients: 
1 pound shrimp, deveined
1-½ cups of rice
2 cloves of chopped garlic
Salt
Pepper
1 small sized Zucchini
Butter
1 medium-sized Bell pepper
2 cup chicken broth
1 tbsp Lemon juice
Directions
For grilled shrimp skewers on Blackstone
Soak the wooden skewers in water.
Preheat the Blackstone griddle to 350 degrees Fahrenheit.
Then skew the shrimp on the skewers at an adequate distance
Add a generous amount of butter on the flat top griddle 
Then introduce the skewered shrimp
Grill them on each side for 3 minutes or until they start turning light color. You can also check the internal temperature. It shouldn't be more than 165 degrees Fahrenheit.
Then move the skewered shrimp aside and add butter.
Then add the chopped garlic and salt and pepper into it. 
Once the garlic becomes aromatic, grill the skewered shrimp in it for a minute.
Just squeeze lemon juice on them after removing them from the griddle and the grilled shrimp skewers are ready.
For Rice: 
Cut the bell pepper and zucchini into small cubes
Layer three square-shaped 15 inches of foil. Fold the aluminum foil in half and then double-fold the sides to make a pouch.
Then introduce rice, chicken broth, spices of your taste, zucchini, and bell pepper into the foil pouch. 
Cover the pouch and let it on the grill until all the broth is soaked by the rice. 
Then serve it with freshly grilled shrimp and enjoy! 
Bang Bang Shrimp On Blackstone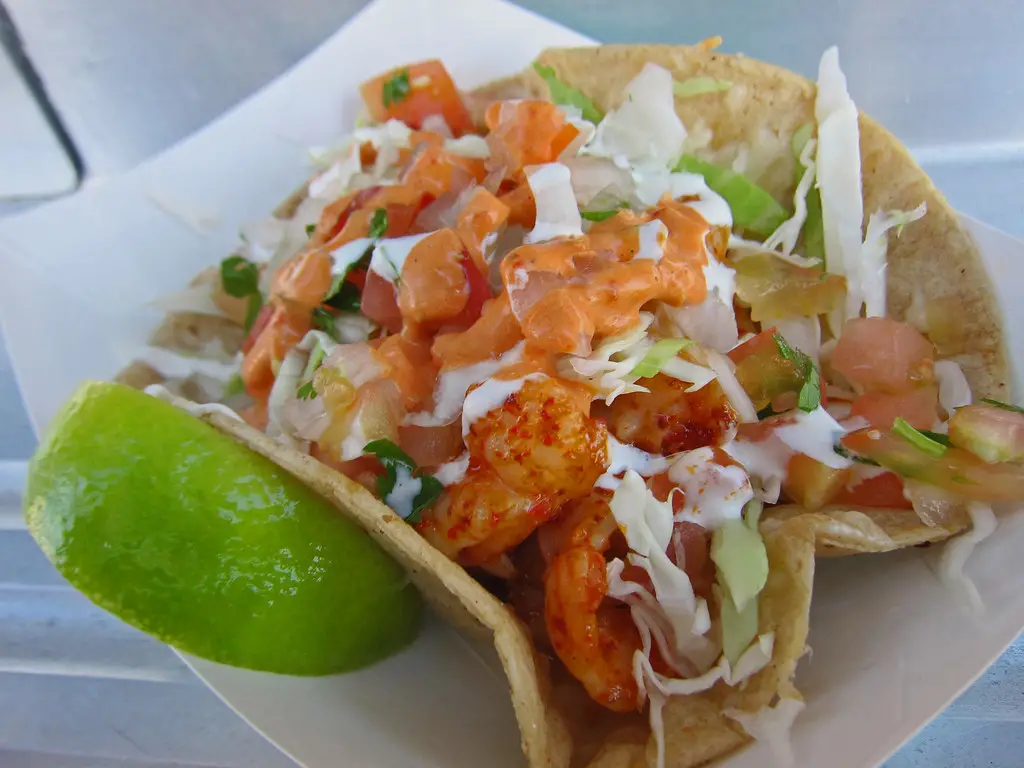 Final Words: 
Cooking is also an art. You can play with ingredients to make whatever you desire. We have compiled one of the finest Blackstone shrimp recipes for you. We hope that you would have liked it and will be soon serving it to your loved ones. 
Thanks for giving it a read. Have an amazing grilling experience!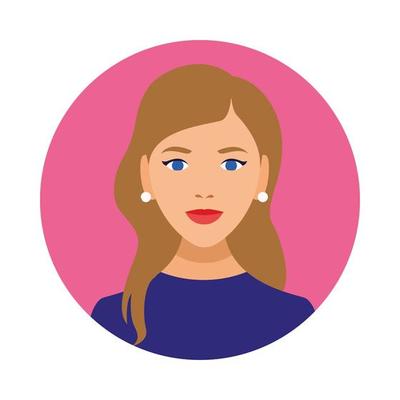 I am a writer, editor, and publisher of Grillcuisines.com – an online blog dedicated to sharing grilling tips, accessories, and recipes to encourage more people to get outside and grill.
I'm off to find out the different types of grill foods, their seasons, and how to conduct outdoor cooking properly. I'll also show you some of my grill-worthy cooking tools & accessories!