Smokeless grills are the rage these days. They reduce the amount of smoke produced by traditional charcoal grills to nearly nothing.
Smokeless grills are considered the best indoor grill because they allow you to cook your favorite meats and vegetables without having to worry about the smoky, unpleasant smell that permeates your kitchen or living room.
In this grillcuisines.com guide we'll cover:
How do smokeless grills work
The technology used by smokeless grills
Top 5 indoor smokeless grills and much more!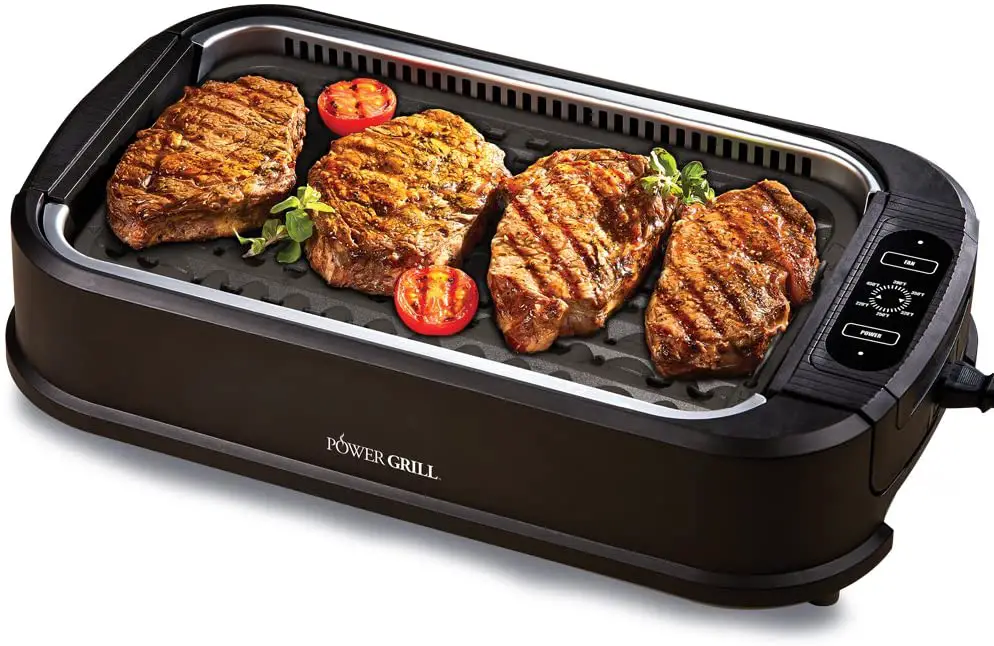 How Do Smokeless Grills Work?
Smokeless indoor grills are a relatively new addition to the barbecue industry. They have been seen as a healthier alternative to traditional barbecuing methods and have been gaining popularity since their introduction.
One idea is to think about the smokeless indoor grill as an oven with an open top and bottom that does not use propane or charcoal for cooking food. They use electricity, infrared heat to heat up metal bars instead of charcoal or wood.
It's designed to produce less smoke than other grills. Though the smokeless grill emits some smoke, it's not enough to cause discomfort or trigger a fire alarm.
They are also great for people with allergies or asthma because they don't let any smoke escape into your living space.
Our Top 5 Picks For Best Indoor Smokeless Grills
Is there any indoor grill worth buying? Yes, below is our top pick for the best indoor smokeless grills.
1- Ninja Foodi 5-in-1 Indoor Grill at Amazon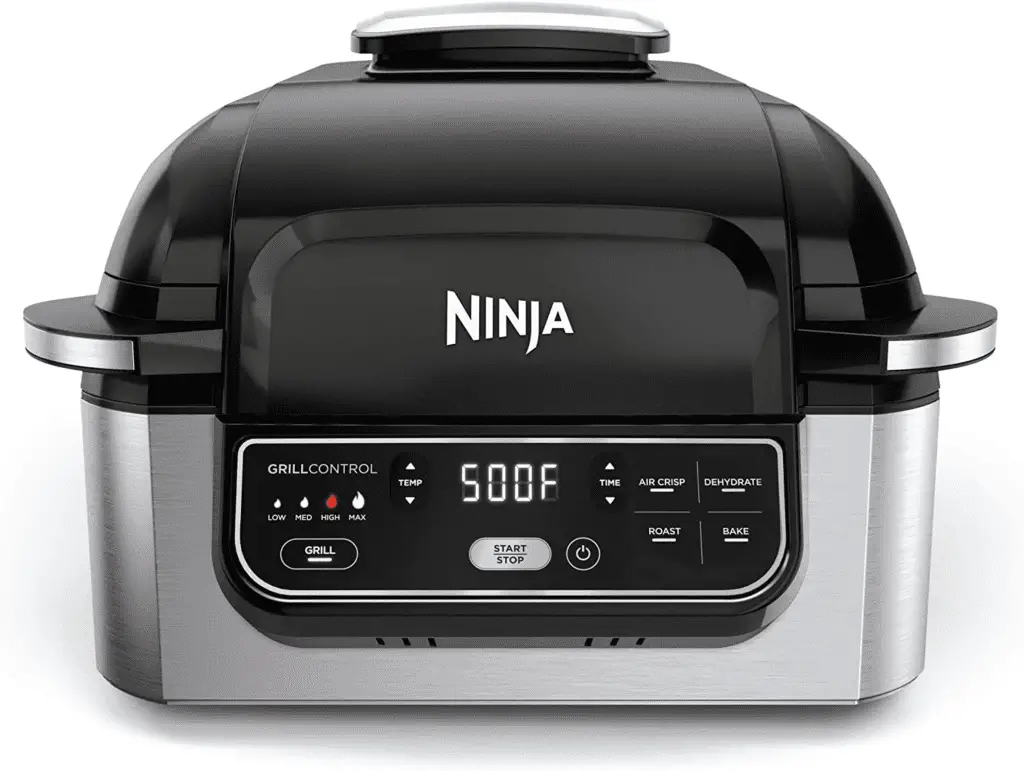 2- Hamilton Beach Electric Indoor Searing Grill at Amazon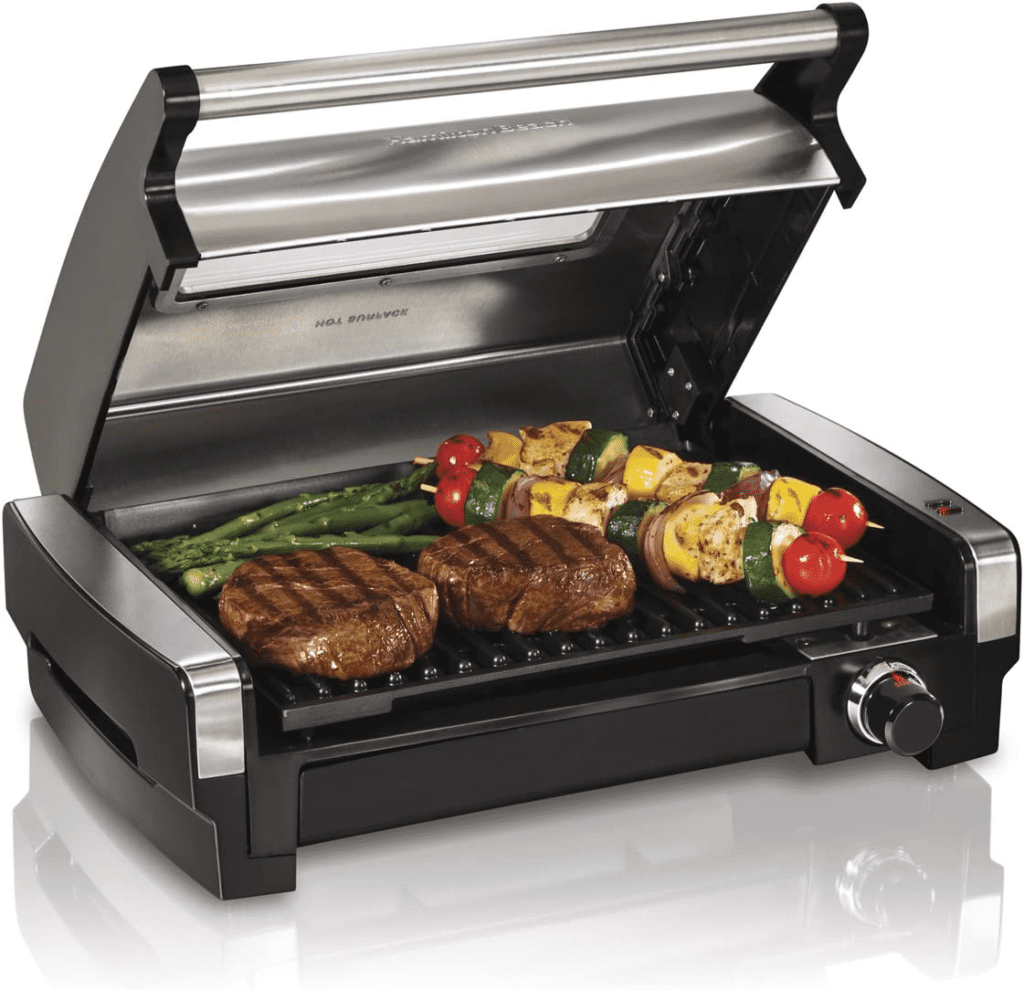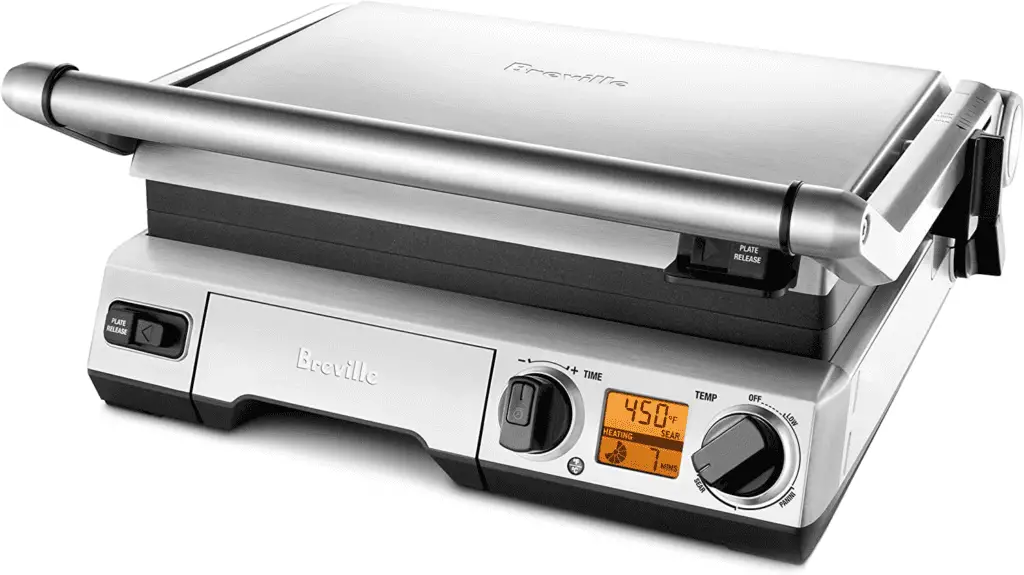 4- Presto Cool Touch Electric Indoor Grill at Amazon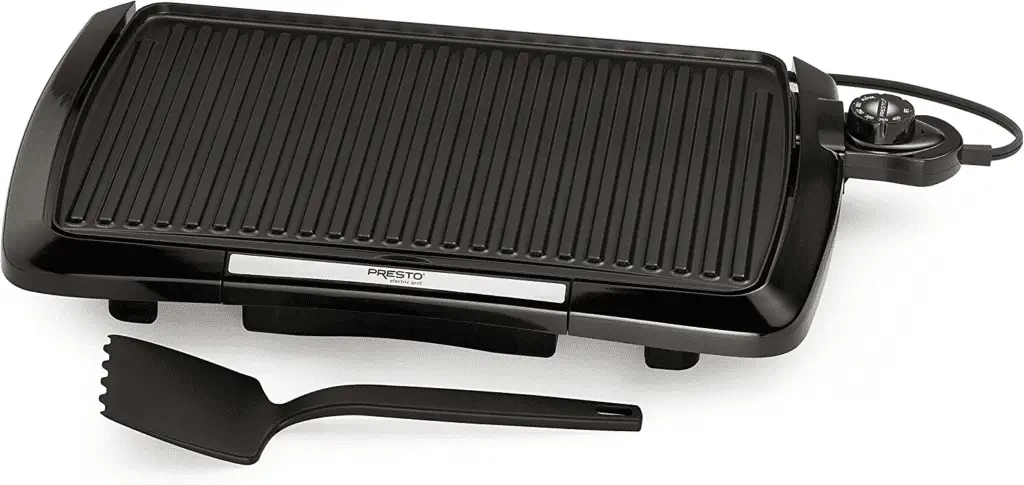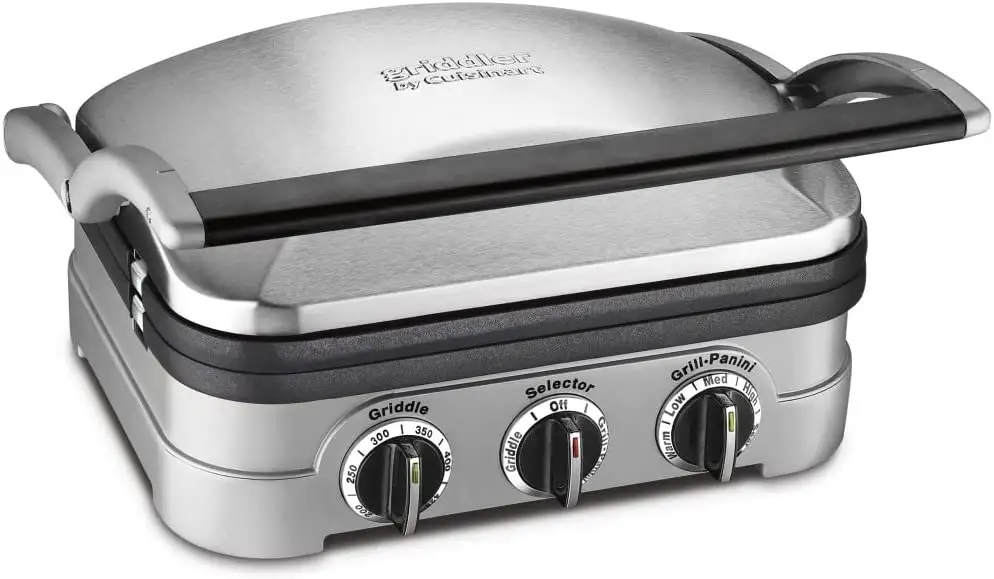 Technology Used By Smokeless Grills
A smokeless grill includes a grill plate, cooking surface, electric fan or smoke extractor, glass lid, heating elements, infrared technology, and a drip tray. The individual parts work together to make the machine run smoothly.
1: Infrared Technology
Smokeless electric grills use "smokeless infrared burner technology" with infrared burners which are powerful.
While wood and coal stoves still dominate the market, smokeless infrared burners are on the rise. The infrared burner uses electricity instead of fuel and converts that into infrared heat energy. That eliminates normal fuel combustion.
As a result, the smoke that comes out is from the food and not from the fuels and is very small. This technology burns clean and for a longer period of time without any smoke and less off-gassing.
Most gas and charcoal grills generate heat through a process called combustion. In this process, fuel like wood or coal is transformed into energy by the grill's burning. As a result, smoke is produced.
2: Electric Fan and Smoke Extractor Technology
The electric fan in the smokeless electric grill is used to create an airflow in the grill and a smoke extractor is a hood that collects smoke.
This grill boasts an electric fan and a turbo smoke extractor that can suck up cooking smoke and odor from your food. It allows you to cook without worrying about how it will smell in the house.
3: Drip Trays in Smokeless Grill
A drip tray is a flat plate placed underneath a grill or smoker to catch the drippings and allow for easy clean-up.
They are generally made of metal and have a small opening in the center to hold water so that they can release moisture without giving off clouds of smoke during the barbecue.
The drip tray is used in grills to catch grease, fats, dripping juices, and other liquids during the grilling process.
This will prevent it from dripping onto the heat source, which would cause smoke. while in traditional grills, this is the main reason for smoke. With the drip pan, the grill stays smokeless.
4: Non-Stick Grill Surface and Glass Lid
The non-stick surface on the smokeless grill makes cleanup a breeze since you won't need to worry about sticking food onto your grill.
The grill surface coating also reduces the need for much oil or other types of fat for cooking, which would create less smoke.
While not every grill has a glass lid, the ones that have it seal your food and lock in hot air, so smoke doesn't spread into the house. The lid helps with the infusion of flavors and even smokiness to a certain extent.
How Effective is a Electric Smokeless Grill? 5 Benefits Of Indoor Smokeless Grill
1. Fast and Efficient:
Smokeless grills are often touted as the most efficient type of grill because they don't produce any smoke that can cause coals to flare up and burn your food.
Infrared heating technology is fast and efficient. It takes just one minute to heat the grill pan. The aluminum tray is also a good conductor of heat and helps retain it, so you can spend more time cooking & less time waiting for your grill to be ready!
The higher heat output of this grill makes it efficient and can heat your food faster than most conventional grills.
2. Even Distribution of Heat
Electric grilling plates in smokeless electric grills are a great alternative to conventional grills. These plates distribute heat evenly and cook food quickly.
They also ensure that the food is cooked to the same standard throughout, unlike in conventional grills where you can never be sure you will get delicious meals every time.
3. Environmental Friendly
Smokeless grills are an environmentally-friendly way to cook your food. They don't release any toxic fumes or create any smoke while cooking.
This makes them a healthier choice when compared with other grilling methods.
4. Energy Saving
A smokeless electric grill helps you save money on your gas bill in the longer run. You also save a ton of money by not having to buy charcoal and other essential items for grilling from time to time.
5. Easy to Clean
It's easy to clean up the smokeless electric grill after cooking. You don't need to worry about ash and charcoal getting on your clothes, on your food, or on your furniture.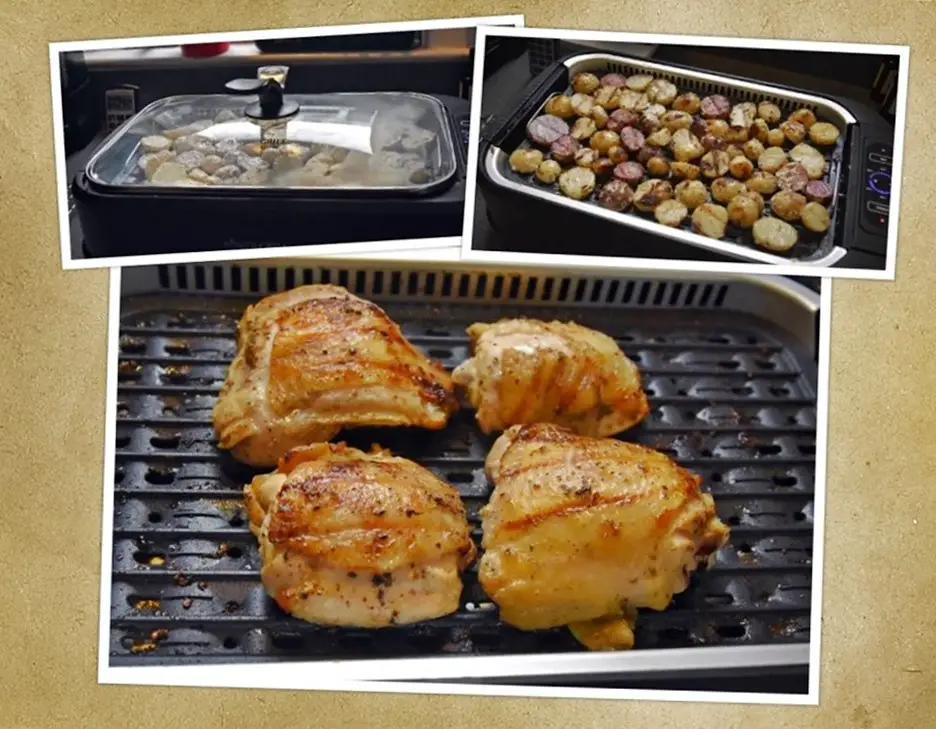 Best Way to Clean and Maintain Smokeless Grills
To clean a smokeless grill, you only need to follow some simple steps. Once your food is done cooking, you can switch it off. Take out the grill grate and drip tray. Wash both surfaces with detergent to flush out the oil, then wipe with a dry cloth to dry.
You can even clean a smokeless grill in a dishwasher. Just put it on the top rack and you'll be good to go! Regardless, to use it in the safest possible manner, you should always read the manufacturer's instructions before using it.
A smokeless indoor grill is a great investment. But, to have a functional grill all year round, you will need to maintain it properly. Maintaining your grill is important to ensure that you get the best flavor and that it lasts for a long time. You should clean your grill at least once or twice a month.
FAQ's
Are indoor grills worth it?

Yes, indoor bbq grills can be worth buying if you value the convenience of grilling all year round.
Smokeless electric indoor grills are smart grills that allow you to cook indoors without any smoke from a BBQ. Unlike traditional gas or charcoal grills, with a smokeless electric grill you can prepare food whenever you want – no more waiting for your combustible grill to heat up.
Smokeless indoor electric grills can be a good option if you have smoke detectors in your apartment building.
However, the decision ultimately depends on your personal preferences and circumstances.
Related Articles: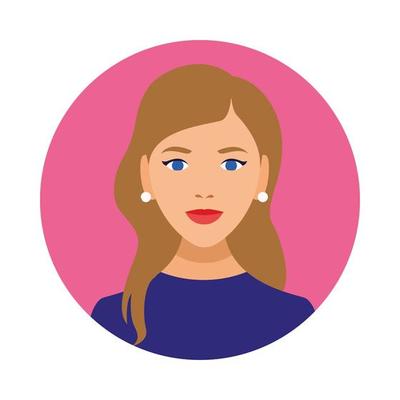 I am a writer, editor, and publisher of Grillcuisines.com – an online blog dedicated to sharing grilling tips, accessories, and recipes to encourage more people to get outside and grill.
I'm off to find out the different types of grill foods, their seasons, and how to conduct outdoor cooking properly. I'll also show you some of my grill-worthy cooking tools & accessories!