Best Overall Small Pellet Grill for Apartment Balcony– Camp Chef SmokePro DLX Pellet Grill
Best affordable– Green Mountain Davy Crockett Wood Pellet Grill
If you're short on space at home or prefer to grill while living in an apartment or condo, consider getting a small pellet grill.
Pellet grills are more expensive than your regular gas grills, but they are worth the investment. Finding out whether a pellet grill is appropriate for your balcony or patio is really important if you live in an apartment.
So, can you have a small pellet grill for an apartment balcony?
That question should be covered in your lease. Typically, apartment friendly pellet grill can be used in apartments that allow for propane and electric grills on balconies or patios. Pellet grills are great for small spaces and apartments because they use wood pellets as fuel instead of propane gas or charcoal briquettes and don't produce any ash or soot during cooking.
Each apartment will usually have its own individual terms and conditions.
For instance, in the apartments I managed, pellet grills were allowed IF you had a concrete patio.
People on upper levels who only had a wooden deck were not allowed to have them. And never, ever was anyone allowed to have a grill inside their apartment.
So make sure to read the lease agreement to see if you are allowed to use your pellet grill or other outdoor cooking equipment on the balcony or patio.
It is important to make sure that the use of pellet grills is permitted in your apartment before investing in one. To do this, talk to the landlord of the property, or contact the company's customer care department.
In this article, we will discuss why a pellet grill is the best choice for those living in an apartment. We will also go over the different types of small pellet grills, the pros and cons of these types, and what you should consider before purchasing a grill.
Looking for small charcoal grills for your apartment you won't be disappointed with our top list.
Why a Small Pellet Grill is the Best Choice for Apartment Owners?
A small Pellet grill is the best choice for apartment owners because:
I see small Pellet grills to be the best choice for apartment owners because of their compact size. Pellet grills are great for small spaces and apartments because they use wood pellets. The heat from these grills is more controlled than what you get from propane or charcoal grills which can cause flare-ups. This makes it easier to cook with them and not experience "grill rage."
A small pellet grill offers a convenient cooking style for people living in small apartments or with limited outdoor space.
Pellet grills are also very safe because you can't start them with lighter fluid or another open flame, which means there's no chance of accidental fires.
A pellet grill is the best option if you live in an apartment or an area that does not allow open fires or gas grills. Pellet grill generates less smoke and ash, perfect for those who live in an apartment building.
Pellet grills provide more consistent heat and can be adjusted to meet your needs, unlike propane gas which has to be turned off when it is not needed.
They have a smaller footprint because they have fewer parts that need to be taken apart for storage. This makes them perfect for apartments.
Pellet grill takes less time to clean up and put back together when you're done cooking too – no gas or charcoal messes to deal with!
5 Best Double Wall Pellet Grill
4 Things to Consider When Buying a Apartment Friendly Pellet Grill
If you live in a condo, you might be thinking about getting a pellet grill to cook food for yourself. However, before you buy one, there are some things that need to be considered.
Apartment size:
The first thing to consider when buying a pellet grill is the size of your apartment. If you live in a small apartment, it might be hard to store a big grill.
Plus, if your apartment doesn't have a balcony or an outside space, you don't want your grill taking up all of that valuable space inside!
Living style:
While a grill's primary purpose is to cook meat, it can also be used to make a variety of dishes.
The second thing to consider when deciding which type of grill you want is whether you plan to use it for more than just burgers and hotdogs.
A lot of people like using their pellet grill as their main kitchen stovetop because it's the most efficient way to cook meals.
Size of pellet grill:
The size of the grill is really important because it needs to fit into the space that is available to you. If your apartment is small and cramped, then a larger grill would not be feasible and would take up too much room.
I think the best way to find the right grill for you is to figure out what you need it for.
Budget:
How much money do you want to spend on this purchase? We should also consider the price of the grill as this will depend on what type of product and surroundings you want.
You may want a high-quality expensive option or something more affordable depending on your budget and lifestyle.
6 Best Apartment/Condo Friendly Pellet Grills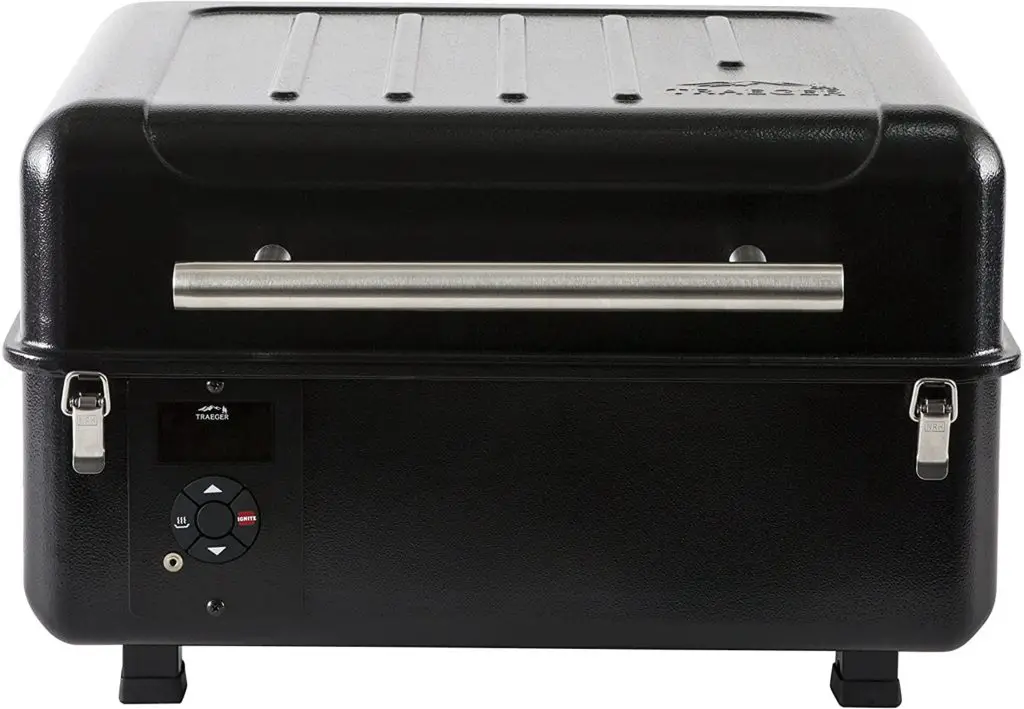 Dimensions – 20″ D x 21″ W x 13″ H
Cooking area – 184 square inches.
Weight – 60 lbs.
Pellet hopper capacity – 8 lbs.
Max temperature – 450ᵒ
Voltage – 120V
When it comes to grilling, Traeger Grills knows what they're doing.
The Ranger Grill TBT18KLD Wood Pellet Grill and Smoker is the newest addition to their lineup. It features a smoker list that is built in and has a list of features such as an ash collector, a side-loading wood chip tray, and a front-loading aluminum grease tray.
Best portable pellet grill designed to take up little space in the back of your car, this Traeger ranger smoker can easily fit a 12-hour brisket for you to take with you. The Traeger Ranger is a compact pellet grill that can easily fit into the back of your vehicle. It doesn't have any big legs that get in the way, so it's very easy to transport.
Porcelain-coated grill grates can be easily wiped clean with a wet cloth.
The beauty of this Traeger pellet grill is its precision. It has the ability to hit the perfect low and high temperatures for all of your grilling needs.
Cook timer uses a notification to tell you when it's time to pour the sauce and check on the food.
This grill has 184 square inches of cooking space. That's plenty of room to cook six burgers and two chickens.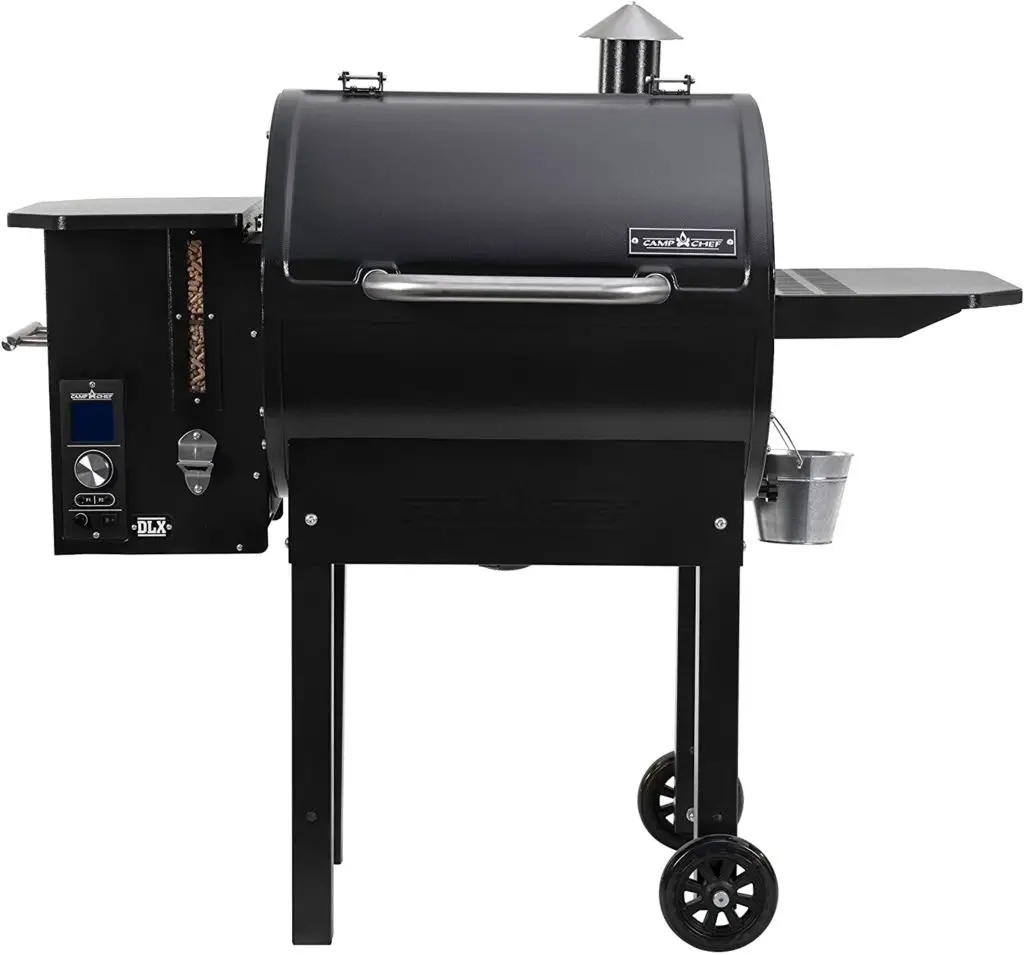 Grilling Area Dimensions: 19.5″ x 22″
Smoking/Warming Rack Dimensions: 6″ x 24″
Total Rack Surface Area: 573 sq. in
Pellet Hopper Capacity: 18 lbs.
Weight: 140 lbs.
Camp Chef dominates our best small smoker for apartment list with their Camp Chef SmokePro DLX Pellet Grill. This could be a good solution if you're space-limited on your terrace. The sleek and easy-to-use Gen 2 controller makes tailoring the amount of smoke your meal gets simple. The Smoke Control + PID technology gives you control over how much smoke you're searing for perfect cooking consistency.
Camp Chef offers a wide variety of different attachments and add-ons that are perfect for this grill. Meat Probe is a new accessory that can easily measure the temperature of your meat. It is a quick and easy way to do this without overcooking or undercooking anything.
Clearing the ash is a simple clean-up task. You can avoid spending time cleaning, just like with Camp Chef grills, because they have the patented ash cleanout system. Remove the ashes from your grill with a simple pull on knob! They will fall into a removable cup on the bottom of your grill, where they can go out and be disposed of. Check the ashes between each cook to keep your burner clean and avoid re-spraying them all over your food!
Camp Chef SmokePro DLX Pellet Grill has a large pellet hopper means you will spend less time refilling the hopper, so you can focus on what really matters: enjoying your BBQ!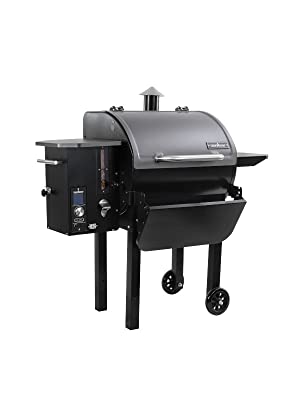 Dimensions: 40.5 x 25 x 22 inches
Weight: 144.7 pounds
The rotating plate design of the GENERAC GEN 3 Series ensures that you are never out of your element. With a twist of the gas regulator, you can experience both grilling and smoking, even simultaneously if desired.
Camp Chef's SmokePro is the best small pellet grill with grilling, smoking, roasting, and baking with top-quality wood-fired flavor on a single grill. The best of both worlds, the digital control will tell you the internal temperature of your meat or allow you to toggle between high and low heat with a push of a button. It has a PID CONTROLLER and together with SmokePro's 18-pound hopper capacity (Not WIFI Compatible)
Camp Chef PG24MZG SmokePro Slide Smoker has an exclusive ash cleanout system. They make cleaning between dishes as easy as pulling a lever, which results in less time spent worrying about the vacuum and more time following your passions.
It comes with a full-sized folding front shelf.
The Complete Guide to Pellet Grills/Smokers with PID Controller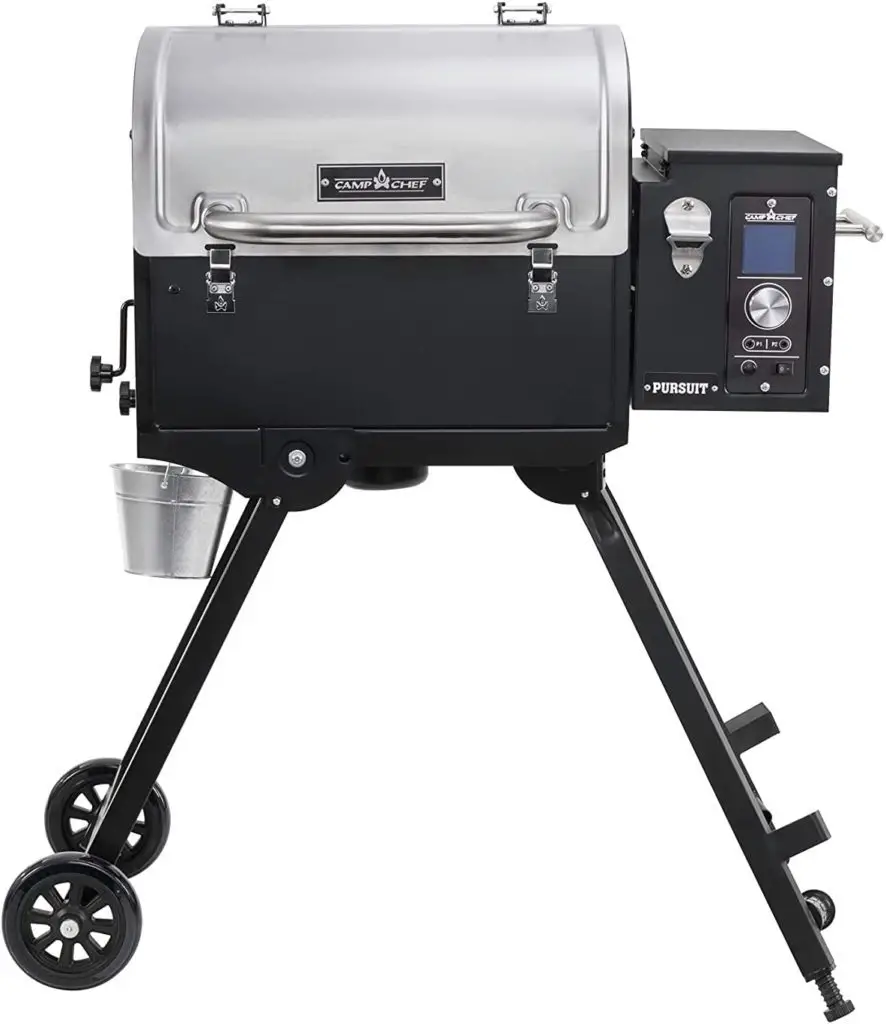 Dimensions: 40 x 22.5 x 20 inches
Weight: 100 Pounds
Camp Chef Pursuit Portable Small condo friendly Pellet Grill is the ultimate outdoor cooking grill. It makes a great grill for patios, balconies, terraces, and other outdoor living areas.
The cool thing about the Camp Chef Pursuit is that it folds up into a neat, compact size for storage. Legs can be folded and transform the grill into a compact design that can be transported easily. You can fold the grill back to make it easy to store on your apartment deck or patio.
The smoker comes with a PID controller, which can maintain consistent temperatures (+/- 5ºF), in the 160º F – 500ºF range. What's more, it has adjustable smoke settings, allowing you to choose one between 1-10.
It comes with 2 meat probes and an ash Cleanout System.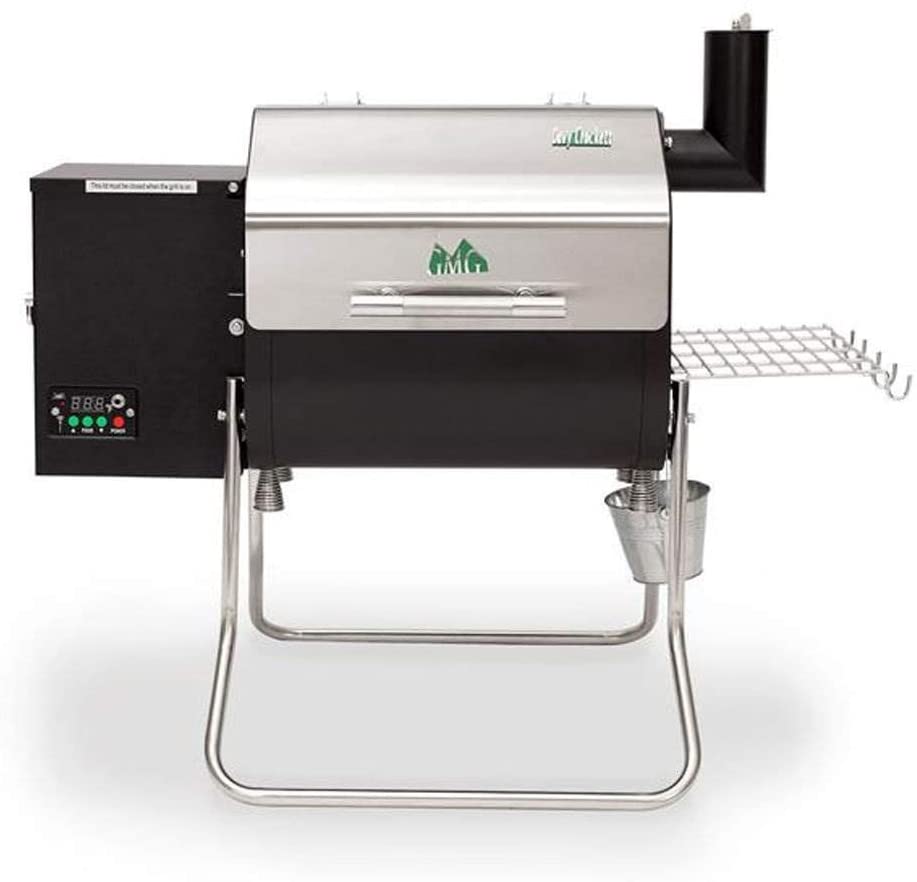 Dimensions: 29.92 x 14.96 x 21.65 inches
Weight: 57.3 Pounds
Green Mountain Davy Crockett wood pellet grill has a dual-power system that lets you plug it into an electrical breaker, your car, or a generator.
This small pellet grill for an apartment has features that make it easy to use – a side shelf, tool hooks, free internet connectivity, and a protective cover. For less than $400 you are getting an affordable small pellet grill that has great features.
Green Mountain Davy Crockett Foldable Portable Wood Pellet Tailgating Grill folds down to the size of a briefcase, making it easy to transport, and perfect for camping or tailgating.
The rib rack holder, meat probe, & convenience tray come with your purchase.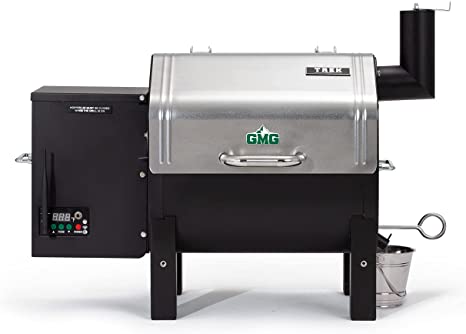 The old famous Green Mountain Davy Crockett is now the TREK PRIME.
Green Mountain's small pellet grill has stronger legs and an exterior rod for adjusting the heat.
This small pellet grill for an apartment is packed with features that will allow you to monitor and control your cooking process while maintaining the perfect temperature. It includes WiFi, a meat probe, utility hooks for utensils, and an airtight lid to help maintain moisture & temperature. It also comes equipped with Sense-Mate, an advanced sensor that always keeps an eye on the grill.
That's right! The grill can run on 12V or 120AC so you can bring it to events, parties, or even when traveling.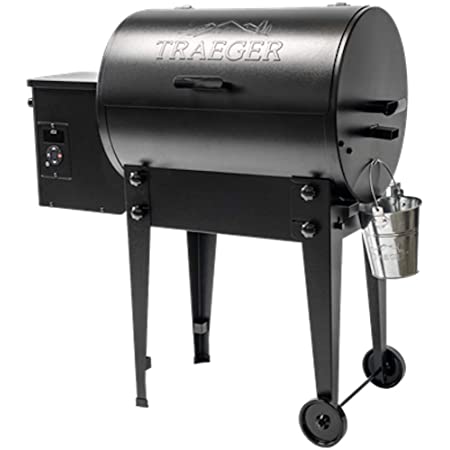 Total cooking space: 300 sq. in.
Weight: 62 lbs.
Pellet hopper capacity: 8 lbs.
Max temperature: 450° F
Compact and portable, this small pellet grill/smoker is great for small decks or patios, balconies, camping, or anytime you want to go. Still, it can crank out sweet-tasting wood pellet smoker food on the day's busiest of schedules.
It cooks food to perfection and fits in well at home or anywhere else you decide to use it. Now you can keep food fresher, and longer with the help of Traeger's Digital Arc Controller & 'Keep Warm' Mode.
Conclusion: So Which One Is The Best Small Pellet Grill For An Apartment?
To come up with a conclusion on Which One Is The Best Small Pellet Grill For An Apartment, we have to consider different aspects like the size of the grill, apartment size, and our budget.
There is an overwhelming number of small pellet grills out there and Camp Chef SmokePro DLX Pellet Grill is the overall best small pellet grill/smoker for apartments, condos, or small spaces.
What really sets Joule apart is its well-considered design and engineering, generous cooking area, innovative pellet management system, and large hopper capacity.
We hope this guide helped to highlight the best small pellet grill.
By having a good idea of what you need and considering all of your needs and wants, we hope that we've given you the motivation and confidence to take the first step towards finding one yourself.
If you are looking for Best Portable Grill for Camping, check this article here.
How to grill when you live in an apartment?
Grilling in an apartment can be a bit tricky, but it's not impossible.
Here are some tips to help you grill safely and enjoyably in your apartment:
1- Check with your apartment management: First and foremost, check with your apartment management to see if grilling is allowed on your balcony or outdoor space. If it's not allowed, don't risk getting into trouble.
2- Use an electric grill: If grilling is allowed, don't use a gas or charcoal grill. Electric grills are safe and easy to use, and they don't produce as much smoke as other grills.
3- Keep the grill away from combustible materials: Make sure to keep your grill away from any combustible materials, such as your apartment building or balcony railing. It's also important to keep the grill on a level surface.
4- Use a grill mat: Consider using a grill mat to protect your balcony or outdoor space from grease and other debris.
5- Don't leave the grill unattended: Always stay near the grill while it's in use and never leave it unattended.
6- Be considerate of your neighbors: Remember that your neighbors might not appreciate the smell of grilled food, especially if they have allergies or other sensitivities.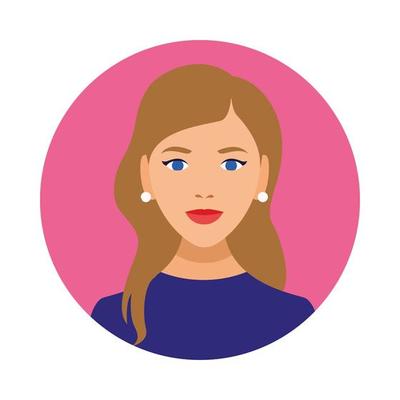 I am a writer, editor, and publisher of Grillcuisines.com – an online blog dedicated to sharing grilling tips, accessories, and recipes to encourage more people to get outside and grill.
I'm off to find out the different types of grill foods, their seasons, and how to conduct outdoor cooking properly. I'll also show you some of my grill-worthy cooking tools & accessories!