Pellet grills/smokers with PID controllers are some of the most advanced grills available on the market today. You can find a wide range of grills from basic to high-end ones that have been designed to satisfy every type of consumer.
If you need a new pellet grill or smoker, one of the best features you should look for is a PID controller. One of the benefits of using pellet grills/smokers with PID controller is that it can make grilling easier and more automated. The most important thing to know about a PID controller pellet grill is that it has been designed specifically for outdoor cooking and smoking meat in all kinds of conditions.
There is a grill for everyone, and sometimes finding just the right one for you can be tricky. In this comprehensive guide, we will give you all the information you need in order to decide if a pellet grill with a PID controller is the best option for your needs.
What is a PID Controller for Pellet Grill?
A PID controller is the most advanced type of controller and is usually found in pellet smokers, pellet grills, and other industrial-style cooking appliances.
PID controllers are so named because they use an algorithm with three parameters: Proportional, Integral, and Derivative. That means that this algorithm is able to provide input to the system in order to maintain the desired temperature.
Pellet grills with PID controller regulate the temperature of the grill by adjusting airflow, fuel, or both to maintain a specific temperature. A PID controller pellet grill can be adjusted to allow for certain variations in air and fuel flow. This temperature can be programmed by the user on most PID controllers – usually between 140°F and 500°F.
The intention is to control the cooking process more precisely than with simple on/off control.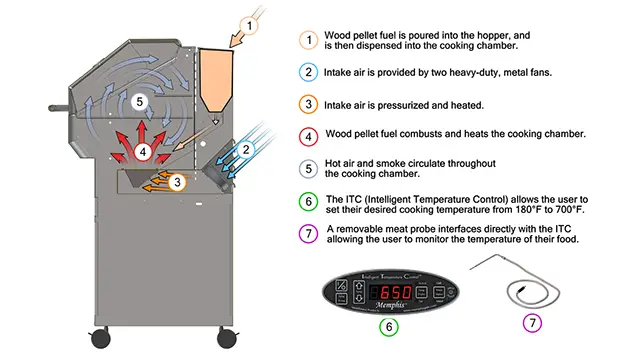 PID CONTROLLER VS STANDARD time-based CONTROLLERS
Some older pellet grills/smokers are fitted with time-based controllers. Where newer, more expensive models of pellet grills/smokers are fitted with PID controllers.
Pellet grill/smoker with Standard time-based controllers, When regulating temperature, make sure to regulate the pellet feed rate. Pellet grills with Non-Pid controllers function like a furnace. When the temps in the grill are lower than your set point, a cycle starts where the RTD rotates to move pellets from your feeder to the firepot. If the temperature in the grill is greater than the setpoint, a different cycle begins. The feeder stops supplying pellets so that the fire doesn't go out, but enough are fed to maintain the desired cooking temp.
And unlike PID controllers, they do not adjust airflow to compensate for cold or windy conditions.
Pellet grills/smokers with PID controller, on the other hand, regulate the temperature of the grill by continually monitoring air flow, pellet feed rate, and grill surface temperature. The heat is controlled with this system, so the grill is usually at or near the desired temperature.
But on a timer-based controller, the temperature usually swings anywhere from 25 to 30 degrees. On top of this, PID controllers are constantly monitoring the internal grill temperature and comparing it against the set one. By constantly adjusting the fan speed and pellet feed auger, a PID-controlled pellet smoker can maintain a temperature within 5 degrees from the set temperature.
Therefore, PID controllers are more functional than standard controllers in most situations, for example, adapting to changes in external environment grilling/smoking in the cold winter months.
Good tip: if your grill or smoker has WiFi, then most of them will also have a PID controller.
Which Pellet Grill Smokers Have PID Controllers?
| | |
| --- | --- |
| Pellet Grill Brands/Models   | PID Controllers |
| Rec Tec | Yes |
| Traeger | Traeger has both pellet grills with PID controller and without. Pro Series in its latest generation (Pro 575, 780) has an LCD control panel which includes a PID controller. |
| Pit Boss | Pit Boss Platinum series has a PID controller |
| Camp Chef | Today almost all Camp Chef pellet grills are using PID controllers |
| Memphis Grill | Yes |
| Green Mountain Grills | Yes |
| Weber Smoke Grill | Yes |
| Grilla Grills | Yes |
| Z Grills | Yes |
| Oklahoma Joes's | No |
| Broil King | No |
| Cuisinart | No |
Advantages of Using Pellet Grills with PID Controller
There are many advantages to using a Pellet grill with a PID controller, some of them are mentioned are below:
Pellet Grills with PID Controller has Easy to use interface:
The pellet grills with a PID controller are the modern way to cook. Its easy-to-use interface and accurate temperature control make cooking a breeze. It has a steady and even cooks and it retains the flavors of the food. It has a sleek body that is easy to clean and it is durable for outdoor cooking.
Pellet Grills with PID Controller provide Precision cooking:
PID controller is a great tool for people who want to cook their food in a more accurate way. A PID controller will make sure that your temperature is maintained and never goes outside of a 5-degree variation from your set target.
It accurately measures the temperature and adjusts the heating power in order to maintain the desired temperature level.
This ensures that food cooks evenly from all sides and prevents over-cooking.
Pellet Grills with PID Controller provide Good quality smoke flavor:
The most notable one is for people who love smoked recipes but can't stand dealing with messy charcoal or wood chips. These grills also produce great-tasting food because they use just the right amount of heat for different foods.
Pellet Grills with PID Controller are Effective in adverse weather condition:
Pellet grills/smokers with PID controllers truly excel when there are a lot of variables that affect how hot the grill gets. These variables include:
Outside temperature
Wind
Rain/Snow/cold weather
Bottom Line
What are your needs? it depends! A PID controller is one of the many features that you may be able to use to meet your BBQ needs. I wouldn't say that a PID is a 'must-have feature' for pellet grills since it would be not that difficult to find an equally good grill based on the time-based controller. The key factors in smoking are temperature and time. Consistencies in both can make for great results. Conventional controllers are reliable to maintain the desired temperature.PID controllers produce MORE consistent temperatures, especially in less-than-perfect conditions.
If a Pellet grill with PID controller is too expensive for you, you still have a few options. But a PID-controlled pellet grill/smoker will give you more accurate & precise control over your cooking, which can only be a good thing.
FAQs
Do PID Controllers Produce Less Smoke?
It is an interesting question, and it has some truth in it. Low temp settings led to some good, clean white smoke that create the flavor profile we expect. Varying the flavor by pellet (i.e. cherry, apple, or cooking pellets perfect mix) can change the smoke profile and taste of your meat. Higher temperature cooks produce less smoke flavoring but both toast and produce delicious, melt-in-the-mouth food.
Many new grills on the market now come with innovative Smoke IT technology with PID controller. You can use your phone to control your grill from a distance. This Bluetooth capability with the fully digital temperature control system makes it easy to access the Pellet Alert System and PID Temperature Control.
Pellet grills/smokers with PID controller can be used to produce more smoke with some trade-offs. While smoke production is increased, the temperature accuracy will decrease. If you plan to use a PID controller with a higher smoke setting, you should expect larger swings in temperature.
I don't think PID is the only factor: you must also learn your pellet and adjust as needed for the desired results.