It's always a bummer when summer ends and you have to pack away your grill for the year. Because, in cold weather when the temperature drops, grilling or smoking foods can take more time, and effort.
Luckily, you can use a pellet grill/smoker in winter because they'll automatically regulate the temperature for you.
When trying to cook during the cold winter weather you can do pellet grill insulation by using insulated thermal blankets on the pellet grill to reduce pellet consumption and produce better BBQ.
Although there are some limitations to these blankets, they can be an optimal solution for some. With a decent insulated blanket costing around $100, you have to take them on and off if they're in use and clean up after. The alternative is to choose insulated pellet grills, which are generally built with double wall construction.
So let's find the best double wall pellet grill and its features.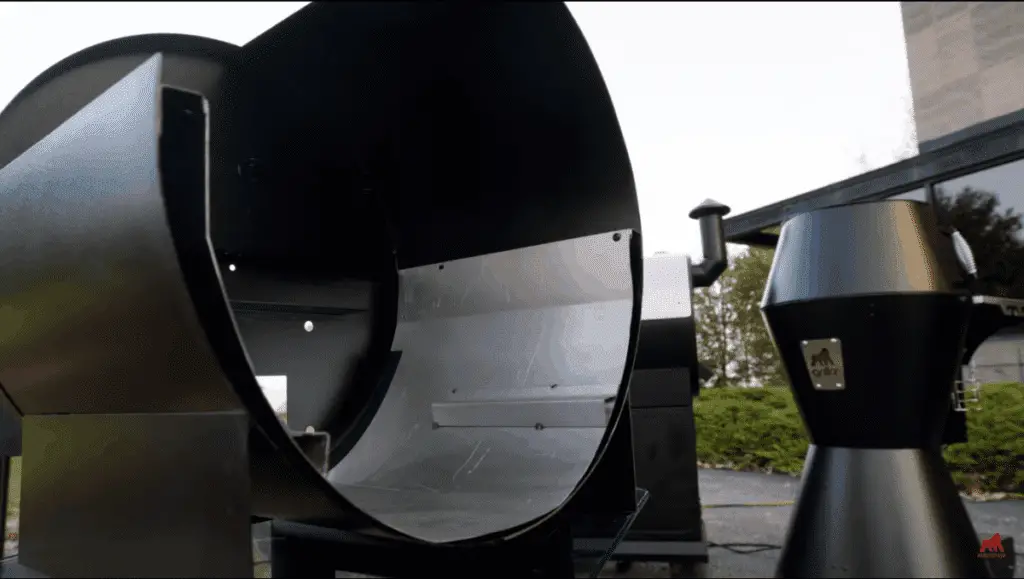 Insulated/Double Wall Pellet Grill/Smoker – How Do Double Wall Pellet Grill/smoker Work?
Most pellet grills nowadays are made from a single steel panel. This is particularly true of the budget and entry-level models.
Making a pellet grill cooking chamber from a single steel panel is cheaper to produce, which may be why much lower range or entry-level pellet grills always come with these.
The problem with single-wall steel is that cold air in extremely cold weather or winters can easily enter through its weak surface and heat can go out easily and quickly.
Some pellet grill manufacturers use thicker grades of steel which can retain heat better and help keep outside cold weather at bay.
Pellet grills from Broil king, Yoder are made up of single-wall thicker grade steel. Thicker grade steel is more thermally-conductive than steel that is thinner, so it tends to maintain its temperature better.
This can lead to some positive features, such as heating slowly, but greater thermal mass also means it will take longer for the pellet grill to reach an appropriate temperature.
Thick steel walls provide no better insulation than a thin wall. It just takes longer for the cold or heat to penetrate into the grill from outside.
This slows down how quickly heat escapes or cold enters the grill, which means that cooking performance is improved. In return, you may have to use more pellets for each cookout.
It is important to understand the difference between insulated and uninsulated pellet grills. The double wall insulated pellet grill has an outer shell that is made out of steel and an inner shell that is made out of stainless steel with insulation (or an air gap) as opposed to a single layer of heavy, thicker grade steel.
These two layers work together to make sure that the heat stays inside the grill and doesn't escape, while still allowing air to flow in and out.
This type of grill can be used for both cold and hot smoking, as well as cooking food at low temperatures over a long period of time.
An insulated pellet grill may be fully or partially insulated. Fully-insulated pellet grills include a double wall body+lid, while a partially-insulated pellet grill includes only the lid or body being insulated.
Insulated pellet grills are the newest innovation in the world of barbecue grills. Insulated pellet grills are more expensive than uninsulated ones, but they can help you save money on fuel and provide a better cooking experience.
As most double wall pellet grills are expensive, an alternative to these is vertical pellet smokers. One of the best features of vertical pellet smokers is that they all come with double-wall insulation. This makes for a much more convenient BBQ option. Vertical pellet smokers are also much cheaper than double wall pellet grills.
Below are the 5 best double wall pellet grills that I've come across, starting off with the most affordable models & ascending to the premium range.
On the most premium models of grills, you will find that they come with a double wall construction which is usually expected.
Best Twin/double wall Pellet Grill in the Market
Outside of vertical pellet BBQs, the cheapest insulated pellet smoker that I can think of is the Woodcreek and Twin Oaks from Cuisinart.
These Cuisinart pellet grills offer you thermal stability by shielding their lids, which is better than the competition. Consider it at this price point ($500-600).
We love the stainless steel outer covering (which is also sturdy), the viewing window and analog temperature gauge, as well as the fact Cuisinart pellet grill are insulated.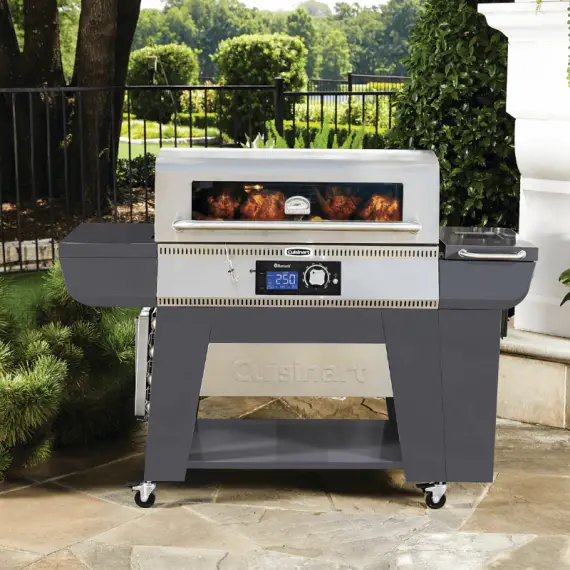 2. Grilla Grill Silverbac (half body with double wall construction)
At the budget end of the spectrum, we find Grilla Grills. The bottom half, or the combustion zone, is double wall construction while the lid and the upper sides of the cooking chamber aren't made from a double-wall
I've included this quick video below to explain the benefits of Grilla Grills and how it can keep heat in.
The first pellet grill/smoker Grilla produced was Grilla Grill. Silverbac came next, which looked like many other pellet grills in the market with the improved new features.
The chimp was the last one, a small/portable grill that can be taken on camping/RV/tailgating trips.
The lower half of the Silverbac around the combustion zone is also twin-wall construction which acts as a thermal blanket that helps retain heat. This means less heat is lost because heat remains captured between layers of insulation.
This is a great benefit in cold weather conditions. Smoking or grilling meat, the pellet fire can be aimed upwards to stop heat from going out to the sides and instead go directly toward your food.
It also means fewer pellets consumption by pellet grill when it's cold outside or in winter.
Also check Top 5 Tips To Store Grill Outside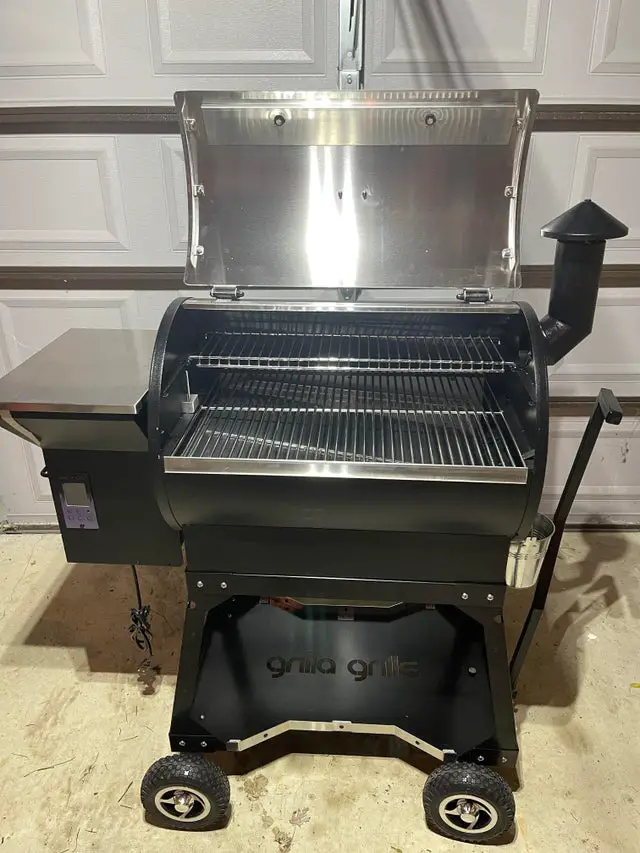 Traeger has only recently started to offer double wall construction pellet grills. Not all of Traeger's pellet grills are made with twin/double wall material. Some come with a bit of twin/double wall, while some feature full twin wall construction.
The Traeger Timberline has full body twin/double wall construction of stainless steel. There are currently two grills available in the Timberline range, the 850 and 1300.
The Traeger Timberline has a full-body twin/double wall construction of stainless steel which provides exceptional heat retention and durability.
The insulated stainless steel double-walled interior lining is a nice feature that sets it apart from other pellet grills.
A feature that sets these particular grills apart is the insulated stainless steel double-walled interior lining. Stainless steel interiors can make cleaning your pellet grill quick and easy, not to mention rust-proof.
The internal cooking area inside the grill is separated from the environment outside by a double-walled lining and this makes temperature regulation easier.
The grill's insulation helps with temperature regulation by limiting the heat exchange with the outside environment. For example, if the wind speed and direction change when you are in your backyard cooking, it can have an effect on the performance of your grill.
With higher wind speeds, you can expect the heat to be removed from the grill much more quickly. It's best suited to use in winter or extremely cold weather.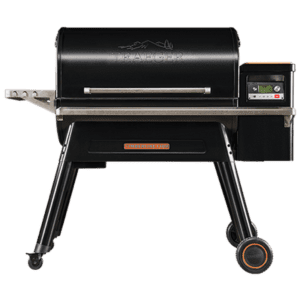 It is a more expensive option compared to other pellet grills. The Regal 400 and Regal 500 come with insulation in the lid, but not in the rest of the cooking chamber.
Only the lid is double wall steel construction while the rest of the body is not. However, the Broil King regal pellet grills use thicker steel than many other pellet grills in the market. Its cooking chamber is made from 14-gauge (2mm) steel.
This thicker steel provides thermal mass to the grill and can help with temperature fluctuations. It won't be susceptible to changes in the environment, such as drops in temperature or increased wind speeds.
This is a bit expensive option and should be considered at a price of $1600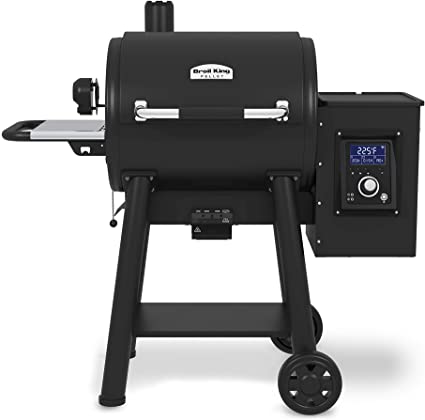 The Louisiana Grill Founders Legacy 1200 Pellet Grill is a great outdoor cooking appliance. The Legacy 1200 Propane Gas Grill is built with heavy-duty 304 stainless steel construction, complete with a 22.5″ barrel that can withstand any high or low-temperature job secure within a secure double-lined stainless steel lid.
The grill is made from stainless steel and the cooking surface is porcelain-coated cast iron. The lid has a built-in thermometer that allows you to monitor the temperature of your food without opening the lid.
The price of the grill starts at $1800.The Louisiana Grill Founders Legacy 1200 Pellet Grill also features an electronic timer that can be programmed up to 24 hours in advance, so you don't have to worry about forgetting when you put your food on the grill.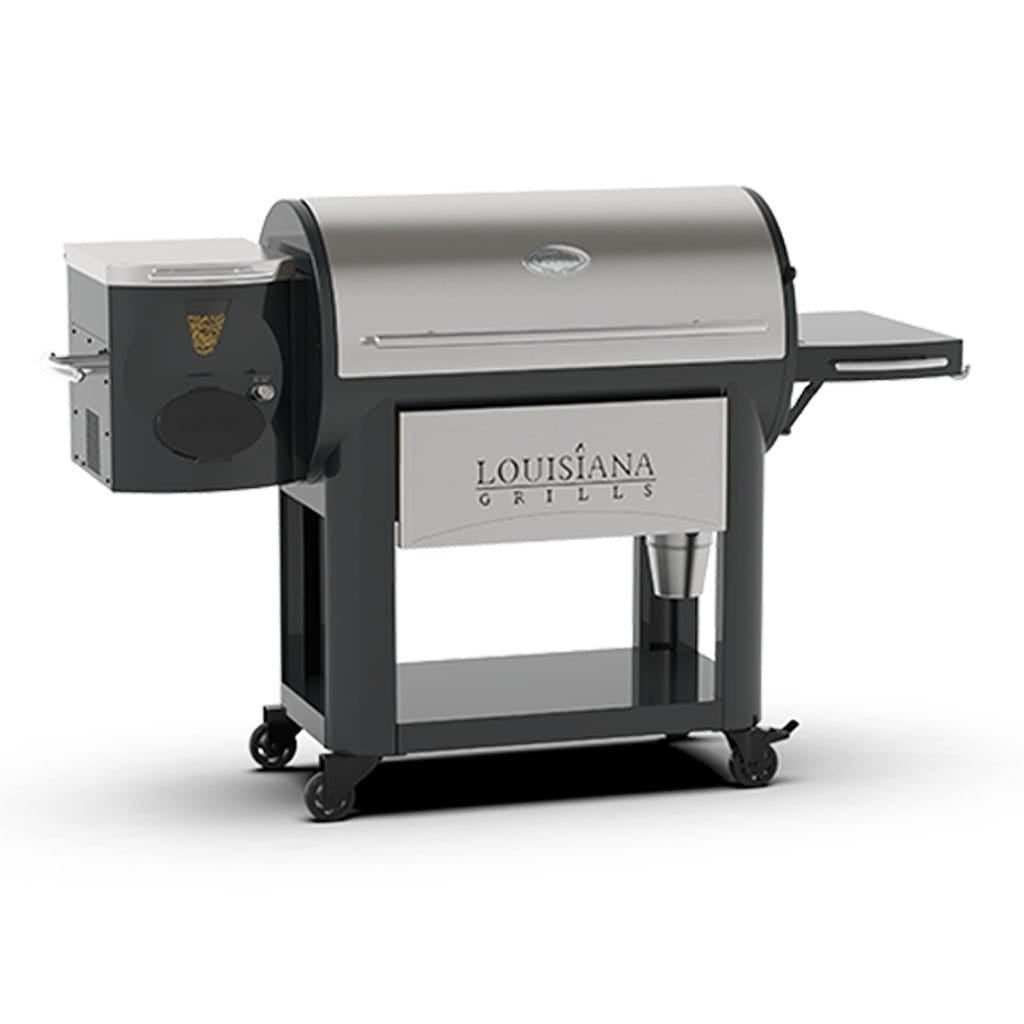 Conclusion: What To Look For When Buying a New Double Wall Insulated Pellet Grill
if you want to continue using your pellet grill/smoker this Fall and Winter and don't want to deal with the hassle of an insulated blanket, I would advise getting a pellet grill model with at least some twin/double wall construction.
Traeger Pellet Grills BAC626 Pro 22/575 Insulation Blanket
PIT BOSS 67342 Insulated Blanket
one of the best ways to use wood pellets during the winter is a vertical smoker. These devices are relatively cheap and can retain heat for much longer than traditional smokers. Double-wall construction is a common feature for vertical pellet smokers as it keeps the heat inside the grill and prevents cold from entering.
Thanks for reading! I hope this article on pellet grills/smokers which include twin/double-wall construction met your needs.
Related Articles:
Also, have a look at my A Complet Guide To How Pellet Grill/Smoker Works 🙂
The Complete Guide to Pellet Grills/Smokers with PID Controller
I am a writer, editor, and publisher of Grillcuisines.com – an online blog dedicated to sharing grilling tips, accessories, and recipes to encourage more people to get outside and grill.
I'm off to find out the different types of grill foods, their seasons, and how to conduct outdoor cooking properly. I'll also show you some of my grill-worthy cooking tools & accessories!