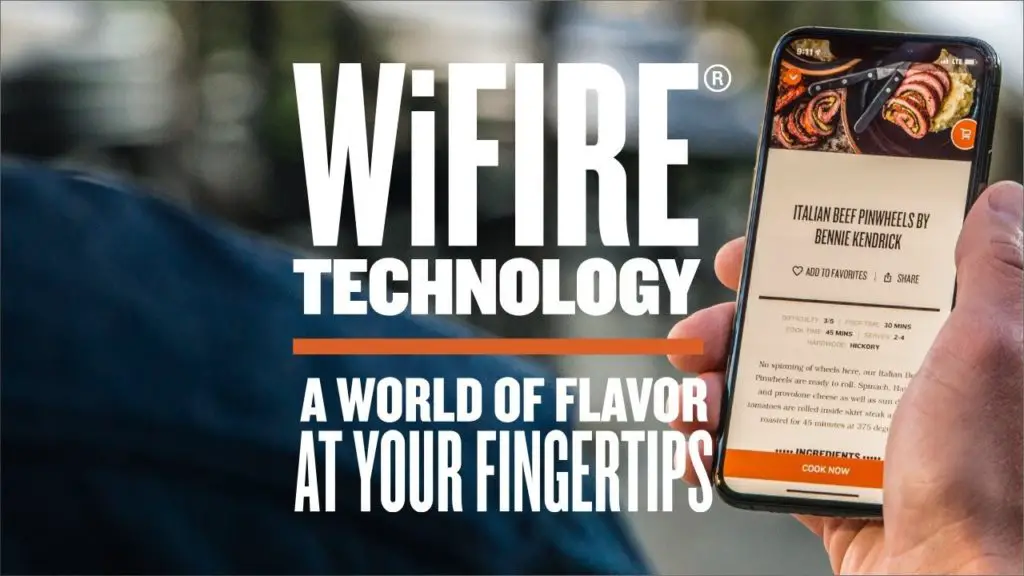 WiFi pellet grills are all the rage these days. They're easy to use, fun to cook on, and can be controlled through your WiFi connection.
It is not like your typical grill but a high-tech grill that uses wifi to connect to your phone.
Within the last few years, more and more grill manufacturers have started to add WiFi functionality. This makes it easier to control your pellet grill while you're away from home.
A commonly asked question about pellet grills with WiFi is "Are wifi pellet grills worth the money?"
WiFi pellet grills are an excellent option for smokers because you can monitor the grill's temperature remotely or control the amount of pellets in the hopper. Pellet grills without WiFi will still work and cook food just fine and it is not necessary for the pellet grill to be connected to WiFi to cook food.
The WiFi capability of pellet grills is a personal and subjective choice.
In this article, we'll cover what is wifi pellet grill and the various benefits that determine if WiFi pellet grills are worth the money or not.
What is a WiFi pellet grill, and how does it work?
Pellet grills have always been a great way to cook meat, but now with the introduction of WiFi functionality, pellet grill manufacturers have made cooking a lot more convenient.
In addition to being able to cook with your phone or tablet from anywhere in the world, you can also monitor the internal temperature of your grill and turn it on or off from an app.
All you need to do is download the App and connect to the wifi-enabled controller. This way you can easily control your grill from the palm of your hand.
The grill comes with a smartphone app that connects to your home WiFi and lets you control the grill from anywhere. You can set cooking temperatures, measure meat's internal temperature, and even program the grill to start cooking at specific times.
You can also control how quickly or slowly the pellets are fed into the grill, which affects how hot it will get. Traeger wifi pellet grill has made it easier to monitor hopper pellet level through sensors, so you can avoid running out of pellets. Unlike old models, this won't let you end up with no fuel when grilling. Sounds good, huh?
You can also check Pellet Grill vs Smoker: A Comprehensive Comparison
WiFi vs Bluetooth Enabled Pellet grill
Some pellet grills are only WiFi-enabled, while others are able to connect via Bluetooth as well.
I noticed that many people are not aware of the difference between Bluetooth and WiFi-enabled pellet grills. You need to know that Bluetooth is not the same as WiFi.
Bluetooth is for linking together nearby devices, again communicating with one another wirelessly, but over a shorter range than Wi-Fi. Bluetooth pellet grill has a range of about 30 feet approximately.
While pellet grill with WiFi, on the other hand, can directly connect to a WiFi-enabled router or modem. So with the right setup, you can monitor your grill/smoker from anywhere in the world with a WiFi connection.
Consider your options – for those who will be using their grill both at home and outside, a thermostatically controlled pellet grill with WiFi and Bluetooth capability will provide you with the best experience.
If you will be using your grill both at home and on hiking/camping trips, backyards a WiFi and Bluetooth wireless pellet grill would be perfect for you. When at home, you can connect to your WiFi network.
While hiking, beachside, or campsite you can connect a pellet grill with Bluetooth.
When it comes to pellet grills, some manufacturers offer control panels with both Bluetooth and WiFi, Camp Chef being an example.
However, there are several pellet grill brands (Cuisinart and Pit Boss) that only provide Bluetooth connectivity.
Benefits of Pellet Grills With WiFi- Are Wifi Pellet Grills Worth The Money?
This article will go over some lesser-known benefits of WiFi pellet grills so you can cook with even more precision and decide whether they are worth it or not.
1. Set Timers and Receive Alerts
The WiFi pellet smokers also have a digital timer that will automatically shut off after a certain amount of time – perfect for those who don't like to stay out on the deck and monitor their food. Plus, with notifications to tell you when your food is finished cooking, you'll never overcook again!
2. Temperature Control
One clear benefit is being able to remotely monitor and regulate the internal temperature of your grill, either by controlling the auger or checking the meat probe. You can do this from anywhere in the world with a web connection, so you always have full control over your grill.
3. Use Custom Recipe Cook Cycles
For example, Treager WiFire® cooking technology is revolutionizing the kitchen by combining recipes with grilling techniques. It allows users to search for pre-programmed cook cycles that are designed for specific types of meats, vegetables, or seafood.
The results are then matched to your desired cook time and temperature, making it easier than ever to find the perfect dish.
4. Cook with Precision
It's time to take the guessing game out of grilling. This innovative grill wirelessly transmits your grill's internal temperature to your smartphone or tablet, giving you control over your food like never before.
With the pellet grill, we have real-time feedback on the cooking process and can make adjustments when needed. This way we know if the meat is underdone or overcooked and can make adjustments as necessary.
5. Hands-free BBQ is Much Easier
There are many people who want to spend time with their friends and family. The idea of a wifi-enabled grill that can be controlled by a smart device is something that would make grilling easier for these people.
This way, they won't have to stand next to the grill and watch it while it cooks because the wifi will do all the work for them.
If you need to get on with other tasks while your meat is cooking, a Wi-Fi pellet grill is for you. With the use of an app, you can ensure that your meat is cooked to perfection without having to be stuck next to it.
Also, stay inside and be warm when it's freezing outside for instance and you don't need to go out and check the weather conditions.
Just wait for winter! You won't have to go outside to see them again and again to check the food.
Best WiFi Pellet Grills/Smokers 2023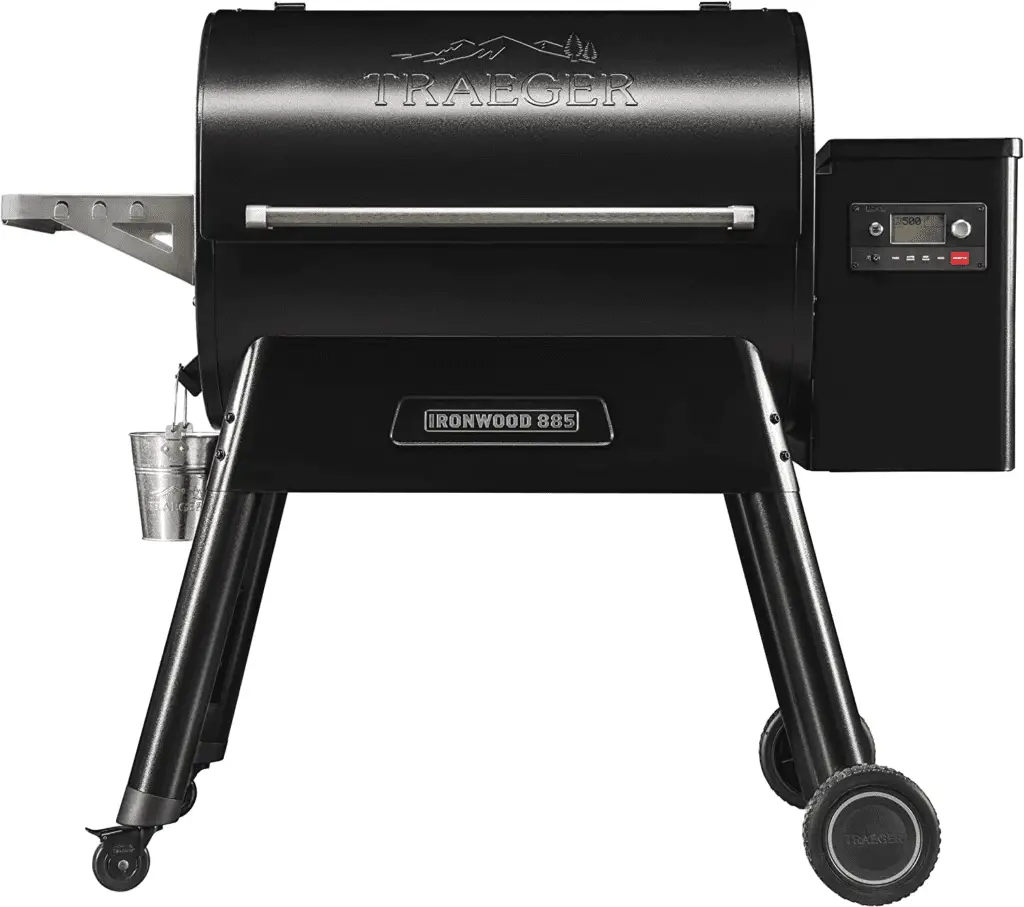 Weight: 170 lbs
Hopper Capacity: 20 lbs
Cooking Space: 885 square inches
Temperature Range: 165°F to 500°F
The Traeger Ironwood 885 is a premium wifi enabled pellet grill with a number of features. The Ironwood 885 has a large cooking area and a sizable hopper capacity.
It has WiFIRE technology, which enables you to manage the grill from your smartphone, and a PID controller for precise temperature control.
Related >> What Is a PID Controller Smoker/Pellet Grill [7 PID SMOKERS]
You may relax knowing that the PID controller will ensure that the temperature you set for your grill stays within 5 degrees of it.
Additionally, it has a Super Smoke mode that generates more smoke for improved flavor, a pellet sensor that warns you when the pellet supply is low, and a stainless steel side shelf for food preparation and storage.
Overall it is the best option for PID controller pellet grills/smokers. The Ironwood 885's a high price tag, which may be a barrier for some users. A few users have also mentioned difficulties connecting to the grill's app, though this is a pretty minor problem generally.
Related > >Why Is My Traeger Grill Offline? (Reset Traeger WiFIRE)
Weight: 170 lbs
Hopper Capacity: 22 lbs
Cooking Space: primary cooking area of 429 square inches and secondary cooking area of 382 square inches.
Temperature Range: 150°F to 500°F
Price Range: The WiFi enabled Woodwind SG is priced at around $1,000 to $1,200, which puts it in the mid-range for wood pellet grills.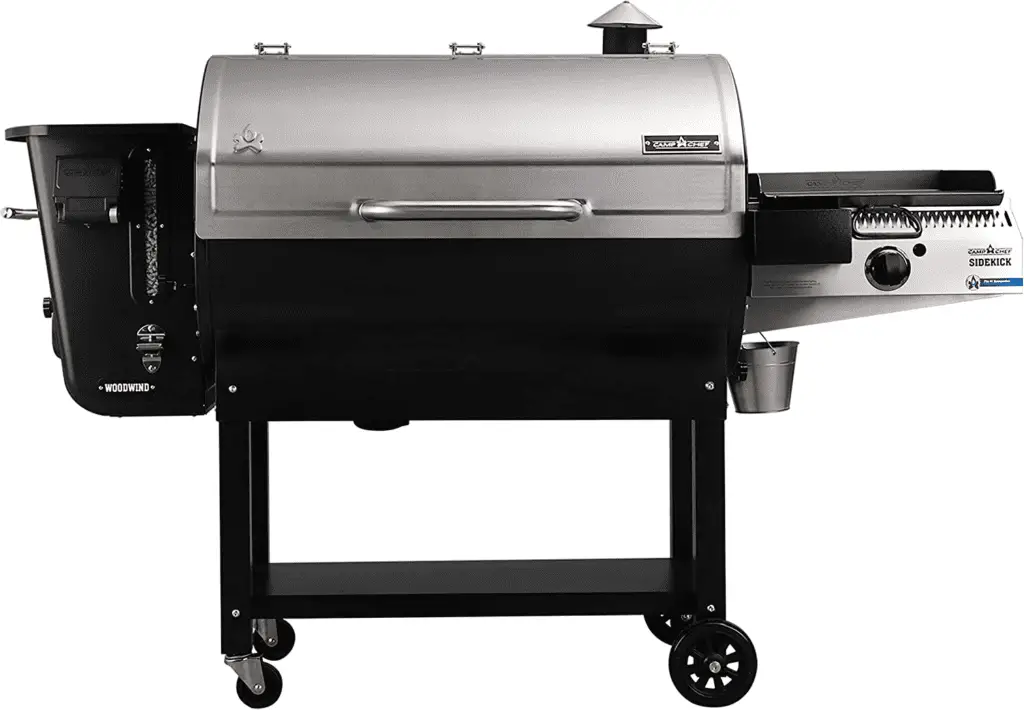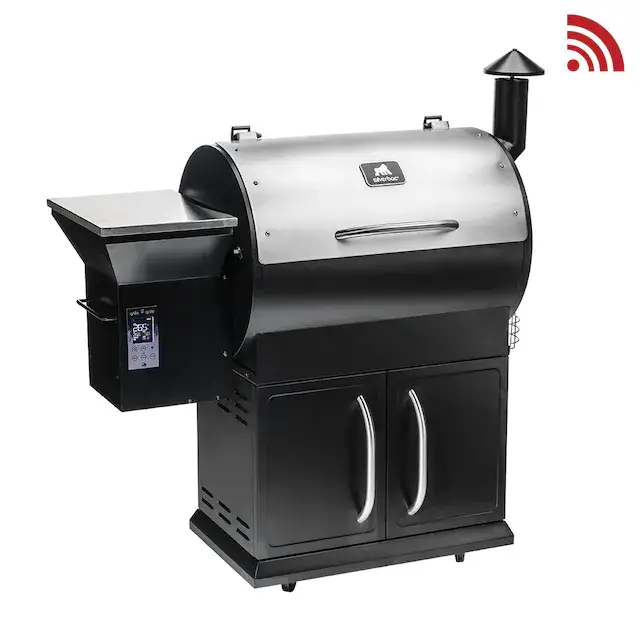 Weight: 170 pounds.
Hopper Capacity: 20 pounds
Cooking Space: 692 square inches
Temperature Range: 150°F to 500°F
Price Range: The Silverbac Alpha Connect is priced at around $1,499 to $1,599, making it a high-end pellet grill. However, the advanced features and large cooking area make it a worthwhile investment for serious grilling enthusiasts.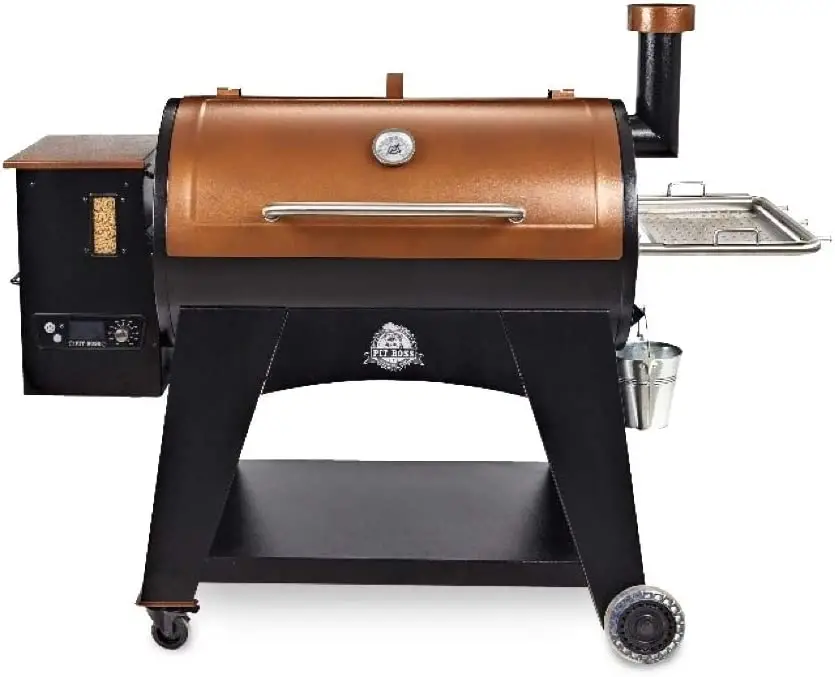 Weight: 164 pounds.
Hopper Capacity: 31 pounds
Cooking Space: 1000 square inches
Temperature Range: 150°F to 500°F
The Pit Boss Wood Pellet Series offers superior cooking at an affordable cost.
The Pit Boss Austin XL boasts a powder-coated steel exterior and a heavy-duty design, making it enduring and long-lasting. It also has a lower storage cabinet, a side shelf, and an built in thermometer.
One of the main specifications that make the Pit Boss Austin XL stand out from its competitors is its unique flame broiler feature.
This allows you to open the flame broiler slide plate and place your food directly over an open flame for searing and charring, giving your food a restaurant-quality finish. This is versatility at its finest – bake or roast, grill or smoke, this 8-in-1 grill will serve you well with its wood fired flavor.
Related > >12 Great Pit Boss Recipes For Beginners
The PID controller Pit Boss Austin XL allows for precise temperature control. It's an ideal option in the mid-price category with the only drawback that it is relatively heavy which would make it hard to move around.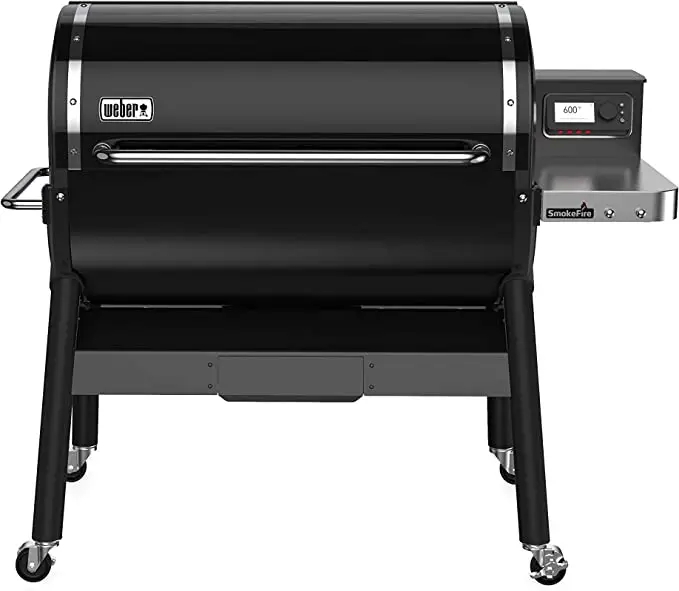 Weight: 204 pounds
Hopper Capacity: 22 pounds
Cooking Space: 1,008 square inches
Temperature Range: 200-600°F
Weber is a well known brand that is famous for producing grills and smokers of the highest quality.
The Weber SmokeFire EX6 is one of their newest and most advanced pellet grills, featuring a PID controller and a variety of other features that make it stand out from the competition.
Weber SmokeFire EX6 is made of a porcelain-enameled steel body, making it sturdy and resistant to rust and corrosion.
It has a stainless steel side table and a handle with tool hooks, for keeping kitchenware and other accessories.
One of the most important characteristics of the Weber SmokeFire EX6 is its advanced PID controller, which ensures precise temperature control and consistent cooking results.
The grill also has a large cooking area, making it perfect for hosting large gatherings or cooking for a big family.
It has advanced Weber Connect technology that allows you to remotely monitor and control the grill through a smartphone app.
The Weber Connect app provides real-time updates on cooking temperature, estimated cook time, and even alerts when food is done.
If you've never grilled or smoked before, don't panic; this app will provide you step-by-step recipe instructions. You can even share the cooking results and recipes with friends and family.
The grill also has a built-in meat probe thermometer, and ash and grease management system.
The only factor that influences the users buying decision is its high price point compared to other pellet grills. But if you are a serious outdoor cooking enthusiast who is willing to invest in a high-quality, reliable pellet grill the Weber SmokeFire EX6 is a great option.
Final Thoughts
Not only does the wifi grill make for a mobile experience, but it also keeps you in the loop on your cooking progress while you're away from the grill.  Additionally, this grill comes with sensors that will tell you when something has reached a certain temperature.
This means you won't have to keep coming back to the grill to check over it which isn't something you can do with a regular grill.
WiFi connectivity is a wonderful feature that allows you to control your grill remotely from the comfort of your home. This not only saves time and energy but can also provide a more consistent cooking temperature throughout the cooking process.
With this in mind, it is important to consider whether or not WiFi is worth it for you. If you want a convenient and flexible grill, then a pellet grill with WiFi might be the right choice for you.
Frequently Asked Questions
Is the WiFi enabled Traeger worth it?
The Traeger grills have been very popular, and with the WiFi enabled version, they have become even more so.
This grill has a touchscreen that is easy to use and with remote control as well as a quality finish that is sleek and modern.
It is worth it because the WiFi enabled Traeger will allow you to do everything with just one device.
So I think the WiFi on the Traeger is worth the extra $300. There is no better way than checking your phone to see the temperature.
Now, all this doesn't change the taste of your food by any means.
How important is wifi on pellet grill?
Whether you are using your pellet grill for personal or commercial purposes, the importance of having reliable wifi cannot be overstated. With good wifi, you can monitor and control your device from anywhere in the world.
Well, WiFi is an optional feature for pellet grills. It's not essential, but it can make using the grill more convenient.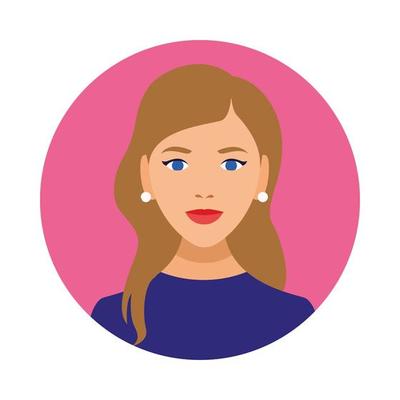 I am a writer, editor, and publisher of Grillcuisines.com – an online blog dedicated to sharing grilling tips, accessories, and recipes to encourage more people to get outside and grill.
I'm off to find out the different types of grill foods, their seasons, and how to conduct outdoor cooking properly. I'll also show you some of my grill-worthy cooking tools & accessories!