When it comes to outdoor cooking, having the right griddle can make all the difference. The ideal griddle offers a combination of performance, durability, and convenience.
With the right griddle, you have the power to control heat distribution, maintain precise temperatures, and create that desirable caramelization and char that takes your dishes to a whole new level of deliciousness.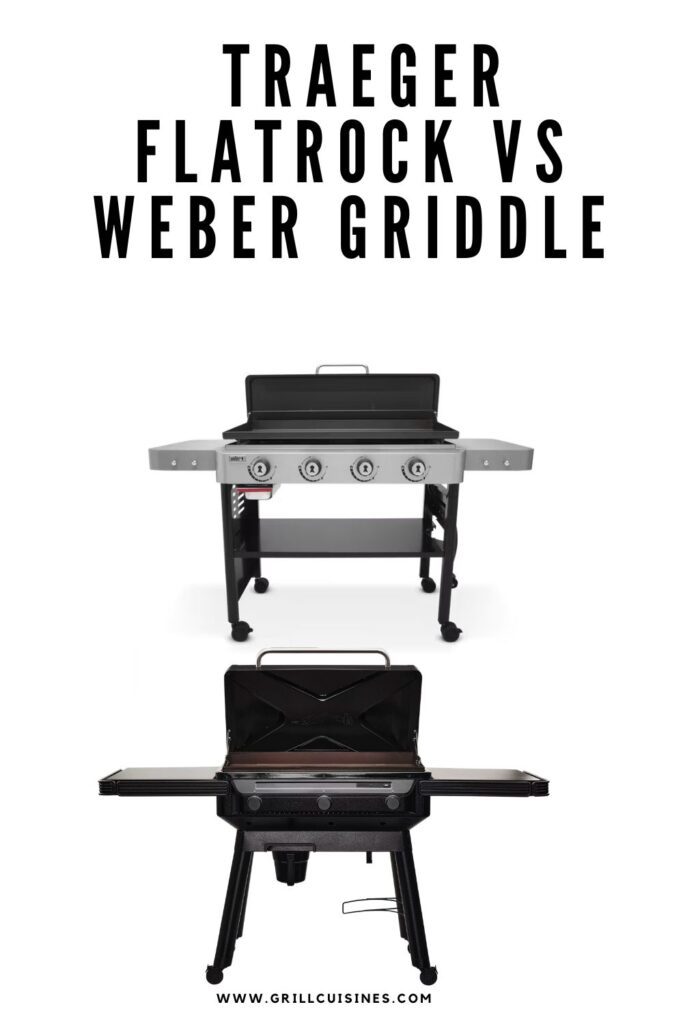 There are so many options available on the market, but the Traeger Flatrock and Weber Griddle stand out as popular choices among outdoor cooking enthusiasts.
They offer unique features, cooking capabilities, and build quality that make them worthy contenders in the griddle market. However, choosing between them can be a daunting task.
Here is a little grillcuisines.com guide about Traeger flatrock vs Weber griddle. We'll cover
We will compare two griddles of different brands, Traeger Flatrock and Weber Griddle.
We'll explore each aspect, including price, size, compatibility, material, and warranty, heat distribution, durability, cleaning to know which is better among Traeger Flatrock vs Weber Griddle.
Help you to make an informed decision for your griddling adventures.
Now, let's explore these griddles more closely and discover which one could become your perfect cooking companion for unforgettable outdoor culinary adventures.
Related > > Loco Griddle Vs Traeger Flatrock
Battle of the Griddles: Traeger Flatrock vs Blackstone
Traeger Flatrock Vs Weber Griddle
Both Traeger and Weber are well-known and established brands and have a reputation for producing high-quality grills and pellet grills.
In the past, Weber has provided different griddle inserts and accessories for their other grills. However, in January 2023, they made an exciting announcement by introducing their standalone griddle, catering specifically to the needs of outdoor cooking enthusiasts.

Recently, Traeger has also introduced their first new premium flat-top grill, and it's no wonder that their entry into the flat top grill market has generated excitement.
Both griddles have their unique characteristics and are known for their durability and functionality. Let's delve deeper into the features and comparisons of these two renowned griddles to help you make an informed decision for your next outdoor cooking adventure.
| | | |
| --- | --- | --- |
| | Weber Griddle | Traeger Flatrock |
| Dimensions | 53.55"W x 41.45"H x 23.94"D | 71"W x 42"H x 27"D |
| Weight | 110 lbs | 189 lbs |
| Griddle Surface Material | Hot-rolled steel | Recessed Carbon Steel Cooktop |
| Burners | 3 x 12,000 BTU burners | 3 |
| Total BTU | 36,000 | 43,500 |
| Assembly Required | Yes | Yes |
| Fuel Type | Liquid propane (tank sold separately), No natural gas | Liquid propane (tank sold separately), No natural gas |
| Price | Check Latest Price | Check Latest Price |
Traeger Flatrock vs Weber Griddle
1- PRICE & VALUE
When comparing the price and value of Traeger Flatrock vs Weber Griddle, it's important to consider the overall cost and the features offered by each griddle.
The Weber griddle is conveniently available in two sizes: 28 inches and 36 inches. This gives you the flexibility to choose the size that best suits your cooking needs and the available space in your outdoor cooking area.
While the Traeger Flatrock is available in a single size, which means there is no variation in size options.
Weber griddle 36 is priced at $579 while Traeger Flatrock comes in at $899. The Traeger Flatrock may have a higher price tag but it's important to assess the additional features and benefits it offers compared to the Weber griddle to determine which one provides the best value for your money.
Both griddles offer solid construction, durable materials, and ample cooking space.
But, Traeger Flatrock justifies its slightly higher price with additional features such as advanced temperature control, precise heat distribution, and innovative technologies. It also boasts a strong brand reputation for exceptional quality and reliability.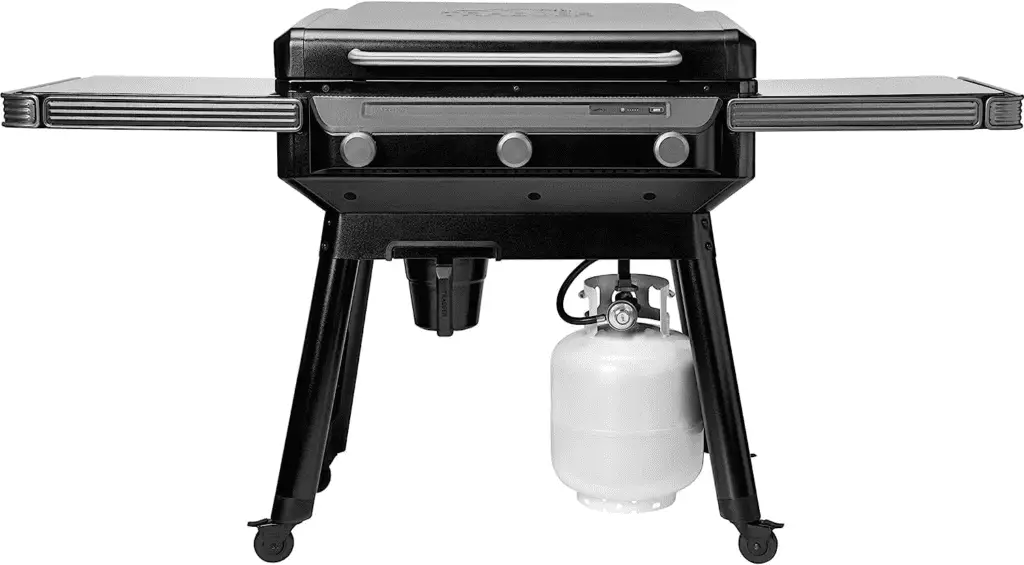 2- SIZE AND WEIGHT
Both the Traeger Flatrock and Weber Griddle offer different sizes to cater to various cooking needs.
The Traeger Flatrock griddle is available in a single size and the cooking surface is 33 inches in width. The weight of Traeger Flatrock is 189 lbs.
This generous cooking surface provides ample space to prepare multiple dishes simultaneously, making it ideal for larger gatherings or events where you need to cook for a crowd.
The Weber griddle, with its 504 sq. in. cooking surface, offers ample space for cooking meals for a family or a small group.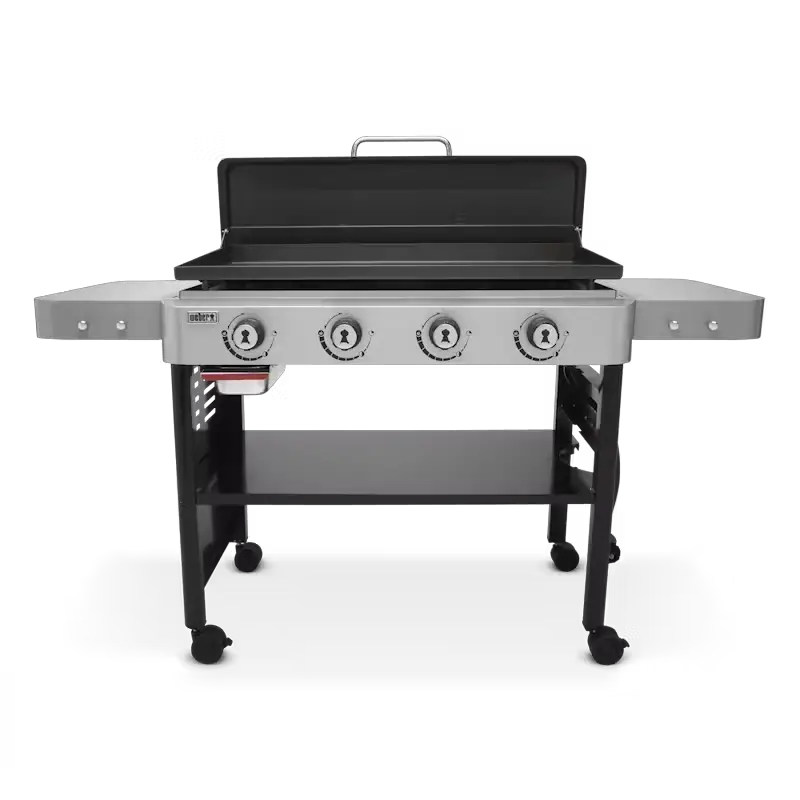 In terms of weight, the Weber griddle weighs 119 lbs, which is notably lighter than the Traeger Flatrock.
The difference in weight between the two griddles can be a factor to consider, especially if portability or ease of moving the griddle is important to you. While the Weber griddle offers a lighter option, the Traeger Flatrock's heavier weight may indicate sturdier construction and potentially enhanced durability.
3- HEATING CAPACITY AND FUEL TYPE
Traeger Flatrock uses liquid propane and does not have the capability to be connected to a natural gas supply.
When it comes to heating capacity, both the Traeger griddle and Loco Griddle offer impressive performance.
The Traeger Flatrock has TruZone temperature control with three cooking zones each equipped with a U-shaped burner. It has 2 independently controlled stainless steel burners, allowing you to adjust the heat output for different cooking zones.
U-burners essentially double the direct flame coverage on your griddle, eliminating hot spots and cold spots so that you can use every square inch.
The U-shape design is better for heat retention and reduced heat loss.
TruZone temperature control enables you to create different temperature zones for simultaneously cooking different food items.
You can use high heat for searing or lower heat for gentle cooking. With TruZone temperature control, you have the flexibility and control to achieve the desired cooking results.
However, if you start with all zones on high heat, it may be challenging to cool one section without affecting the cooking process in others.
The Traeger Flat top grill can reach high temperatures quickly and efficiently. Flatrock has a heating capacity of 43,500 BTU and reaches a maximum temperature of 600 F.
The Weber Griddle impresses with its three burners, each generating 12,000 BTUs, resulting in a total output of 36,000 BTUs.
One standout feature that caught my attention is the innovative Snap Ignition System, which eliminates the need for a separate ignition button. Instead, a simple turn of the knob ignites the burner, enabling you to effortlessly set and adjust your desired cooking temperature.
The three burners operate independently, giving you the ability to set and adjust different heat levels across the entire cooking surface.
The griddle heats up rapidly, swiftly reaching temperatures exceeding 500°F. This rapid heating capability ensures that you can swiftly get cooking and achieve the desired sear and sizzle.
4- COOKING AREA
Cook Top
Traeger Flatrock Recessed Cooktop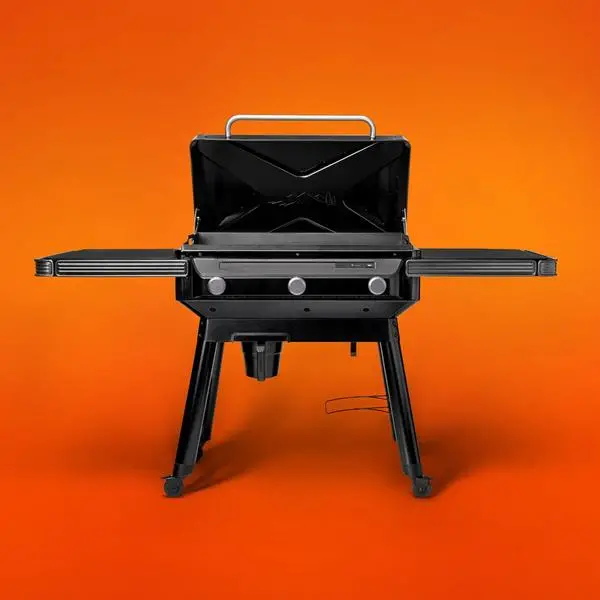 The Flatrock has a unique recessed cooking surface that keeps heat in and keeps the wind out.
They name it FlameLock. FlameLock prevents heat from escaping from the sides and wind from entering the cooking cavity, allowing you to cook your food more quickly and effectively than you could with a typical elevated cooking surface.
The temperature is consistent, it cooks evenly and there is no concern that any wind will ruin your cooking experience.
I think this feature will come in handy if you are living in a cold or windy area.
Weber Griddle Raised Cooktop
In Weber griddle the cooking surface sits above the burner tubes, creating a slightly elevated area for cooking.
This design is better for heat retention and prevents excess grease and food from spilling onto the burners. But it may not be a good choice in windy areas.
In windy and cold conditions, a recessed cooktop design may offer some advantages over a raised cooktop.
5- DESIGN AND BUILD QUALITY
One of the most important factors to consider when comparing Weber Griddle Vs Traeger Flatrock is the quality of its design and build.
When it comes to design and build quality, Traeger flat top grills are known for their attention to detail and robust construction.
I was amazed by the flawless fit of every component when I started assembling the Traeger Flatrock. Each bolt slid into position effortlessly.
Usually, grills and griddles use flimsy steel legs or delicate plastic wheels, that crack under the weight of the grill. But not this one!
The cooking surface of the Flatrock is made from sturdy carbon steel known for its excellent heat retention and even heat distribution properties. It's more durable than other materials like enameled cast iron or stainless steel.
Carbon steel is often compared with cast iron. While the two materials are very similar, carbon steel actually contains less carbon and more iron.
Carbon steel is known for its excellent heat conductivity and retention properties. It heats up quickly and evenly, providing consistent heat distribution across the cooking surface.
Carbon steel also develops a natural non-stick patina over time, enhancing its cooking performance and making it easier to clean.
When comparing the design of the Weber griddle to the sleek and industrial aesthetic of the Traeger Flatrock, Blackstone griddle, Pit Boss or Camp Chef griddles with their stainless steel construction and eye-catching red knobs, or the bold black and blue color scheme and striking lines of the alternative griddle, new Weber griddle falls short in terms of visual appeal.
In my opinion the Weber griddle simply doesn't exude the same level of elegance and style.
The assembly of the Weber Griddle is a simple and straightforward process. The grill is delivered in a fully unassembled form and it takes 45 minutes to fully assemble it.
Weber Griddle is designed to be lightweight, and you can easily assemble it on your own without requiring assistance.
One aspect that left me less impressed was Weber's decision to use a hot-rolled steel cooking surface for their griddle, instead of the cold-rolled steel commonly found in many competing products.
The concern with hot-rolled steel lies in the manufacturing process, where the steel is rolled at high temperatures, often exceeding 1700°F, and then allowed to cool.
This technique can lead to non-uniform shrinkage of the steel, potentially resulting in less control over the final product's size, shape, and finish.
In contrast, cold-rolled steel is more expensive to process, but produces a harder and stronger end product.
It was disappointing to find that Weber chose to cut corners and opt for a hot-rolled steel option for their griddle. While cost considerations may have played a role in this decision, it felt like a compromise on the overall quality and strength of the griddle.
The Weber griddle cookbox is made up of durable aluminized steel that prevents corrosion and supports longevity.
5- PORTABILITY AND EASE OF STORAGE
Wheels
Starting Traeger Flatrock, it has sturdy legs and 4 caster wheels. You can easily move it around your outdoor space or transport it for outdoor events or camping trips.
The Flatrock's small size makes it easy to store when not in use, saving you room in your garage or storage area.
Unlike many other griddles on the market, the Weber griddle comes equipped with only two wheels, which may pose some challenges when it comes to maneuverability.
For me, it's more difficult to move the griddle around, especially when dealing with uneven or rough surfaces. I like the four Caster wheels and every single model of Blackstone has it.
But to be honest with you it's not that big of a deal, this is a three burner griddle and is so light it moves around easliy.
The weight of a griddle plays a crucial role in its portability and ease of movement. While the Weber griddle may have only two wheels, its lightweight design compensates for this limitation.
Being lighter in weight compared to other griddles, such as Blackstone and Traeger Flatrock, it can still be relatively easy to move around, even on uneven or rough surfaces.
Storage Shelf
One notable difference between the Weber griddle and the Traeger flatrock grill is the storage configuration underneath.
The Weber griddle offers a single storage shelf underneath and 2 small side shelves. While the Traeger Flatrock takes a different approach with its design. Instead of a storage shelf, the Traeger Flatrock features large side shelves on both sides of the griddle.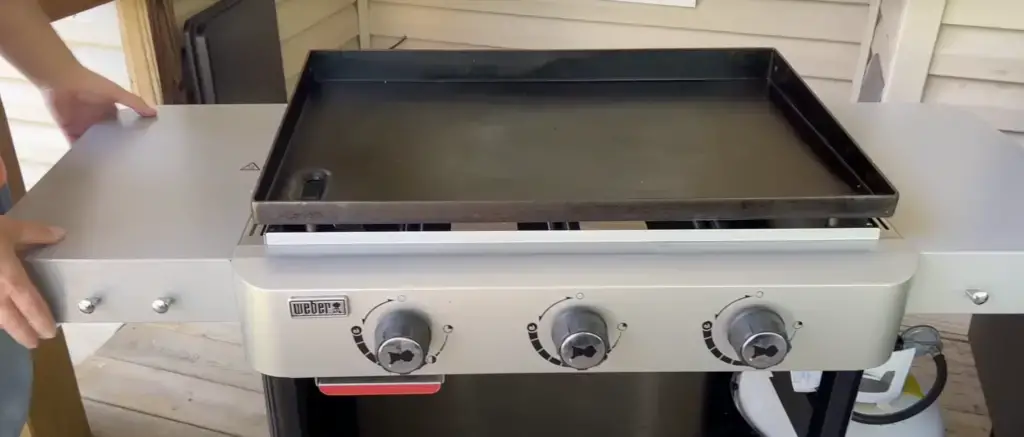 The absence of a dedicated storage shelf on the Traeger Flatrock is compensated by the inclusion of spacious side shelves.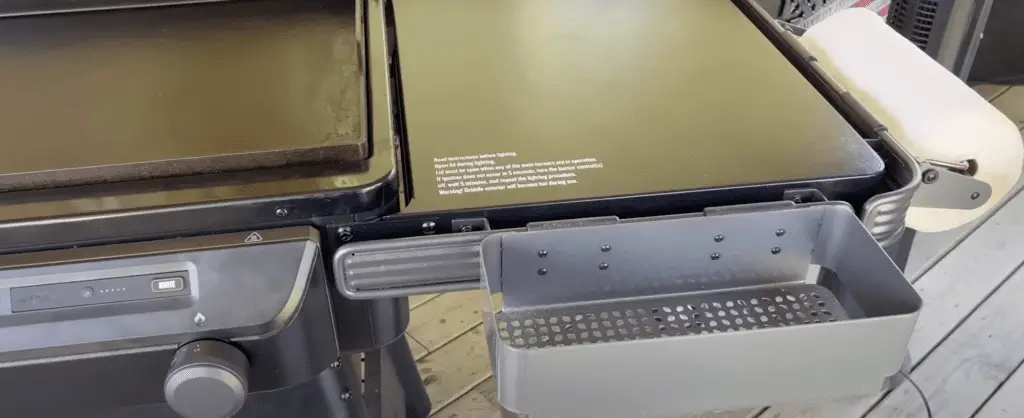 These shelves provide a convenient area to place your grilling tools, ingredients, plates, and other accessories while you cook. They offer ample space to keep your items within arm's reach, making the cooking process more efficient and organized.
But the choice between the Weber griddle's single storage shelf and the Traeger Flatrock's large side shelves depends on your specific needs and preferences.
6- THE TASTE TEST
When it comes to the taste test, the Traeger Flat top grill and Weber griddles both deliver delicious and flavorful food.
But they offer slightly different cooking experiences. Traeger Flatrock griddle has the best heat distribution and versatile temperature control, that gives you a precise cooking experience.
During my experience with the Weber griddle, I observed that the center portion maintained a consistent temperature across the entire cooking surface.
I noticed a slight variation when it came to the edges, particularly the bottom edge. Unlike the center, the edges didn't provide the same level of uniform toasting or even cooking.
7- HEATING ZONES
Traeger Flatrock model, are known for their ability to provide consistent heat distribution.
Here is a result of bread test that was done to check the heating zones in the Flatrock. But you ca see it is consistent throght the surface.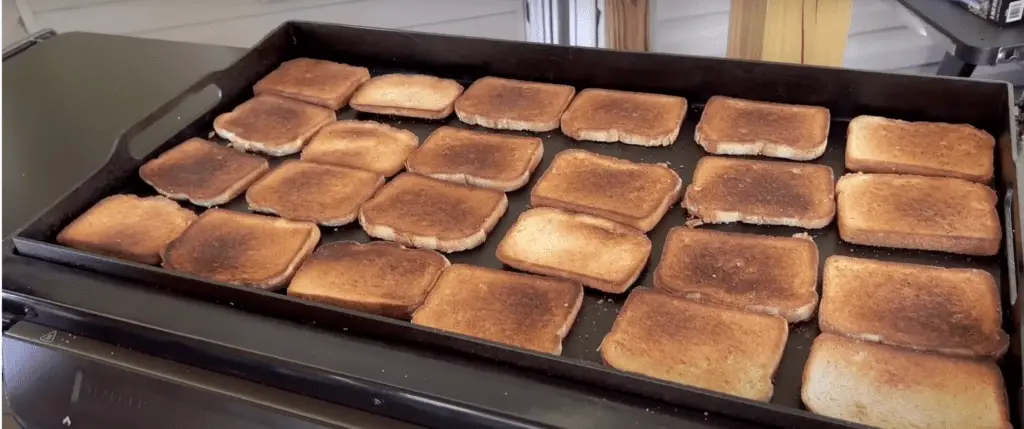 Weber griddles also have a more consistent heat distribution across the cooking surface. It has some colder spots around the corners.
Here is a Weber griddle bread test results.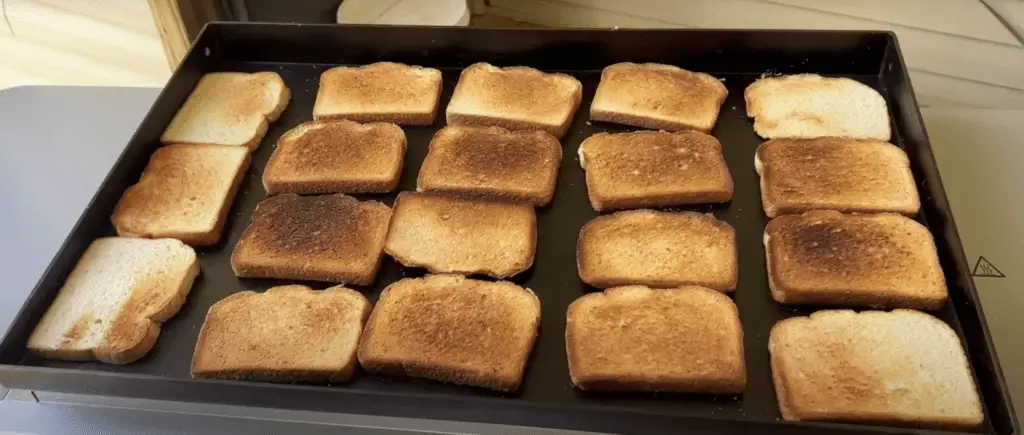 8- OTHER FEATURES
Traeger Flatrock
NEVER RUN OUT OF FUEL UNEXPECTEDLY
Traeger's Flatrock griddle comes with a fuel gauge, which keeps you informed about the gas level in the tank.
As a result, you don't run out of fuel unexpectedly during your cooking sessions.
Traeger's Pop and Lock system
The Pop-And-Lock™ (P.A.L) accessory rail makes it easy to customize the cook space and you can seamlessly integrate your existing Traeger smoker accessories with the Flatrock griddle.
The secure roller is a standout feature that can hold a paper towel or butcher paper, adding practicality to your cooking setup.
The Flatrock also has foldable shelves on either side of the hotplate, providing extra workspace when needed.
Grease Trap
One of the standout features of the Traeger Flatrock griddle is its heavy-duty and large grease trap.
Traeger put a massive grease trapping cup underneath the griddle.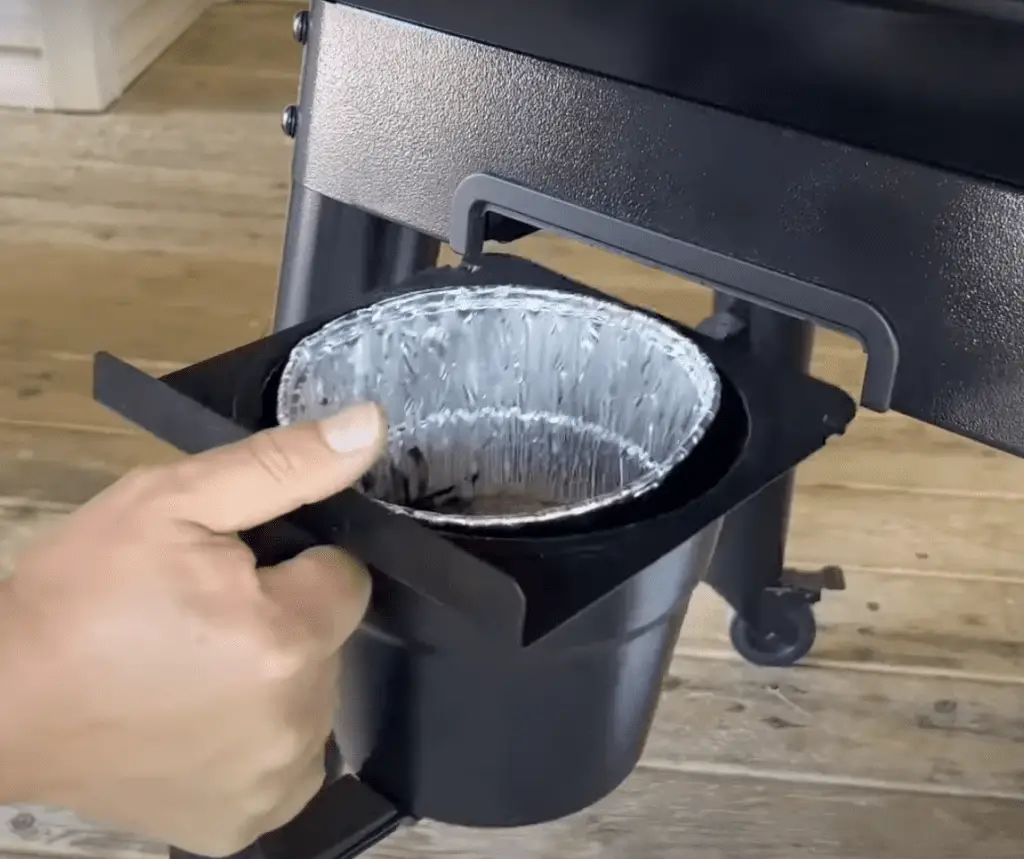 Unlike some other griddles, the Traeger Flatrock is equipped with a front grease trap management system, with a well-designed grease trap, and a slanted griddle top for efficient grease runoff.
While the front placement of the grease trap on the Traeger Flatrock griddle offers accessibility and convenience, there are some drawbacks to consider.
The heat generated during cooking tends to penetrate through the front hole where the grease channels, resulting in one side of the griddle being hotter than the other. If you just hold your hand at the top you can feel the heat escapes.
When you're cooking and you've got everything going it's not as noticeable because you're more focused on the food but if you get your hand in the wrong position or you happen to set something down you'll notice it right away.
I'm not a fan of the position of the grease trap and it can be a bit inconvenient when it comes to scraping off food remnants like onions, eggs, or bacon.
If the grease trap were located on the side or in a corner, it would be easier to focus on the rest of the griddle without interference.
It has a hinged lid that protects the cooking surface from dust, dirt when it's not in use. When propped behind the grill, it functions as a backsplash, providing an additional layer of protection for the surrounding backyard kitchen area.
The Weber Griddle
The Weber Griddle lid
The Weber griddle lid is noticeably flimsy and lightweight, which could potentially compromise its durability and sturdiness.
The lid is not designed to be used during the cooking process. Instead, it serves primarily as a cover for the griddle surface when the grill is not in use.
Grease Trap
The Weber griddle's grease trap design has received some criticism for being extremely lightweight and potentially requiring a two-handed system to handle effectively.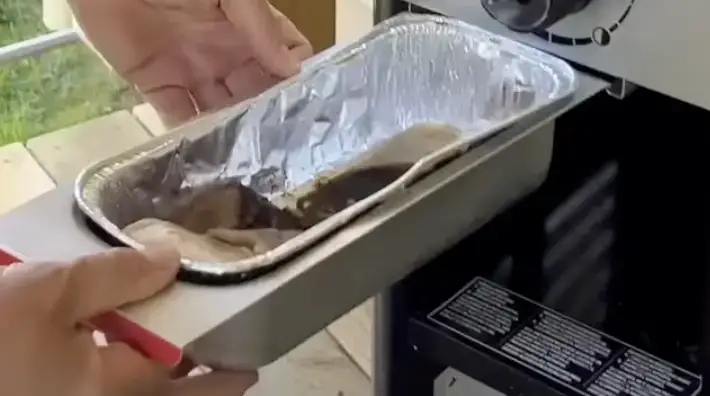 The metal used for the trap is lightweight, which may not instill confidence when gripping and maneuvering it. A heavier trap would offer better stability and control when cleaning the griddle with water, soap, or grease.
The lightweight nature of the trap, coupled with the heat generated by the grease, water, or food inside, can make it uncomfortable to handle with bare hands.
The concern is that the trap can become hot, requiring extra caution and potentially using both hands to handle it safely.
The Weber griddle grease trap is positioned at the side of the griddle, which is very convenient when compared with Traeger Flatrock.
I noticed that the hole for the grease trap is offset from the edge of the griddle.
Sometimes the grease would pool in the corner space between the edge of the griddle and the hole itself which be frustrating.
8- WARRANTY AND CUSTOMER SERVICE
When it comes to warranty and customer service, both Traeger flat top grill and Weber Griddle brands strive to provide excellent support to their customers.
The Weber griddle comes with an impressive warranty package. It includes a 5-year warranty, providing customers with peace of mind and confidence in the product's durability and quality.
Weber griddle also offers a 2-year paint warranty, which is a notable inclusion. This warranty covers any paint-related defects that exclude any fading and discoloration, as these are natural occurrences that can happen over time due to exposure to elements like sunlight and heat.
Flatrock is also backed by Traeger's 5-year warranty. The Traeger Flatrock's 5-year warranty is indeed impressive and provides a sense of security for buyers.
Wrap Up: Traeger Flatrock Vs Weber Griddle
It is obvious from comparing the Weber griddle vs Traeger flatrock that each product has unique strengths and weaknesses.
Whether you're looking for convenience or features, both griddles have something to offer and something to lack.
For devoted fans of the Weber brand, the Weber Griddle may be a natural choice to consider when searching for a griddle.
While the Weber Griddle is not a poor choice, it may not match up to the performance and features offered by the Traeger Flatrock.
In comparison to other griddles available in the market, such as Blackstone and Loco Griddle, the Weber Griddle may have a similar price tag but might not offer the same level of satisfaction and value.
The Traeger Flatrock is not cheap and is not in everyone's budget. I know that the higher price reflects its construction, durability, and performance.
If you're a first-time buyer or looking for a more budget-friendly option, I think the Traeger Flatrock may not be the ideal choice due to its higher price point.
If budget is not a concern and wind resistance, advanced temperature control, and a well-established brand reputation are important factors for you, Traeger Flatrock could be the ideal choice.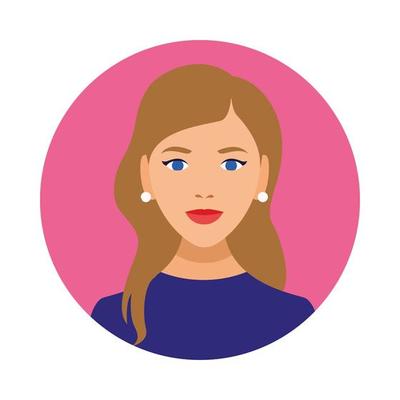 I am a writer, editor, and publisher of Grillcuisines.com – an online blog dedicated to sharing grilling tips, accessories, and recipes to encourage more people to get outside and grill.
I'm off to find out the different types of grill foods, their seasons, and how to conduct outdoor cooking properly. I'll also show you some of my grill-worthy cooking tools & accessories!