For those who crave the delicious flavor of smoked food but don't want the hassle of traditional smoking, electric smokers are a great investment.
You can easily get mouthwatering smoked dishes right in your own home with their set-and-forget feature.
If you are looking for a WiFi electric smoker, then you're clearly up to date with all the latest Internet-of-Things tech. An electric smoker with wifi is a great way to still enjoy the process of cooking, but give yourself the freedom to do other tasks. You can control the temperature and how your food is being cooked from anywhere with an internet connection.
In this grillcuisines.com guide, we'll cover:
How does wifi electric smoker work
List of our favorite WiFi electric smokers for 2023.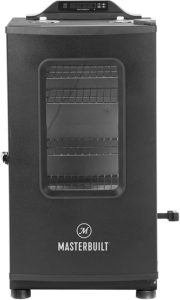 What is Wifi Electric Smoker? And How Does It Work?
An electric smoker is one of the most progressive technological innovations to come along in recent years. With the introduction of WiFi innovation, the electric smoker provides an even more modern and practical smoking technique.
For example, you can put your meat in the wifi electric smoker when you need to work on something else. Your smoker will keep you updated on the current temperature, as well as all of the other settings, right on your smartphone or tablet.
This means that you don't have to constantly check what's going on with your smoker-just set it and forget it.
In order to take full advantage of the electric smoker with wifi, you need to be connected to the internet.
You can use your phone or tablet from anywhere in the world and monitor the internal temperature of your grill using apps.
All you need to do is download the free app and connect it to the wifi electric smoker remote.
The wifi electric smoker has a free app that connects to your home WiFi and lets you control the grill from anywhere.
You can get it cooking at just the right temperature, measure the meat's internal temp, and even program it to start cooking at a specific time!
Top 8 WiFi Electric Smokers In 2023
There is a range of different smokers you can invest in to smoke your food at home – from charcoal, electric, gas, and pellet smokers. Each type of smoker uses a different fuel source to cook meat low and slow, from wood chips to metal coils.
For those who find handling gas or charcoal too much hassle, electric smokers are becoming very popular.
For those who are looking for a new electric smoker, you will be overwhelmed by the number of choices and options.
We've created this list to help narrow down the search and show you the best wifi electric smokers in 2023.
You can also find smokers in pellet grills also known as pellet smokers. Here is The Complete Guide to Pellet Grills/Smokers with PID Controller
Pellet Smoker vs Electric Smoker: What's the Difference Between a Pellet Smoker and an Electric Smoker? 
The difference between a pellet smoker and an electric smoker is in the fuel. A pellet smoker uses pellets made from compressed sawdust, which are fed into the firebox through a hopper to produce heat.
An electric smoker uses electricity to generate heat, which is then transferred to the food by metal heating rods. The electric smoker is different from the pellet smoker in that it does not have any kind of firebox or chimney and it cooks food by hot air convection.
Electric smokers use electricity to cook instead of wood pellets, propane, or charcoal.
These smokers typically use a thermostat to control the temperature, increasing the coil inside the chamber to smolder a bowl of wood chips typically placed at the bottom. The wood chips create the smoke that's then infused into the meat.
Here is a Pellet Grill vs Smoker: A Comprehensive Comparison
4 Best WiFi Electric Smokers for 2023
The list above features electric smokers that are best on Amazon, based on reviews. However, only 4 of them are Bluetooth or WiFi enabled electric smokers.
Masterbuilt's MB20073519 is the best overall WiFi electric smoker on the market. It's easy to use and offers a lot of features for something at its price.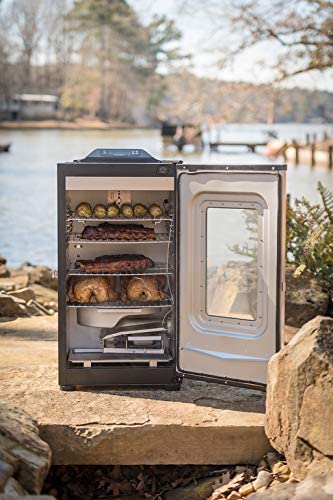 Masterbuilt MB20073519 Bluetooth Smoker with Broiler is the best electric smoker that can be controlled wirelessly through an app. The app has a timer and temperature control so that you can set the desired time and temperature before you start cooking.
The smoker has a built-in meat probe that monitors the internal temperature of your meat, so you don't have to open the lid and let all the heat escape.
It also has a Bluetooth connection for wireless control, which is compatible with most iOS and Android devices.
The smoker also has an LED display, which shows the temperature in Celsius and Fahrenheit.
It comes with four chrome-coated smoking racks which can be used for grilling or smoking different foods at the same time.
The smoker also has two side handles for easy handling and transport. It has an interior light that can be switched on or off and it comes with a drip tray to collect any excess liquid from your food.
The patented side wood chip loading system is an innovative tool for adding wood chips without opening the smoker door and losing heat.
The design will allow an operator to add chips from the side of a smoker without opening the door, which can result in up to 40% greater efficiency.
In order to connect the phone to the smoker, you have to "press and hold" for a few seconds to be able to pair the smoker with the phone.
After that, whenever you are out of range and you come back within range, you just click on the Bluetooth button and it reconnects immediately.
The built-in alarms in the app are also very helpful. All in all, it's a reasonably-priced smoker that works.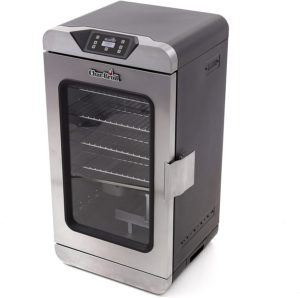 The Char-Broil Deluxe Digital Electric Smoker is an ideal choice for the best electric smoker for the money. This digital electric smoker has a 725-square-inch cooking space and a powerful heating element that can reach up to 275°F. The interior is fully adjustable with 4 cooking racks.
The best feature that this electric smoker has to offer is its double-wall construction. This insulates the smoker from external heat, providing a consistent and even cooking environment.
The smoker comes with a glass door for an easy view inside and includes a removable drip pan for easy cleanup.
With a large smokebox, you'll get anywhere from 6 to 7 hours of smoke before needing to refill. Enjoy your delicious meal in the meantime.
This smoker allows you to take the guesswork out of smoking using its washable and removable integrated meat probe.
Simply insert the probe into the meat and the smoker will alert you when the meat is done. Your meat will always be cooked to perfection with this.
It comes with a remote, and you can monitor and change the temperature from a distance.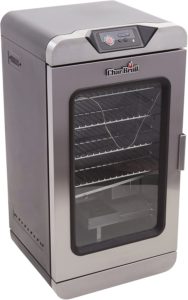 The Char-Broil Digital Electric Smoker is the perfect solution for those who love to spend time outdoors entertaining guests or just relaxing outside.
It is a WiFI electric smoker with SmartChef Technology. The smoker comes equipped with a Wi-Fi-enabled touchscreen that can be accessed from anywhere, so you can monitor your cook and control your smoker, even when you're not there.
The WiFi Electric Smoker offers a variety of features such as a two-toned black and silver steel housing, a glass front door, and an insulated vertical smoker, ensuring that the smoker stays at the desired temperature.
It measures 32.5 (width) by 18.1 (depth) by 16.5 (height) inches and weighs 31 pounds, offering a cooking cabin with 725 square-inch cooking space.
At the bottom, it has a drip tray, water pan, and smoker box. The Smoker Box has a handle for easy removal and can fit up to four cups of wood chips. Pellets are also an option, but avoid using wood chunks.
Char-Broil's SmartChef Technology provides a simple and efficient solution for anyone to cook their favorite meal. You can control the heat and cooking process on your smartphone or tablet.
SmartChef Technology is like having your own personal chef in your kitchen, cooking for you.
You can monitor your internal meat temperature, cook time, and smoker chamber time with the SmartChef app. Just make sure you have a reliable internet connection, and you'll be able to connect to your smoker anytime without worrying about running out of wifi signals.
It also uses the internet to access information about the weather, which is enormously helpful. You'll have access to accurate cooking time estimates based on what's happening in your area.
The app is easy to use and provides three cooking modes from the Dashboard: Preset, Guided Cook, and Manual Cook.
With the guided cook mode enabled, the app provides you with quick and easy step-by-step instructions on how to prepare your dish perfectly. Now everyone can be a chef like a pro!
This remote-controlled smoker has been said to automatically set both the meat and cabin temperature thresholds in order to calculate the total cooking time.
There are also limited recipe options not available with some other models.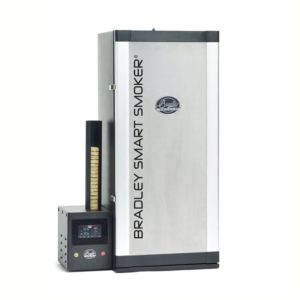 The BradleyBS916 is also known as the Bradley Smart Smoker. Not only is the Bradley Smoker one of the most innovative smokers out there, but it's also one of the most high-tech models you can find to date.
The Bradley Smart electric smoker has a big cooking space and has Six racks come with it and the smoker will hold ten racks total.
Combined, this gives you a great 780 square inches of cooking area. For instance, you may be able to fit two whole turkeys, or even more.
The Bradley smoker is a vertical water smoker that is designed to produce some of the most delicious smoked foods in the world. It has a built-in thermostat, which allows you to regulate the temperature inside the smoker.
The thermostat can be set at any degree between 100 and 275 degrees Fahrenheit. This feature helps you to cook your food thoroughly, without overcooking it or burning it.
The Bradley electric smoker is also equipped with an automatic firebox that makes lighting up your coals easy and hassle-free.
The Bradley smoker is made of high-quality materials, which means it will last for many years without any problems. You can use Bradley Bisquettes to fuel the smoker.
The Bluetooth feature is what sets this particular smoker apart from its competitors. You can monitor and control the cooking process without having to come into contact with it.
Of course, you can control this smoker with its Bluetooth-enabled app or the touchscreen display. Touchscreens are easy to operate and give you instant access to all your smokers' settings. Touchscreens are really easy to operate and give you instant access to all your settings.
The screen is very bright and there's no issue using it in very sunny or low-light conditions.
Tips on How to Choose the Best WiFi Electric Smoker for Your Needs
There are many different types of smokers in the market, and it can be tough to know which one is best for your needs.
Choosing the right smoker is not always an easy task. There are a lot of factors that you need to consider before deciding which wifi electric smoker to buy.
Here are a few tips to help you make an informed choice:
– Know what type of smoker you need.
– Make sure that the smoker has enough space for your needs.
– Figure out if you want an electric, gas, or charcoal smoker.
– Consider how much money you want to spend on a smoker.
– How much space do you have in your kitchen?
– What kind of food are you planning on smoking?
– Do you want a smoker with WiFi capabilities?
With research and careful consideration, you can find a smoker that suits your needs perfectly.
Related Articles:
10 Best Portable Pellet Grills for Camping & Hiking – Easiest to Use, Carry, and Store
Best Portable Grill for Camping under $200
5 Best Double Wall Pellet Grill for Cold Weather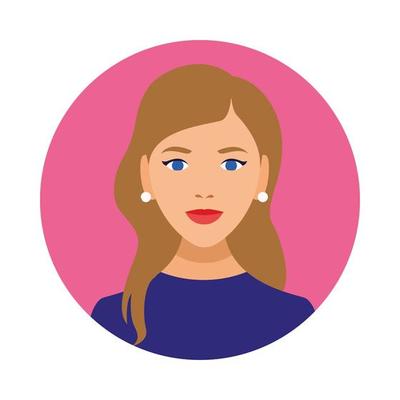 I am a writer, editor, and publisher of Grillcuisines.com – an online blog dedicated to sharing grilling tips, accessories, and recipes to encourage more people to get outside and grill.
I'm off to find out the different types of grill foods, their seasons, and how to conduct outdoor cooking properly. I'll also show you some of my grill-worthy cooking tools & accessories!