When it comes to satisfying your toothsome dessert cravings, there are two types of people: those who love to cook and those who simply desire to have it done for them by another.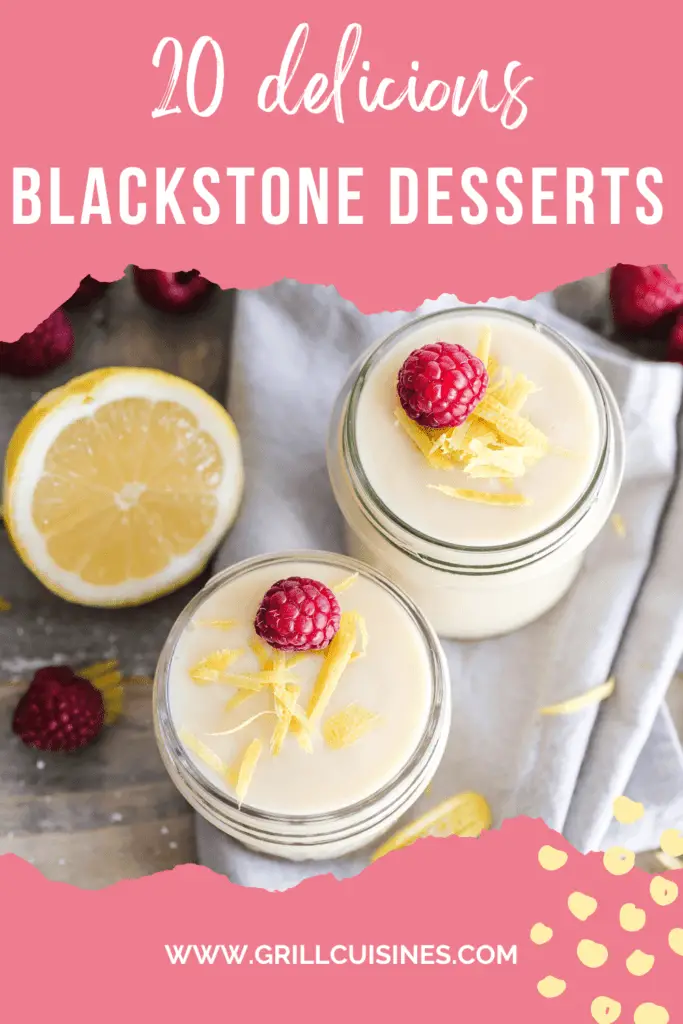 If you're one of the former, we've got good news for you: there's an easy way to get started!
As a dessert lover and proud owner of a Blackstone griddle, I have discovered the joy of creating delicious and unique Blackstone desserts on this versatile cooking surface.
From fluffy pancakes to gooey s'mores, the possibilities are endless when it comes to making desserts on Blackstone griddle.
So if you have a sweet tooth and a Blackstone griddle, join me in exploring the world of griddle desserts!
Griddle Accessories You Need To Cook Food On Blackstone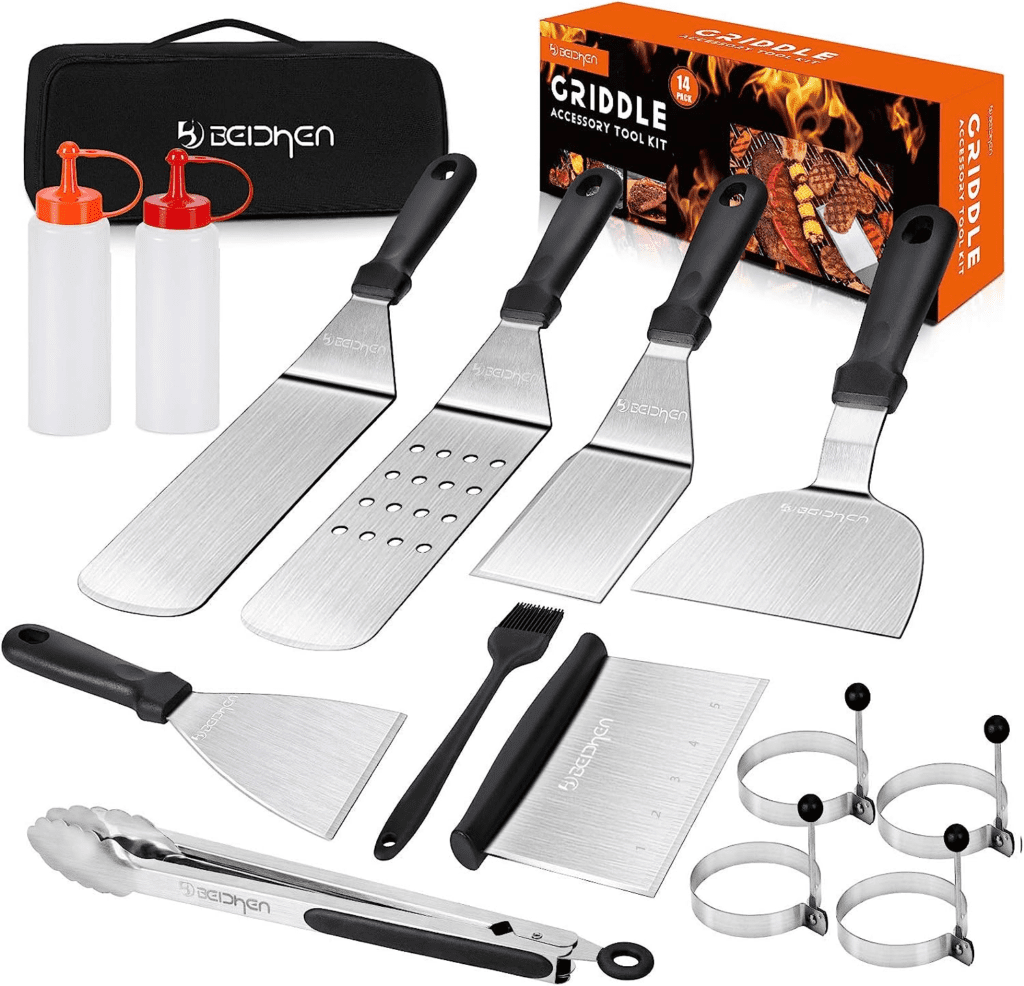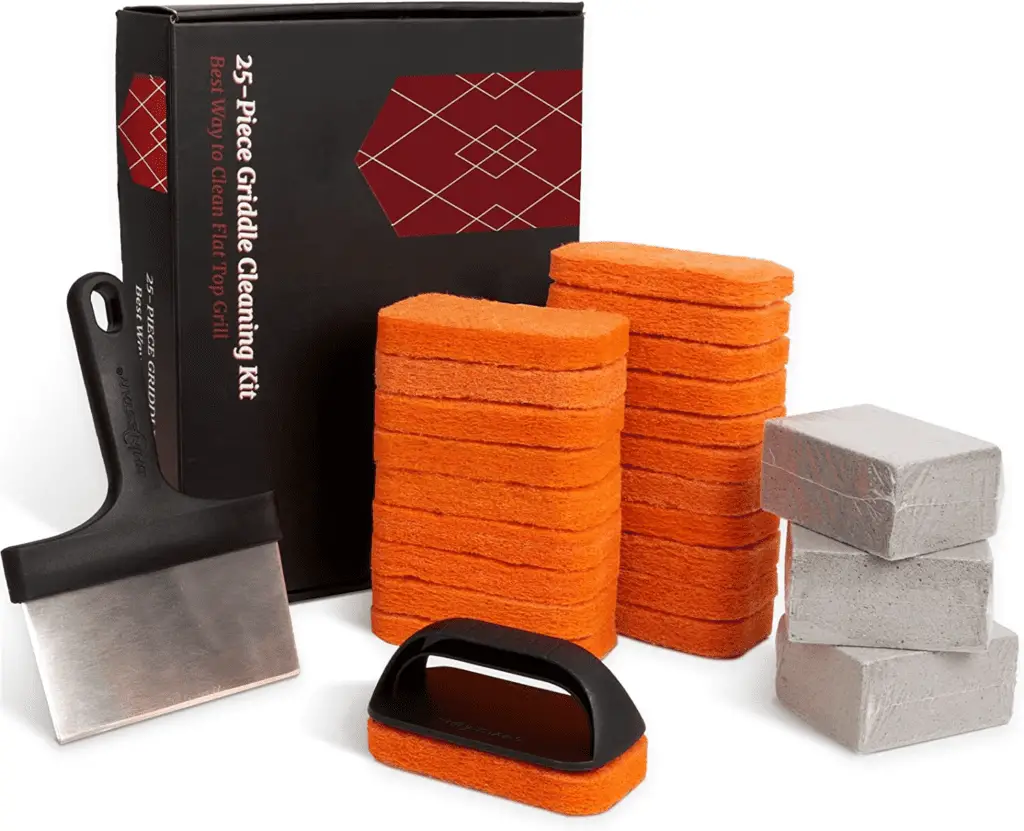 3- Blackstone Griddle Seasoning and Conditioner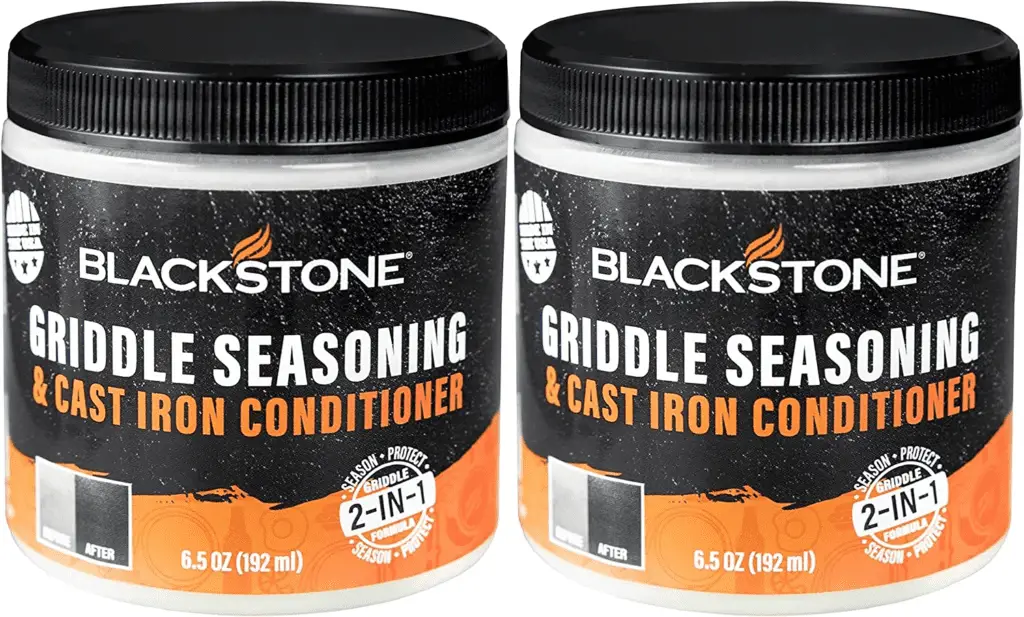 4- BBQ Gloves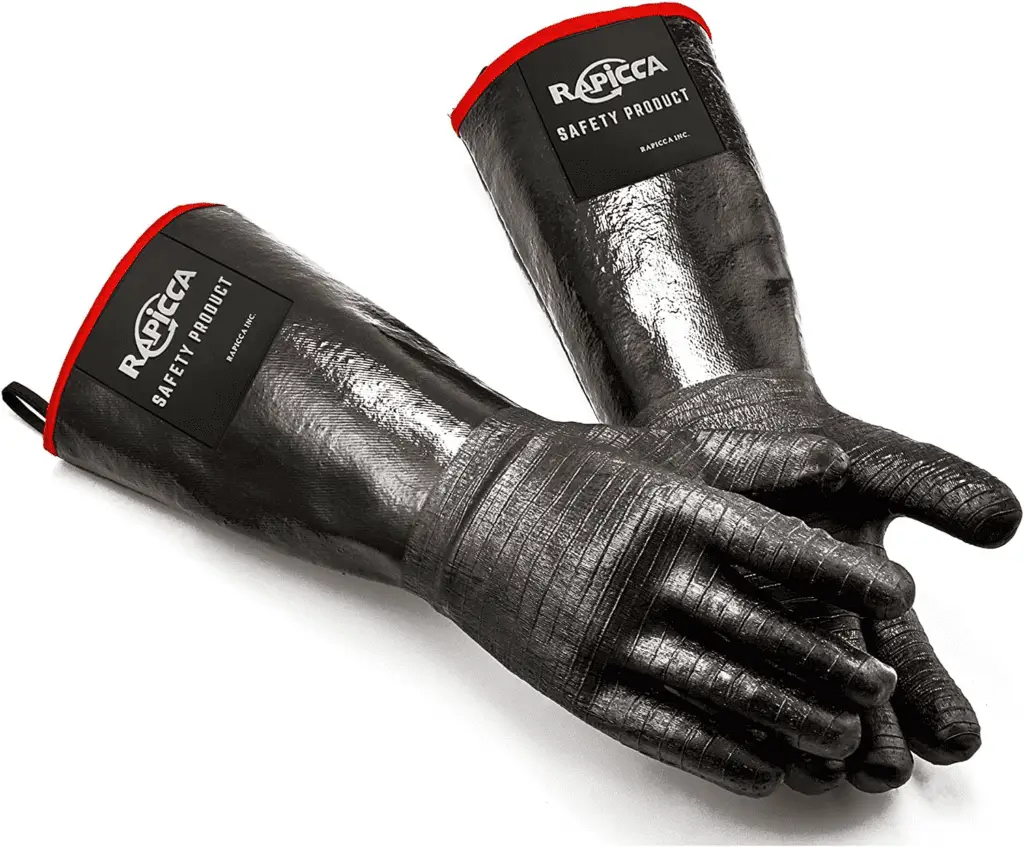 20 Best Blackstone Desserts Recipes
Using a griddle for cooking Blackstone desserts may be a tasty and enjoyable method to make one-of-a-kind delights that your loved ones will adore.
I like to make pancakes, waffles, crepes, or grilled fruit on a Blackstone griddle because it has excellent heat distribution and adaptability making it a fantastic choice for making desserts.
Keep reading this article to learn about the easiest Blackstone griddle desserts recipes!
The Best Guide to Blackstone Griddle Cooking Temperature Chart
You can prepare oozing brownies using a Blackstone griddle.
Start by preparing a batch of your favorite brownies on a square baking sheet to prepare this dessert.
The brownies should be cut into squares when they have cooled, and they should be grilled on the griddle for a few minutes on each side or until they are warmed. 
The cherry on top, you can also serve the grilled hot brownies with a scoop of vanilla ice cream and a drizzle of hot fudge sauce.
Rich chocolate sauce, creamy ice cream, and warm, gooey brownies combine to make a divine dessert ideal for late-night treats in the summer.
Read my words; roasting brownies bring out their delicacy and oozing flavor.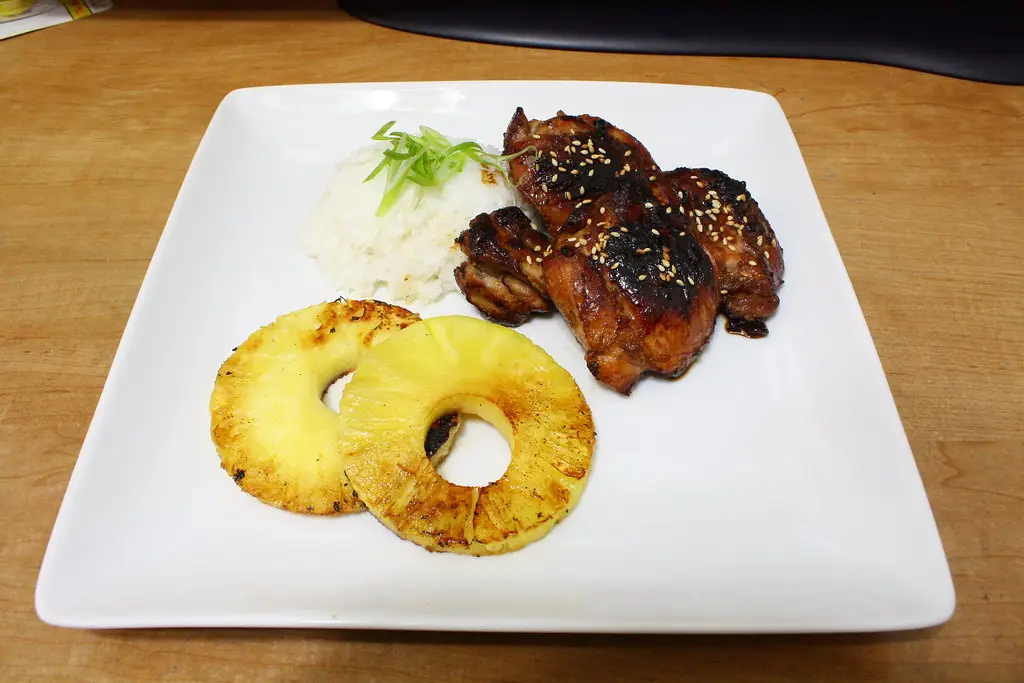 A tasty and simple dessert on Blackstone is the grilled pineapple. 
Grilled pineapples are readily prepared by removing the skin and core, cutting them into round or wedges, and cooking them over high temperature until they are lightly browned and caramelized. 
To avoid sticking, brush the griddle with oil, and for extra sweetness, put brown sugar or cinnamon on top. Use as a topping for burgers, tacos, or salads, or serve warm as a side dish or dessert.
A crowd-pleaser, grilled pineapple gives any word a touch of the tropics.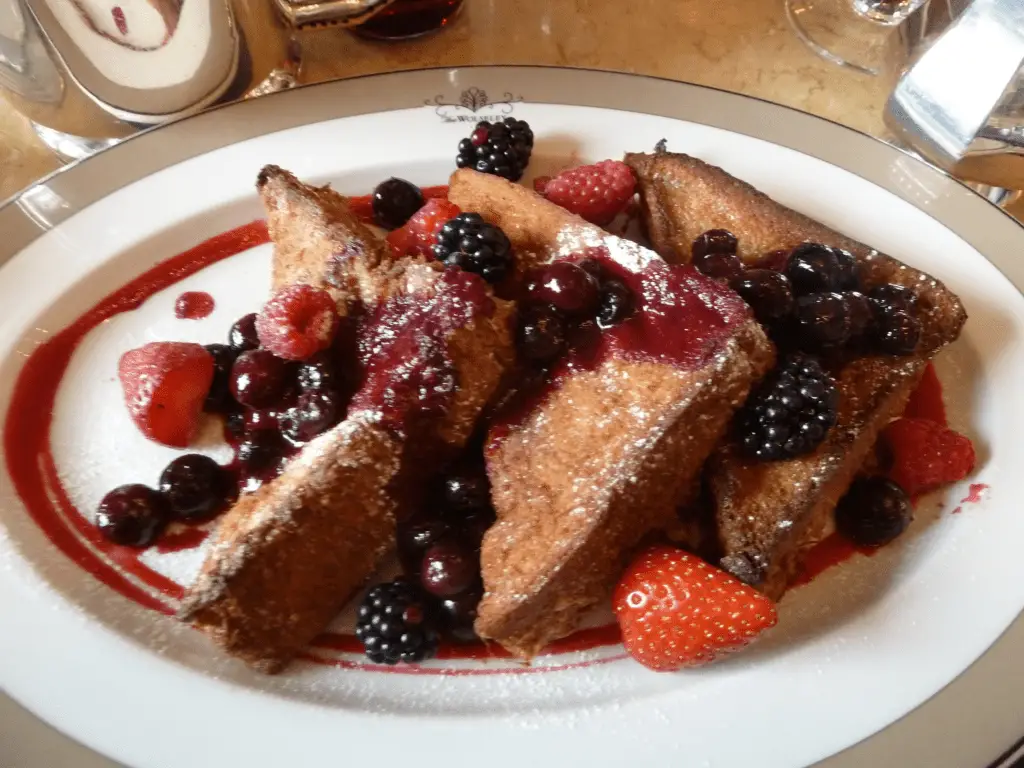 Chocolate-stuffed French toast is a rich and luscious brunch or breakfast item on a Blackstone griddle. 
Make a basic French toast batter combining milk, eggs, vanilla essence, and cinnamon.
Then, make a sandwich by spreading your preferred chocolate applied or melted ganache onto one slice of bread.
Then it is dipped into the French toast batter before being placed onto a Blackstone griddle prepared and cooked for 2-3 until the chocolate has melted. 
For delicious and fulfilling best Blackstone dessert recipes, serve warm with a dusting of icing sugar or fresh fruit.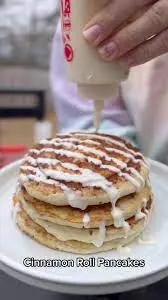 A delicious variation on classic pancakes is to cook them on a Blackstone griddle.
 Making your favorite pancake batter first, then adding a cinnamon-sugar-butter swirl mixture, is an excellent place to start.
The batter is then poured onto a Blackstone griddle that has been warmed and cooked until bubbles appear on the surface.
The pancakes are covered with a cinnamon icing frosting created with powdered sugar, milk, and vanilla extract.
The pancakes should be golden brown after being flipped and cooked for a further minute. These pancakes will undoubtedly become new favorite Blackstone desserts because they are ideal for a relaxing breakfast or brunch.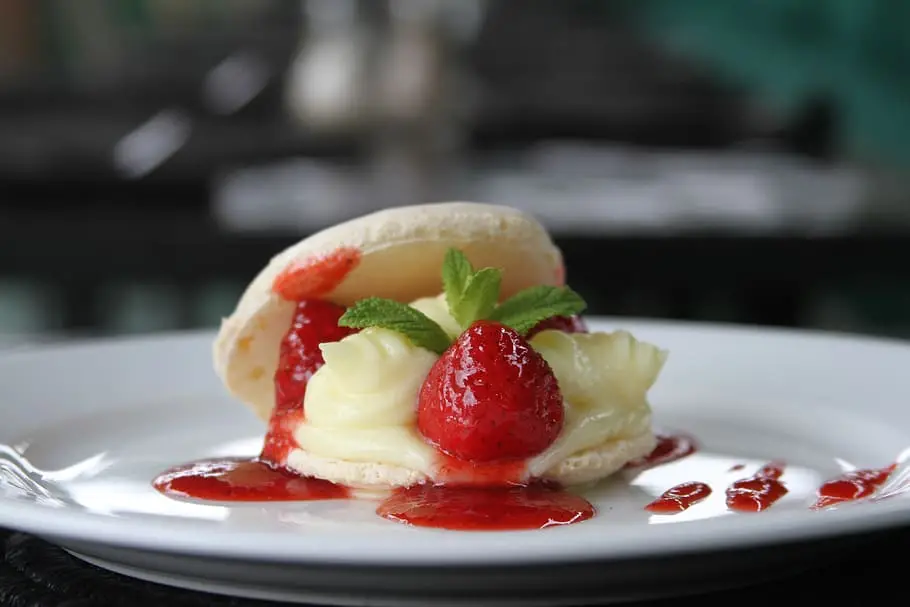 Strawberries and Cream A tasty and colorful breakfast or brunch dish, pancake on a Blackstone griddle. 
Make your preferred pancake batter first, then add finely chopped fresh strawberries. Place the batter onto a Blackstone griddle that has been warmed, and grill until a bubble appears on the surface.
The pancakes should then be flipped and cooked for a further minute or two until golden brown.
Put the pancakes in a stack and top them with whipped cream and strawberry slices to assemble.
For a little extra sweetness, drizzle with honey or maple syrup. These tasty pancakes will wow your guests and are a great way to enjoy fresh strawberries.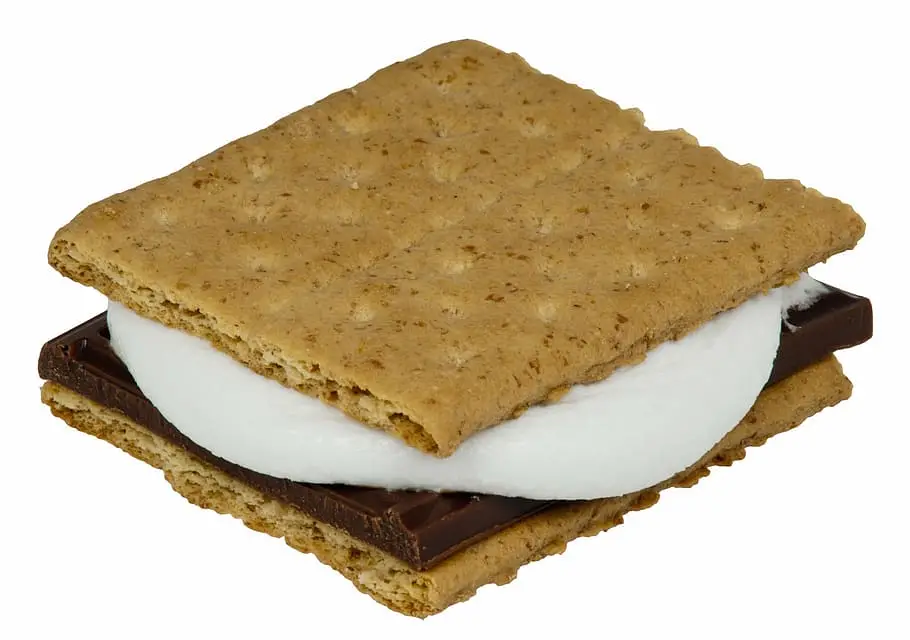 Blackstone griddle-grilled banana s'mores are a fun and inventive treat for camping or backyard barbecues. 
A ripe banana should be split in half lengthwise, then cut side down on the griddle. Let it heat for a few seconds until it begins to caramelize.
After that, top each half of a banana with a marshmallow and a chocolate square, and let them melt for a further minute or so.
Remove from the griddle and assemble a s'more by sandwiching the banana halves. These grilled banana s'mores are a tasty and simple way to fulfill your sweet tooth; kids and adults will love them.
Blueberry lemon ricotta pancakes are an excellent and delicious breakfast alternative for a leisurely weekday night or a special occasion.
These pancakes are a flavor explosion in every mouthful, made with fluffy pancake batter combined with creamy ricotta cheese, sharp lemon zest, and sweet blueberries. 
A Blackstone griddle is the best way to cook them, so the outside is flawlessly crispy and golden brown while the inside stays moist and tender.
The blueberries' natural sweetness is enhanced by caramelization caused by the griddle's heat, giving the dish a hint of depth.
These pancakes delight when drizzled with maple syrup or whipped cream.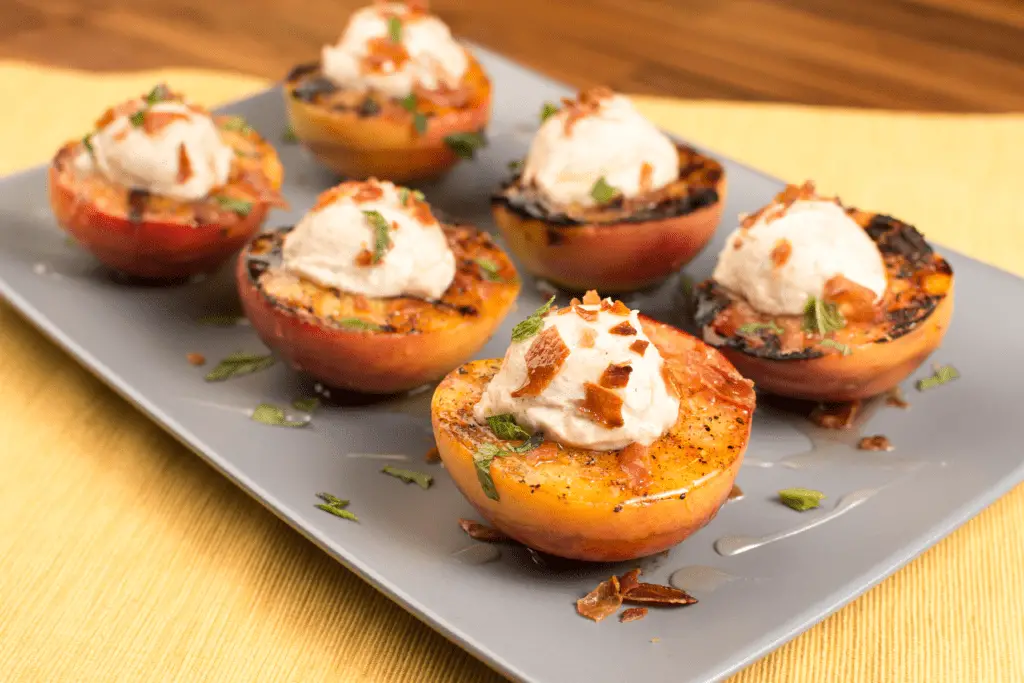 Your best breakfast treat can be Blackstone griddle-grilled Peach Melba Pancakes. 
The flavor of luscious peaches is absorbed into the fluffy pancakes, which are then expertly grilled to create a delightful caramelized exterior.
A substantial portion of freshly sliced peaches, a drizzle of raspberry sauce, and a scoop of vanilla ice cream are all placed on top of the pancakes.
Peach Melba is a well-known flavor combination, and when combined with the warmth of the pancakes, it produces a mouth-watering burst of flavor and texture.
The smoky char from the grill adds a hint of complexity to the meal, creating a unique breakfast.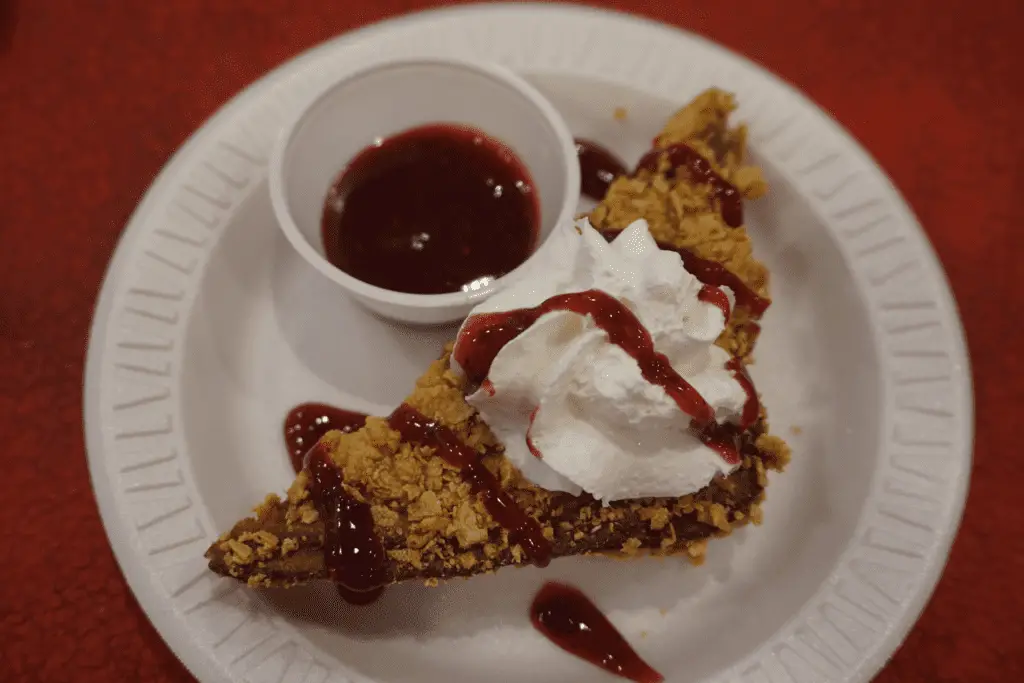 The ultimate breakfast pleasure for all chocolate lovers is French toast stuffed with Nutella and cooked on a Blackstone griddle.
Rich, creamy Nutella is generously spread across thick slices of brioche bread before being dipped in an egg mixture and cooked to perfection.
The Nutella melts to a rich and gooey consistency due to the heat from the griddle, which also produces a crispy and golden brown outside. This dish is a tempting and indulgent delicacy that will satiate any sweet craving. 
You can serve it with a drizzle of warm maple syrup, fresh berries, and a dusting of powdered sugar. It's the ideal breakfast for a special occasion or a weekend morning spent lazing around.
The straightforward yet exquisite dessert "Grilled Pound Cake with Berries and Cream on a Blackstone Griddle" would dazzle any visitor. 
Pound cake slices are grilled until they are slightly charred and smokey, giving the food a new flavor and texture.
A medley of fresh berries is then sprinkled on top of the grilled pound cake, giving each mouthful a rush of sweet and sour sensations.
The meal is finished with a dollop of freshly whipped cream, adding a delicious richness to the fruit's sweetness.
The result is a light and energizing dessert ideal for a summer evening or a special occasion.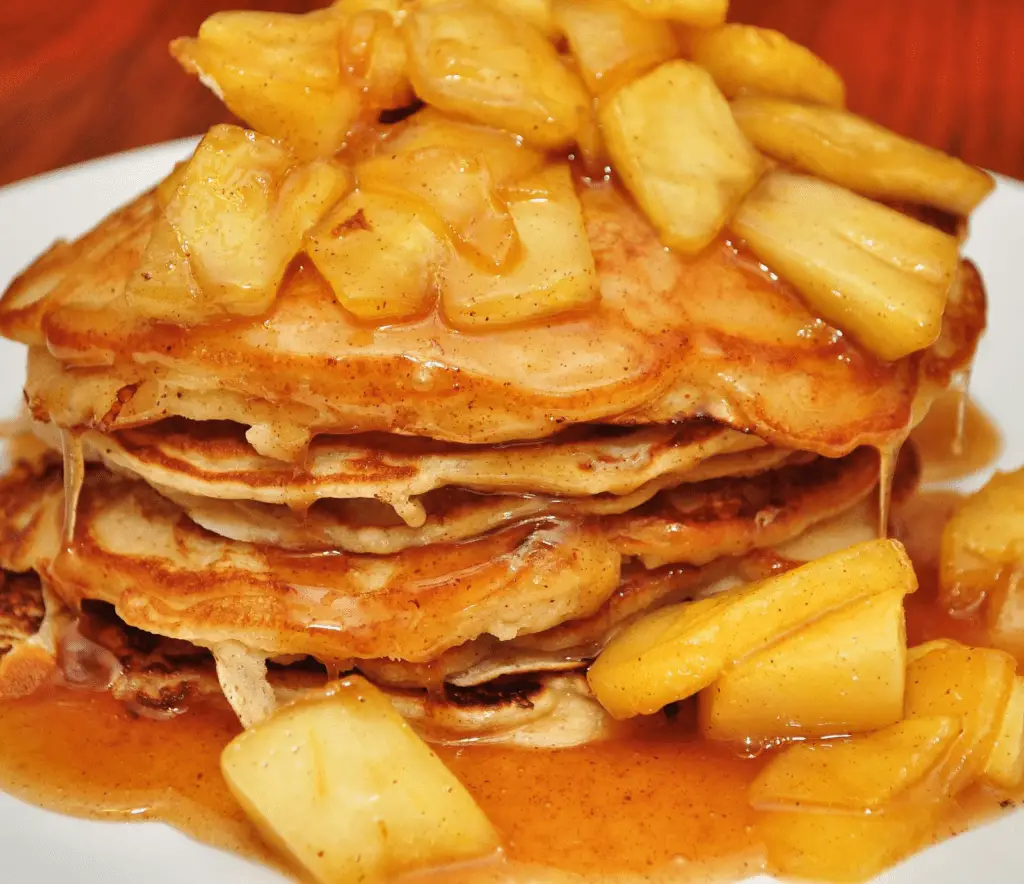 A Blackstone griddle is the perfect tool for making caramel apple crepes, a luscious dish that will delight any sweet appetite.
Crisp morsels of cinnamon-spiced apples that have been perfectly caramelized are stuffed inside thin, delicate crepes.
The container is then generously drizzled with warm, gooey caramel sauce, which gives the crepes a rich, decadent richness.
The crepes are cooked uniformly and have a crispy edge when cooked on a Blackstone griddle.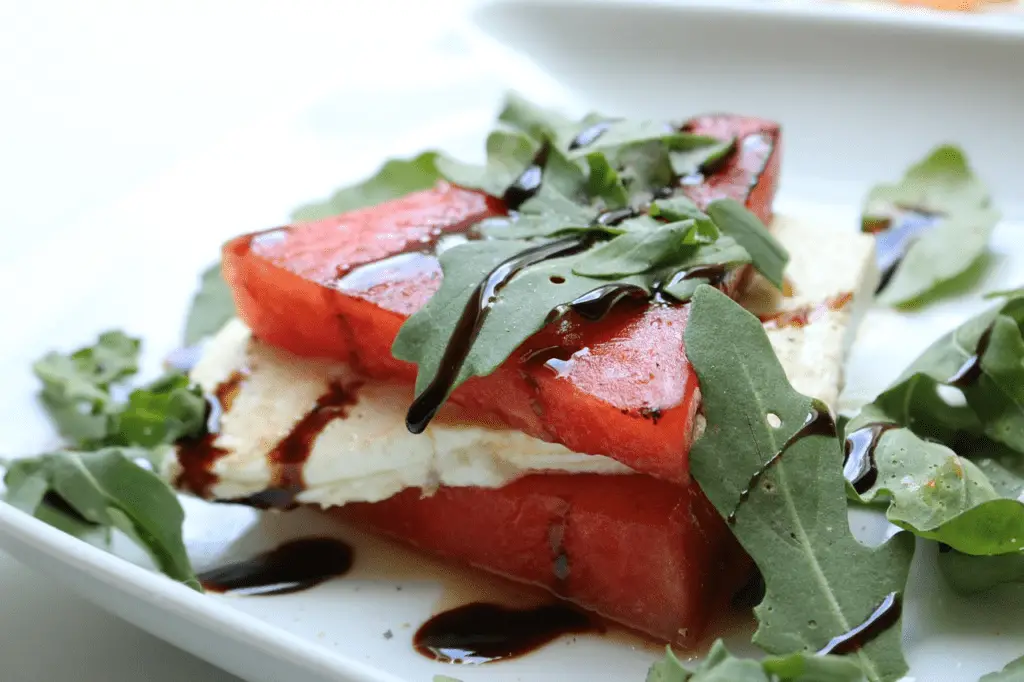 An excellent and refreshing dish is grilled watermelon salad, which mixes the smokey flavor of grilled watermelon with fresh herbs and a tart sauce.
Start by bringing a Blackstone griddle to medium-high heat before cooking this salad.
The watermelon should be cut into thick slices and grilled for a few minutes on each side or until grill marks appear. 
You can even top it with feta cheese crumbles, chopped mint, and a balsamic sauce.
The outcome is a delicious and healthful salad ideal for outdoor events like picnics in the summer.
A Blackstone griddle makes it simple to prepare decadent and indulgent morning treats like Blackberry Cheesecake Pancakes. 
Start with combining a regular pancake batter, then stir in some cream cheese and fresh blackberries to make these pancakes.
Pour the batter onto the griddle, which has been heated to medium, and cook for a few minutes on each side until golden brown.
With extra blackberries on top and a drizzle of syrup, serve the pancakes hot. The blend of light pancakes, rich cheesecake, and tart blackberries creates a mouth-watering and wonderful meal.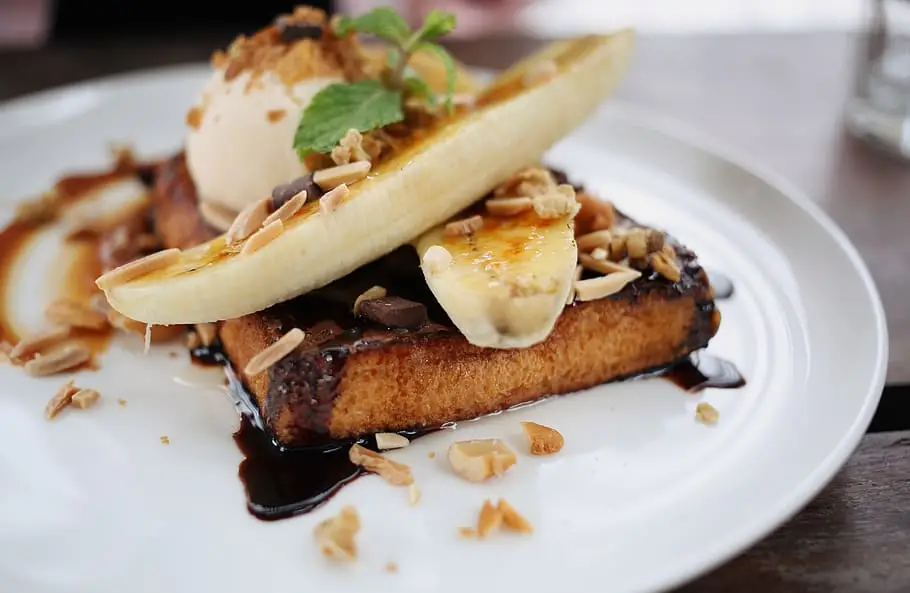 Grilled Banana Split is a delicious and creative twist on the classic dessert easily made on a Blackstone griddle. 
To make this dessert, start by slicing a banana in half lengthwise and placing it on the griddle to cook for a few minutes on each side until it's lightly browned and caramelized.
Then, place the grilled banana on a plate and add a scoop of ice cream. Drizzle chocolate sauce, caramel sauce, and chopped nuts over the ice cream.
The result is a warm, sweet, and decadent dessert for sharing with friends and family.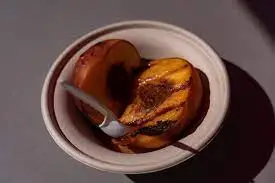 Cinnamon Sugar Grilled Peaches are a tasty and straightforward treat ideal for grilling in the summer on a Blackstone griddle.
To prepare this dish, cut fresh peaches in half, remove the pits and drizzle them with melted butter.
The peaches are covered in cinnamon sugar before being placed on the griddle until soft and caramelized. 
You can also serve the hot, grilled peaches with a dollop of vanilla ice cream and some extra cinnamon sugar on top.
Juicy peaches, warm spices, and rich ice cream create a delectable and enduring treat.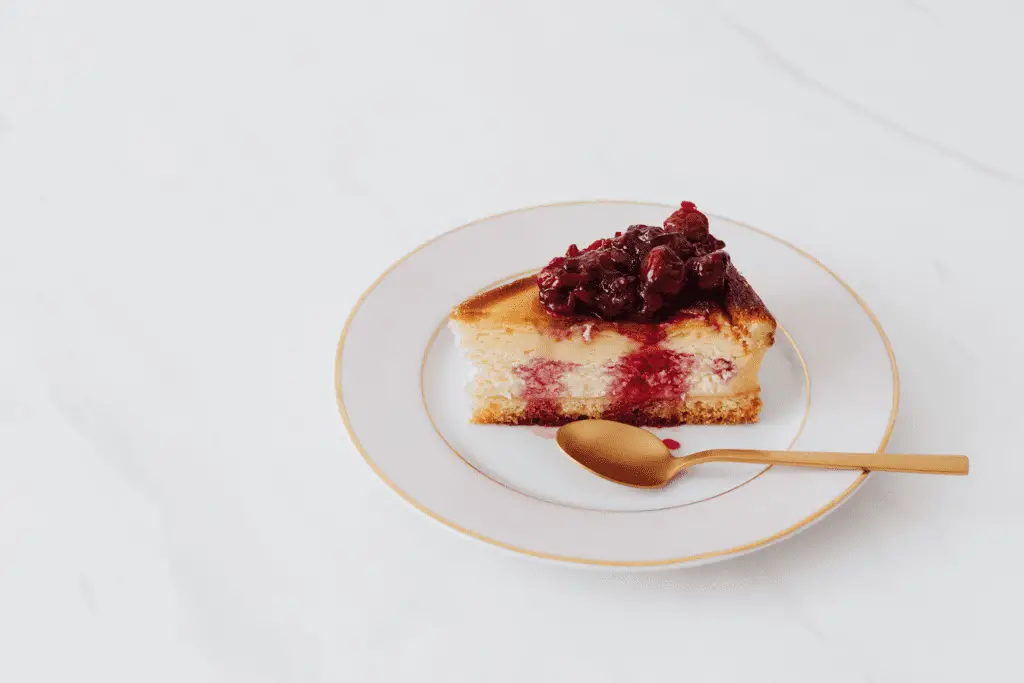 A decadent and tasty dessert ideal for grilling outdoors on a Blackstone griddle is grilled cherry cheesecake. 
Combine the cream cheese, sugar, eggs, and vanilla essence until they are well combined.
After a few minutes of cooking on the griddle, the mixture should solidify after being poured onto a graham cracker crust.
Fresh cherries should be grilled in a separate skillet until tender and caramelized. Serve the cheesecake warm with a spoonful of whipped cream and the roasted cherries on top.
Graham cracker crust, tart cheesecake, and sweet cherries combine to make a delectable dessert that will wow your visitors.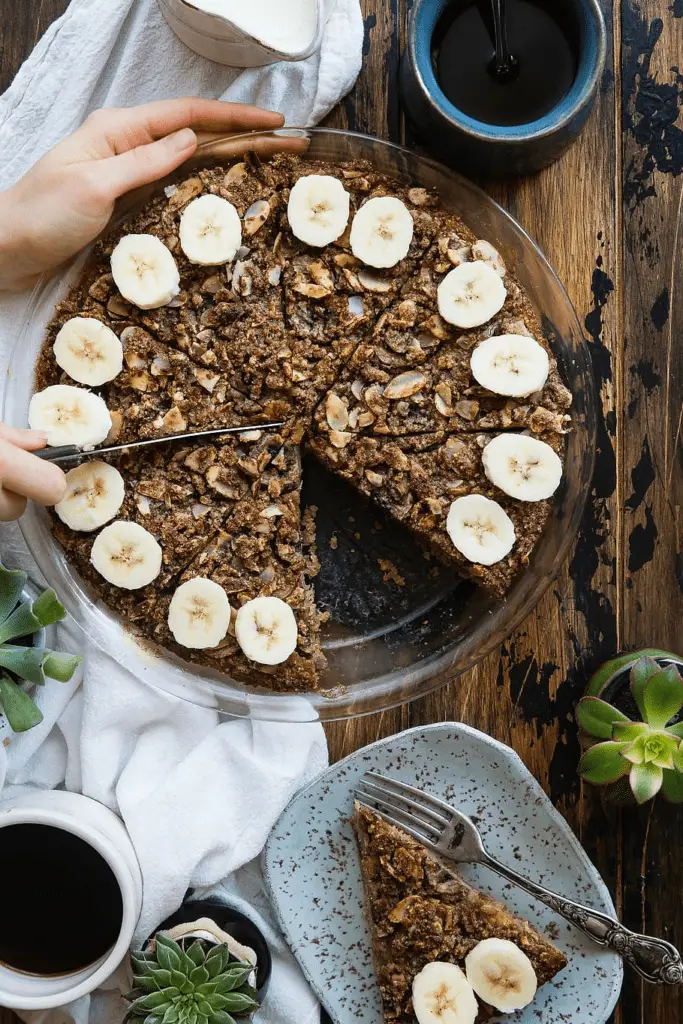 Another Blackstone griddle desserts is chocolate chip banana bread. 
Start by combining the following ingredients in a large bowl: flour, sugar, baking soda, salt, mashed bananas, melted butter, beaten eggs, and chocolate chips.
After an hour, the batter should be cooked through and golden brown on the griddle after being poured into an oiled loaf pan.
Slice the banana bread into thick slices after removing it from the pan. To lightly toast and caramelize the pieces, place them on the griddle and cook for a few minutes on each side.
Try it with vanilla ice cream on top of the hot, grilled banana bread.
A Blackstone griddle is the ideal outdoor grilling appliance for making the delectable dessert known as grilled apple crisp. 
Slice some fresh apples and combine them with sugar, cinnamon, and a squeeze of lemon juice to make this dessert.
The apples should be cooked on the griddle until soft and caramelized. Oats, brown sugar, flour, and melted butter are mixed in a separate bowl to produce a crumbly topping.
The topping should be crunchy and golden brown after a few minutes of grilling after you've sprinkled it over the apples.
A spoonful of vanilla ice cream is placed on top of the hot grilled apple crisp.
Sweet apples, toasty spices, and a crunchy topping combine to make a lovely and filling dessert guaranteed on Thanksgiving!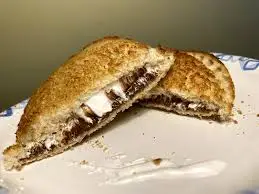 A grilled Nutella and marshmallow sandwich is an entertaining and scrumptious treat that is ideal for outside cooking on a Blackstone griddle. 
Start by generously slathering two slices of bread with Nutella to prepare this dessert. Make a sandwich by spreading a few marshmallows on one piece of bread and covering it with the other.
The sandwich should be brushed with melted butter on the outside before being placed on the griddle to cook for a few minutes on each side until golden and crispy. 
Serve the hot Nutella and marshmallow sandwich on a grilled bun with a dusting of powdered sugar. Warm, gooey marshmallows and rich, creamy Nutella combine to make a wonderful, nostalgic dessert guaranteed to please.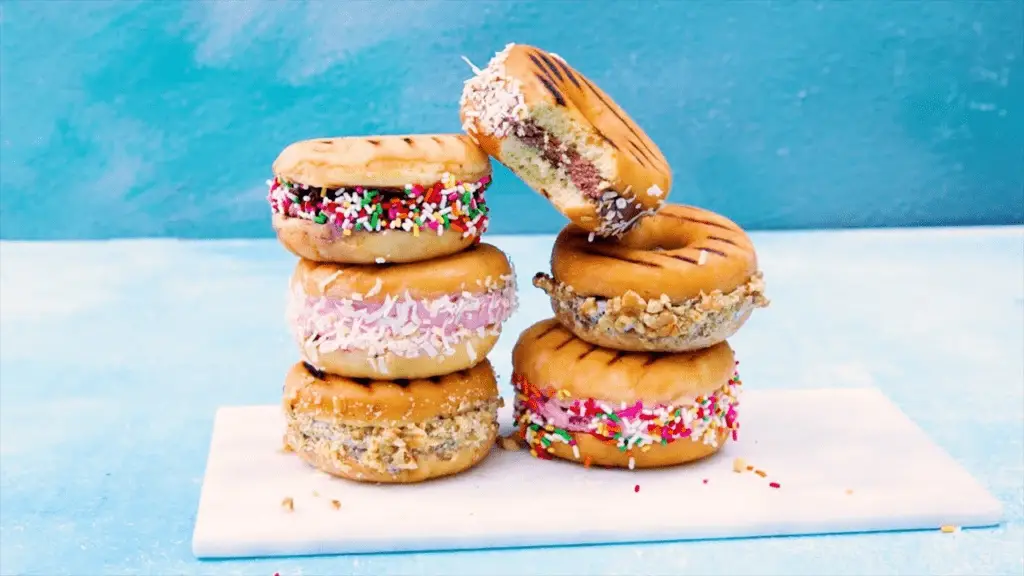 Everyone will undoubtedly love these delectable and distinctive flat top griddle desserts! 
The grilled doughnut sandwich is a tasty variation of the traditional ice cream sandwich. Two freshly fried doughnuts are the first step, followed by your preferred ice cream flavor.
They are lightly roasted to give the doughnuts a crunchy outside and a warm, gooey core.
The two doughnuts are then sandwiched with the ice cream to create a delectable delicacy guaranteed to please.
Related Articles: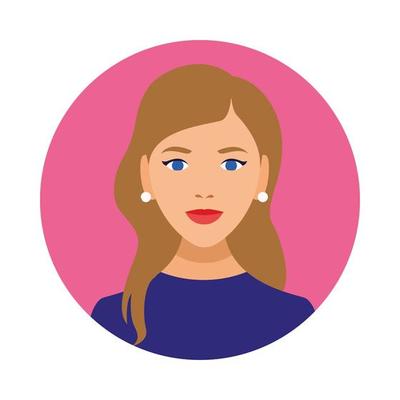 I am a writer, editor, and publisher of Grillcuisines.com – an online blog dedicated to sharing grilling tips, accessories, and recipes to encourage more people to get outside and grill.
I'm off to find out the different types of grill foods, their seasons, and how to conduct outdoor cooking properly. I'll also show you some of my grill-worthy cooking tools & accessories!