When it comes to outdoor cooking, having the right griddle can make all the difference. The ideal griddle offers a combination of performance, durability, and convenience.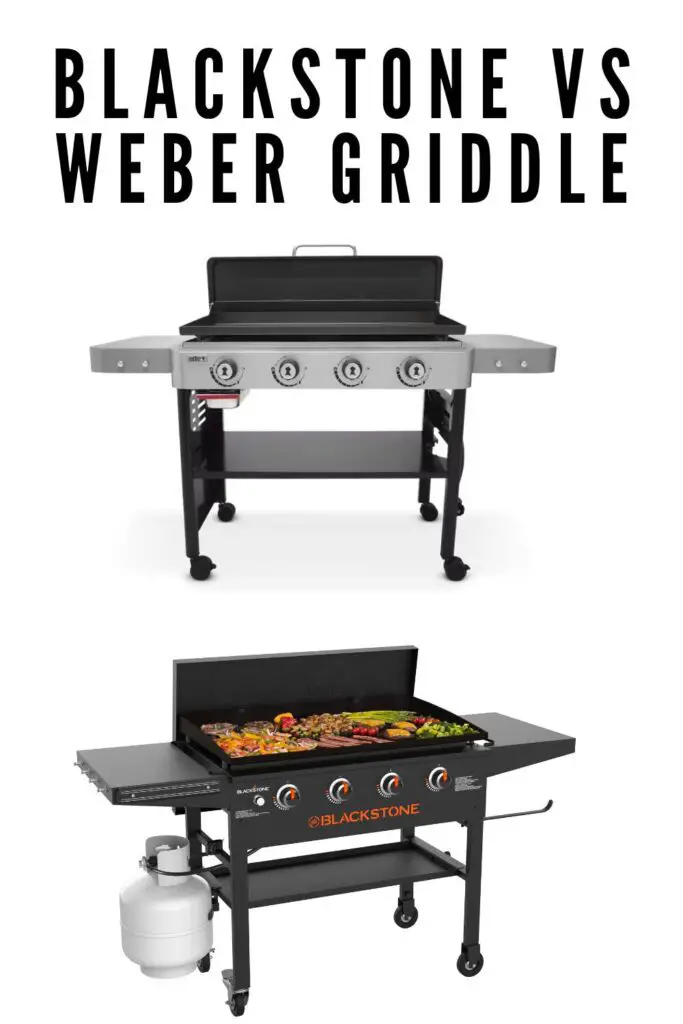 With the right griddle, you have the power to control heat distribution, maintain precise temperatures, and create that desirable caramelization and char that takes your dishes to a whole new level of deliciousness.
Within the griddle market, there is a wide range of options to choose from, like Blackstone, Loco griddle, Traeger Flatrock, Pit Boss griddle, Camp Chef griddle, and Razor griddle.
However, in this review, our focus will be on the Weber Griddle Vs Blackstone, which stands out as a popular choice among outdoor cooking enthusiasts.
These two models stand out for their exceptional features and performance, making them highly regarded choices for outdoor cooking enthusiasts.
They offer unique features, cooking capabilities, and build quality that make them worthy contenders in the griddle market. However, choosing between them can be a daunting task.
Here is a little grillcuisines.com guide about Blackstone vs Weber griddle. We'll cover
We will compare two griddles of different brands, Blackstone and Weber.
We'll explore each aspect, including price, size, compatibility, material, and warranty, heat distribution, durability, cleaning to know which is better among Weber vs Blackstone Griddle.
Help you to make an informed decision between Blackstone or Weber griddle for your griddling adventures.
Now, let's explore these griddles more closely and discover which one could become your perfect cooking companion for unforgettable outdoor culinary adventures.
Related > > Loco Griddle Vs Traeger Flatrock
Battle of the Griddles: Traeger Flatrock vs Blackstone
Weber Griddle Vs Blackstone
Weber is a well-known and established brand and has a reputation for producing high-quality grills and pellet grills.
In the past, Weber has provided different griddle inserts and accessories for their other grills. However, in January 2023, they made an exciting announcement by introducing their standalone griddle, catering specifically to the needs of outdoor cooking enthusiasts.
While the Blackstone griddle is already in the market and is a prominent player in the griddle market since its introduction. The brand was founded by the Blackstone Products company, which is based in the United States.
Blackstone griddles have quickly gained a dedicated following among outdoor cooking enthusiasts, both amateur and professional. Blackstone griddle remains a popular choice for those seeking an exceptional outdoor cooking experience.
Both griddles have their unique characteristics and are known for their durability and functionality. Let's delve deeper into the features and comparisons of these two renowned griddles to help you make an informed decision for your next outdoor cooking adventure.
| | | |
| --- | --- | --- |
| | Weber Griddle | Blackstone Griddle |
| Dimensions | 53.55"W x 41.45"H x 23.94"D | 62.5"W x 36″H x 22"D |
| Weight | 110 lbs | 130 lbs |
| Griddle Surface Material | Hot-rolled steel | Cold-rolled steel  |
| Cooking Surface Size (Width in.) | 36 in. | 36 in. |
| Burners | 3 x 12,000 BTU burners | 4 |
| Total BTU | 36,000 BTU | 60,000 BTU |
| Assembly Required | Yes | Yes |
| Fuel Type | Liquid propane (tank sold separately), No natural gas | Liquid propane (tank sold separately), No natural gas |
| Price | Check Latest Price | Check Latest Price |
Blackstone vs weber griddle
1- PRICE & VALUE
When comparing the price and value of the Weber flat top grill vs Blackstone, it's important to consider the overall cost and the features offered by each griddle.
The first thing I noticed while assembling the Weber griddle, was its rather simplistic appearance. I thought of toy griddle one might assemble for children. I know that the appearance of a grill or griddle is a subjective aspect, and personal preferences may vary.
The Weber griddle is conveniently available in two sizes: 28 inches and 36 inches. This gives you the flexibility to choose the size that best suits your cooking needs and the available space in your outdoor cooking area.
In contrast, the Blackstone Griddle is available in a variety of sizes, including 17 inches, 22 inches, 28 inches, 36 inches, and a 36 inch air fryer combo.
Weber griddle 36 is priced at $579 while Blackstone comes in at $297. The Weber has obviously a higher price tag.
When comparing the prices of the Weber griddle 36 and the Blackstone 36, it's evident that the Blackstone offers a more budget-friendly option at $297 compared to the Weber griddle's price of $579. In terms of price and value, the Blackstone griddle appears to be the more cost-effective choice.
However, it's essential to consider other factors besides price alone when determining the overall value of a griddle.
2- SIZE AND WEIGHT
Here is the size dimension of Weber vs Blackstone.
Blackstone Griddle dimension(we are comparing largest model) = 62.5″W x 36″H x 22″D
Weber Griddle dimension = 53.55"W x 41.45"H x 23.94"D
Both the Blackstone and Weber Griddles offer different sizes to cater to various cooking needs.
The Blackstone 36-inch griddle has a 756-square-inch cooktop surface and weighs 130lbs.
This generous cooking surface provides ample space to prepare multiple dishes simultaneously, making it ideal for larger gatherings or events where you need to cook for a crowd.
Regarding height, the Blackstone 36-inch griddle typically stands at a comfortable height for cooking, ensuring ease of use and convenience. While specific height measurements may vary depending on the model and any additional accessories or stands used, the griddle is generally designed to provide a comfortable cooking experience.
The Weber griddle, with its 504 sq. in. cooking surface, offers ample space for cooking meals for a family or a small group.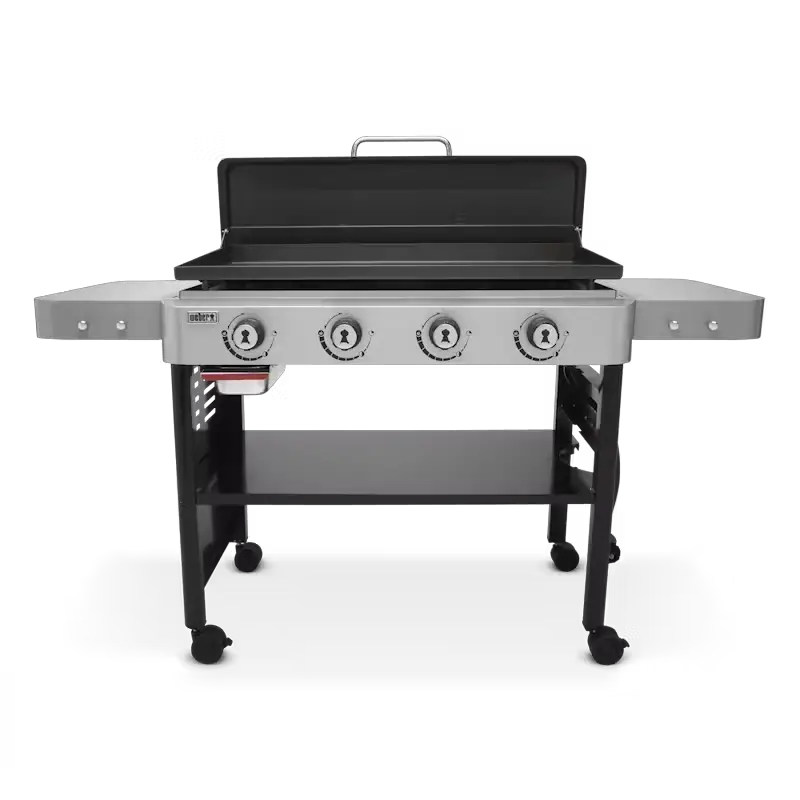 In terms of weight, the Weber griddle weighs 119 lbs, which is notably lighter than the Blackstone 36 inch griddle.
The difference in weight between the two griddles can be a factor to consider, especially if portability or ease of moving the griddle is important to you.
While the Weber griddle offers a slightly lighter option, the Blackstone griddle's heavier weight may indicate sturdier construction and potentially enhanced durability.
3- HEATING CAPACITY AND FUEL TYPE
Blackstone griddle uses liquid propane and does not have the capability to be connected to a natural gas supply.
When it comes to heating capacity, both the Blackstone and Weber offer impressive performance.
The total heating capacity of the Blackstone griddle is 60,000 BTU with four burners. You can cook 30 burgers at a time with this heat capacity, but that depends on the cooking surface too. 
The Weber Griddle impresses with its three burners, each generating 12,000 BTUs, resulting in a total output of 36,000 BTUs.
One standout feature that caught my attention is the innovative Snap Ignition System, which eliminates the need for a separate ignition button. Instead, a simple turn of the knob ignites the burner, enabling you to effortlessly set and adjust your desired cooking temperature.
The three burners operate independently, giving you the ability to set and adjust different heat levels across the entire cooking surface.
The griddle heats up rapidly, swiftly reaching temperatures exceeding 500°F. This rapid heating capability ensures that you can swiftly get cooking and achieve the desired sear and sizzle.
4- COOKING AREA AND HEATING ZONE
For both Blackstone and Weber griddle the cooking surface sits above the burner tubes, creating a slightly elevated area for cooking.
This design is better for heat retention and prevents excess grease and food from spilling onto the burners. But it may not be a good choice in windy areas.
In windy and cold conditions, a recessed cooktop design may offer some advantages over a raised cooktop.
Blackstone griddles are known for having a "hot in the center" heating zone pattern. The burners on a Blackstone griddle are typically placed in a line across the bottom of the griddle plate.
This design leads to higher heat concentration in the center of the griddle, gradually decreasing towards the edges. As a result, the center of the griddle gets hotter compared to the sides.
Here is a simple bread test performed to test the heating zones.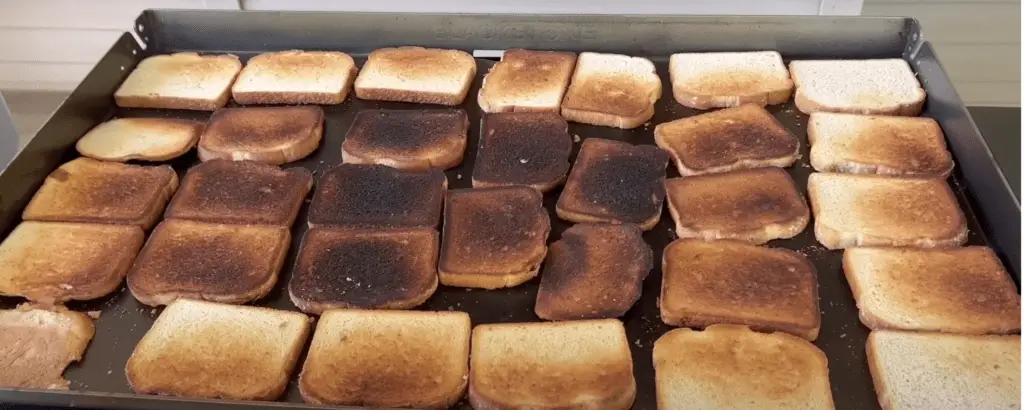 Weber griddles tend to have a more consistent heat distribution across the cooking surface. It has some colder spots around the corners.
During my experience with the Weber griddle, I observed that the center portion maintained a consistent temperature across the entire cooking surface.
I noticed a slight variation when it came to the edges, particularly the bottom edge. Unlike the center, the edges didn't provide the same level of uniform toasting or even cooking.
Here is the Weber griddle bread test results.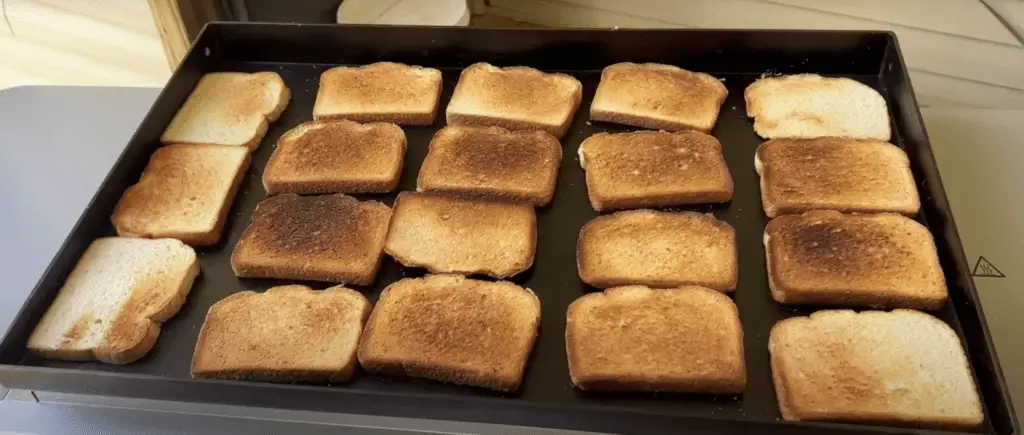 5- DESIGN AND BUILD QUALITY
When comparing the design of the Weber griddle to the sleek and industrial aesthetic of the Blackstone griddle, Pit Boss or Camp Chef griddles with their stainless steel construction and eye-catching red knobs, or the bold black and blue color scheme and striking lines of the alternative griddle, new Weber griddle falls short in terms of visual appeal.
In my opinion, the Weber griddle simply doesn't exude the same level of elegance and style.
The assembly of the Weber Griddle is a simple and straightforward process. The grill is delivered in a fully unassembled form and it takes 45 minutes to fully assemble it.
Weber Griddle is designed to be lightweight, and you can easily assemble it on your own without requiring assistance.
One aspect that left me less impressed was Weber's decision to use a hot-rolled steel cooking surface for their griddle, instead of the cold-rolled steel commonly found in many competing products.
The concern with hot-rolled steel lies in the manufacturing process, where the steel is rolled at high temperatures, often exceeding 1700°F, and then allowed to cool.
This technique can lead to non-uniform shrinkage of the steel, potentially resulting in less control over the final product's size, shape, and finish.
In contrast, cold-rolled steel is more expensive to process but produces a harder and stronger end product.
It was disappointing to find that Weber chose to cut corners and opt for a hot-rolled steel option for their griddle. While cost considerations may have played a role in this decision, it felt like a compromise on the overall quality and strength of the griddle.
The Weber griddle cookbox is made up of durable aluminized steel that prevents corrosion and supports longevity.
Blackstone is constructed of cold-rolled steel(iron + carbon) cooking surface that is thick and durable. It also means that all it takes is too much exposure to water and air to get that flat top from black and shiny to rusty and dull.
Related > > How to get rust off Blackstone
5- PORTABILITY AND EASE OF STORAGE
Wheels
Starting with Blackstone has sturdy legs and has 4 caster wheels. You can easily move it around your outdoor space or transport it for outdoor events or camping trips.
The Weber griddle's small size makes it easy to store when not in use, saving you room in your garage or storage area.
Unlike many other griddles on the market, the Weber griddle comes equipped with only two wheels, which may pose some challenges when it comes to maneuverability.
For me, it's more difficult to move the griddle around, especially when dealing with uneven or rough surfaces.
The weight of a griddle plays a crucial role in its portability and ease of movement. While the Weber griddle may have only two wheels, its lightweight design compensates for this limitation. Being lighter in weight compared to other griddles, such as Blackstone and Traeger Flatrock, it can still be relatively easy to move around, even on uneven or rough surfaces.
Storage Shelf
One notable difference between the Weber griddle and the Blackstone griddle is the storage configuration underneath.
The Weber griddle has a single underneath storage shelf, and 2 small side shelves. The side shelves on the Weber griddle are relatively small and lightweight and may not offer as much storage capacity as desired for larger items.
The storage shelf on the Weber griddle provides a convenient space to store essential grilling tools, utensils, and other accessories. While it offers some storage capability, it may have limitations in terms of capacity and protection from the elements.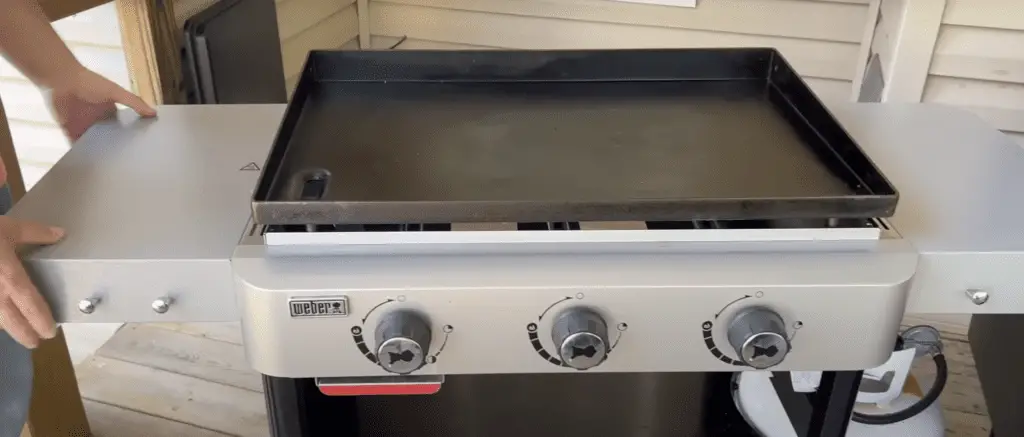 Whereas the Blackstone griddle offers a covered closet storage area and foldable side shelves that can be easily extended when needed, providing extra workspace for food preparation or holding plates and condiments.
The covered closet storage underneath the Blackstone griddle provides ample space for storing various items, such as propane tanks, additional cookware, condiments, and more.
The enclosed design of the storage area helps protect things from dust, debris, and weather conditions, ensuring they remain clean and readily accessible.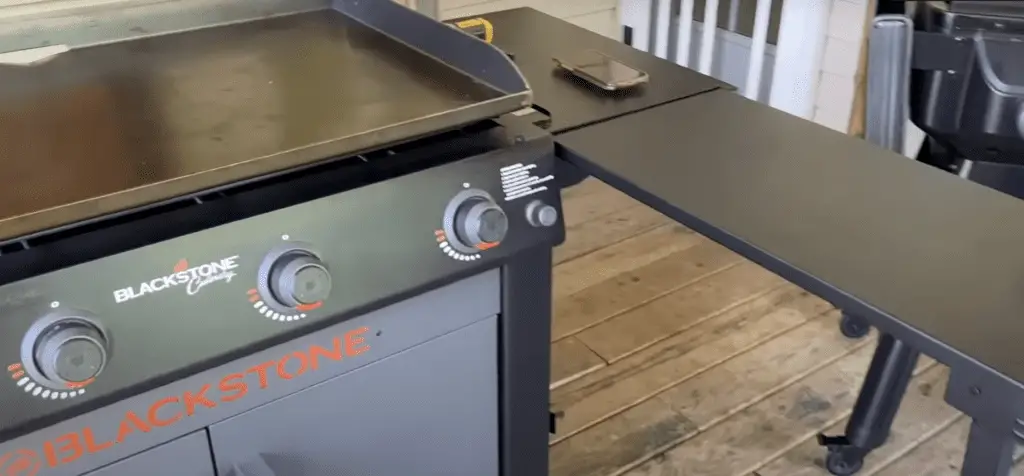 6- Grease Trap System
Blackstone Grease Trap
The Blackstone griddle has a grease trap located in the back, which may have its pros and cons. Some people appreciate this design and find it safer as it reduces the risk of getting burned, especially when counter-mounting the griddle in an outdoor kitchen setup.

However, some finds it inconvenient, particularly when it comes to accessing the grease trap easily.
One advantage of Blackstone's grease trap design is the presence of notches that help guide the grease towards the trap.
This design element has been well-received and is considered a good feature. The grease trap in the back is not covered.
For example, when you place a hood or cover on the griddle, the grease trap remains exposed, making it susceptible to rainwater and critters.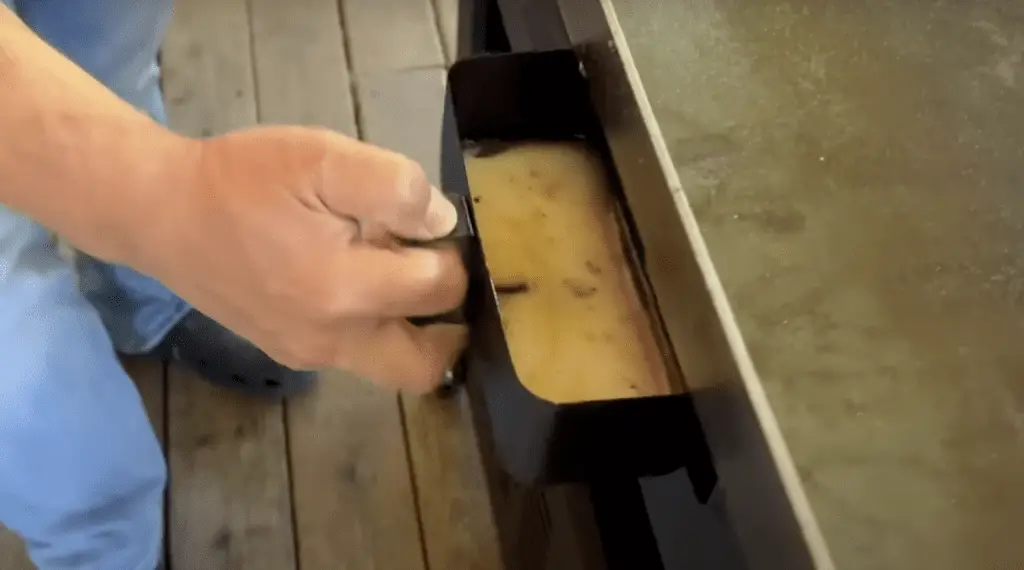 This lack of protection can lead to the grease trap filling up with unwanted debris, critters and mouse that can easily climb through it into the griddle.
Related > > Is it safe to use grill after mice
Some users who are accustomed to commercial-style griddles with front-placed grease traps find the back placement less convenient.
But personal preferences and experiences can vary when it comes to the positioning of the grease trap.
Weber Grease Trap
The Weber griddle's grease trap design has received some criticism for being extremely lightweight and potentially requiring a two-handed system to handle it effectively.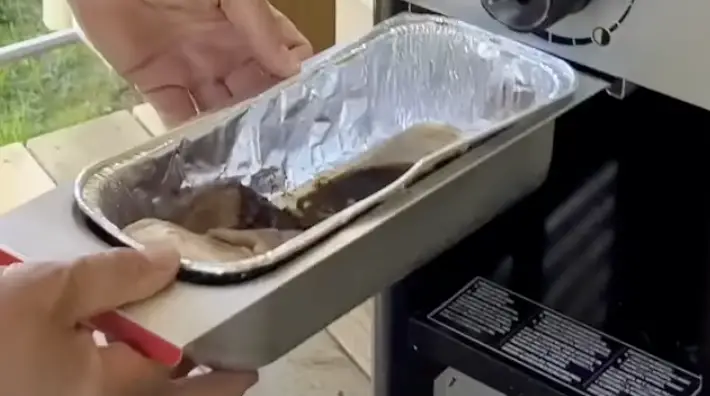 The metal used for the trap is lightweight, which may not instill confidence when gripping and maneuvering it. A heavier trap would offer better stability and control when cleaning the griddle with water, soap, or grease.
The lightweight nature of the trap, coupled with the heat generated by the grease, water, or food inside, can make it uncomfortable to handle with bare hands.
The concern is that the trap can become hot, requiring extra caution and potentially using both hands to handle it safely.
The Weber griddle grease trap is positioned at the side of the griddle, which is very convenient when compared with Traeger Flatrock.
6- THE TASTE TEST
When it comes to the taste test, the Weber griddle and Blackstone griddles both deliver delicious and flavorful food.
But they offer slightly different cooking experiences. Weber griddle has the best heat distribution and versatile temperature control, which gives you a precise cooking experience.
Blackstone griddle is known for its high heat output, which is excellent for getting a delectable sear on meats and vegetables.
We know the taste test can vary depending on personal preferences and the specific recipes or ingredients used.
You can experiment with different recipes, seasonings, and techniques to bring out the best flavors from each griddle.
7- WARRANTY AND CUSTOMER SERVICE
The Weber griddle comes with an impressive warranty package. It includes a 5-year warranty, providing customers with peace of mind and confidence in the product's durability and quality.
Weber griddle also offers a 2-year paint warranty, which is a notable inclusion. This warranty covers any paint-related defects that exclude any fading and discoloration, as these are natural occurrences that can happen over time due to exposure to elements like sunlight and heat.
Blackstone offers a limited warranty for their griddles, typically ranging from 1 to 3 years depending on the model.
The warranty covers manufacturing defects and malfunctions.
Blackstone stands out when it comes to customer service. If you have any problems with your griddle, they are more than happy to help you and resolve the issue quickly.
Wrap Up: Weber Griddle Vs Blackstone
It is obvious from comparing the Blackstone griddle vs Weber griddle that each product has unique strengths and weaknesses.
Whether you're looking for convenience or features, both griddles have something to offer and something to lack.
For devoted fans of the Weber brand, the Weber Griddle may be a natural choice to consider when searching for a griddle.
While the Weber Griddle is not a poor choice, it may not match up to the performance and features offered by the Blackstone griddle.
In comparison to other griddles available in the market, such as Traeger Flatrock and Loco Griddle, the Weber Griddle may have a similar price tag but might not offer the same level of satisfaction and value.
If you're a first-time buyer or looking for a more budget-friendly option, I think the Blackstone griddle could be an ideal choice.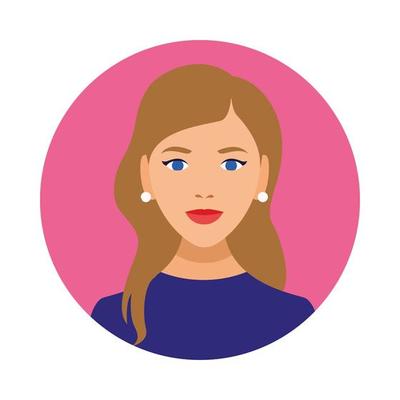 I am a writer, editor, and publisher of Grillcuisines.com – an online blog dedicated to sharing grilling tips, accessories, and recipes to encourage more people to get outside and grill.
I'm off to find out the different types of grill foods, their seasons, and how to conduct outdoor cooking properly. I'll also show you some of my grill-worthy cooking tools & accessories!