If you love the great outdoors and enjoy cooking over an open fire, you've come to the right place.
I'm a huge fan of open fire cooking and camping trips are a great way to explore nature, but cooking over an open fire can be a challenge without the right equipment.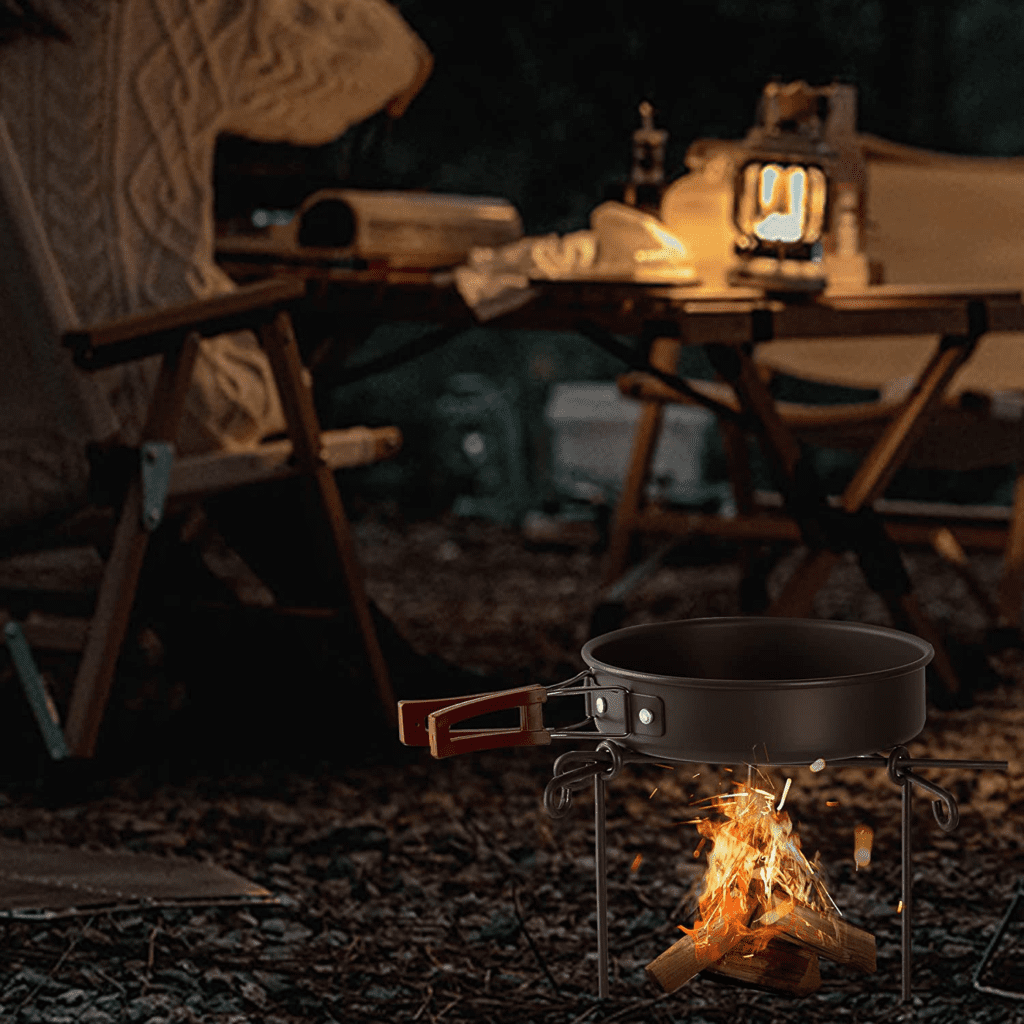 To ensure that you have an enjoyable camping experience, it is important to have the best outdoor open fire cooking equipment.  
Whether you're looking to roast marshmallows and hotdogs or prepare a full meal with multiple dishes, having the right equipment will make all the difference.
In this grillcuisines.com guide, we'll share with you:
Our top 13 Open fire cooking equipment
Best open fire cooking recipes to try on.
And much more!
Whether you're planning a camping trip or just looking to add some flavor to your backyard barbecue, these best camping cookware for open fire will help you cook up some delicious meals over an open fire. Let's get started!
Best Open Fire Cooking Equipment
Are you planning a camping trip and looking for the best open-fire cooking equipment? Look no further! 
This blog post will provide a comprehensive list of the 13 best campfire cooking equipment to make your next camping trip enjoyable.
1) Open fire cooking Pots and Pans
When planning your next camping trip, one of the best investments you can make is quality outdoor open fire cooking equipment.
You can grab lightweight, portable cooking pans or pots to ease your cooking experience. You can easily find stainless steel and cast iron cooking pots, but cast iron is perfect for open-fire cooking. 
Several cooking pots and pans available on amazon as a kit are some of the best camping cookware for an open fire. These cooking kits can help you whip up a tasty meal on your next outdoor trip. 
First, consider investing in sturdy, reliable, open fire cooking sets.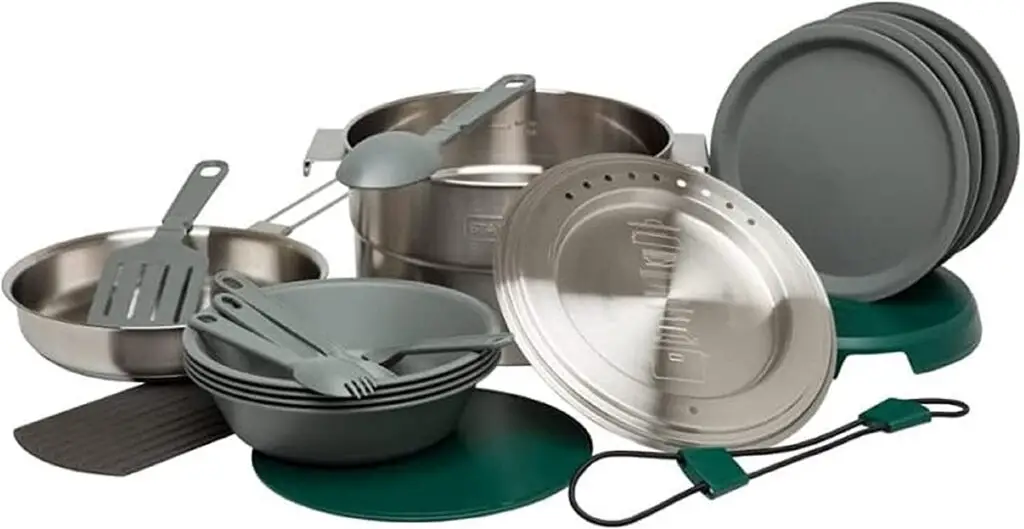 The Stanley Adventure Base Camp Stainless Steel Cook Set is an excellent choice for campers who plan to cook over an open fire. This set comes with two pots, lids, a frying pan, and a coffee press. It's perfect for making a variety of meals over an open flame.
Another remarkable cookware set is the MSR Camp Set hat includes 2 large-size containers, thermal mugs, serving plates, and lids. All equipment is made from durable stainless steel and has folding handles for easy storage and transportation.
2) Best camping kettle for open fire
When it comes to outdoor cooking, you need the right tools to get the job done. The best camping kettle for an open fire is essential to any camping kitchen setup as it's helpful to keep you warm. 
Made from stainless steel, The Stanley Adventure Camp Kettle is a great choice. This durable kettle is designed to handle temperatures up to 1,000°F, so to ensure your food won't burn while cooking over an open flame. Plus, the flip-top lid makes adding more water or fuel easy without eradicating the lid.
If you're looking for a way to make delicious coffee on your camping trip, the GSI campfire Coffee Pot is a perfect choice.
This enamelware percolator is excellent for boiling water and brewing coffee over an open flame. Plus, its unique design makes it easy to use and clean. So whether you're heating water for tea or coffee, this kettle will do the job. 
3) Open Fire Cooking Utensils
Open-fire cooking utensils are essential for camping trips, like this 27-Piece Stainless Steel Grilling Utensil Set from Amazon is perfect! It includes all the basics for outdoor cooking, such as tongs, a spatula, a BBQ fork, skewers, corn holders, and a basting brush. 
Additionally, These utensils are made from durable stainless steel and have soft touch handles for extra comfort.
The set also comes with a convenient carry bag that can easily be tucked away when not in use. Whether you're grilling burgers, roasting marshmallows, or need extra utensils for your campfire feast, this set has everything you need!
4) Open Fire Dutch Oven
A Dutch oven is one the best camping cookware for open fire. Whether you're looking to cook up a full meal or simmer some soup, Dutch ovens are the best camping cookware for open fire cooking. 
Depending on how many people you plan to feed, they come in many sizes, but the most common size is a 12-quart capacity.
With a Dutch oven, you have all the tools you need for open fire cooking utensils. Add long-handled spoons, forks, a steel spatula, and tongs to your collection. 
If you're looking for a great camping oven, the Overmont Pre-Seasoned Skillet is perfect for open fire cooking. This oven is perfect for slow-cooking and simmering and can handle a range of dishes, from roasts to stews. 
You'll need some good open fire cooking utensils, with a long-handled dutch oven or pan to help you while working in the open fire.
For this purpose, check out the Bruntmor Cookware Set for Dutch Oven. It comes with a Convenient wooden box for easy transport.
5) Open fire rotisserie or spit rotisserie 
Nothing beats the classic rotisserie or spit for outdoor campfire cooking equipment!
A rotisserie allows you to slowly and evenly cook significant cuts of meat over an open flame for a succulent meal. But with so many different models on the market, it can take time to know which is the best for your camping trip.
Luckily, there are two great options for rotisseries and spits: Grizzly Spit Rotisserie and the Guide Gear Roasting Spit.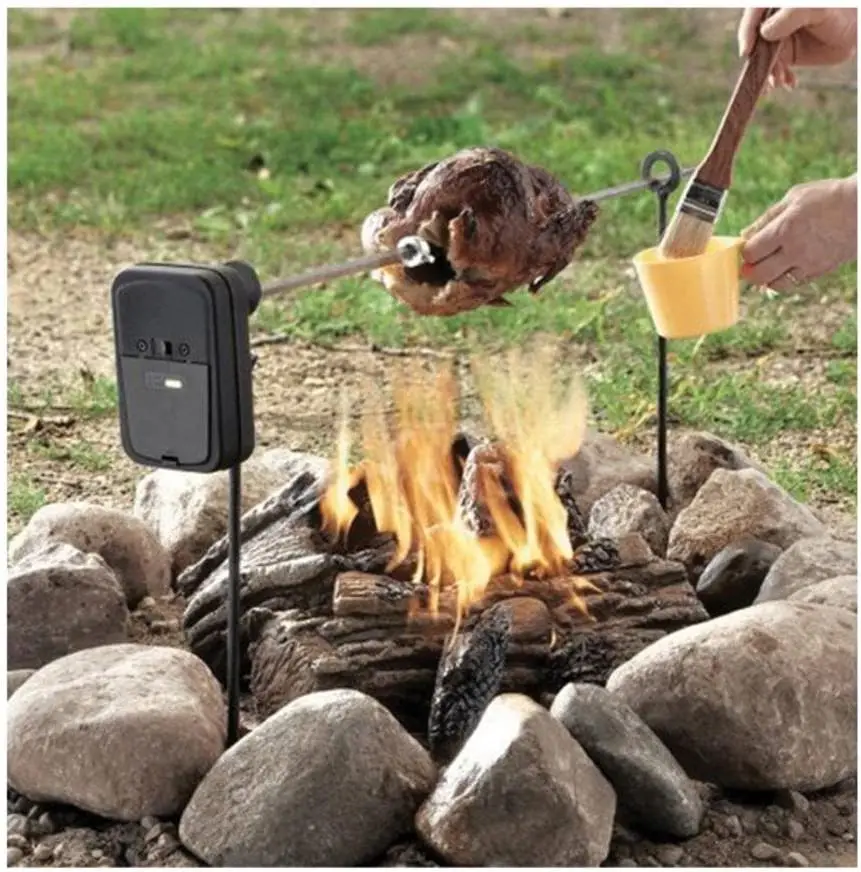 The Grizzly Spit Rotisserie is an excellent choice for an easy-to-use, lightweight rotisserie. The GRIZSPIT features adjustable clamps to securely mount the rotisserie over an open fire. It also includes three forks to quickly rotate or lift your food from the fire.
The Guide Gear Campfire Roasting Spit is another great open-fire cooking option. This model is made of heavy-duty steel to ensure your food is safely and securely held over the fire. It also comes with a convenient handle for easy turning.
No matter your choice, you'll have the best open fire cookware for open fire cooking. With these two options, you'll have all the open fire cooking utensils, pots, and cookware you need for a delicious outdoor meal!
6) Skewers and sticks for marshmallows
One of the best outdoor open fire cooking gear for your next camping trip is skewers and sticks for marshmallows.
The Carpathen Campfire Roasting Sticks are excellent choices, which come in 8 metal telescoping skewers with protective plastic handles.
These skewers are designed with a long reach to keep your hands safe while roasting your marshmallows over an open fire. 
Moreover, They also have a secure locking mechanism so that the skewers won't collapse when you're cooking. The sticks come with a storage bag, making them easy to pack and carry along with your other open fire cookware. With these skewers and sticks, you'll enjoy delicious campfire-roasted treats without worrying about the open fire getting too close to you.
7) Open fire grill grate
One of the essential pieces for cooking on an open fire is a grill grate. It will allow you to prepare food over a fire without burning it. Grill grates come in various shapes and sizes and should be made from either stainless steel or cast iron for durability and easy cleaning. 
We recommend the Titan Outdoors Adjustable Grill or the OnlyFire X-marks Campfire Grill. You can choose any of these grates to ease your cooking experience. 
If you're looking for a reliable and sturdy option for your next camping trip, then the Onlyfire Cooking Pit Grill Grate is an excellent choice.
This cooking grate is made of heavy-duty stainless steel and will hold up to even the harshest outdoor conditions. Its solid construction and durable design mean it won't rust or warp so you can cook your food safely over the fire. The Grill Grate also features tight grids that won't let your food fall through. 
Titan Outdoors Adjustable Grate is another perfect cooking grate ideal for roasting marshmallows, cooking hotdogs, and much more. The cooking grate features two adjustable height settings and an easy-to-use locking lever that keeps the cooking grate securely in place. The grate folds up easily and comes with a carrying bag that makes it easy to carry and store. You'll also appreciate how simple it is to set up and take down. Just unfold the legs and attach the locking lever to secure the cooking grate in place.
8) Open Fire Cooking Stand
An open fire stand is another musty outdoor open fire cooking tool. You can use an open fire stand for grilling and boiling water for hot drinks and meals.
It's perfect for camping in remote areas, as the open fire can easily be set up and used for cooking over a small campfire. 
When purchasing an open fire stand, ensure it is constructed with sturdy materials that won't easily break away from the flames.
Additionally, look for an easy model to assemble, transport, and store after your camping trip. With the suitable open fire stand, you'll quickly enjoy delicious meals cooked over an open flame!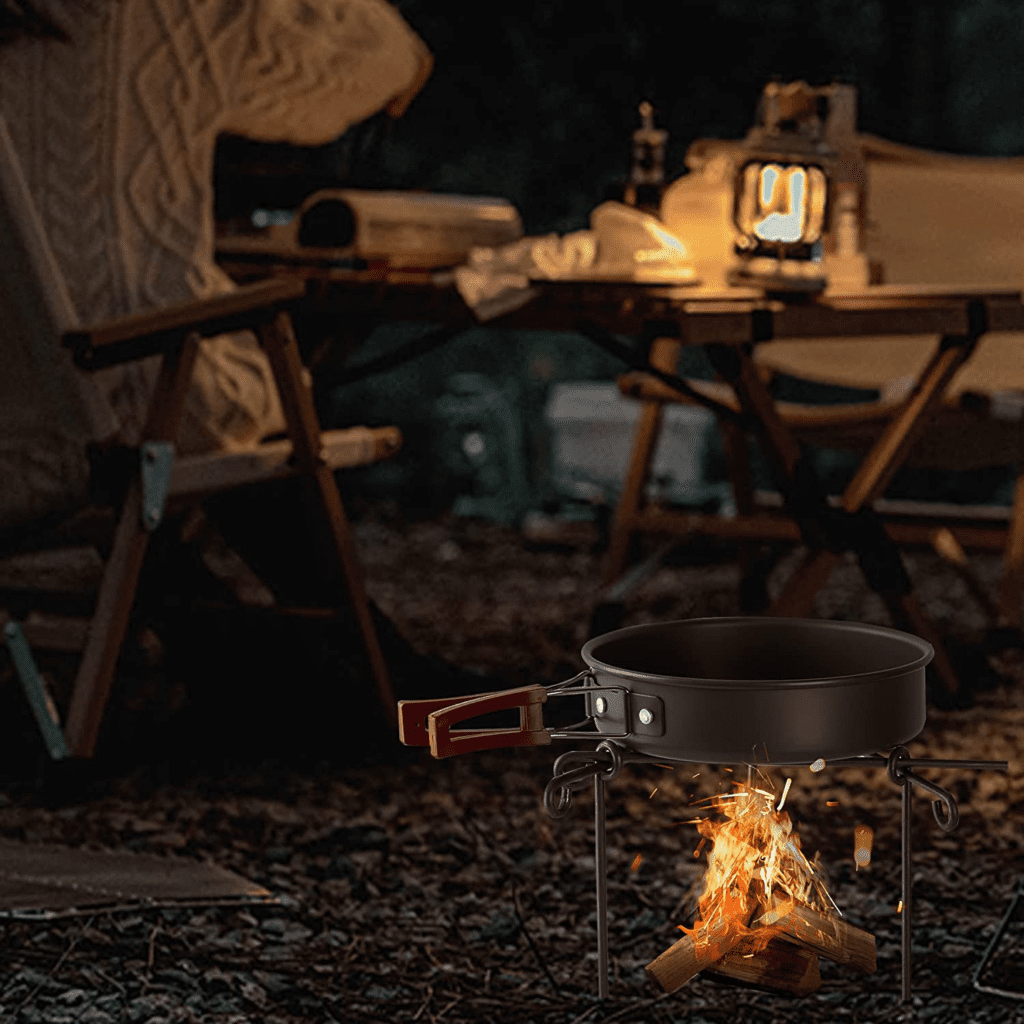 The Camping Tripod Campfire Stand is a great option. It also comes with a carry bag for easy transport and storage. The sturdy aluminum construction ensures your cookware will last through many outdoor open fire cooking adventures. With this stand, you'll be able to prepare a delicious meal cooked over an open flame in no time!
9) Open fire Swivel Grill 
Open Fire Swivel Grill is a versatile cooking tool that is designed to attach to an open fire pit or stove so you can cook delicious meals in no time. It features an adjustable heat setting to ensure your food is perfectly cooked. With the swivel grill, you can easily rotate the cooking surface to ensure even heating and prevent sticking. 
The 7 Best Fire Pit Grill Combos (FOR OUTDOOR, CAMPING)
Whether grilling hamburgers or boiling water for coffee, the Open Fire Swivel Grill is the perfect addition to your best open fire cookware.
One of the best Open fire Grill is the Texsport swivel grill which makes it easier to prepare more complex meals that you wouldn't usually be able to make with just a campfire. An outdoor open fire swivel grill is essential for any camping trip, so ensure to get one before your next adventure.
10) Chimney starter 
Another important piece of campfire cooking equipment is the chimney starter. A chimney starter can quickly get a fire going without relying on additional fuel sources. All you need to do is fill the chamber with charcoal, light it at the bottom, and watch as it starts to heat up. 
11) Metal Tongs
When it comes to outdoor campfire cooking equipment, metal tongs are a must-have for any camping trip. They can safely handle hot foods, reach tight spaces, and provide more control when cooking over an open fire.
When choosing your metal tongs, look for heavy-duty models that can stand up to repeated use. Additionally, consider choosing one with a locking mechanism so they stay closed while in storage and don't take up too much space in your bag.
12) Heat Resistant Gloves
Gloves not only will they protect your hands from the heat of the flames, but they'll also keep you safe from sparks and embers. When picking out camping gloves for open fire cooking, you want to ensure they're made from fire-resistant material and well-insulated. 
Look for lightweight and flexible gloves to move freely while cooking and stirring. When buying gloves for your next camping trip, look for a durable pair that fits snugly. Your hands will thank you when you have the best open fire cookware for open fire cooking!
UTOI Outdoor Grill Gloves are one of the perfect gloves for outdoor cooking. These heat and flame-resistant gloves offer extra protection while grilling. These gloves feature an easy non-slippery grip and comfortable wear.
13) Popcorn Popper For Open Fire Cooking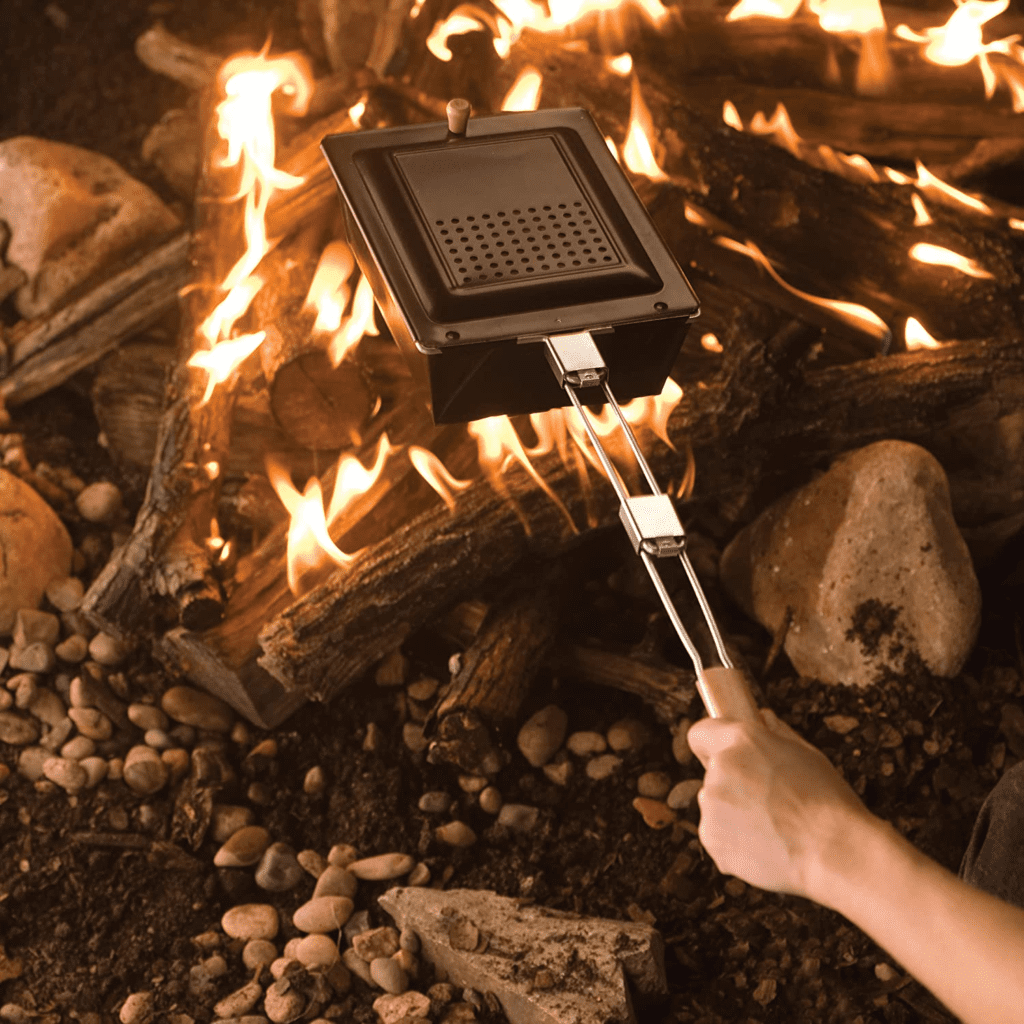 Coleman Popcorn Popper. The unique design of the Coleman Popcorn Popper ensures that heat is evenly distributed so that you can get perfect popcorn every time. 
Not only does this cookware make great popcorn, but it is also great for simmering soups, stews, and chili. The wide, shallow design of the kettle allows for faster heating and quicker boiling of liquids. The Coleman Popcorn Popper is highly durable and built to last, making it an ideal choice for those long camping trips.
Additionally, its wide handle allows for easy maneuverability and transport, so you can take it wherever your adventures lead.
The best open fire cooking recipes
Cooking over an open fire is a classic part of the camping experience. Whether camping in your backyard or out in the wilderness, you can make some great recipes with campfire cooking equipment. Here are five delicious recipes for your next camping trip:
Grilled Steak: Grilled steaks are an excellent option for an open-fire meal. Season skirt steak with salt, pepper, and your favorite fajita seasoning. Heat a cast-iron skillet over the campfire, and add steak strips. Now, cook until they're seared outside but still slightly pink in the middle. Serve with warm tortillas and all your favorite toppings.
Veggie & Sausages Kabobs: Kabobs are easy to make and sure to please. Alternate chunks of chicken sausage, bell peppers, onion, zucchini, and mushrooms on metal skewers. Grill the kabobs over the open fire until the vegetables are lightly charred and the sausage is cooked. Serve with a side of rice or potatoes.
Chicken Foil Packets: For an easy one-pan meal, wrap seasoned chicken breasts and diced vegetables in foil packets. Now, cook them directly over the hot coals. Make sure to use thick-cut aluminum foil so it doesn't tear during cooking. Open the packets to reveal perfectly cooked chicken and veggies when finished cooking.
Banana Bread: This is a delicious treat you can make with your dutch oven over the campfire. Mix a standard banana bread batter in a bowl and pour into a greased dutch oven. Place the lid on the dutch oven and cook until golden brown and a toothpick inserted into the center comes out clean. Enjoy your gooey banana bread warm from the fire.
Campfire Nachos: Make nachos directly over the fire for a tasty snack. Place tortilla chips in an aluminum foil packet, top with cheese, and place directly on the coals. Allow the cheese to melt before serving it with your favorite nacho toppings like black beans, salsa, guacamole, and sour cream. Enjoy!
How do I keep my food from burning when cooking over an open fire?
One of the keys to successful open-fire cooking is controlling the heat. Adjust the size of your fire and the distance between your food and the flames to ensure you don't end up with burnt food. Also, be sure to always have water nearby in case your fire gets out of control.
Final Words
Finally, remember safety! Keep a bucket of water nearby in case of mishaps, and never leave the fire unattended.
It's also essential to ensure your equipment is cleaned thoroughly after each use to prevent potential health risks.
Additionally, Look for cast iron or stainless steel products to ensure they last through many camping trips. Consider open fire cooking equipment with safety features such as folding handles, spring-loaded handles, and heat shields.
These features protect your hands while cooking and keep the flames contained. 
Bring along some lighter fluid or matches so that everything stays lit when you're ready to eat! With the right tools and knowledge, you can make the most of your next camping trip by cooking over an open flame!
Related Article: