Are you ready to take your camping experience to a whole new level? With a Blackstone grill, you can bring the joy of outdoor cooking to your camping trips.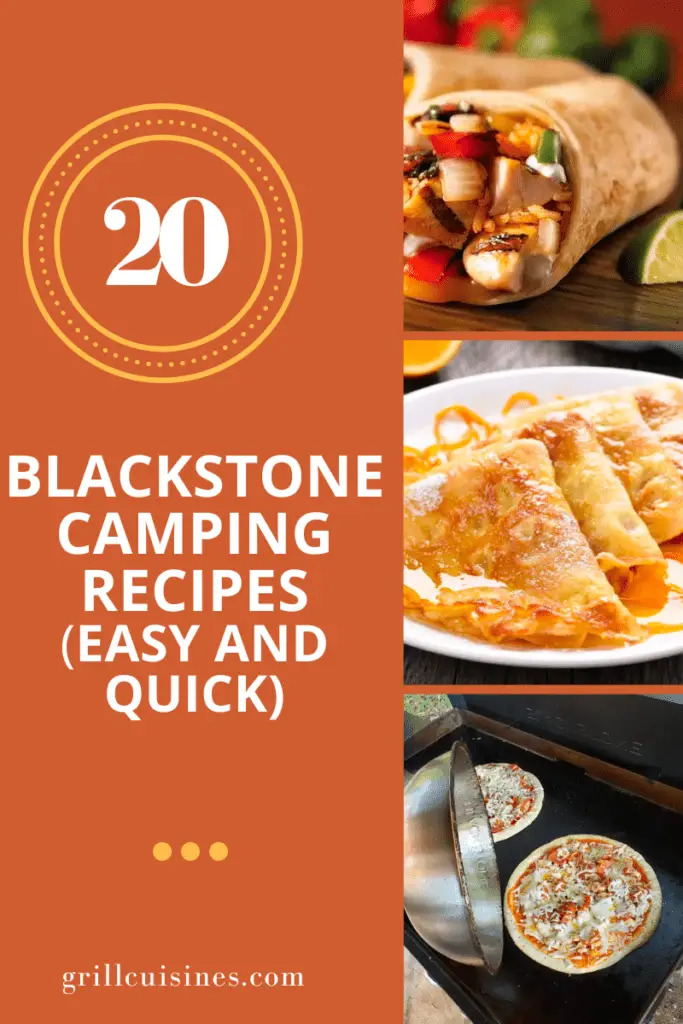 Whether it's breakfast, lunch, dinner, or even late-night cravings, Blackstone grills have got you covered. Get ready to indulge in flavorful feasts and create unforgettable camping memories with our amazing collection of Blackstone camping recipes.
In this grillcuisines.com guide. we'll cover:
Blackstone camping recipe ideas
Essential equipment for Blackstone camping recipes
How to prepare for a Blackstone camping adventure
Blackstone Camping Recipes Ideas
We've gathered a remarkable collection of 65 recipes that you can make easily on the griddle. Whether you're using a Loco griddle, Traeger Flatrock, or any other portable griddle, these recipes are designed to be easily prepared on any type of griddle you have.
We understand that sometimes you want a break from cooking too. So we've also included some fantastic no-cook and make-ahead recipes to cater to all your camping needs. From hearty breakfasts to mouthwatering dinners, our extensive selection will ensure you never go hungry throughout the camping season.
So, let's dive into these incredible Blackstone griddle camping recipes and elevate your outdoor dining experience to new heights!
Blackstone Camping Breakfast Recipes to Start Your Day Right!
Breakfast is the most important meal of the day, especially when you're camping and need a hearty and delicious start to your adventure.
Get ready to fire up your Blackstone grill and indulge in a range of mouthwatering breakfast delights that go beyond the usual eggs, oatmeal, and donuts. We've handpicked 10 incredible recipes that will tantalize your taste buds and energize you for a day of outdoor fun.
These Blackstone French toasts have a grilled crust with a hint of smoky flavor from a grill.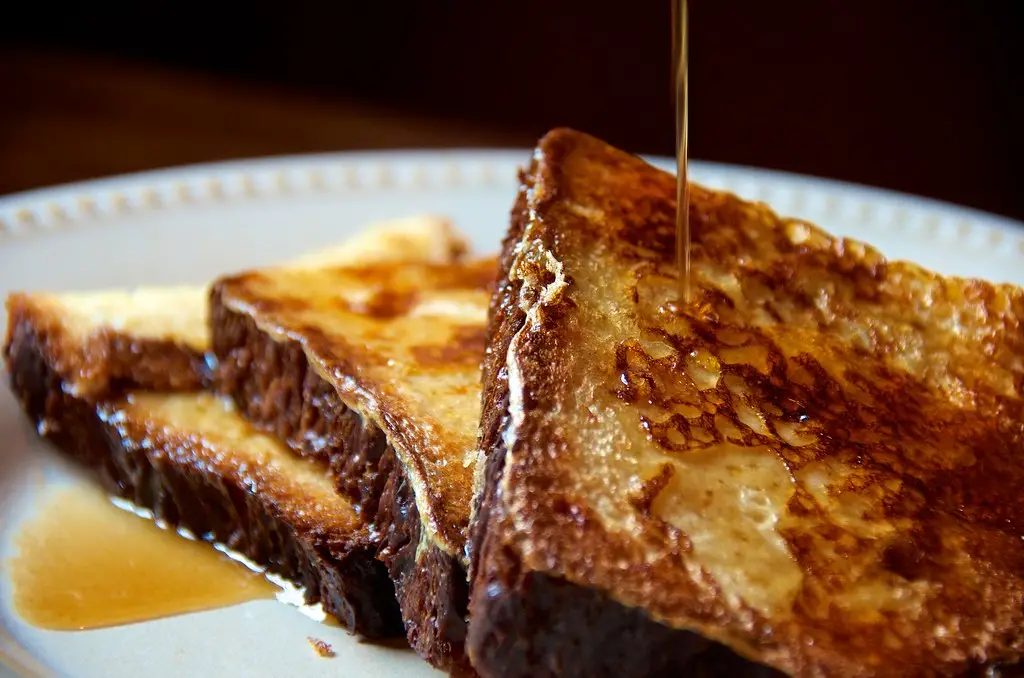 2- Sizzling Blackstone Breakfast Burrito
Packed with protein and bursting with flavor, these grilled Blackstone burritos are the perfect grab-and-go option for a camping trip.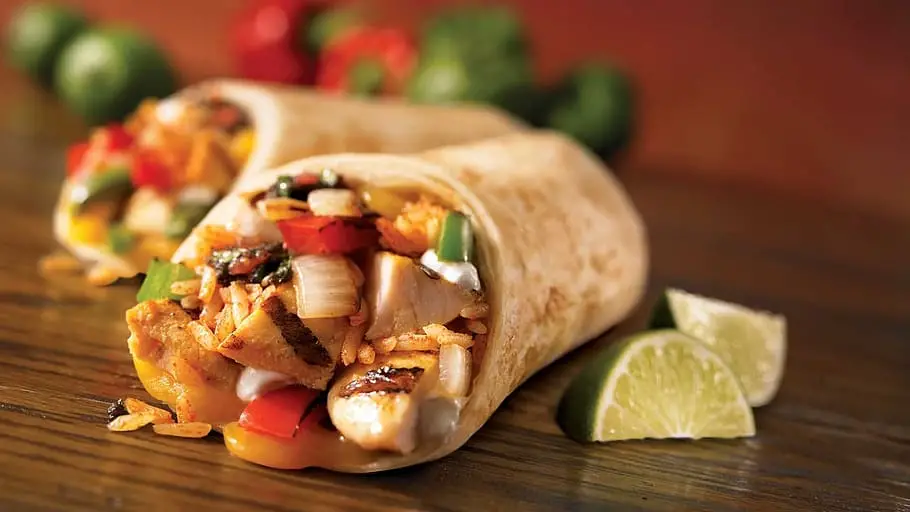 Start your camping mornings with – Breakfast Crepes on Blackstone. These thin, delicate pancakes are versatile, and you can create a variety of sweet and savory fillings.
You can either fill it with fresh berries and a drizzle of honey, or a savory combination of ham, cheese, and spinach. The crepes cook perfectly on the Blackstone, developing a golden-brown color and a light, airy texture.
These Blackstone crepes will surely impress and make your camping mornings extra special.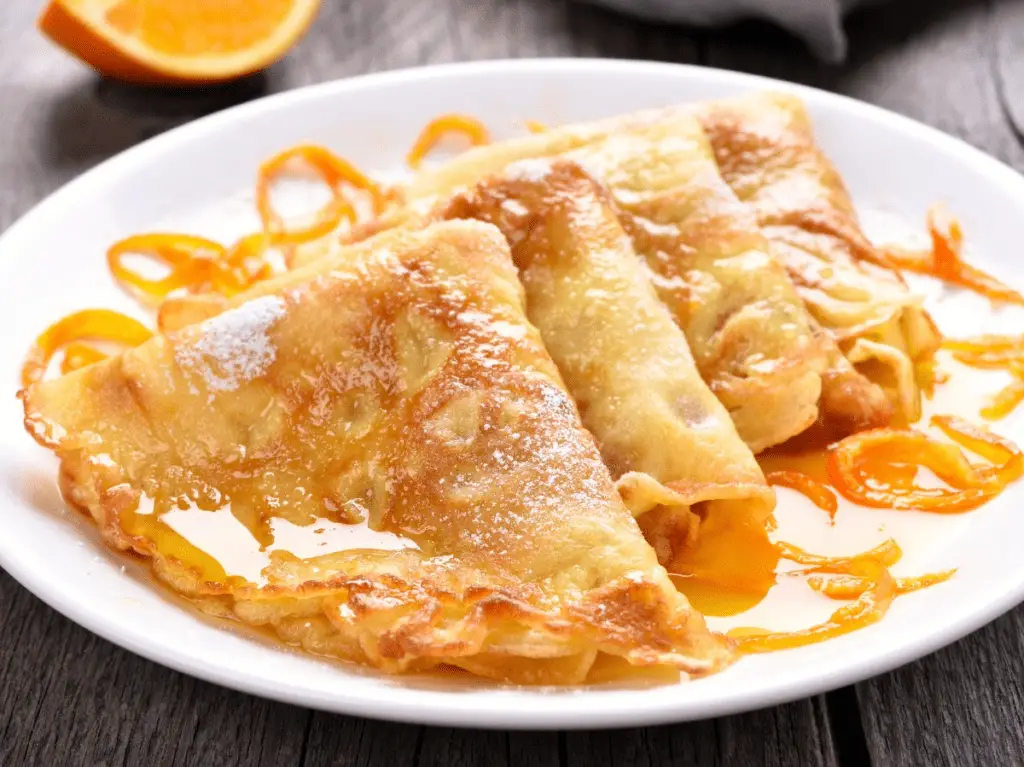 These Blackstone breakfast cheesy quesadillas are filled with sautéed veggies that will make a satisfying and nutritious breakfast option to fuel your outdoor adventures while camping.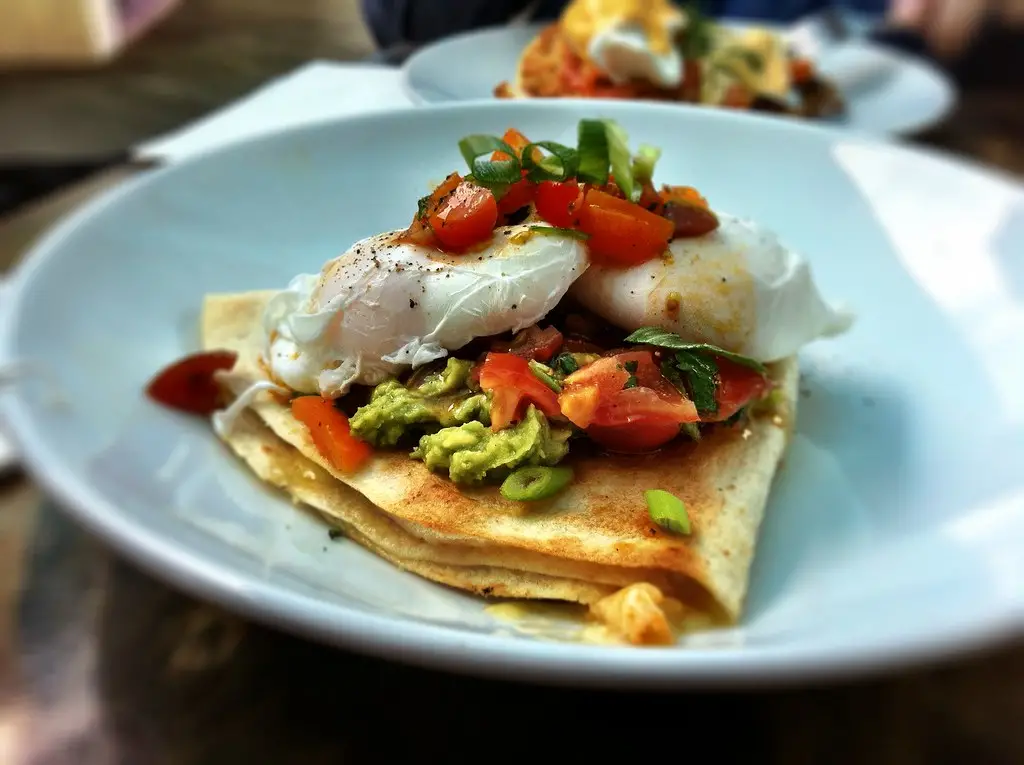 5- Blackstone Griddle Granola Parfait
You can whip up your own crunchy and customizable granola right on the griddle. This Blackstone griddle granola parfait is perfect for topping yogurt or enjoying it as a quick and nutritious snack.
These fluffy griddle-smashed cinnamon rolls are more delicious when cooked on the Blackstone, with its even heat distribution that ensures that each roll is perfectly golden brown and gooey on the inside.
You can top it with a generous drizzle of creamy icing.
7- Grilled Cheese Sandwich
You can make a grilled sandwich on a Blackstone griddle in multiple ways. Here are my favorite sandwich you can try for camping.
Pesto Caprese Grilled Cheese on Blackstone
Pizza Grilled Cheese on Blackstone
Frito Bandito Grilled Cheese on Blackstone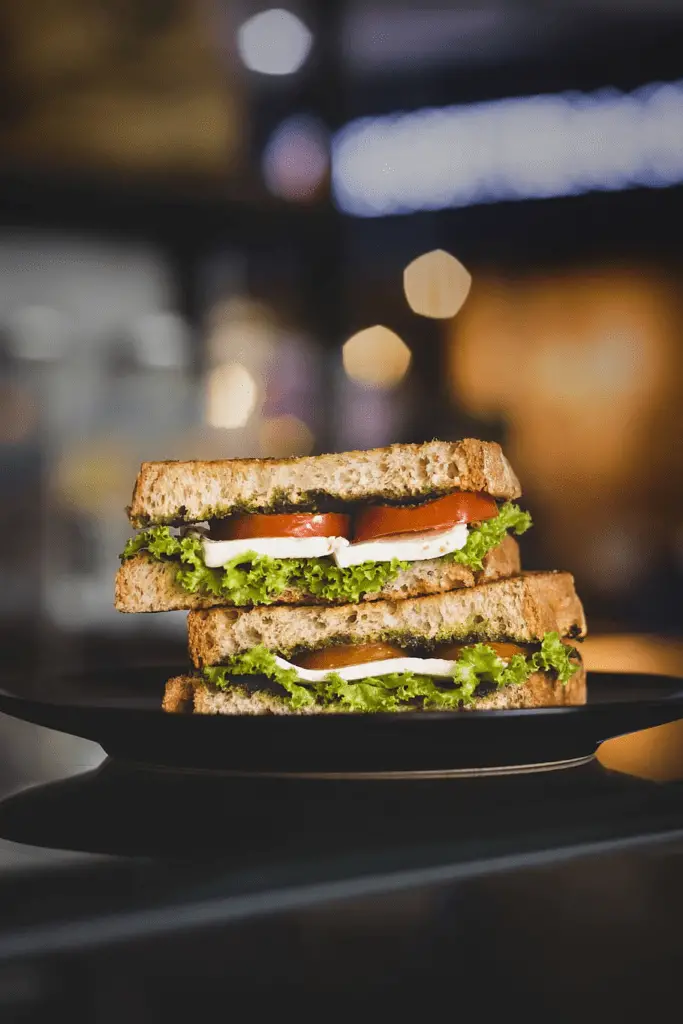 Blackstone Camping Recipes For Lunch & Dinner
Here are 10 famous and easy-to-make Blackstone camping recipes for lunch and dinner:
1- Blackstone Pizza
Make delicious homemade pizza on the Blackstone griddle. The griddle's high heat helps achieve a crispy crust and perfectly melted cheese. Customize your pizza with your favorite toppings for a campsite feast.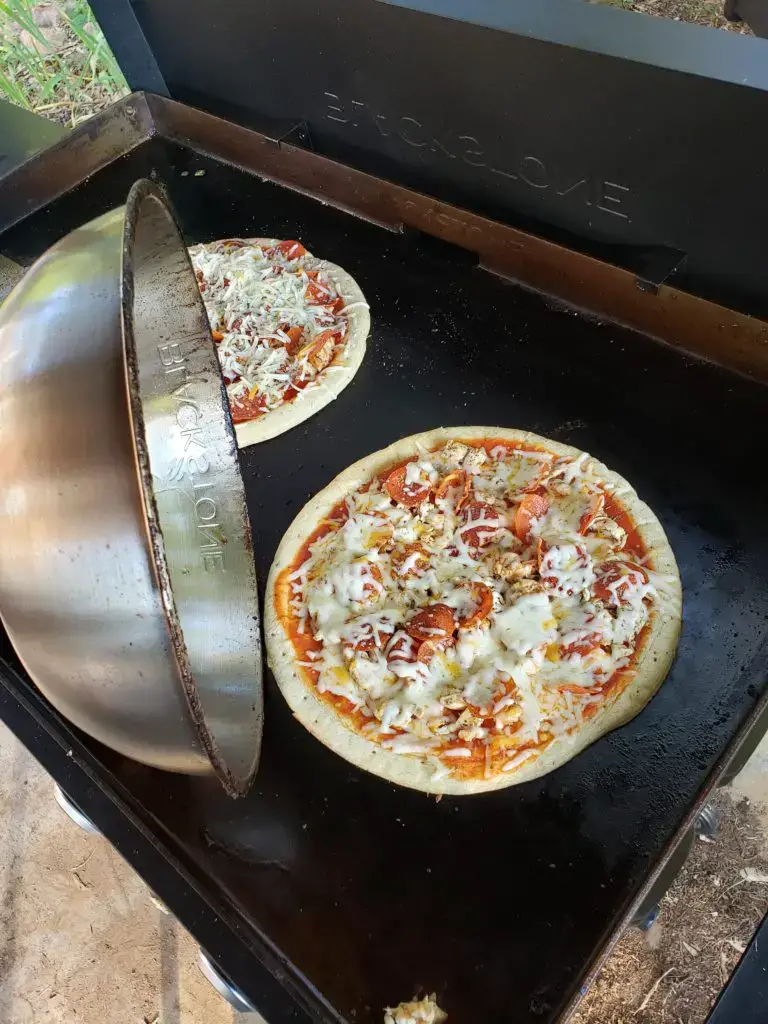 Marinate chicken in a flavorful teriyaki sauce and grill it on the Blackstone griddle for a sweet and savory dish.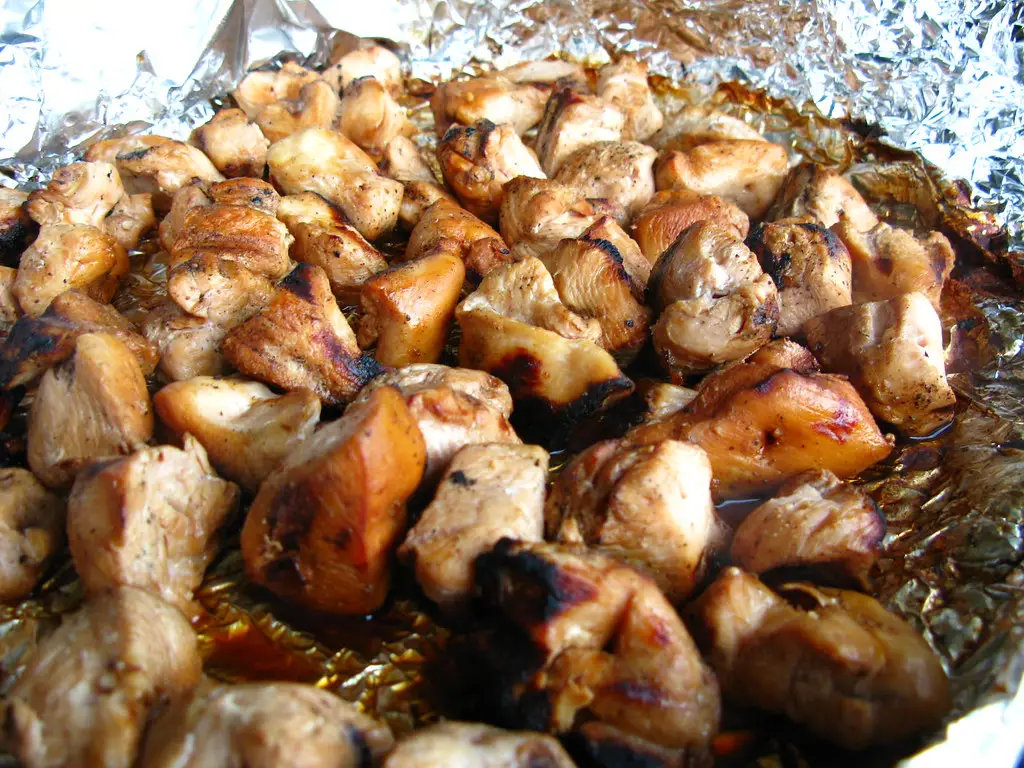 Blackstone Chicken Fajitas are a mouthwatering and a perfect dish for camping. Tender strips of marinated chicken are cooked on the sizzling hot Blackstone griddle, that results in a delicious charred exterior and juicy interior.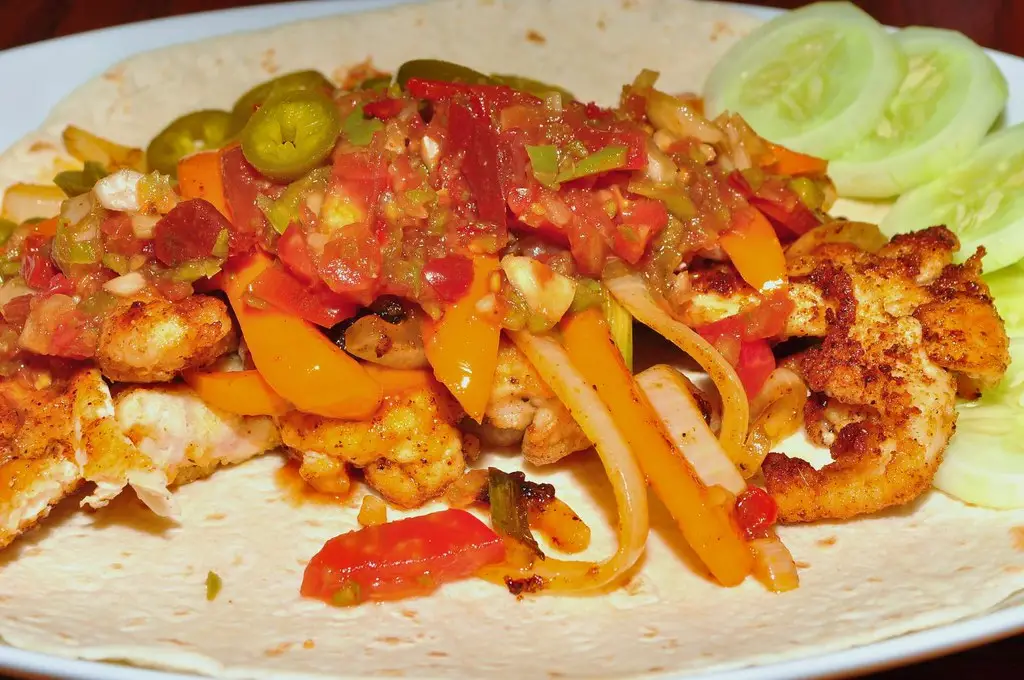 Alongside the chicken, colorful bell peppers and onions are sautéed, adding a vibrant and savory element to the dish.
Served it on warm tortillas with your favorite toppings such as guacamole, salsa, and sour cream.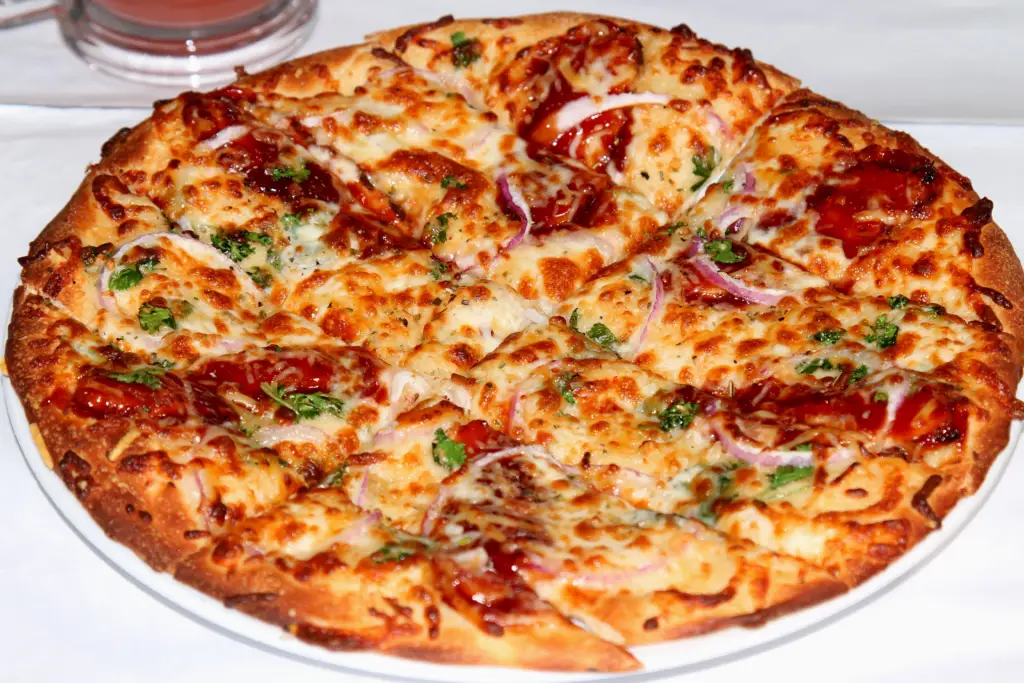 Prepare a delicious BBQ chicken flatbread on the Blackstone griddle. This recipe combines the smoky flavors of grilled chicken, tangy barbecue sauce, and a medley of colorful vegetables, all on a crispy flatbread.
Prepare the iconic Philly cheesesteak sandwich on the Blackstone griddle. You can easily cook thinly sliced beef, onions, and peppers together, on Blackstone griddle.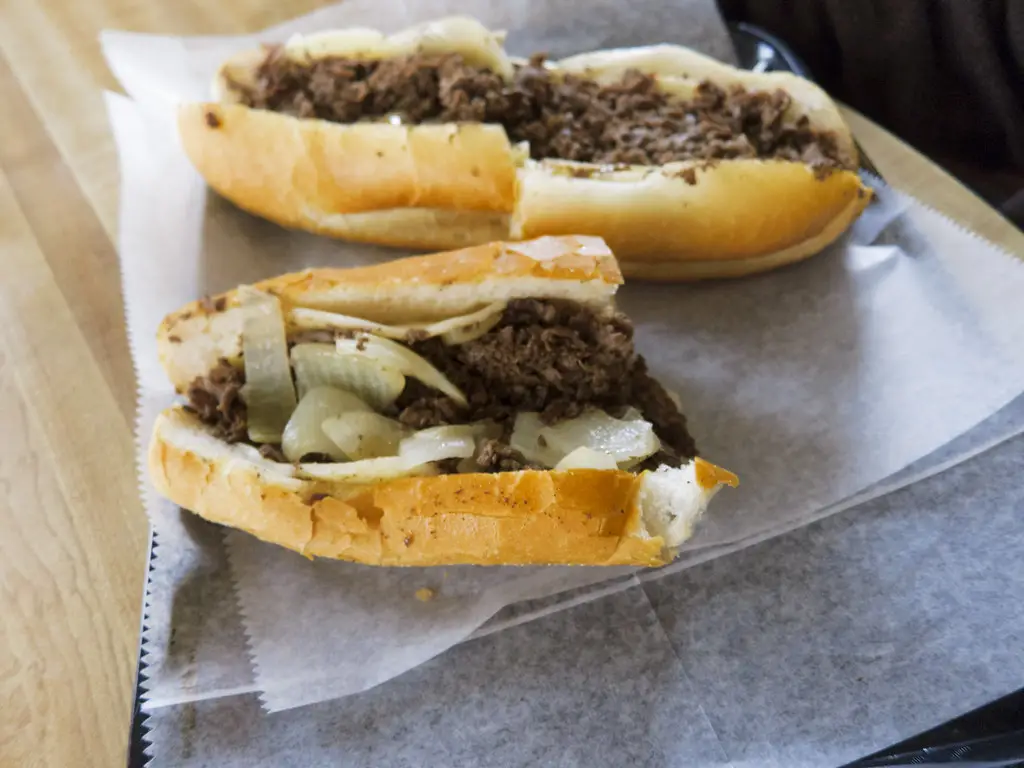 Season your favorite fish fillets with a flavorful spice rub and cook them on the Blackstone griddle until blackened. Serve in warm tortillas with refreshing and zesty toppings like tangy slaw, creamy avocado, and a drizzle of zingy lime crema.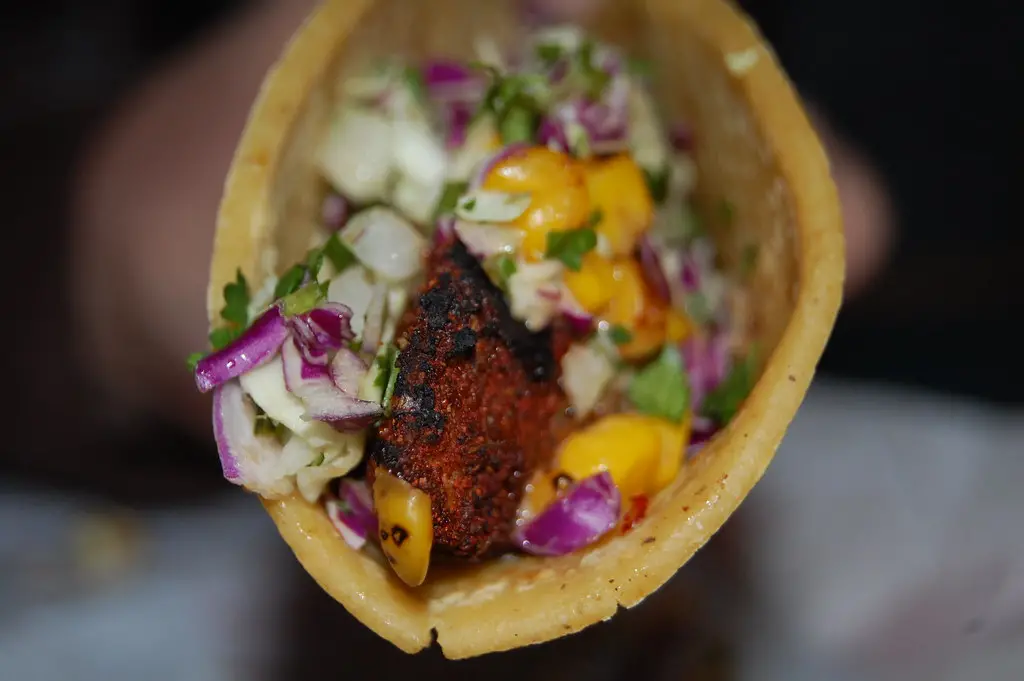 Shrimp is one of the most popular foods that you can cook on a griddle, so if you're looking for something new to try out o your camping trip, these Blackstone shrimp kabobs might be your best bet!
You can grill a whole shrimp, slice it into medallions, or skewer it with toothpicks and serve it as an appetizer.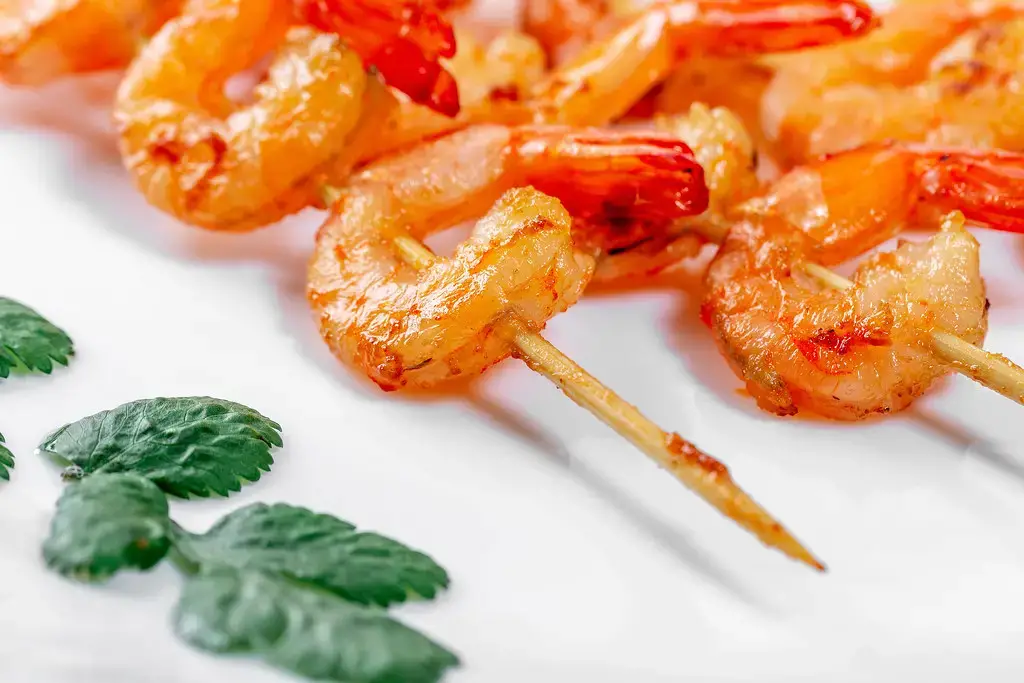 Glaze fresh salmon fillets with a sweet and savory teriyaki sauce and cook them on the Blackstone griddle until tender and flaky. You can serve salmon with rice or alongside grilled vegetables.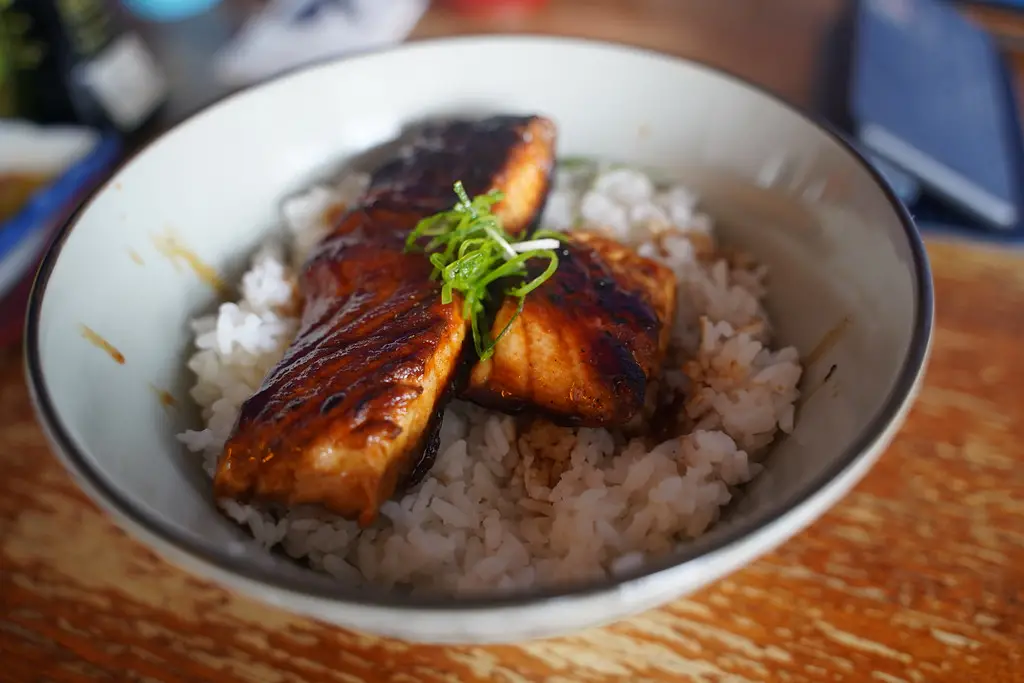 Blackstone Smash Burgers are a must-try for your camping trip.
The secret to their incredible flavor lies in smashing the patties on the hot griddle, creating a crispy exterior while keeping the meat juicy and tender. The high heat of the griddle ensures a quick and even cooking, resulting in perfectly caramelized edges.
You can top it with your favorite condiments and served on a soft bun.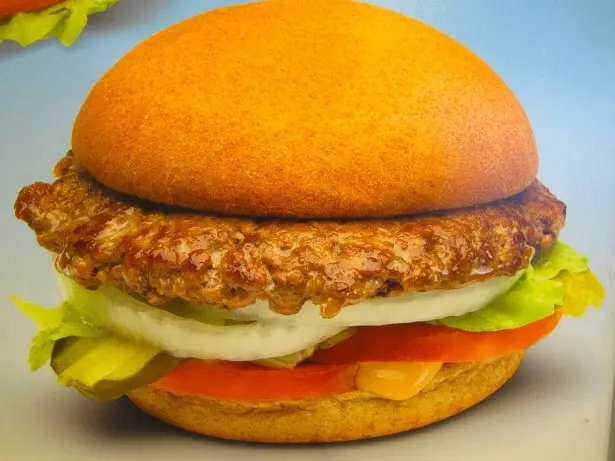 You can prepare a classic Spanish paella on the Blackstone griddle, combining rice, chicken, seafood, and a variety of vegetables and spices.
Blackstone Griddle Paella is a flavorful and comforting dish that brings the essence of Spain to your camping experience.
When Paella is cooked on the Blackstone griddle, it has a delightful smoky essence, that adds an extra layer of depth to the paella. With its vibrant colors and aromatic aroma, this paella is a showstopper that will transport you to the Mediterranean while enjoying the great outdoors.
You can gather around the griddle and enjoy this comforting and satisfying meal, perfect for camping lunches or dinners.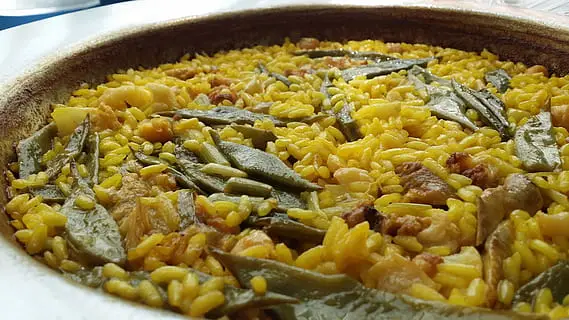 Blackstone Griddle Steak Fajitas are a mouthwatering choice for a camping lunch or dinner. The steak is perfectly seared, tender, and full of flavor, while the vegetables add a delightful crunch and sweetness. You can serve it with warm tortillas, fresh guacamole, and tangy salsa, these fajitas are a crowd-pleaser.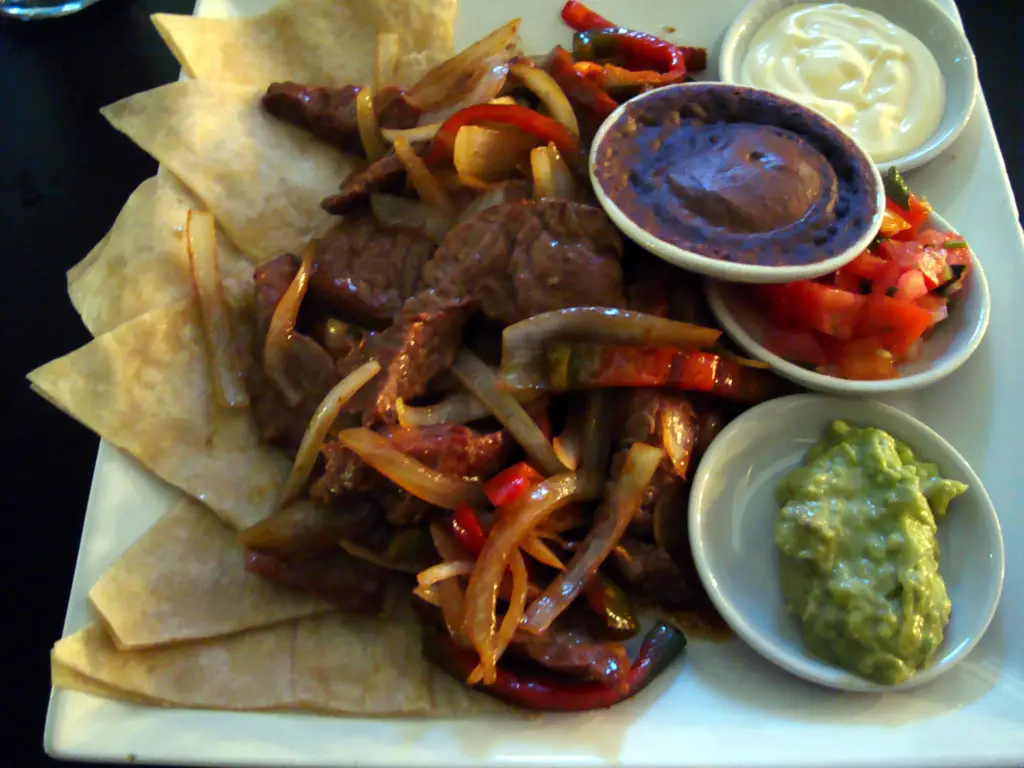 12-
You can also try simple dessert on Blackstone after a dinner or lunch.
Grilled pineapples are readily prepared by removing the skin and core, cutting them into round or wedges, and cooking them over high temperature until they are lightly browned and caramelized. 
To avoid sticking, brush the griddle with oil, and for extra sweetness, put brown sugar or cinnamon on top. Use as a topping for burgers, tacos, or salads, or serve warm as a side dish or dessert.
A crowd-pleaser, grilled pineapple gives any word a touch of the tropics.
Related Article > >20 Irresistible Blackstone Griddle Desserts (MUST TRY)
Related Articles: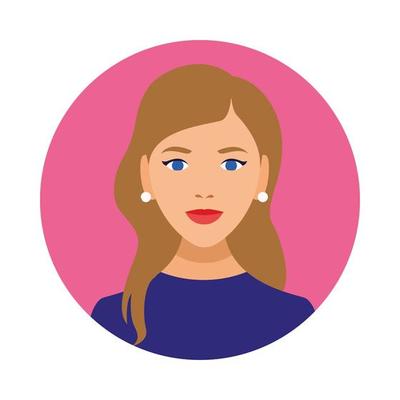 I am a writer, editor, and publisher of Grillcuisines.com – an online blog dedicated to sharing grilling tips, accessories, and recipes to encourage more people to get outside and grill.
I'm off to find out the different types of grill foods, their seasons, and how to conduct outdoor cooking properly. I'll also show you some of my grill-worthy cooking tools & accessories!