Indulge in the Sweet Perfection of Blackstone Cinnamon Rolls Delights. This Blackstone Cinnamon Roll recipe has everything you want in a quick dessert to fulfill your cravings.
With every bite, you'll feel a burst of flavor in your mouth. The perfect process of filling, smashing, and glazing the cinnamon roll gives this recipe its signature flavor and a hearty feel.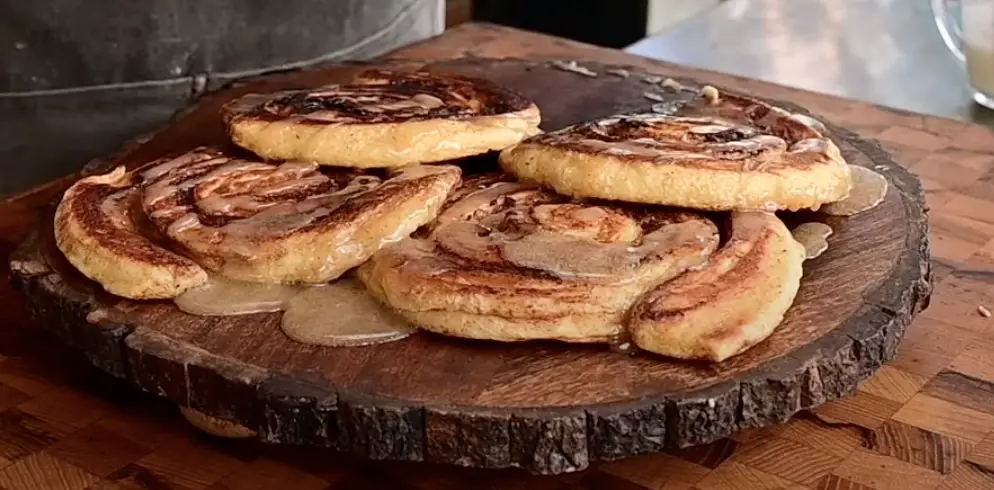 The unique part of this recipe is that it undergoes a delightful transformation when introduced to the Blackstone griddle.
Make these cinnamon rolls on the Blackstone to indulge in the smoky, and sweet delight. The ultimate flavor of cinnamon rolls with griddle-cooked texture has a unique and heavenly taste. These delicious cinnamon rolls are cooked outdoors on a Blackstone griddle that gives them a crispy texture and soft interior.
They are perfect for a breakfast meal or a sweet treat on a camping trip. You can use Pillsbury cinnamon rolls—delicious and ready to bake right from your fridge! These griddle cinnamon rolls are quick, takes less than 15 minutes, and require minimal prep; just preheat your flat top griddle, and you're good to go!
WHY YOU'LL LOVE THIS RECIPE
Classic Cinnamon Roll Charm: This recipe enhances the flavor of the traditional cinnamon rolls. It ensures the familiar and comforting flavors of traditional cinnamon rolls.
The Blackstone Twist: The addition of the Blackstone griddle to cinnamon rolls has made a delightful smokiness that tastes the next level. Griddle-cooked cinnamon rolls have a crispy outer texture and are soft, and gooey from inside.
Beginner-Friendly: This is a beginner-friendly recipe. You don't need to be a perfect baker to make it. It is a simple, quick, and satisfying recipe.
INGREDIENTS NEEDED TO MAKE BLACKSTONE CINNAMON ROLLS:
Cinnamon Roll Dough: You will need one can of store-bought cinnamon roll dough approximately 14 oz. or prepare an equal amount of homemade dough. If you want to make a homemade cinnamon dough try this recipe here.
Unsalted Butter: You will need 2 tablespoons of unsalted melted butter from your favorite brand.
Cinnamon: You will need 2 teaspoons of ground cinnamon.
Brown sugar: You will need a quarter cup of brown sugar.
Cream cheese: You will need 4 oz. of softened cream cheese.
Powdered sugar: You will need half a cup of powdered sugar.
Blackstone Smash Burgers Kit
You may need a Blackstone Smash Burgers kit for smashing the cinnamon rolls. This kit comprises only 3 essentials that you will already have at hand if you own a Blackstone griddle like me.
Spatula: All you basically need is one stainless steel, standard-sized spatula with a rubber handle to flip, press, and smash the cinnamon roll on the Blackstone griddle.
Burger Press: If you are a Blackstone griddle fan like me, then you might have a burger press in your kit as well. But a spatula will serve you the same function as well.
Scraper: This is a Blackstone griddle cleaning essential, although a spatula can serve the same purpose. Having separate tools for different purposes is helpful.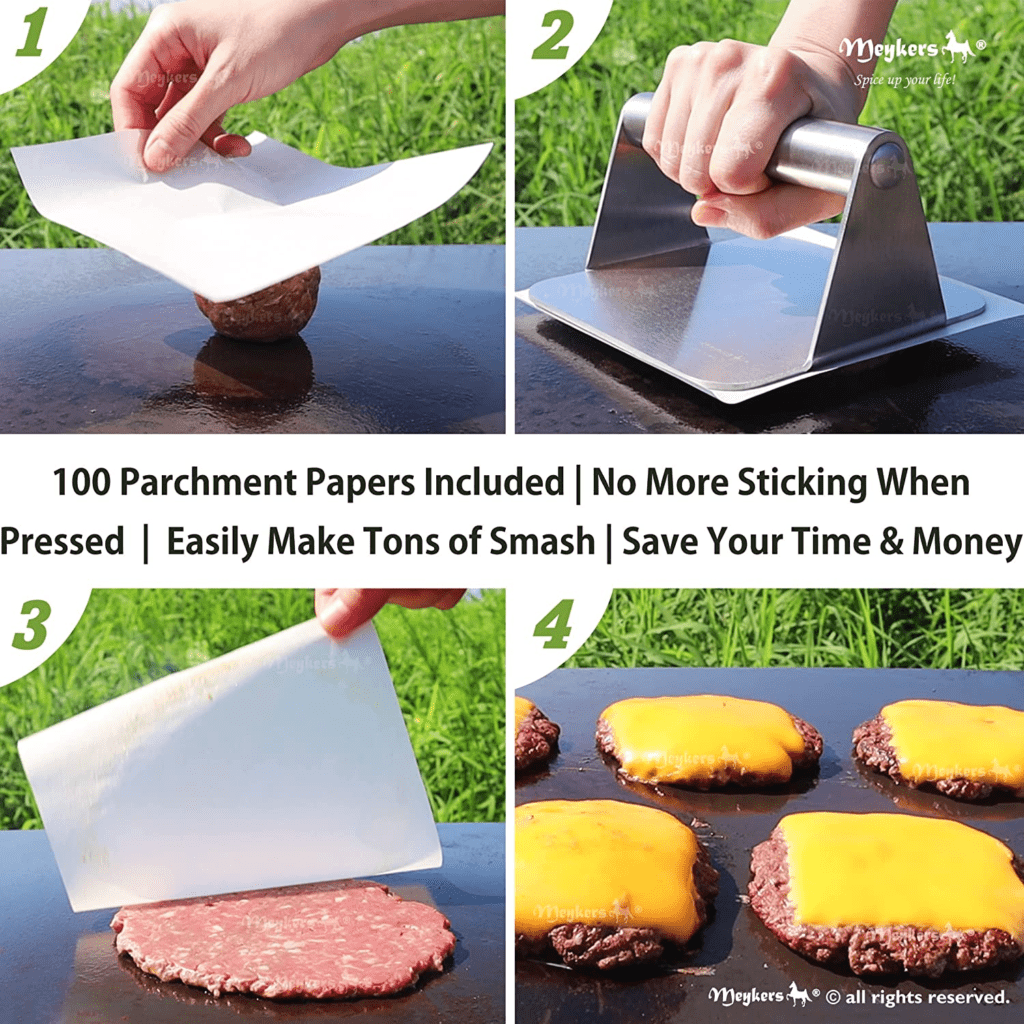 HOW TO MAKE BLACKSTONE CINNAMON ROLLS
STEP BY STEP:
Step 1: Dough Preparation 
Start by unrolling the store-bought cinnamon roll dough or rolling out the homemade dough in a rectangle.
Step 2: Filling
Take the two tablespoons of melted unsalted butter and spread it all over the dough evenly. Sprinkle the ground cinnamon and the powdered sugar across the dough. If you want the cinnamon rolls to turn out goey Spread a generous layer of softened butter over the rolled-out dough.
This will create that gooey, rich texture. Don't be shy with the butter!
Sprinkle the cinnamon sugar mixture evenly over the buttered dough. This ensures that each bite has a perfect balance of sweet, spicy, and buttery goodness.
Step 3: Rolling Up
Roll the dough tightly to create a spiral gently using a rolling pin into a log. This will help trap the gooey filling inside.
Now divide the log into individual rolls. Use a sharp knife or dental floss to cut the rolls. A clean cut will prevent the filling from leaking out.
Step 4: Cooking cinnamon rolls on a Blackstone griddle
Preheat the Blackstone griddle to medium heat and once the griddle hits 350 degrees spread the butter on the griddle. Now, place the cinnamon rolls leaving some space between them.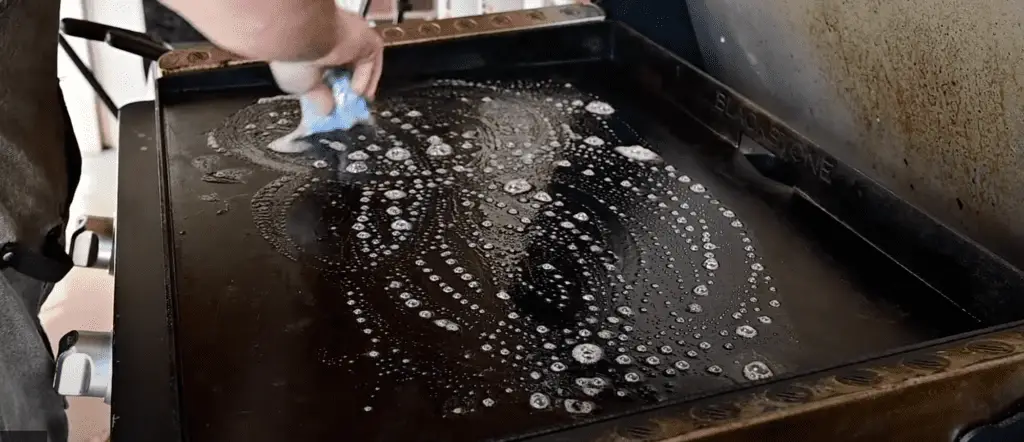 Place the rolls close together but not too crowded. This helps them rise up instead of spreading out.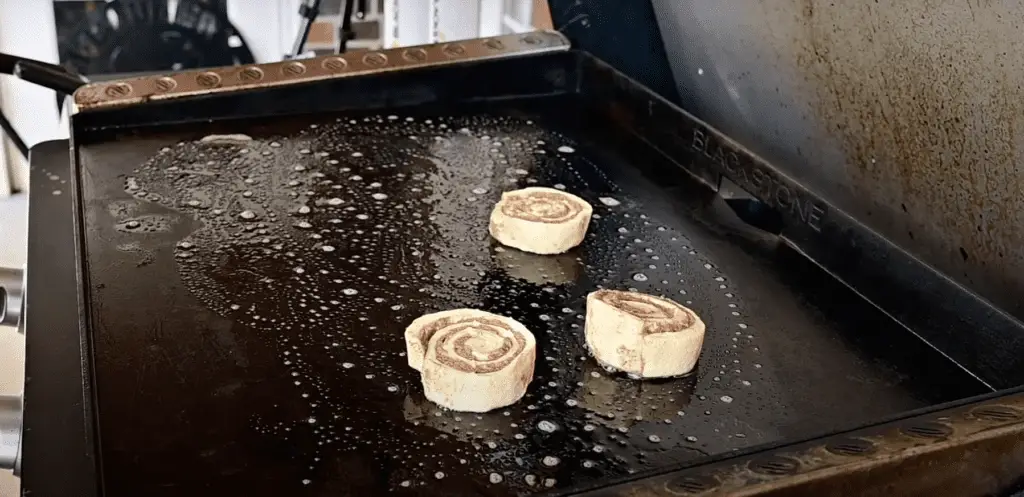 Step 5: Smashing
Place a parchment paper on your cinnamon roll and smash it on a blackstone griddle using a griddle spatula until it forms a flat shape like a pancake.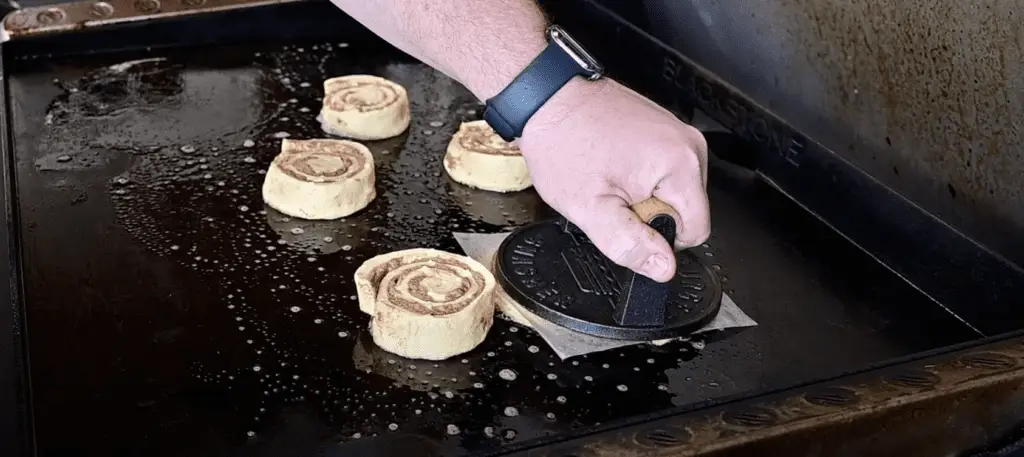 Step 6: Flipping
Cook the rolls on one side until they develop a beautiful golden crust, which typically takes about 4-6 minutes.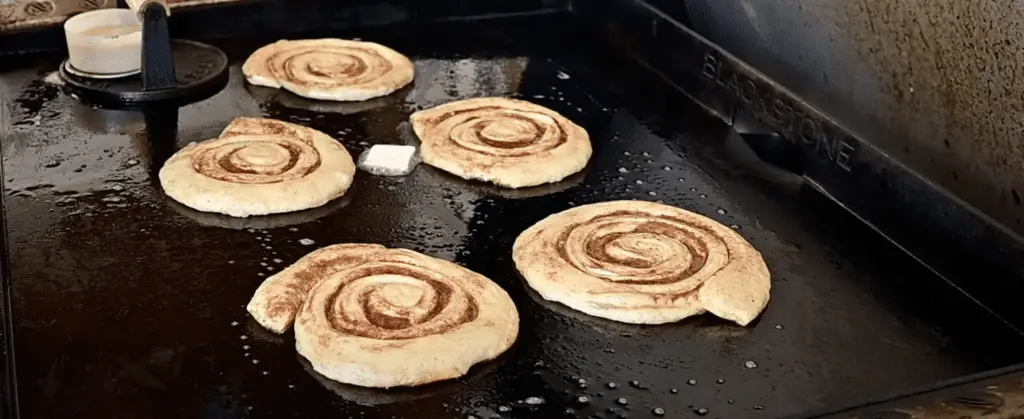 Keep an eye on them to prevent burning. You can cover them with a griddle dome or a large metal bowl to help cook the tops evenly.
Gently flip the cinnamon rolls using a spatula and cook the other side until it's golden as well, which should take about 4-6 minutes.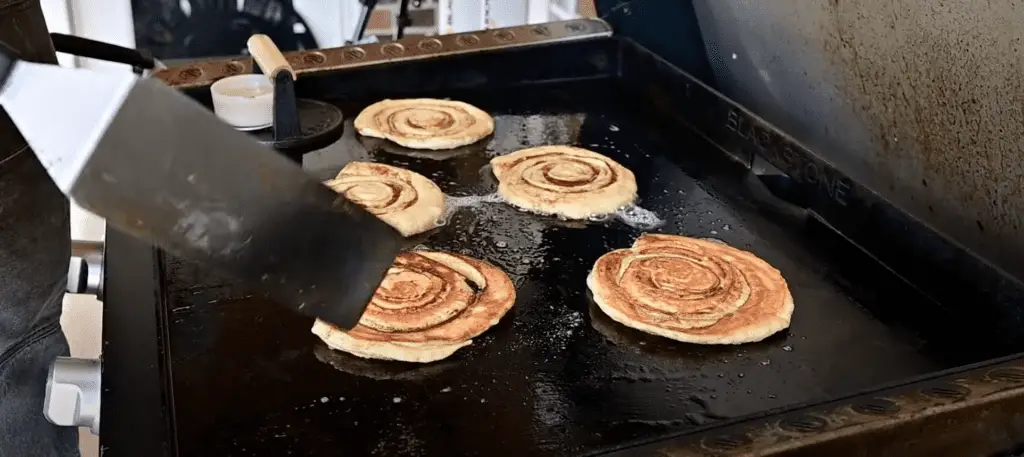 Step 7: Check Doneness
To ensure the rolls are fully cooked, you can use a toothpick or cake tester to insert into the center of a roll. It should come out clean or with just a few moist crumbs when they're done.
Step 8: Glazing
The final step is to prepare the icing using powdered sugar and water and glaze the Blackstone Cinnamon Roll.
TEMPERATURE INSTRUCTION:
To cook the cinnamon rolls perfectly with a beautiful golden crust the temperature of the Blackstone griddle must be around 350°F.
Remember that griddles can vary in terms of temperature control, so it's a good idea to use an instant-read thermometer to monitor the griddle's surface temperature. This will help you maintain the ideal cooking temperature and ensure that your cinnamon rolls turn out perfect with that golden crust.
CONFIDENCE TIP:
– Take your time when rolling the dough. The dough must be tight and even so, it ensures that the rolls are in perfect shape when griddled.
– Use an instant-read thermometer to monitor the griddle's surface temperature for precise cooking.- Start with a small batch if you're new to griddle cooking to build your confidence.
– Be patient and don't overcrowd the griddle to ensure even cooking.
– Adjust the temperature as needed during cooking to maintain the ideal heat.- Taste and adjust the recipe to your preference for future batches.
STORAGE & REHEATING:
If you have the leftover Blackstone Cinnamon Rolls, put them in an airtight food container in the fridge.
When reheating them place them in an oven for a few minutes to restore their soft, gooey texture and warmth.
ADDITIONS:
Nuts: You can customize your Blackstone Cinnamon Rolls by adding different types of topping like nuts, and raisins or you can even drizzle a caramel sauce.
Chocolate: If you are a person that loves chocolate then you can also add some chocolate chips or chunks. Chocolate sauce can also be used.
Fruit: You can also add some fruit topping or jelly candies.
SUBSTITUTIONS:
To make your cinnamon rolls healthier you can use whole wheat dough or a sugar substitute.
To make your cinnamon rolls gluten-free, you can use a gluten-free flour blend but remember that texture may be changed.
Frequently Asked Questions (FAQS):
Can I make my own cinnamon roll dough from scratch?
Absolutely! You can use a homemade dough of equivalent weight for this recipe, or go for store-bought for added convenience.
How do I ensure my cinnamon rolls turn out gooey and delicious?
Generously coat the dough with butter, cinnamon, and brown sugar for that irresistible gooey texture.
Can I make a cream cheese glaze for these rolls?
Yes, simply blend softened cream cheese, powdered sugar, and vanilla extract to create a delectable drizzle for your warm cinnamon rolls.
How do I prevent the rolls from sticking to the griddle?
Ensure the griddle is well-oiled, and use a spatula to gently lift and flip the rolls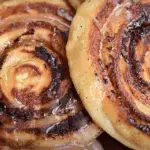 Print Recipe
Blackstone Cinnamon Rolls
This recipe has a complete guide that will help you to make a perfect Blackstone Cinnamon Roll. This delicious recipe will enhance your dessert menu whether it's a family breakfast or a sweet treat to friends. These beautiful golden crust cinnamon rolls are made on a Blackstone griddle that gives them a smoky flavor.
Ingredients
14

oz

Cinnamon roll dough

5

tbsp

Unsalted butter(melted)

2

tbsp

Ground cinnamon

1/4

cup

Brown sugar
For Glaze (Optional)
4

oz

Cream cheese (softened)

1/2

cup

Powdered sugar

1

tsp

Vanilla extract

3

tbsp

Milk
Instructions
Preheat your Blackstone griddle to 325°F to 350°F (163°C to 177°C).

Grease the griddle's surface lightly with cooking oil or butter to prevent sticking.

Place the cinnamon rolls onto the griddle, leaving enough space between them for expansion.

Cook the rolls for about 4-6 minutes on each side, or until they develop a beautiful golden crust. Use a griddle dome or large metal bowl to help cook the tops evenly.

Gently flip the rolls using a spatula and cook the other side for another 4-6 minutes.

Check for doneness by inserting a toothpick into the center of a roll; it should come out clean or with a few moist crumbs when they're done.

Remove the cinnamon rolls from the griddle and let them cool slightly before applying the glaze.
**Glaze (Optional):**
In a bowl, mix the powdered sugar, milk, and vanilla extract until you achieve a smooth, pourable consistency.

Drizzle the glaze over the warm cinnamon rolls.
Notes
Take your time when rolling the dough. The dough must be tight for even and gooey cinnamon rolls.
Related Recipes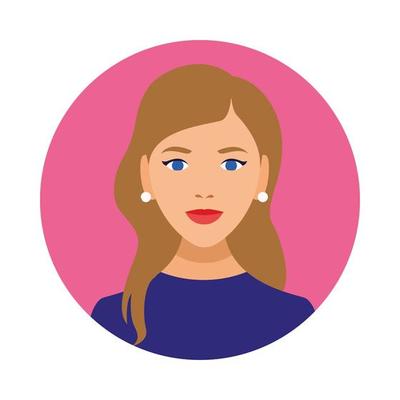 I am a writer, editor, and publisher of Grillcuisines.com – an online blog dedicated to sharing grilling tips, accessories, and recipes to encourage more people to get outside and grill.
I'm off to find out the different types of grill foods, their seasons, and how to conduct outdoor cooking properly. I'll also show you some of my grill-worthy cooking tools & accessories!