Are you looking for the best Blackstone breakfast recipes? You are in the right place.
Blackstone griddles make breakfast cooking a breeze and provide unbeatable value for your money. They're the perfect addition to any kitchen and can be used to cook a variety of favorite breakfast dishes.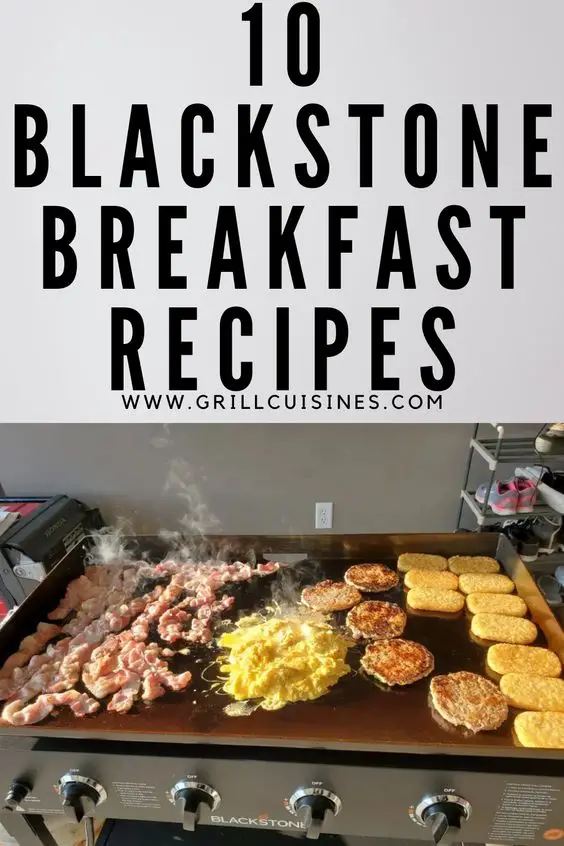 All you need is a cup of coffee and a bit of time to explore some of our Best Blackstone breakfast ideas.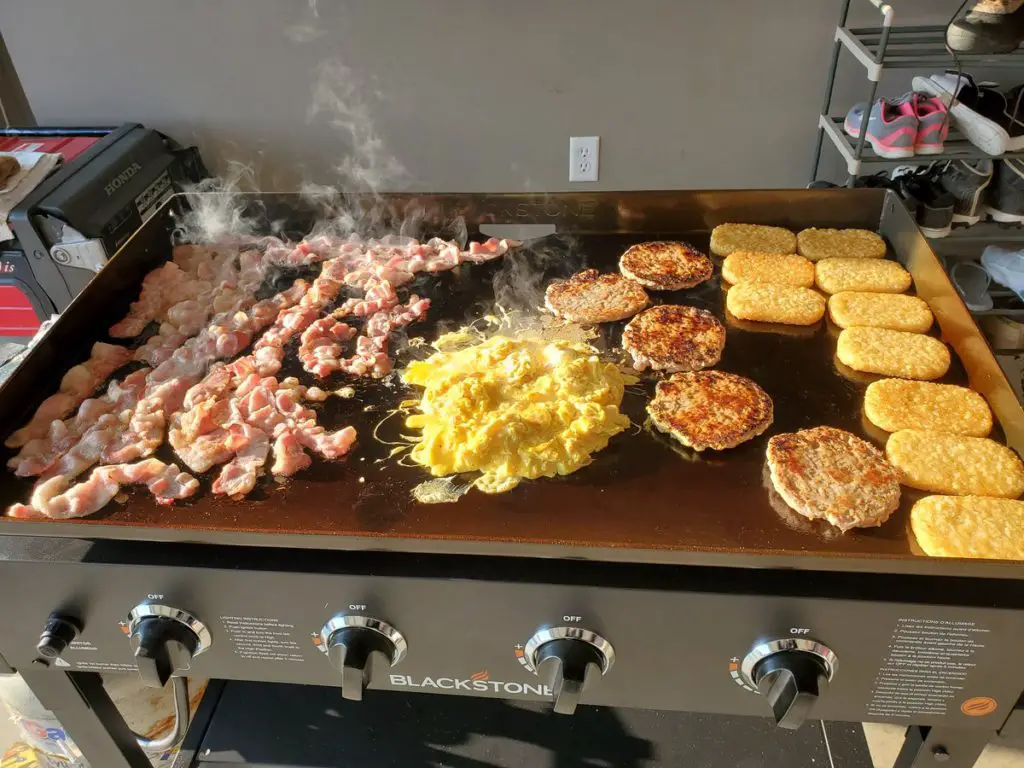 If you're just getting started with Blackstone griddle, below are a few articles that are going to help.
Everything You Need to Know About Blackstone Griddle: A Complete Guide
Blackstone Griddle Cooking Temperature Chart
Why is Blackstone Griddle Not Getting Hot? (6 Reasons)
Best Blackstone Breakfast Recipes
Here is the list of 12 BEST BLACKSTONE RECIPES for lunch and dinner.
1. Blackstone Breakfast Loaded Hash Browns with Sausage and Egg Recipe
This yummy breakfast is actually quite simple to make. It doesn't have too many ingredients, but the flavors that come out of it are incredible.
And it's perfect for hosting a big group—which is probably exactly what you need with Thanksgiving and Christmas coming up!
This is one of the best Blackstone breakfast ideas that can be served for dinner!
I am not always a breakfast kinda person on weekdays.
The only difference is that it might take longer to prepare on the weekdays but it's totally worth it!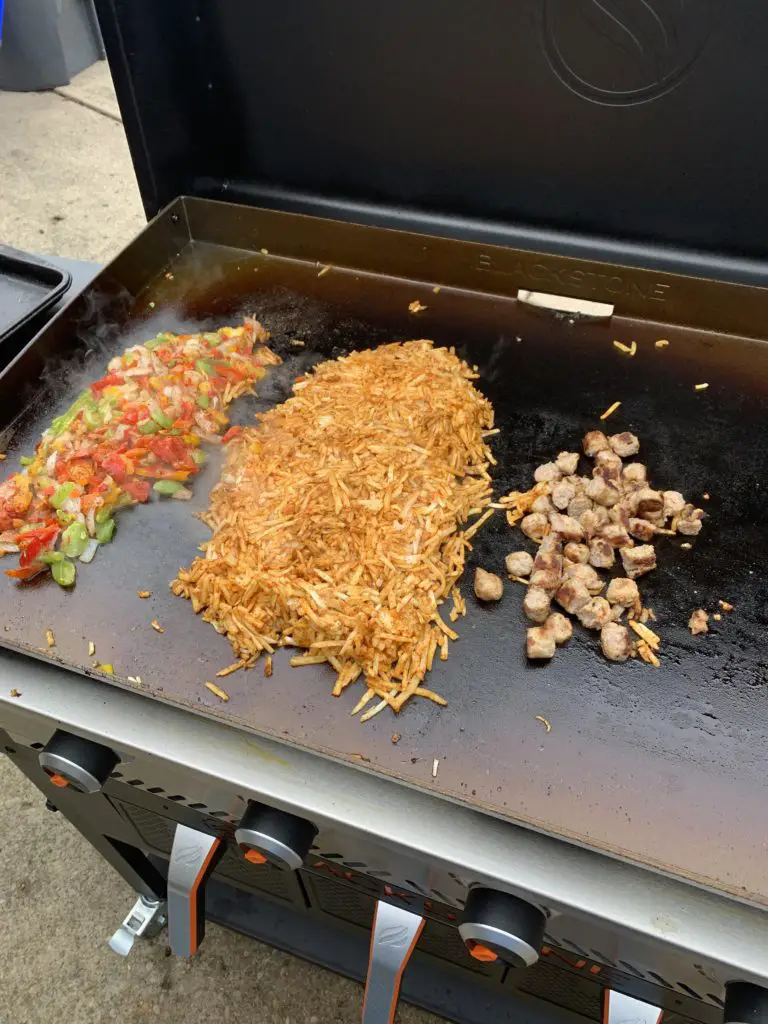 Ingredients:
frozen potatoes(hash browns)
onion (red and green)
sausage
bacon
cheese
oil (like avocado or canola)
butter
eggs
Direction:
This recipe is easy to make, and it doesn't take long before you get a savory breakfast waiting for you. All you need are ingredients that are easily accessible, including bacon, eggs, and potatoes.
Preheat your Blackstone griddle and add some oil to grease it up. Once it's heated, set the heat to Low.
Spread out your frozen potatoes on your griddle to start thawing and browning.
In a large bowl, whisk together your eggs to be scrambled. To help the eggs fluff up better, add some water at this point.
While the potatoes are cooking, cut up some bacon, onion, and sausage.
Add the onion to the potatoes, mix them, and move the mixture over to one side of a griddle.
Turn the burner up and place the bacon on the opposite side of the griddle so that it cooks faster. Let the bacon cook until they are done in the way you prefer. I can have them crisp or tender, whichever is your preference!
Place the sausages in the middle of the grill on low heat to cook it quickly.
Moved the sausage + bacon over into the potato and onion mixture and pour the egg mixture onto the other side of the griddle with some butter.
Scramble the eggs with the spatula to make sure they're evenly cooked.
When your eggs are about done, mix them into the potatoes and meat mixture.
When meat, egg, and potatoes are well-mixed add cheese and turn off the griddle. Cover the mixture with the melting lid until the cheese is melted.
Blackstone breakfast hash browns is ready to serve and enjoy!
2. S'mores Pancakes – Easy Blackstone breakfast recipes for Kids
Recipe by Todd Toven
Source: S'mores Pancake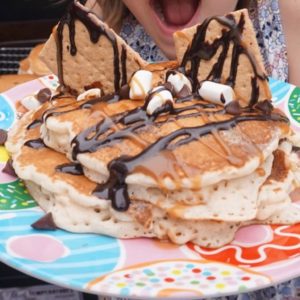 Ingredients:
Your favorite pancake mix
Graham crackers
Brown Sugar
Cinnamon
Mini or small marshmallows
Semi-sweet or dark chocolate chips
Chocolate syrup
Caramel syrup
Direction:
Preheat your griddle to a level somewhere between medium (which is traditionally what most people would say) and medium-low heat. Griddle surfaces will experience different heating levels, depending on the size of your griddle and the number of burner settings. TIP: A general rule of thumb for pancakes is that you need to cook them on a griddle that's at 375 ° Fahrenheit.
Following the specific instructions on the package, mix the desired amount of batter per their directions. Add in your favorite toppings (marshmallows, chocolate chips, cinnamon, brown sugar, and crumbled graham crackers) to taste. Add enough ingredients to ensure that each bite yields a smore's surprise. Make sure the batter has a runny consistency.
Spray the griddle with cooking spray that does not contain PTFE and other chemicals.
Ladle batter onto the hot griddle in dollops, being careful not to pour out too much or let it drip. You can use a ladle for this.
Flip pancakes when the bottom is golden brown. Use a spatula to check and flip the pancake.
Allow the other side of this pancake to get brown and cook.
on an empty side of the griddle Place a cooking/cookie sheet
Remove the pancakes from the griddle and place them on an elevated baking sheet while you make more.
Remove pancakes and garnish with toppings like marshmallows, chocolate chips, chocolate syrup, caramel syrup, graham crackers, and a dusting of cinnamon.
Enjoy yummy S'mores Pancakes!
3. Cheesy Breakfast Breakfast Burrito
Making these cheesy breakfast burritos is super easy! You can cook them ahead of time, wrap them in aluminum foil, and throw them in the oven to heat upon demand.
Can you put aluminum foil in an electric smoker?
You can reuse leftover smoked turkey, ham, and chicken, which don't take much effort to serve with them.
Ingredients
Turkey sausages or Ham Chunks
Tortilla Shells
8 – Eggs white
1/4 – Onion (diced)
1/4 – Green Bell Pepper (diced)
Shredded Cheddar (or Colby-Jack or cheese of choice)
Milk (for the egg scramble)
Directions
Preheat your griddle to high, then lightly cover the surface with olive oil.
Dice the sausages, green pepper, and onion. Combine diced peppers and onion together, mix well, and cook on half of your griddle.
To the other half of the griddle add turkey sausages and diced them into crumbles.
After about 10 minutes, the sausages start to turn brown, so combine sausage and peppers with onions and turn the griddle on low heat.
Heat the other half of your griddle to medium.
Combine egg white, and grated cheese, in a mixing bowl. You can then drizzle the mixture over the open side of your griddle and stir until they are done.
When the eggs are done, combine with sausage and pepper, and onion mixture on your griddle and stir the ingredients together.
Microwave tortillas for 10 seconds using a damp paper towel over them.
Place the mixture (with the egg, ham, peppers, and onions) on the tortillas and fold the tortillas and then roll.
Place the burritos on a hot Blackstone griddle with the seam side down.
After a couple of minutes, turn them over and repeat to get even browning on both sides. Remove from the griddle, and cut in half at a 45-degree angle.
Plate, serve, and enjoy!
4. 'Crepes' Blackstone Breakfast Recipes
Another option for breakfast on Blackstone is 'Crepes'. You need to practice a little patience when working with crepes.
One way I've found for first-time cooks to succeed is to let the batter sit in the fridge for at least an hour. You may have some difficulty getting your crepes thin & smooth.
The trick to this is practice!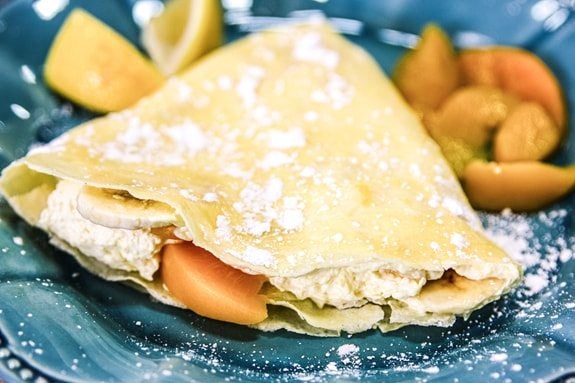 Ingredients
2 Large Eggs
3/4 Cup of Milk
1/2 Cup of Water
1 Cup of Flour
2 Tablespoons of melted butter
Directions
Whisk all the eggs, milk, and water together.
Add the flour in small batches to the egg, milk, and water mixture.
Now add the melted butter, ensuring it's fully mixed in with everything else.
Set the griddle to medium-low heat and spread a light layer of oil evenly over the griddle surface
Pour batter on the griddle and use the crepe spreader to make a large, circular shape.
Flip when the edges start lifting from the griddle surface.
Serve and enjoy!
5. Blackstone Breakfast Sandwiches Or Croissant Breakfast Sandwiches
Breakfast sandwiches often allow for more creative, personalized ingredients.
There are many options for how to customize, so there is little risk of getting bored with what you're eating. Maple Sausage and cheese is an easy way to start your day. The possibilities seem endless.
Blackstone Croissant Breakfast Sandwiches have crispy bacon, egg, delicious cheese, and tomatoes in buttery flaky croissants.
These breakfast sandwiches are made on the Blackstone griddle & will change up your weekend breakfast or brunch for the better.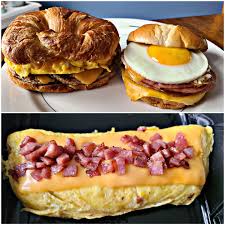 Ingredients:
4 pieces of bacon
4 eggs
4 slices American cheese
Tomato. A very ripe tomato is the best.
Unsalted butter. For cooking the eggs.
Croissants.
Directions:
Heat up the Blackstone to medium-high heat and fry your bacon. It'll be done in about two minutes.
Cook your eggs in the bacon grease while adding a bit of Blackstone Breakfast Seasoning. It will give you an amazing flavor that will leave you wanting your next meal. Or you can clean the bacon grease and add butter to the grill. Crack an egg into the center and cook the eggs as desired.
Lay your croissants side-down on the heated griddle so they can quickly & easily toast. Alternatively, leave them on the griddle to keep warm if there isn't a warming rack available.
Toss the egg to the bottom side of the croissant.
Place the bacon on the egg and top it with a slice of cheese, tomato, and the top half of the croissant.
Serve and repeat the process and cook additional sandwiches.
6. Bacon and Corn Griddle Cakes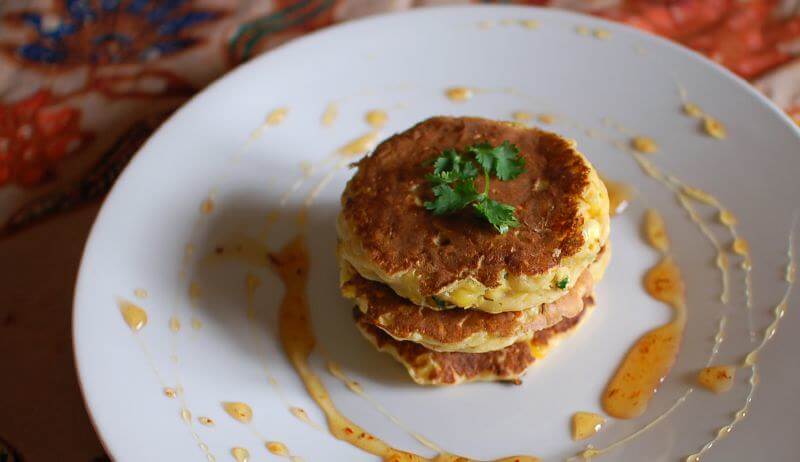 Bacon and corn griddle cakes are a delicious and savory breakfast option on Blackstone that combines crispy bacon and sweet corn in a fluffy pancake batter.
Here's a simple recipe to make them:
Ingredients:
1 cup all-purpose flour
1 teaspoon baking powder
1/2 teaspoon baking soda
1/2 teaspoon salt
1 cup milk
1 egg
2 tablespoons melted butter
4 slices cooked bacon, chopped
1/2 cup corn kernels
Instructions:
Take a medium mixing bowl, and whisk together flour, baking powder, baking soda, and salt.
In a separate bowl, mix together milk, egg, and melted butter.
Pour the wet ingredients into the dry ingredients and stir until just combined. Do not overmix.
Fold in chopped bacon and corn kernels.
Heat a Blackstone or any griddle or non-stick pan over medium-high heat. Grease the pan lightly with cooking spray or butter.
Drop spoonfuls of batter onto the griddle, using about 1/4 cup of batter for each cake.
Cook until the edges of the cakes start to dry and the bottoms are golden brown, about 2-3 minutes. Flip and cook for another 1-2 minutes until cooked through.
Repeat with the remaining batter.
Serve the bacon and corn griddle cakes warm with your choice of toppings, such as butter and maple syrup or sour cream and chives.
7. Breakfast Quesadilla on Blackstone Griddle
Looking for an easy-to-make and delicious breakfast that you can make in no time?
Try making a Breakfast Quesadilla on a Blackstone Griddle!
This recipe is very simple and requires just a few ingredients, including eggs, diced onion and bell pepper, cooked ham or bacon, and shredded cheddar cheese.
Here's a recipe for making a delicious Breakfast Quesadilla on a Blackstone Griddle: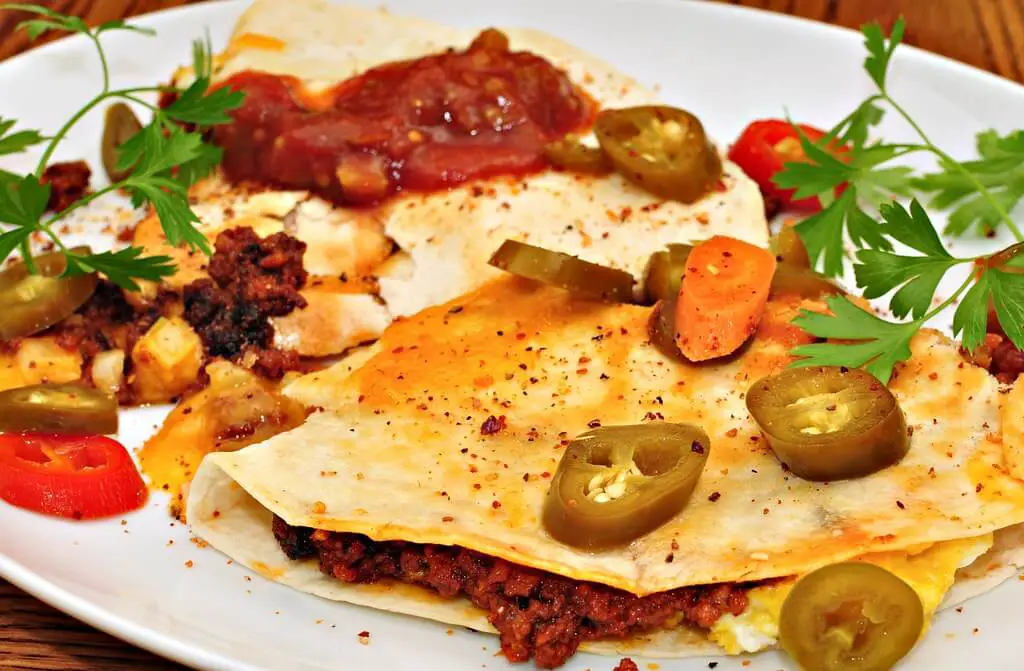 Ingredients:
4 medium flour tortillas
8 eggs
1/2 cup diced onion
1/2 cup diced bell pepper
1/2 cup diced cooked ham or bacon
1 cup shredded cheddar cheese
2 tablespoons butter
Salt and pepper, to taste
Instructions:
Preheat your Blackstone griddle to medium-high heat.
In a mixing bowl, whisk together the eggs and a pinch of salt and pepper.
Melt the butter on the griddle and add the diced onions and bell peppers. Cook until they are softened and lightly browned, stirring occasionally.
Add the diced ham or bacon to the griddle and stir together with the onions and bell peppers.
Pour the whisked eggs over the mixture and cook, stirring occasionally, until they are scrambled and fully cooked.
Remove the egg mixture from the griddle and set it aside on a plate.
Place a tortilla on the griddle and sprinkle some shredded cheddar cheese over half of the tortilla.
Spoon some of the egg mixtures on top of the cheese and fold the other half of the tortilla over the filling.
Cook the quesadilla on the griddle for 2-3 minutes on each side, or until the tortilla is crispy and the cheese is melted.
Remove the quesadilla from the griddle and repeat the process with the remaining tortillas and egg mixture.
Cut the quesadillas into wedges and serve hot.
8. Easy French Toast on Blackstone Griddle
Making French toast on a Blackstone Griddle is an easy and delicious breakfast option.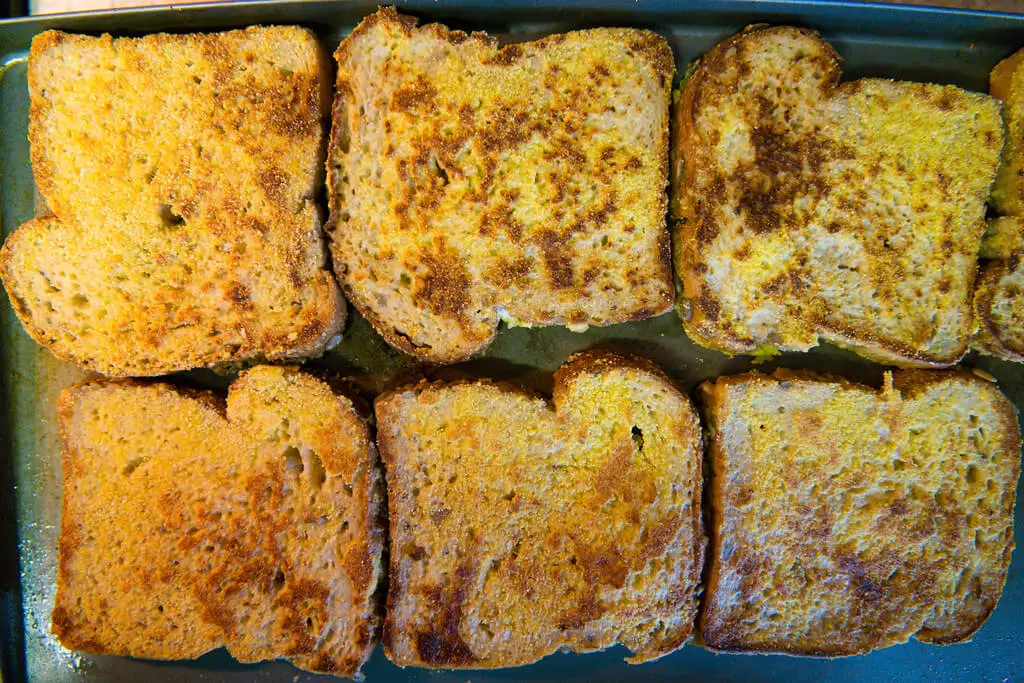 Here's a simple recipe to follow:
Ingredients:
4 slices of bread (use thick sliced bread like Texas toast or brioche for best results)
2 large eggs
1/2 cup of milk
1 teaspoon of vanilla extract
1 teaspoon of ground cinnamon
Butter for cooking
Instructions:
Preheat the Blackstone Griddle to medium heat.
In a bowl, whisk together the eggs, milk, vanilla extract, and ground cinnamon until well combined.
Dip each slice of bread in the egg mixture, making sure both sides are coated.
Melt a small amount of butter on the griddle and place the bread slices on the griddle. Cook for 2-3 minutes on each side, or until the French toast is golden brown and cooked through.
Repeat with the remaining slices of bread, adding more butter to the griddle as needed.
Optional: Serve with your favorite toppings, such as maple syrup, fresh fruit, whipped cream, or powdered sugar.
When it comes to whipping up a quick, delicious Blackstone griddle breakfast, few dishes beat the simplicity and satisfaction of scrambled eggs.
And with the help of a Blackstone Griddle, you can take your scrambled eggs to a whole new level of perfection.
Follow the full recipe here
The Blackstone Cinnamon Roll recipe will take your taste buds on a delightful journey. These delicious cinnamon rolls are cooked outdoors on a Blackstone griddle that gives them a crispy texture and soft interior.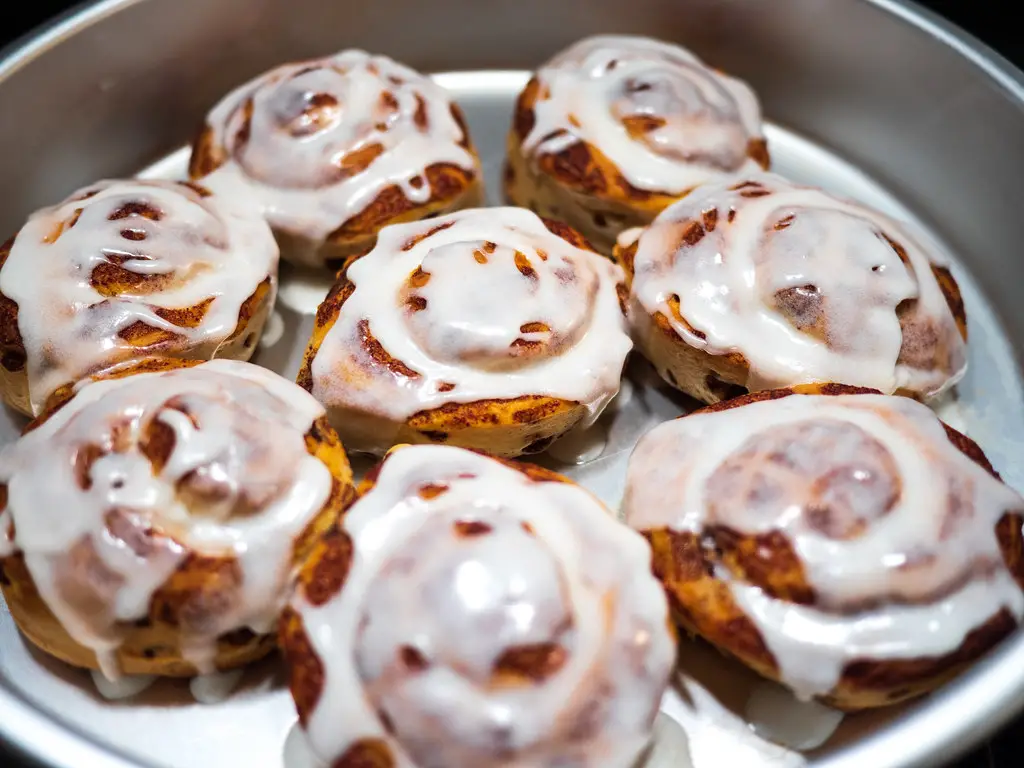 Follow the full recipe here
Blackstone Hash Browns are a camping trip essential, delivering that unbeatable crispy goodness that's hard to resist. When you're in the mood for a hearty and scrumptious breakfast, cooking hash browns on your Blackstone Griddle is undoubtedly the way to go.
These golden, crunchy delights will fuel your day and make your outdoor adventure even more memorable.
BLACKSTONE BREAKFAST KIT
There are a few accessories that are a must-have for every kitchen. The Blackstone Breakfast Kit is one of them! It provides everything you need to make your breakfast recipes. It has a 6-in-1 griddle with a spatula, egg ring, frying pan with a lid for steaming veggies, poaching rack, and removable center.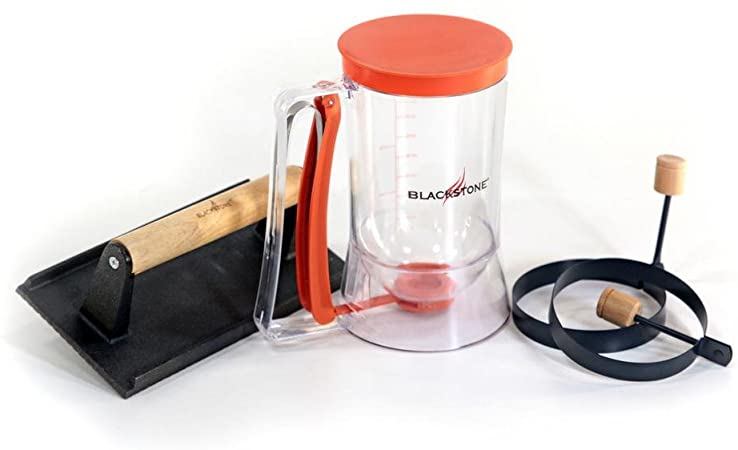 Conclusion:
Are you hungry yet? Well, these recipes are just the thing. Not only are they delicious, but they also show you how to use this handy appliance to prepare breakfast in a jiffy.
If you enjoyed the recipes, it's clear that Blackstone's griddle breakfast is one of the most popular uses for this powerful, portable cooking appliance. You can't wait to wake up to try one of the best Blackstone breakfast recipes tomorrow.
Other recipes to try on Blackstone Griddle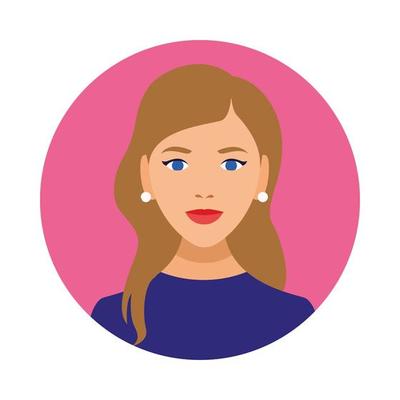 I am a writer, editor, and publisher of Grillcuisines.com – an online blog dedicated to sharing grilling tips, accessories, and recipes to encourage more people to get outside and grill.
I'm off to find out the different types of grill foods, their seasons, and how to conduct outdoor cooking properly. I'll also show you some of my grill-worthy cooking tools & accessories!