Blackstone scrambled eggs are a favorite breakfast food for everyone. You can make light, fluffy and scrumptious eggs on the griddle at any time of the week.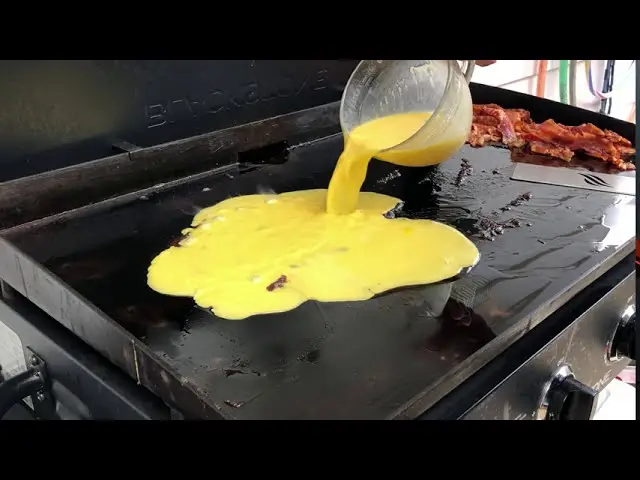 Best Ways to Cooking Scrambled Eggs on Blackstone Griddle
Whether you're trying to impress someone with a special breakfast or just want some quick eats for yourself in the morning, you'll definitely be able to find something delicious on the Blackstone griddle that's right up your alley!
Cooking eggs on a flat top grill can be daunting to some people. The process is very similar to cooking them on a skillet, but there are some differences. This recipe only requires normal, everyday ingredients.
Related >> 5 Best Blackstone Breakfast Recipes
How to Cook Scrambled Eggs On a Flat Top Grill
If you want great scrambled eggs, you need to know how to prepare your griddle and your eggs.
Tools You Need
Here is the list of tools you need to make perfect scrambled eggs on a Blackstone griddle.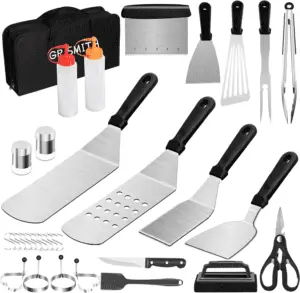 Grilling Process: How to Cook Scrambled eggs on Blackstone Griddle
You can make fluffy and tasty scrambled eggs within minutes by following these simple steps:
Prepare griddle: Preheat the Blackstone griddle to medium-high heat at a temperature of 350-400 degrees Fahrenheit.
Mix the ingredients: In a separate large mixing bowl, whisk the eggs, salt, pepper, and a small amount of milk. 
Oil the griddle: Oil the griddle with vegetable oil, bacon grease, or butter so that the eggs won't burn and stick to the flattop griddle's surface. Avoid using olive oil as it can make a difference in taste.
Introduce eggs: Pour the whisked eggs and spread the mixture thoroughly.
Push the eggs: Once the eggs start to crumble, push them toward the center of the griddle with the help of the spatula. 
Continue cooking eggs: Continue this process until the eggs are cooked properly. Let them be soft and moist so they do not dry out.
Serve and enjoy: Once the eggs are cooked, remove them from the griddle immediately. Take them out on a plate and they are ready to enjoy. 
How Long Does It Take To Make Scrambled Eggs On a Blackstone Griddle?
Making scrambled eggs on a Blackstone griddle only takes around 3—4 minutes. Just make sure to preheat the Blackstone griddle and oil it properly before adding eggs to it. It will take less than five minutes and you can enjoy them at any hour.
What Temperature do you cook Eggs on a Blackstone griddle?
The Blackstone griddle must be preheated on medium-high heat until the temperature reaches 350 to 375 degrees Fahrenheit. Use a temperature gun to determine the appropriate temperature. Make sure to oil the griddle properly so the eggs won't stick to the surface of the griddle.
How Can You Check the Temperature of the Blackstone Griddle?
The secret to making perfect scrambled eggs on a Blackstone griddle is heating it appropriately. The eggs won't cook nicely if the griddle is not heated properly.
It is advised to use a temperature gun to ensure the temperature of the griddle before cooking on it.
What to serve with Blackstone Scrambled Eggs?
The best side with Blackstone scrambled eggs is a piece of toast, but you can also serve it with fruit, hash browns, or even bacon. If you want to make your scrambled eggs more interesting, try adding some minced jalapeno pepper or a little cayenne pepper to the mix.
Here are some ideas to give a twist to your simple scrambled eggs.
You can also add some cheese to your scrambled eggs while they're cooking on the Blackstone grill. Just be careful not to add too much—you don't want them to become watery!
If you want to make your own Blackstone scrambled egg sandwich, simply add a slice of bread to the griddle after cooking your eggs.
 You can serve scrambled eggs on toast, in a tortilla with cheese and salsa, over rice with veggies, or even on a bagel!
Add some bacon, veggies, or fruits
You are free to use any side that you want to accompany your scrambled eggs. If you prefer something more savory, try adding some avocado and slices of bacon strips. For a lighter option, add some fresh fruit like strawberries or blueberries. You can top it off with whatever ingredients you like!
There are many sides that go with scrambled eggs. Some of the most common ones are:
Baked potatoes with cheese
Scrambled eggs and an English muffin or a piece of toast
A side of bacon or sausage
4 Tips For Cooking Scrambled Eggs on Blackstone Griddle
If you're looking for tips on how to make perfect scrambled eggs on a Blackstone griddle, we've got some great advice for you.
Use fresh eggs: Fresh eggs have the best texture, so if you're going to be making scrambled eggs regularly, it's worth investing in a few extra fresh eggs every week or two. You can usually find these at your local grocery store—just keep an eye out for the refrigerated section with the eggs.
Get really good quality butter or oil: Make sure that whatever oil or butter you use is high quality and has a high smoke point. It means it doesn't break down when heated over high heat. If it does break down, your scrambled eggs will turn into something more like an omelet rather than a scrambled egg!
Oil the griddle properly: This will help prevent sticking and keep your ingredients from falling out of the pan when you scramble them.
Cook on low flame: Cook slowly and evenly throughout the entire pan of eggs at first, then increase speed as needed as you continue cooking one side longer than another for even cooking across both sides of the eggs!
Don't overbeat Eggs: It's important not to beat your eggs too much before scrambling. Keep the heat low and add cream or milk to your eggs for a simple, rich, creamy scrambled egg.
If you add some sour cream, crème fraiche, or even plain Greek yogurt to the eggs as they are whipping, it will help them turn out fluffy and tender. A little bit of cream, half and half, or whole milk can also help but not as much as cultured dairy.
Mexican Scrambled Eggs On Blackstone Griddle
Scrambled eggs are a breakfast staple, but they don't have to be boring. They're easy to make, and you can mix them up with all kinds of toppings, from cheese to bacon to tomatoes.
If you want to make your next breakfast interesting, then try this Mexican Scrambled Egg recipe.
Ingredients:
4 eggs
1 cup diced onions
½ cup milk. 
Salt
Pepper
3 tablespoons of diced red bell pepper
3 tablespoons of diced yellow bell pepper
Butter or cooking spray
1 seeded and diced jalapeno pepper
2 teaspoons of Mexican-style chilli powder.
1 pinch of ground cinnamon 
1 teaspoon of ground cumin.
How to Make an Omelet on a Blackstone Griddle
Whisk eggs together in a bowl.
Then introduce onions, red and green bell peppers, jalapeno, cumin powder, Mexican chilli powder, cinnamon powder, salt, and pepper.
Mix all the ingredients thoroughly.
Preheat the griddle to 350-375 degrees Fahrenheit.
Oil the griddle properly.
Pour the mixture and spread it evenly over the surface of the flat top griddle.
Let it cook on low heat.
Stir until you get a nice golden brown color.
Then enjoy this Mexican scrambled egg with toast or tortilla.
Final Words:
You can also prepare scrambled eggs on the Blackstone griddle with any number of options for toppings. We have assembled this Blackstone scramble egg guide for you.
We have tried our best to cover all aspects to answer your queries. We hope that you will love this recipe and it will be the next favorite of you and your loved ones.
Thanks for reading it. Have an incredible cooking experience!
Other Blackstone Recipes to Try
2 Easy Blackstone Chicken Breast Recipes
Classic Blackstone Smash Burgers Recipe (Smash Sauce)
Blackstone Toad In A Hole Recipe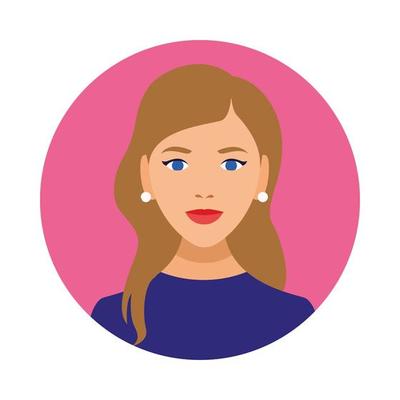 I am a writer, editor, and publisher of Grillcuisines.com – an online blog dedicated to sharing grilling tips, accessories, and recipes to encourage more people to get outside and grill.
I'm off to find out the different types of grill foods, their seasons, and how to conduct outdoor cooking properly. I'll also show you some of my grill-worthy cooking tools & accessories!