If you are looking for the best Blackstone keto recipes to try, you are in the right place.
As we all know, in today's world, people are more conscious of their health and weight. Keto Blackstone recipes are the best way to achieve your goal.
We can easily make keto-friendly, low-carb meals on a Blackstone griddle that taste as good as other meals.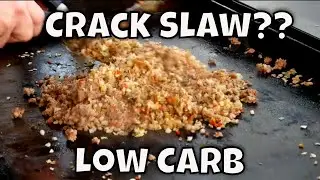 Unlike other griddles, Blackstone griddle doesn't have any Teflon or non-stick coating, which means it lets you enjoy the natural taste of your food. The griddle is easy to use, clean, and store, and can be used for a variety of cooking tasks, including breakfast, lunch, and dinner.
In this article, you can find the best Blackstone keto recipes that are easy to cook, low carb, keto-friendly, and yummy!
Blackstone Griddle Cooking Temperature Chart
Best Keto Blackstone Recipes
Enjoy the list of the best Blackstone keto recipes below!
Authentic Blackstone Philly Cheesesteak Recipe (Keto Friendly)
1. CHICKEN AND CABBAGE STIR FRY | KETO FRIENDLY | LOW CARB | BLACKSTONE GRIDDLE KETO RECIPES
2. Low Carb Taco Skillet Recipe | Blackstone Keto Recipes
3. EASY KETO BREAKFAST QUESADILLA ON THE BLACKSTONE GRIDDLE | BLACKSTONE GRIDDLE RECIPES
4. CRACK SLAW | BEST KETO BLACKSTONE GRILL RECIPE
5. Low Carb Chicken Cauliflower Rice Bowl | Keto Blackstone Grill Recipes
6. Keto Friendly Pizza Roll Ups on the Blackstone Griddle | Quick Keto Blackstone Recipe
7. Keto Friendly Chicken Philly Skillet on the Blackstone Griddle | Blackstone Keto Recipes
8. Low Carb Salisbury Steak on the Blackstone Griddle
Blackstone Griddle Accessories