Blackstone Turkey Smash Burgers are the best new way to enjoy all your traditional Thanksgiving flavors in a burger.
It's always beef, usually at the backyard parties. But why not try something different like Blackstone Turkey smash burgers this time?

The patty is made from whole ground turkey and a secret blend of seasonings to give your taste buds a flavor explosion and the perfect texture. This burger's juicy goodness will definitely hit the spot and satisfy your hunger.
If you're one like me who is bored with that typical beef burger flavor every season, you should give a chance to turkey smash burgers on Blackstone griddle.
This guide includes everything you need to know about how to cook turkey smash burgers on Blackstone. Let's dig into it.
Blackstone Turkey Smash Burgers Recipe
Here's the best-ever recipe for turkey burgers on Blackstone.
12 OF THE BEST BLACKSTONE RECIPES TO TRY THIS YEAR
BLACKSTONE SMASH BURGER RECIPE'S INGREDIENTS:
2 lbs ground turkey (yields 8 balls )
6 slices of American cheese
Tomato slices, shredded iceberg lettuce, shredded onions, pickles, bacon strips, or anything else you like.
Mayonnaise, Mustard sauce, Worcestershire sauce, Hot sauce, or any other smash sauce you may like.
Blackstone Smash Burgers Kit:
My Blackstone smash burgers kit comprises only 3 essentials that you will already have at hand if you own a Blackstone griddle like me.
Spatula: All you basically need is one stainless steel, standard-sized spatula with a rubber handle to flip, press, and create your Blackstone smash burgers.
Burger Press: If you are a Blackstone griddle fan like me, than you might have a burger press in your kit as well. But a spatula will serve you the same function as well.
Scraper: This is a Blackstone griddle cleaning essential, although a spatula can serve the same purpose. Having separate tools for different purposes is helpful.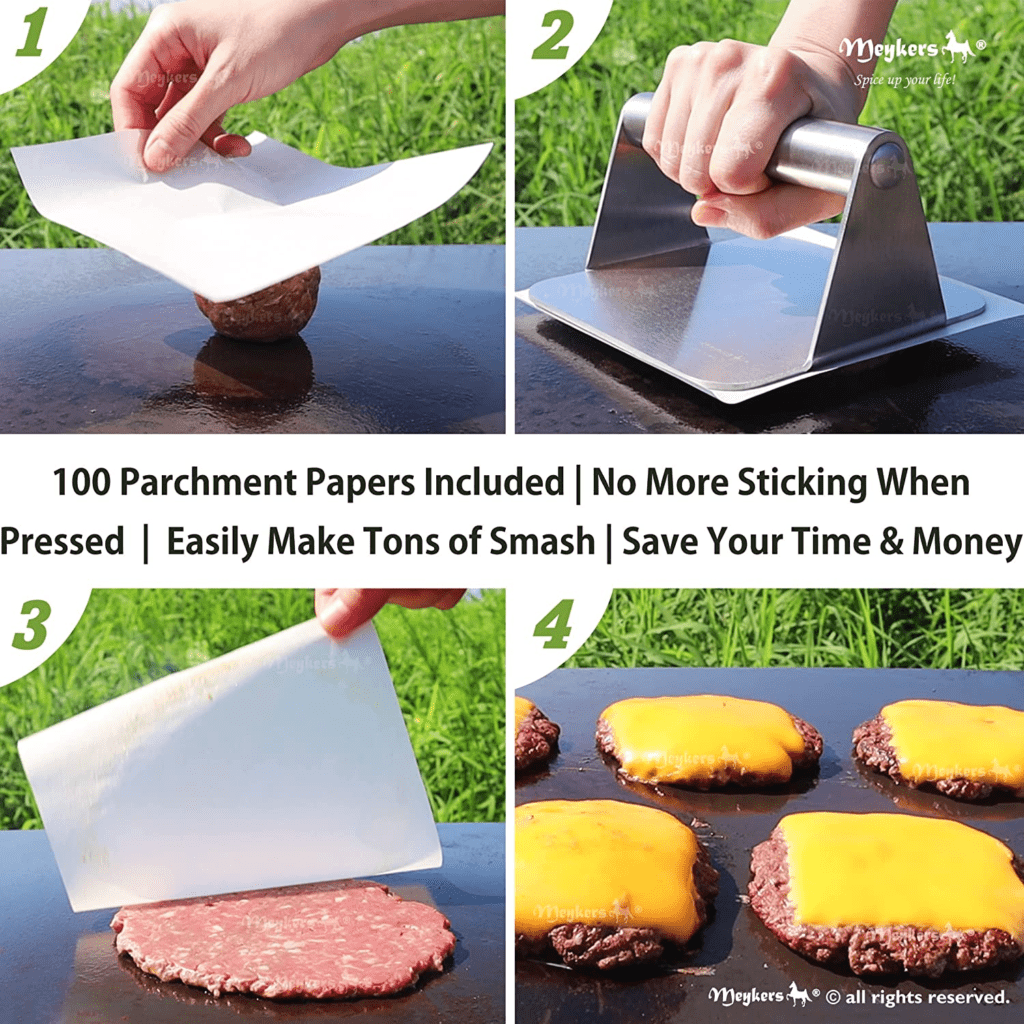 HOW TO MAKE SMASH BURGERS ON BLACKSTONE
Step 1: The first step in creating my crowd favorite Blackstone turkey smash burger recipe is to preheat the griddle to medium high heat.
Meanwhile, prepare the burger mixture. Mix one egg into the ground turkey mixture and other spices: onion powder, garlic powder, salt, and pepper to make eight meatballs.
I like a double patty turkey smash burger recipe, so make sure the portions are fairly consistent. I roll them loosely into balls and refrigerate them while getting my other ingredients ready.
Step 2: Now prepare the vegetables for toppings. I finely grate the onions to add to my special sauce mix. Iceberg lettuce is great for adding crunch to the Blackstone turkey smash burger recipe.
 Finely dice into shredded form. Finally, I prep thinly sliced tomatoes to put into my smash burgers.
Step 3: Next step is to crisp the hamburger buns to a light golden on your Blackstone griddle while it's medium hot.
I like to do this step beforehand so as to avoid any beef sticking to the buns. Butter the buns and place them on your Blackstone griddle. This is a great time to start preheating the griddle for the best Blackstone turkey smash burgers.
Step 4: Now I turn the heat on to medium high (approximately 400 degrees) and start cooking the beef patties while the hamburger buns are still brown and crispy.
Step 5: I start off the turkey smash burgers recipe process by spacing out the meatballs on the Blackstone griddle.
These will take up space as they are pressed down, so make sure each ball gets ample space to cook.
Now make sure to place a piece of parchment on the balls so as to avoid any meat sticking to the spatula or your burger press. It will grease up your Blackstone griddle in preparation for the juiciest smash burgers on Blackstone.
Step 6: Let it cook for 3-4 minutes on one side and then flip. Just flip it once and then give 3 more minutes to the other side.
After it changes from pink to dark brown, your burger is done.
Step 7: Now place a cheese slice on each of your patties, which will melt it nicely. This melted cheese will be the glue in between both patties for the best Blackstone turkey smash burgers.
Step 8: Add your favorite burger sauce to the toasted buns and place the turkey smash burger on it. Top it with lettuce, and sliced tomatoes.
How to do Turkey Smash Burgers on Blackstone Griddle right?
Do you know what is the secret ingredient that makes turkey smash burgers perfect? The secret ingredient to any recipe is the right temperature, the right amount of cooking time, the right tools, and the ingredients.
So what temp to cook smash burgers on Blackstone griddle? What are the right ingredients and tools are listed below.
What temp to cook smash burgers on Blackstone griddle?
Your homemade burgers won't taste like the restaurant ones unless you cook them at the right temperature.
Here is a complete Guide to Blackstone Griddle Cooking Temperature Chart
Preheat the griddle to medium-high heat. If it is too low, the burger patties will stick to the surface. And if it is too high, you'll end up with a burnt coating.
The right temperature for turkey smash burgers on a Blackstone griddle is 400 degrees F. At this temp, you'll get a terrific char while perfectly cooked meat inside.
Besides using thermometers to make sure that the griddle is hot enough, you can sprinkle some water drops. If they start dancing on the surface and evaporate immediately, know that this is the right temperature to put the meat on.
The right tools for smash burgers
Just like you can not get the perfect cut of meat if you don't use the right set of knives, you can not smash the burgers perfectly if you don't use the right tools to do so.
There's a wide range of options to use between Blackstone burger press, a large spatula, or a trowel.
Kenji, The Food Lab's author, suggested using a trowel and a wallpaper scraper as the best way to smash the burgers.
Don't forget to use parchment paper to protect your meat from sticking.
Is It Safe to Use Parchment Paper On The Grill?
The right percentage of fat in Blackstone Turkey smash burgers
The right amount of fat in the meat is the key to a juicy texture.
But that doesn't mean too much fat. As turkey is lean meat, excessive fat will make the meat fall apart. 80% meat and 20% fat in a turkey burger patty is ideal.
Go for a 93/7 or 90/10 lean to fat ratio.
The right trick for perfectly textured turkey smash burgers
A softer burger patty with caramelized crispy edges is the name of the perfect texture of smash burgers. The need to cook turkey meat for more duration makes the burger tough and dry.
Kenji, while playing different tricks, came up with the idea of adding eggplant puree to the meat.
Yes, your guests will not even feel the flavor of eggplant, but rather enjoy a juicy and soft burger. Moreover, the right trick to get crispy edges is to smash the meatball in the first 30 seconds when you place it on the griddle.
The right oil for making turkey smash burgers on a griddle
Most of the smash burger recipes start with rubbing butter on the griddle. However, it's not the same when making smash burgers with ground turkey.
Butter makes turkey meat splotchy. And we don't need to turn our burger patty into a mushy ball. So try to go for vegetable oil or olive oil instead.
The right flip for turkey smash burger patties
Flip your burgers just once! Let it cook and change its color from pink to dark brown and flip. It almost takes 3-4 minutes to cook on one side.
If you flip the burger too many times, you will lose moisture and juices. The same belongs to pressing the burger patties. If you press them, be ready for a dry and tough burger.
How long to cook Turkey burgers on Griddle?
You might be assuming that turkey smash burgers need to be cooked longer. But, no, you're wrong. Ground turkey meat takes less than beef. The total cooking time for Blackstone turkey smash burgers is 15-20 minutes.
However, once you reach the desired temperature to put the burger patties on, cook each side until it changes its color.
It takes 3-4 minutes for one side, and 8 minutes for both sides. So cook turkey smash burgers for less long than your regular beef patties.
Do you need parchment paper for Smash Burgers?
It's not a hard and fast rule to use parchment paper for smashing the burgers. It's just to protect the meat from sticking to the spatula.
However, famous burger joints use it. They might be in a hurry to make larger batches so they need parchment paper.
Otherwise, if you're doing it at home, you have enough time to smash one meatball and then gradually remove the burger press or spatula.
Pulling out instantly, can lift the meat off the griddle.
How to know if my turkey burgers on Blackstone burgers are done?
Of course, the color. The transformation of pink color to dark brown color will indicate the doneness of the burger.
Regardless, it is not an authentic way to check the doneness as the meat may be uncooked from the middle when you cut the patty in half. So here are two ways to check if burgers are done:
The most authentic way is to check the internal temperature of the burger with a food thermometer. If it says 165 degrees F, then the turkey burger is cooked perfectly.
The second method is to cut the burger vertically in half and check the color from the inside. If it is dark, not pink, your burger is done.
Another way is the press test. Press the burger and if it extracts clear juices, then you're good to go.
BLACKSTONE TURKEY SMASH BURGER SAUCE
No Smashburger is complete without its signature smash sauce! It's a nice alternative to ketchup and other sauces because it's creamier and has more flavor. The heat from the sauce pairs well with the crispy patty on their burger.
Smash Sauce is a simple sauce that uses mayonnaise and mustard, adding in some dill pickles and pickle juice to create more of a tang.
To complete the sauce, add a splash of vegetable oil: it helps bring all the elements together and makes it taste even better. Then, chill in the fridge for at least four hours to let those flavors really mix together.
TOPPINGS FOR BLACKSTONE GRIDDLE SMASH BURGER
Cheese (Cheddar, American, pepper jack, swiss)
Ketchup
Avocado
Tomato slices
Shredded iceberg lettuce
Onions
Pickles
Bacon strips
Cucumber
Fried egg
Sautéed jalapenos
Sauteed Onions
Sauteed Bell pepper
Other Blackstone Recipes
 Best Keto Blackstone Recipes (Low carb)
12 OF THE BEST BLACKSTONE RECIPES TO TRY THIS YEAR
Best Blackstone Shrimp Recipes (Shrimp Skewer with Rice)
2 Easy Blackstone Chicken Breast Recipes
5 Best Blackstone Breakfast Recipes
Scrambled Eggs on Blackstone Griddle (MEXICAN SCRAMBLE)
Cooking Steaks on Blackstone Griddle (4 Easy Blackstone Steak Recipes)