Are you in the market for a versatile and durable electric griddle for your outdoor cooking needs? If yes, then the Blackstone E series griddle is made for you.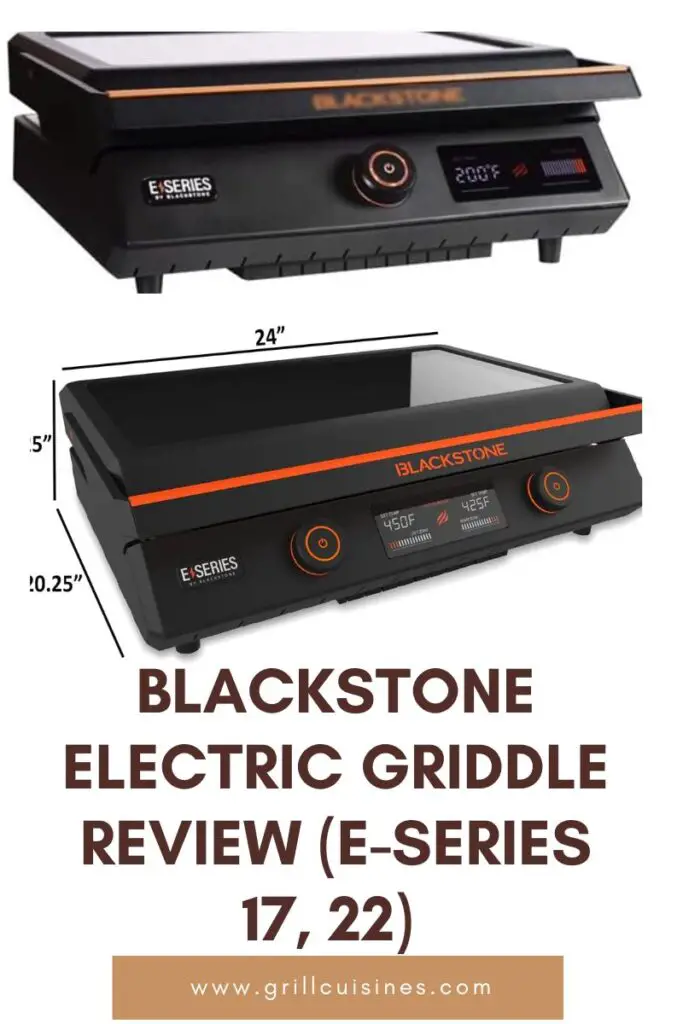 Blackstone recently invented the first fully electric griddle which will make cooking indoors and outdoors easier.
This electrical appliance is much more convenient than using gas for griddling and covers the minimum space of your kitchen counter.
In this Blackstone E series review, you will learn
Blackstone E series 22 review
Blackstone 17 electric griddle review
Differences and similarities between Blackstone E Series 17 and Blackstone E Series 22
Why you should buy it?
And much more!
You might also find our guide on 15 common Blackstone problems and their solutions quite helpful and informative.
Blackstone E-Series 17″ Table Top Griddle v/s Blackstone E-Series 22″ Table Top Griddle– Which one is better?
Two of the most well-known electric griddles from the Blackstone brand are the Blackstone E Series 17 and the Blackstone E Series 22.
Both Blackstone electric griddles are known for their performance, adaptability, and longevity. However, you should take into account a few differences between the two versions before making a purchase.
Let us first apprise you about the features:
| | |
| --- | --- |
| Blackstone E series 17 Electric Tabletop Griddle with Hood Reviews | Blackstone E Series 22 Electric Griddle |
| Offers 234 square inches of cooktop space. | Offers 312 square inches of cooktop space. |
| Blackstone E-Series 17 has only one cooking zone which can be set at one temperature only. | Blackstone E-Series 22 has two cooking zones that can be set at two different temperatures at the same time. |
| Blackstone E-Series 17 is a 17-inch model. | Blackstone E-Series 22 is a 22-inch model. |
| Dimensions: 18″ x 18″ x 7″ | Dimensions: 37″ x 20″ x 7″ (griddle only) – 37″ x 20″ x 40″ (with cart) |
| Check Price  | Check Price |
Blackstone e series review
Blackstone E Series Review – Electric Griddle
Blackstone electric griddle offers a convenient solution for cooking up a feast. In this comprehensive Blackstone electric griddle review, we'll take a close look at the performance, features, and overall value that Blackstone brings to the table.
1- Design and Construction:
The Blackstone E series has a contemporary and robust design.
Blackstone e series 17 electric tabletop griddle with hood review :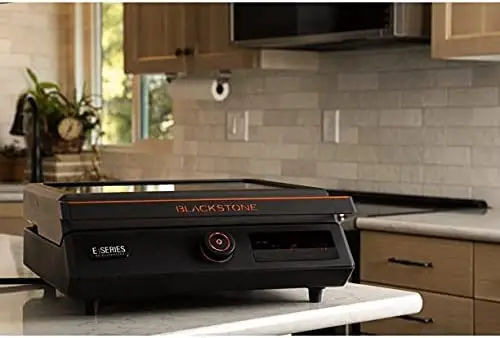 A 17-inch electric griddle from Blackstone E-Series 17 is designed especially for outdoor use.
It is the best choice for camping, tailgating, RV, and picnics because it is small, light, and simple to move.
This griddle has a sturdy, powder-coated steel frame, premium stainless steel burners that deliver constant heat, and a sizable cooking surface that can fit a variety of dishes.
Blackstone e series 22 review: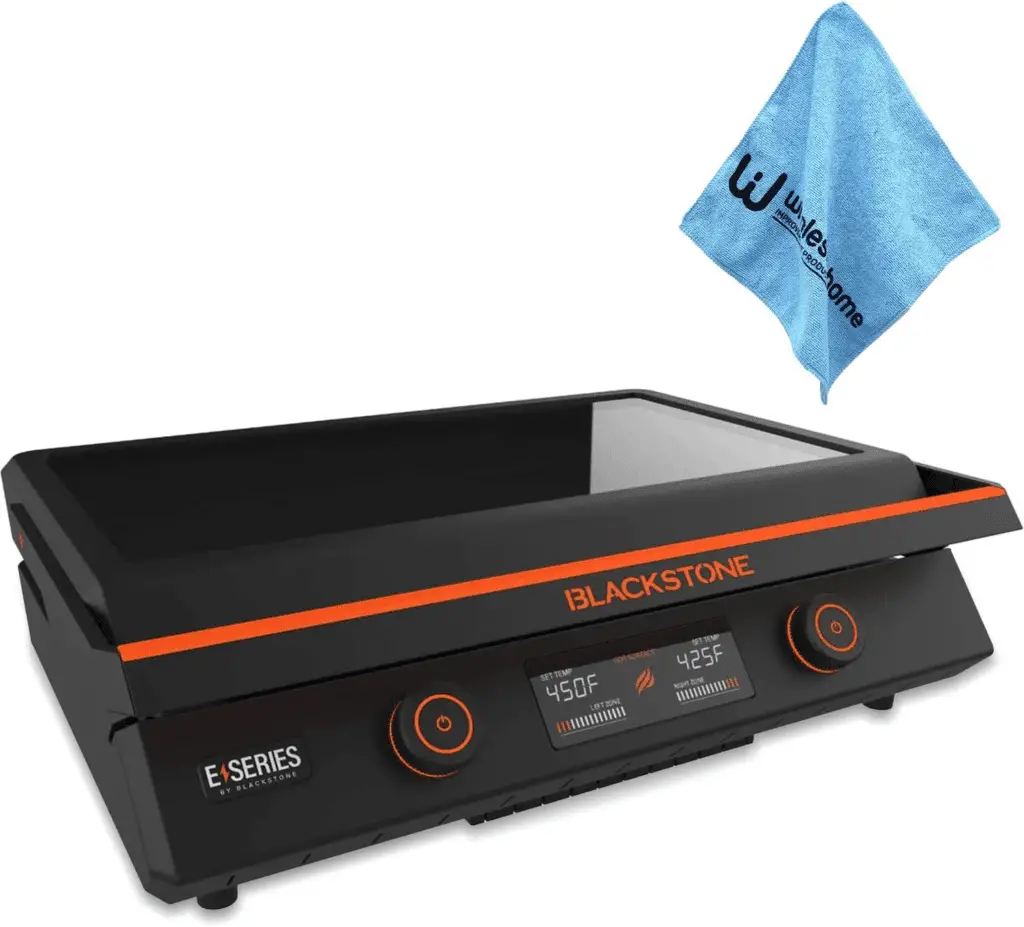 The Blackstone E-Series 22, on the other hand, is a 22-inch electric griddle designed for home use.
It is bigger than the E-Series 17 and provides a larger cooking area that makes it perfect for families.
The Blackstone e series 22″ also comes with a prep trolley for using the griddle. There are four lockable wheels on the prep cart.
It has a bottom shelf, a side shelf, and a caddy for condiments and sauces on the front.
2- Is the Blackstone E-Series Rechargeable?
The Blackstone Griddle E-Series 17 and Blackstone E-Series are not rechargeable; they have a detachable plug that requires 120 volts at 5 amps.
Blackstone doesn't have any rechargeable products available right now but who knows, maybe they will invent one soon!
3- Assembly Of Blackstone E Series
Considering that there are only 5 parts in the box, assembly is quick and simple as pie.
Griddle body
Griddle top
Hood assembly
Power cord
Grease cup
The cooktop only has to be mounted on the griddle body, the grease cup hung, the hood mounted on top, and the power line connected.
The hood is simple to turn on and off and won't be needed for many dishes. Blackstone electrical griddle is the easiest griddle to use so far due to its uncomplicated features and the way it works.
Even though these two griddles are almost similar, there are some different steps of assembling each of them.
Blackstone E-Series 17 Assembly:
The sticker on the electric base needs to be removed after reading the warning label there. The best option is a moist cloth; however, Goo Gone can also be used.
The grease cup needs to be inserted into the slots on the rear of the appliance as the next step.
Place the electric base on the flat-top griddle. The front feet of the griddle top must fit into the front brackets before the back feet may rest on the rear brackets.
Clean the whole interior of the griddle and the interior of the cover using a wet washcloth that has been dipped in soapy water. Then wipe the two parts once again with a clean, non-soapy rag.
The cover will immediately attach, and you can use it while cooking. Place the hood over the griddle with a flat top. To allow the hinges to fit into the brackets on the rear of the griddle top, you must first open the lid.
The power cord should now be inserted into the socket on the rear of the griddle body. Connect the cord to an electrical outlet when you are prepared to use the griddle.
Blackstone E-Series 22 Assembly:
Assemble the griddle: Unpack the griddle from the box and make sure you have all the parts and tools required for assembly. Assemble the griddle legs and attach them to the griddle base.
Attach the propane tank: Connect the propane tank to the regulator and hose that came with the griddle. The regulator controls the flow of gas to the griddle.
Turn on the gas: Open the valve on the propane tank and turn the knobs on the griddle to the "ON" position. Wait for a few minutes for the griddle to warm up.
Ignite the griddle: Turn the knob to the "IGNITE" position and hold down the ignite button. This will ignite the griddle. If the griddle doesn't ignite, turn the knob to the "OFF" position and wait for five minutes before trying again.
Adjust the flame: Once the griddle is ignited, adjust the flame to your desired heat level. You can use the knobs to control the heat on different sections of the griddle.
4- Cleaning and Maintenance of Blackstone E Series Electric Griddle
Forget all you know about cleaning and maintaining a Blackstone gas griddle when it comes to the E-Series griddles.
They require different maintenance because they are electric and have a cooking surface made of a different material.
These cleaning guidelines were provided by Blackstone. Cleaning and maintaining anything is important in order to make it work for a long time properly.
Daily cleaning includes,
Make sure the grease cup is in the correct position.
Use a paper towel or moist, soapy cloth to clean the surface.
Dry it after washing.
 Deep cleaning is also required to reduce the likelihood that pollutants will enter cooked food and potentially spread sickness or illness.
The taste of food is also enhanced by consistent cleaning because it lessens the possibility of flavor blending between dishes.
Deep cleaning includes,
1- Make sure the grease cup is in the right spot.
2- Turn down the temperature.
3- Put on rubber gloves, mix one (1) tablespoon of dishwashing detergent with one (1) cup of hot water, and use a cloth or non-metal cleaning pad to clean the griddle's surface.
4- Once the griddle has cooled, turn it off and clean the surface with a wet, soapy cloth or a piece of paper.
5- After washing, dry. 
5- How Hot Will the Blackstone E Series Electric Griddle Get?
The Blackstone E-Series Electric Griddle typically reaches temperatures up to 450 to 500 degrees Fahrenheit (232 to 260 degrees Celsius).
The cooktop heats up rapidly after turning on the griddle and setting the temperature.
You may start cooking on it right away because it only takes a few minutes to reach the proper temperature setting.
In around 8 to 9 minutes from a cold start, Blackstone griddles can achieve 500 to 640 degrees Fahrenheit when set too high.
Use non-stick ceramic titanium coated utensils only while using the E-Series griddle's non-stick cooktop.
Use softer materials that won't scratch the non-stick cooking surface, such as plastic, silicon, wood, etc.
Although Blackstone does sell the Blackstone E-Series 3 Piece Tongs and Spatulas Griddle Tool Kit, you can also use your regular kitchen tools.
6- What Is the Cost Range For the Blackstone E Series Electric Griddle?
The cost range for the Blackstone E series can vary depending on the specific model and its features. Generally, Blackstone electric griddles are competitively priced, offering an affordable option for those looking for a high-quality electric griddle.
When comparing the cost to other griddle options on the market, the Blackstone electric griddle often falls within the mid-range to budget-friendly category. It provides excellent value for the price, offering a spacious cooking surface, adjustable temperature settings, and durability.
Similarities Between the Blackstone E Series Indoor Griddle
Well, to choose one between both of the Blackstone's best griddles, you should be well aware of the similitudes and what makes them unique from each other.
According to our research, we have discovered the following similarities and differences among them,
Both types are completely electric and secure for use either inside or outside. Blackstone's gas griddles do not employ the same cold rolled steel cooktops as the griddle's non-stick ceramic titanium coated surface.
As a result, the griddle does not need to be seasoned before use and requires different maintenance.
A rear grease trap is included on the 17″ and 22″ models to catch extra oil or food particles.
Each model also includes a removable hood that can be used to cover the cooktop of the griddle while not in use and can be used while cooking if desired.
Differences Between Blackstone E Series Griddle
Let's get a look at the differences now,
The 17-inch model has a cooktop area of 234 square inches. Since there is only one cooking zone, only one temperature may be set for the entire cooking area.
The cooktop of the 17″ griddle can hold roughly 9 pancakes, 9 burgers, 12 eggs, or 12 pieces of bacon.
312 square inches of stovetop space are provided by the 22′′ models.
You can set the right side of the griddle to one temperature and the left side to the other thanks to its dual cooking zones.
The cooktop of the 22″ griddle can hold roughly 12 pancakes, 12 burgers, 16 eggs, or 16 pieces of bacon.
Why Should You Buy Blackstone E Series Electric Griddle?
If you're searching for a new electric griddle, I strongly suggest investing in one of the Blackstone E-Series models.
The ideal indoor grill from Blackstone is the electric griddle. It makes excellent cuisine and is ideal for indoor cooking.
It has a non-stick surface which is easier to clean and these griddles are lighter and firmer than propane griddles.
Its size and higher cost make storage a little bit more challenging, but its quality is quite high.
The Blackstone E-Series Electric Tabletop Griddle with hood won't let you down, whether you already possess a Blackstone gas griddle or are just shopping for a new electric griddle. 
Amazon, Walmart, and Blackstone Products all carry the electric E-Series Blackstone Griddles.
You can buy these handy griddles from there and make your cooking much easier.
When considering a Blackstone E-Series griddle, here are a few things to keep in mind:
Size: 
Blackstone offers a variety of griddle sizes, so it's important to consider the amount of cooking surface you need for your cooking needs.
Cooking surface: 
The cooking surface of the Blackstone E-Series griddle is made of cold-rolled steel, which is durable and provides even heat distribution.
However, it does require a bit of maintenance to keep the surface seasoned and prevent rust.
Heat control:
 The Blackstone E-Series griddle is equipped with two independent burners that can be adjusted separately, allowing you to cook at different temperatures on different sections of the griddle.
 Price: 
The Blackstone E-Series griddle is a budget-friendly option, but it's important to keep in mind that you get what you pay for in terms of durability and performance.
Warranty:
 Blackstone offers a one-year warranty on their E-Series griddles, which covers defects in materials and workmanship.
Is Electric or Propane Blackstone better? 
The choice between an electric or propane Blackstone griddle depends on your personal preferences and cooking needs.
Both have their pros and cons, and the right choice for you will depend on several factors.
Electric griddles are easy to use, as they only require an electrical outlet and no propane tanks.
These are generally considered to be safer than propane griddles, as they don't produce open flames and don't emit harmful gases.
Electric griddles can be used indoors, which makes them a great option for year-round cooking.
Propane griddles are portable, making them a great option for outdoor cooking or for use at campsites and tailgate parties.
Propane griddles typically heat up faster and provide more consistent heat than electric griddles, allowing for better temperature control and cooking performance.
These griddles do not require cords, which can be limiting and get in the way when cooking.
Electric griddles often offer precise temperature control settings, allowing for more accurate cooking. Gas griddles may have less precise control, relying on burner adjustments.
Both electric and gas griddles require seasoning and maintenance, but the electric griddle's non-stick surface may require less frequent re-seasoning compared to gas griddles.
In conclusion, if you prefer the convenience of indoor cooking or prioritize safety, an electric Blackstone griddle may be the better choice for you.
On the other hand, if you value portability and heat control, a propane Blackstone griddle may be the way to go. 
Other Related Articles That You'll Love To Read
FAQs
Can I use metal on the Blackstone electric griddle?
I would not recommend using metal utensils on a Blackstone electric grill.
Using metal utensils can also potentially cause damage to the non-stick coating on the griddle.
Always use non-abrasive utensils, such as silicone or wooden spatulas, to avoid scratching the surface.
To maintain the longevity of the griddle and ensure it continues to perform well, it is best to use utensils that are gentle on the surface. 
Can you use Blackstone electric griddle indoors? 
Yes, the Blackstone electric griddle can be used indoors. It is a versatile appliance that can be used for cooking a variety of foods, such as pancakes, eggs, burgers, and more.
The electric griddle is designed for indoor use and can be easily set up on a countertop or table.
Just make sure to place it in a well-ventilated area and follow all safety instructions in the manual to ensure safe and efficient operation. 
Blackstone e series electric griddles are the best way to enjoy your meals with your loved ones as it is untroublesome and the easiest griddle invented so far.
These were our reviews and opinions; hope you'll decide to buy one soon
too!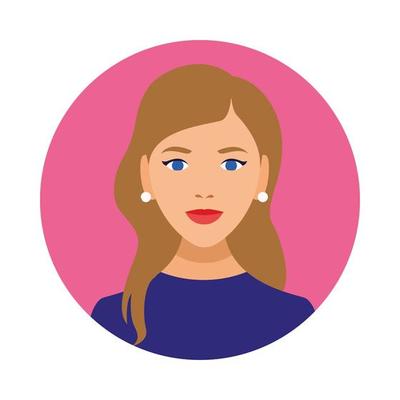 I am a writer, editor, and publisher of Grillcuisines.com – an online blog dedicated to sharing grilling tips, accessories, and recipes to encourage more people to get outside and grill.
I'm off to find out the different types of grill foods, their seasons, and how to conduct outdoor cooking properly. I'll also show you some of my grill-worthy cooking tools & accessories!