As an ardent griller, I have always wanted to stay up to date with the best Traeger Flatrock accessories for my grill.
There are so many ways to cook on a griddle and so many types of griddles available in the market that it is only fair to have a specialized Flatrock accessories kit for each type of grilling experience.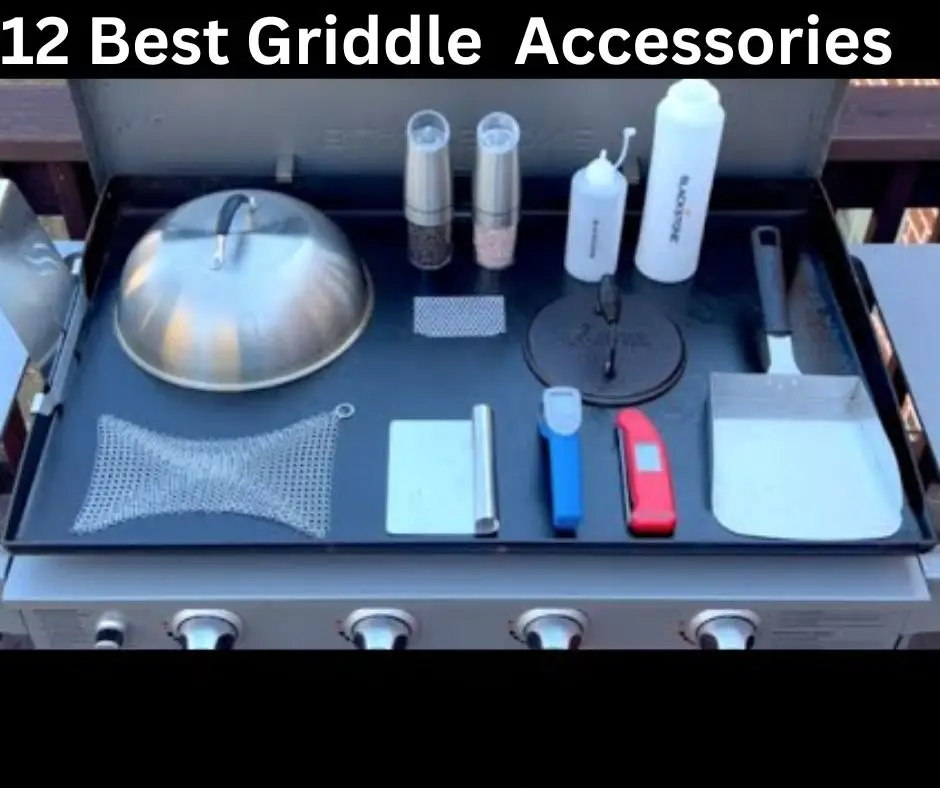 The most basic Traeger flat top grill accessories are flat metal spatulas, squirt bottles, a scraper, and long-handled tongs.
I will also share the lesser-known griddle accessories like the dome, thermometer, wire rack, burger press, and their most ergonomic designs for your ease.
I will also review some handy grill accessories kits that I have uncovered during my research for the best grilling experience.
12 Must Have Traeger Flatrock Accessories
Congratulations! You got a Flatrock and now you are on the prowl to find a list of Traeger flat top accessories.
1. Griddle Spatula
This is one of the best Traeger Flatrock Griddle Accessories and does not require any explanation. There are various considerations that I make before buying a spatula.
Firstly, make sure you buy a stainless-steel spatula, as griddles can reach extremely high temperatures and only a stainless-steel spatula can withstand such temperatures.
Avoid spatulas made of plastic, wood or silicone, etc. as they can easily melt.
They also come in different sizes, i.e., round and square. Round spatulas are a handy tool for mixing your vegetables around. However, only a square spatula can give you the best griddle flipping experience. Get an 8-inch spatula to make your grilling experience a safe one.
The last consideration to make when buying this griddle accessory is to think about buying one with holes or no holes.
A holed spatula will help in transporting greasier items onto the serving plate, whereas, a non-holed spatula is great for flipping soft, crumbly items like hash browns. Yum!!
Amazon and Walmart have several of the best Traeger flat top griddle accessories kits, including all kinds of spatulas for the beginner's griddle experience.
2. Grill Tongs
Tongs are another best griddle tools. Due to the high cooking temperatures, it is imperative that a stainless-steel tong is bought for the best griddle experience. Its size is the only factor that you need to consider while buying.
Short-length tongs provide the best function while tossing meats. However, it also means that your hands may burn a little from all the sizzling grease.
On the other hand, longer tongs make it more difficult to handle meats but keep your hands safer.
This is a personal choice that you will make as you become an experienced griddle cook.
3. Griddle Squirt Bottles
Squeezable squirt bottles or oil bottles are a must have Traeger Flatrock Accessories. It's better to keep more than two at hand because many users have complained of burnt or melted oil bottles due to the high heat of the griddle.
It's better to keep a few in stock that are plastic materials. There are two options available within the oil bottle market.
It can either have a twistable cap or a pop-off/on the lid. Many users opt for the popping on/off lid as griddle cooking is a fast experience with a tong in one hand and a squirt of oil from the other one.
4. Griddle Scraper
You need to have a scraper to scrape off extra residue and bits of food left hardened on the griddle. It is essential for the cleaning regimen of your griddle.
They can also be used for chopping up meats and vegetables while grilling and, hence, should be made of stainless steel to avoid any melting and damage.
Scrapers are usually handheld, and the proximity of your hand to the griddle can be unsafe for most beginner griddle users. However, scrapers with 6-inch handles are exceptionally great for scraping off griddle gunk at the perfect angle while also keeping your hands safe.
5. Infrared Thermometer
A thermometer is a must have Traeger Flatrock Accessories, especially if you want your eggs cooked at 300 degrees.
Or you want your pancakes to cook perfectly at 375 degrees without splashing around. Or maybe you want to cook homemade tortilla chips and then you need to know that your oil is at 375 degrees while the griddle is ready to cook at 500 degrees.
Related > > Mastering the Griddle: Temperature Guide for Perfect Results!
Better than second-guessing yourself and repeating burnt food mistakes, buy an infrared thermometer and learn how to control and cook on your griddle perfectly every time!
6. Griddle Dome
If you want melted cheese on top of your perfectly seared steaks or a pizza on a griddle then a griddle dome is definitely the unmatched grill accessory that you should have.
It can also be used for steaming eggs and omelets. Buy a dome of stainless steel for even temperatures within the mini oven you create to cook your eggs perfectly all around.
Griddle domes come with handles that may have rubber on top to save your hand from burning and keep your grilling experience pleasant.
7. Wire Rack
Another griddle cooking tool is the wire rack which you can put aside for indirect cooking if you have a wide flat top griddle.
Wire racks are made of stainless steel and come in two sizes. You can buy a small or larger one depending upon your griddle top's size.
They are a convenient item for when you want to stop the cooking process without making your food too cold and also to let some grease drip off from the cooked food while keeping it fresh and crisp.
8. Bacon Weight/ Burger Press
Burger Press has a number of benefits for griddle enthusiasts. It can help in quickly cooking your meat flat and may also be used to press panini and burgers into your favorite smashed meals where the melted cheese and all other condiments stay together.
These weights are one of the lesser-known must haves within your Flatrock accessories that most Traeger Flatrock griddle accessories kits online do not include. Keep it handy and you can treat yourself to some yummy and crispy hashbrowns, cooked to perfection. 
9. Best Griddle accessories kits
Fortunately for beginners, Amazon and Walmart are stockpiled with many accessories kits.
There are a number of options to choose from, like HaSteel's and Anmarko's professional griddle accessories kits on Amazon.
The 20 pieces griddle accessories kit by RüK and the 11 pieces one by GrillGoat offer a wide range of grilling tool options for your indoor or outdoor griddle accessories. You can compare the kits online to get the handiest tools for an amazing griddle cooking experience.
10. Flat Top Grill Cover
The Traeger Flatrock Grill Cover is a high-quality and durable cover designed specifically for the Traeger Flatrock grill. It is made from heavy-duty material that provides protection against the elements, including rain, snow, dust, and UV rays.
The cover is water-resistant and helps to prevent rust and corrosion, keeping your grill in excellent condition. It features a secure fit with adjustable straps and buckles to ensure it stays in place even during strong winds.
The Traeger Flatrock Grill Cover is not only functional but also stylish, with the Traeger logo prominently displayed. It is an essential accessory to prolong the life of your Traeger Flatrock grill and keep it looking its best.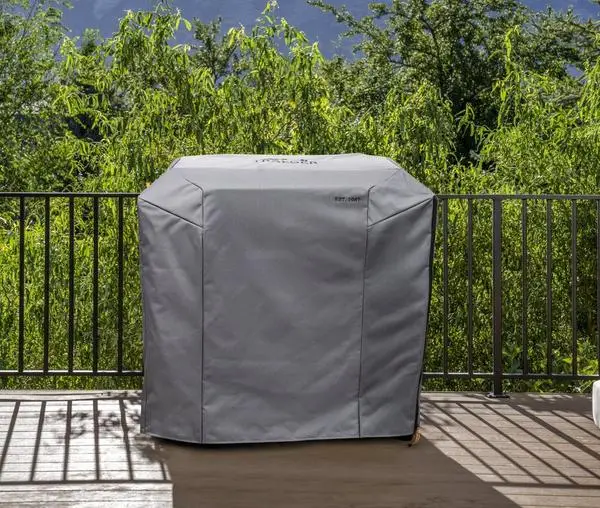 11. Griddle Accessory Bag
The griddle accessory bag is a great way to store all the necessary griddle accessories that you may not be using or might need to take with you on a camping trip.
This will also prevent any other items from getting mixed up with your griddle tools and in turn make it easier for you to find exactly what you need. These are the best way to organize grill tools and are best for camping, picnics, and tailgating.
12. Traeger Flatrock Cleaning Kit
Last but not least, you need a griddle cleaning kit to deep clean your dirty griddle surface top. This includes a scraper, scrub pads, and pumice stone or grill brick.
The Orange scrub pads are good for routine cleaning; The griddle stone is designed for removing more extreme things like rust, so we should only use it when necessary.
How to Clean Griddle after Cooking
How to keep Griddle from Rusting
Wrap Up
In short, investing in the right Traeger Flatrock accessories can greatly enhance your outdoor cooking experience and take your griddle cooking to the next level.
When choosing griddle accessories, consider factors such as the material quality, versatility, and compatibility with your griddle model.
Remember, the right tools can make all the difference in achieving delicious and perfectly cooked meals on your griddle. So, invest in these must-have griddle accessories.
If you're looking for a minimum number of accessories I would recommend focusing on the essentials. Here are my top three personal recommendations:
Scraper And