Traeger Smoked Chocolate Chip Cookies are a great dessert for the holidays. They are made with high-quality ingredients and have a smokey flavor that is perfect for winter.
They are best served warm with ice cream, milk, or just by themselves.
These bakery style cookies have golden brown edges, a ton of chocolate chips, and the best part – smoked walnuts. With the Traeger smoker, you can make a wonderful dessert. These cookies are a great choice when put side-by-side with other best Traeger dessert recipes.
This is one of the most popular cookie recipes on the internet. It's easy to make, and it's got a lot of people coming back for more. This recipe is perfect for chocolate lovers because it has chocolate chips in it.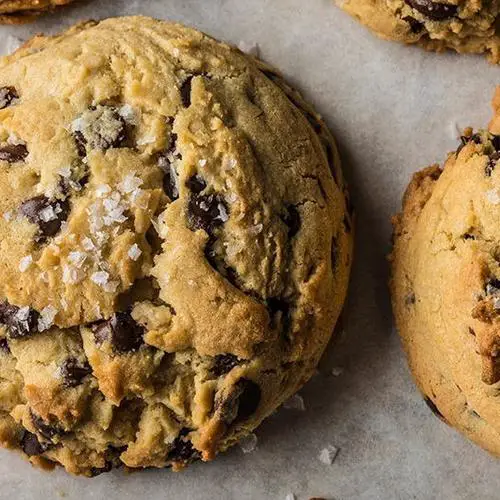 How to Make Smoked Chocolate Chip Cookies on Traeger Pellet grill
I wanted to try making smoked walnuts first to use in the dough before smoking the cookies on a Traeger. And I was right about it! Walnuts retain a pleasant sweetness and a hint of smoky flavor that perfectly balances out the chocolate in Traeger Smoked Chocolate Chip Cookies. Now let's see how we can make them.
Smoked Walnuts on Traeger Pellet grill
It's time to smoke those walnuts! Put them in a pan with butter and sugar, and smoke them for about 1.5 hours at 225°F. You should get a little caramelized taste from the sugar and lots of smokey flavor.
If you have a mesh grill pan, use that. If you don't, set up a wire rack over a baking sheet for some extra airflow and smoke absorption
For Traeger wood pellet flavor for smoked chocolate chip cookies, I would recommend a fruitwood or, the Traeger Signature Blend.
Smoking walnut is optional and requires extra time. If you want to use raw chopped walnuts, you can still enjoy these cookies.
All you need for this chocolate chip cookie is three simple ingredients and about 20-30 minutes. The result will be a cookie that is a total win-win!
Ingredients:
– 1 cup unsalted melted butter
– 1 cup brown sugar
– 1 cup white sugar
– 2 eggs
– 2 tsp vanilla extract
– 3 cups all-purpose flour (plus more for rolling)
– 1 tsp baking soda
– 1/2 teaspoon baking soda
– 3/4 tsp salt
– 12 oz chocolate chips
– 1 1/2 cup dark chocolate chips
– Smoked walnuts
– 1/2 cup Rolled Oats
– 1 1/4 teaspoon Vanilla Extract
Instructions
For the Smoked Walnuts
Preheat Traeger smoker to 225ºF.
Melt the butter and brown sugar in a bowl. Stir in the walnuts so they are fully coated.
Arrange the walnuts on a sheet pan or a disposable foil pan with a wire rack. You can use metal grates to help them pick up more smoke
Smoke the walnuts for two hours. Let them cool before adding them to the cookie batter.
Instructions For the Traeger Smoked Chocolate Chip Cookies
1) When you're ready to cook, check the Traeger's cooking temperature and set it to 350℉. Preheat the grill for 15 minutes with the lid closed.
3) Beat together butter, brown sugar, and granulated sugar until fluffy. Add egg and vanilla extract, beat until well mixed.
4) Gradually add dry ingredients flour, oats, baking soda, and baking powder to wet mixture, mixing until well combined.
5) Stir in the chocolate chips and smoked walnuts.
5) Drop by dough using rounded tablespoons or ice cream scoop onto prepared cookie sheets lined with parchment paper or Silpat mats. Check Is It Safe to Use Parchment Paper On The Grill?
6) Smoke for 25-30 minutes or until edges are golden brown but the center is still soft when pressed with your finger.
7) Let cool on baking sheet for 5 minutes before transferring to wire rack.
YIELD: 24 Cookies
SERVING SIZE: 1 Cookie
Amount Per Serving: CALORIES: 340
Wrap Up: Traeger Smoked Chocolate Chip Cookies
Homeowners that love to cook should know that Traeger allows for low-temperature baking and also offers more cooking options than other outdoor cooking solutions. Try this recipe for fabulous smoked chocolate chip cookies. Make sure to mound the dough high, this will result in gooey cookies with a chewy center.
Also to get the most out of this recipe, we recommend refrigerating the dough for 2-4 hours before smoking.
Check other Traeger recipes.
The Complete Guide to Cooking a Traeger Ribeye Steak