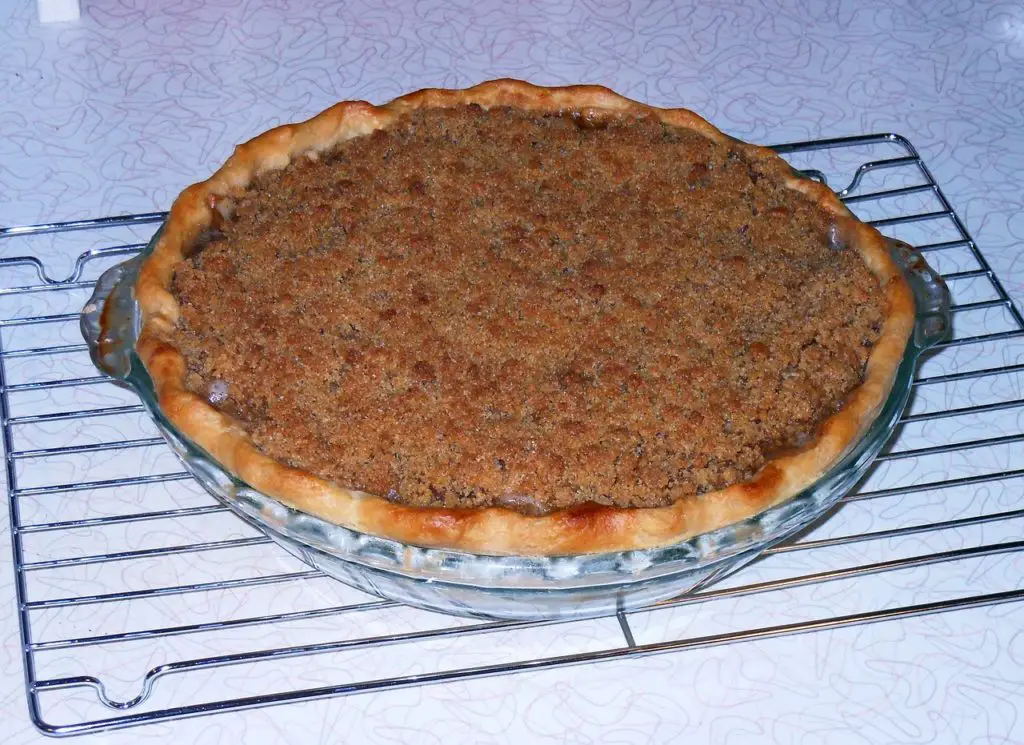 The Smoked Apple Pie is the perfect dessert for your next family gathering or backyard barbeque. This recipe produces a flaky pie crust that's topped with layers of apples and a sweet crumble on top. It's always a hit at holiday meals like Thanksgiving and Christmas!
We can make this recipe with any oven, but you can easily make a smoked apple pie on your electric smoker like a Traeger smoker.
The recipe calls for a crust made with flour, sugar, salt, shortening, and butter. The filling is made up of apples, sugar, cinnamon, and lemon juice.
Smoked Apple Pie is simple and quick to make, but the taste is reminiscent of a time when pies were baked in wood-fired stoves and cooled on the windowsill. This recipe walks you through the steps of making a smoked apple pie in an electric smoker.
Smoked Apple Pie Recipe
Apple pie has always been a popular dessert. It is an easy one to make at home and is great for those that are new to cooking pies.
As the temperature begins to drop, there is nothing that warms a home more than the smell of homemade and warm apple pie.
This smoked apple pie recipe is a perfect alternative to the traditional apple pie. It is sweet and savory, with a hint of smoke, and is baked outside on your Traeger pellet grill/smoker. Smoke is perhaps the most important part of smoking. It adds flavor, texture and creates a unique look in your smoked apple pies.
This specific smoked apple pie recipe is specifically a Dutch apple pie because we topped it with crunchy crumbs.
When it comes to pie, there's nothing quite like a homemade crumble apple pie. The crumb topping will add a whole other flavor dimension to the dish. This is one of the best and most foolproof apple pies you can make at home without fail!
Pie Crust for Traeger Smoked Apple Pie
Smoked apple pie is easy to make. There are really two ways to make a pie crust – use pre-made or make it from scratch.
Creating a pie crust from scratch is the more time-consuming method, but this process produces results that are more flavourful. In contrast, pre-made pie crust comes in handy during busy baking seasons.
I prefer a refrigerated pie crust in an effort to take shortcuts and save time. It's a personal preference of mine, but I believe it makes things easier in general.
No matter what crust you choose, it's just as good. So use whatever you prefer!!
The crust is one of the most important parts of a pie, and it can be tricky to get the right consistency. The key to getting a good crust is cooking it slowly and thoroughly.
Pillsbury makes a pre-made crust that's terrific for baking. You can use either the Keebler Gluten-Free Pie Crust or the Keebler Graham Cracker ready Pie Crust for healthier options.
Traeger Smoked Apple Pie Ingredients
The ingredients for the Traeger Smoked Apple Pie Filling include:
Apple:
Apple is the main ingredient for apple pie. Use a mix of different types of apples to get the best flavor profile! You'll need 2-3 medium sized Honey Crisp Apples and 2-3 medium-sized Granny Smith Apples.
Tart apple pies are typically a little sour and require some sugar added to make them taste sweeter. Using Honey Crisps in the pie filling means that you don't need as much sugar and your pie will still turn out sweet and well-liked!
Pie crust (store-bought or homemade)
Brown sugar
Flour
Lemon Juice
Butter
Cinnamon
Salt
Applewood chips (I like Applewood chips for this recipe because it goes well with the apple. This will add another level of complexity and flavor to your dish)
Nutmeg
After you've peeled and sliced the apples place them in a large bowl. Add lemon juice to the mixture, mix well and then add brown sugar, flour, cinnamon, and nutmeg to the apples. Toss the apples in the flour and butter until they are evenly coated.
Don't cook the apples before adding them to the crust.
I coat some apples with sugar, salt, and spices in a large bowl and set the bowl aside for an hour to let it soak up flavor and let the mixture of seasonings distribute throughout the fruit.
In this hour, sugar and salt work on the apples to help them release their delicious liquid. Apples also soften quite a bit.
Sometimes when apples are overripe, they release more liquid than usual and it might be a good idea to leave a little behind. This could make your pie runnier.
Place the apples into the pie crust. Take a bowl and combine all the ingredients for crumb toppings like all-purpose flour, granulated sugar, dark brown sugar, and salted butter. It's best to use a fork or pastry cutter to evenly distribute the butter with the other dry ingredients. Put the crumb topping evenly on top of the apples.
Now that pie is done and ready for smoking – all you have to do is place the pot into your electric smoker and close the lid and bake for 60 minutes.
Smoked Apple Pie Served Hot or Cold?
A smoking hot apple pie can be served both cold or warm eating. Sometimes you want to top it off with a white creamy frosting or vanilla ice cream- whatever floats your boat!
The apple pie is a classic American dessert that can be found on many menus today. While it is most often served with a scoop of vanilla ice cream, there are many variations you can try, like adding cinnamon to the crust or topping it with salted caramel sauce.
TRADITIONAL apple pie has the same ingredients and the same process as used to make the smoked apple pie, but instead of baking it in the oven, it is smoked in a smoker.
The result is a delicious apple pie that has been smoked and served cold with vanilla ice cream.
what Apples Are Used For Apple Pie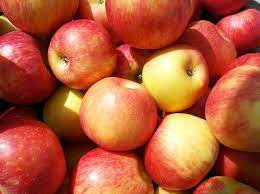 For the best apple flavor, try adding more than one apple flavor to your smoked apple pie.
We love these varieties of apples for baked desserts and pies!
Granny Smith — These apples are classic cooking apples that can be used for a wide variety of recipes. These apples are best for baking and can withstand the heat of the oven without turning brown. They have a crisp texture that is slightly tart and aren't too sweet. These apples are perfect for pies, tarts, crisps, and other baked goods.
Honey crisp — One of our favorites! Honey crisp apples are extra crisp and hold their shape well after baking. They have a sweet, earthy flavor that we love! I personally like these for making smoked apple pie. The apple is also a good source of vitamin C and fiber.
Jona gold — These apples are delicious, with a crisp tartness and sweet taste. Jona golds are also good for baking as they hold their shape well and do not turn brown.
Braeburn — One of the most popular varieties of apples in America is Braeburn. The crisp apple is known for its sweet taste and its ability to hold up in pies, cobblers, crisps, tarts, and other baked desserts. Braeburn apples also have a bright red color that makes them easy to distinguish from other varieties of fruit.
Mutsu —The Mutsu apple is a large variety that has a sweet honeyed flavor. The fruit is also known for its beautiful golden color, which makes it great for use in many desserts.
Pink Lady —Pink Lady Apple Pie is a perfect balance of tart and sweet that's perfect for baking and sharing.
Golden Delicious —Golden Delicious apples are a firm, sweet and flavorful apple that is perfect for pies. They will hold up well in the oven, but they will become very soft and mushy when they are boiled. Golden Delicious apples are also great for fresh eating, cooking or canning.
Jazz apples— Jazz apples are apples with a sweet and crisp flavor that hold up well in pies. They are perfect for apple pies, fruit crisps, and other baked goods. Jazz apples also have a nice red color, which gives them an attractive appearance.
Tips for Making Smoked Apple Pie on Traeger
When you're baking desserts on your pellet smoker, there are a few things to keep in mind. First and foremost, it's important to use lighter woods like maple, pecan, cherry, and apple. You want the flavors of the baked food to shine through! If wood is too strong, it will cover up the sweetness. Applewood is the best thing to use in this recipe.
Here are 5 Tips For Baking On A Pellet Grill
Best WoodChips for Electric Smoker
Let the smoked apple pie cool for at least 2 hours before serving. If you serve the pie hot off a smoker, the filling will be loose. If you wait, it will be firm and maintain its shape.
Some people like tart apple pie. For a tart pie, use granny smith apples. For a sweeter pie, try Jona gold or Honey crisp types of apples.
Chilled the pie in the refrigerator. It will hold its shape better than the unchilled one.
Other Great Smoked Desserts You Can Make On Traeger!
Traeger Smoked Chocolate Chip Cookies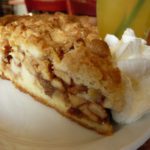 Print Recipe
Smoked Apple Pie Recipe
This incredible Smoked Apple Pie is made on your electric smoker and it's so amazing! A crust pastry filled with layers of apples perfectly smothered in a sweet crumble topping. It's the perfect ending to your meal prepared on your Traeger smoker.
Ingredients
Apple Pie Filling
1

pie crust

5 1/2

cups

apples (peeled and sliced into thin slices)

1

tbsp

lemon juice

1

tsp

cinnamon

1/4

cup

dark brown sugar

3

tbsp

all purpose flour

1/8

tsp

salt

1/4

tsp

nutmeg

1/4

cup

unsalted butter
Crumble Topping
3/4

cup

all purpose flour

1/2

cup

brown sugar

1/2

cup

unsalted butter
Notes
Cook times will vary depending on the smoker settings and ambient temperatures.
Wrap Up:
This hearty dessert is perfect for fall and the holidays. It is a great way to use up apples that you have been stockpiling and it's a great way to use your smoker!
A homemade smoked apple pie recipe that is easy to make and will take you back to a simpler time when pies were baked in wood-fired stoves.
It is easy to make and lasts up to two weeks in the fridge. This makes it perfect for any holiday gathering or just as a special treat for yourself!