Over the years, smoking meat has become a popular way to make your own barbecue. Accessories for meat smokers help you get the most out of your smoker, by making it quick and easy to make delicious BBQ.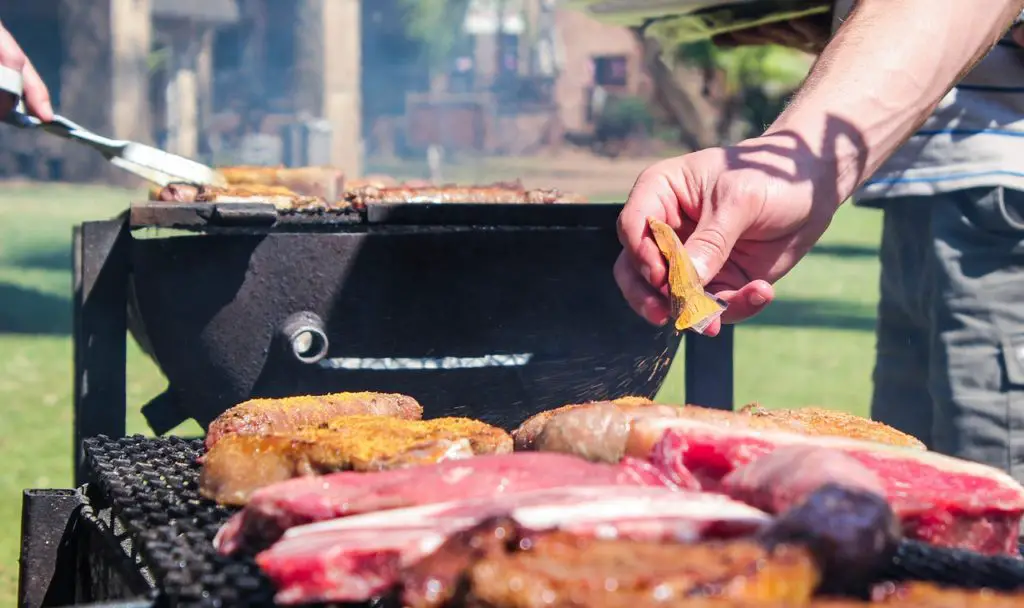 Making your own barbecue is simple and easy when you have the right tools. Best meat smoker accessories will help save energy by reducing time and effort so that you can focus on cooking.
There are many different types of Meat Smoker Accessories on the market, and choosing the best one for your smoker can get confusing.
However, we have picked out 15 of the best smoker accessories in this article to assist you.
They are more affordable, easier to use, and overall a much better option than the expensive ones marketed at you.
The 15 Best Smoker Accessories 2023
Below is a list of grill and must have bbq smoker accessories that you might find helpful. Each is explained with some of the benefits it might give your cooking, along with a list of our top picks for that category.
1. A Wireless Meat Thermometers For Smokers
Our top grill smoker accessory is a favorite among grillers, a wireless meat thermometer.
Many electric smokers come with a lid thermometer that is inaccurate most of the time.
An electric smoker's lid temperature is only an approximate measure of the internal temperature of food. Temperature is a tricky thing to gauge, but with a wireless meat thermometer, the temperature of your food will always be displayed on the screen.
So you can keep track of it and make sure the meat is cooked to your liking.
Wireless meat thermometers give you the ability to monitor the temperature of your food with precision. This way, you can precisely control the amount of time your food spends in each zone of the grill so that you can effortlessly cook everything perfectly.
Best Wifi Electric Smokers 2022- The Ultimate List
Our Top Pick Of Wireless Meat Thermometer
Yeah! The meatstick offers an exciting and innovative new twist on your old-fashioned cooking methods. The wireless design makes it effortless to cook up a delicious meal, while the integrated battery is long-lasting.
The WiFi Bridge is a great addition and an easy way to get temp readings.
Thanks to the WiFi Bridge, your temps can be read anywhere with a wifi or cellular connection.
The bridge supports Xtender Mode up to 300 ft so you can always get your temps. You'll also get 2 meatsticks in this kit.
An app that monitors real-time temperatures, alerts you when meats are done cooking, and saves you the hassle of overcooking. Allows for a variety of recipes, and is compatible with any iOS or Android device.
MEATER Plus Smart Meat Thermometer
2. Meat Smoking Guide Magnet
This is a TOP CHOICE of best smoker accessories.
You can use a Smoking guide magnet and stick it anywhere. It is a very handy and quick reference for smoking time and temperature charts to help you cook to perfection.
You can get smoking time, smoking temperature, and target internal temperature suggestions for anything from Beef Brisket, Chuck Roast, Chicken, Turkey, Salmon, and Fish.
Our Top Pick Of Meat Smoking Guide Magnet
Best Meat Smoking Guide The Only Magnet has 31 Meats Smoking Time & Target Temperature
The only smoking guide magnet that provides 31 meat types and features an important smoking time & temperature chart.
This magnet provides you with an easy-to-read list of time-tested smoking times, USDA minimum, and target internal temperature.
This Meat Smoking Guide Magnet is ideal for anyone who enjoys smoking meat! It has all the information you need to make your first cookout a success.
This high-quality magnet is made in the US and has a 1-year warranty. It will make your life so much easier!
3. Basting Brush and Basting Mop Best Smoker Accessories
Basting meat is a common cooking technique that adds flavor and keeps the meat moist.
Basting is a term used in cooking that refers to a liquid, typically wine or vegetable oil, that is poured over the meat as it cooks.
Mops and marinades are common ingredients in many BBQ recipes.
They're typically made with liquids, herbs, spices, and aromatics that will permeate the meat and add flavor. The mop can be used as a source of moisture during cooking or as a sauce to serve with the dish.
Having a dedicated basting brush or mop for barbecue is useful.
You can use a dedicated basting brush and mop with a long handle and durable head to apply the marinade to meats, poultry, fish, vegetables, and other foods.
The basting brush is a great addition to your meat smoker accessories because it helps you to apply a thin layer of sauce or marinade evenly on the meat.
Our top picks Of Basting Brush And Basting Mop
OXO Grilling Basting Pot And Brush Set
OXO Good Grips Grilling Basting Pot and Brush Set is a must-have smoker tool for every grill master. It includes a basting brush and a grilling pot.
The brush has silicone bristles that are soft on the food and non-stick, making it easy to clean up after cooking.
The silicone brush can be used to baste the meat with wet or dry marinades.
The pot is made up of stainless steel and can hold up to 18 ounces of marinade, barbecue sauce, or any other liquid.
The pot has a silicone lid that protects your marinade when you cook outside.
The basting brush and pot are perfect barbecue smoker tools that also help in getting rid of any excess grease left on the food before serving.
Cuisinart Cast Iron Basting Pot and Basting Mop
Chef Craft Set of 2 BBQ Basting Mops
5. A Good Pair of Heat Resistant BBQ Gloves
While grilling or smoking meat, we should be careful and protect our hands from burning.
Unfortunately, tongs and forks aren't always viable when you're smoking or grilling something thick.
Get yourself the bbq grill gloves, gloves that remain heat resistant and nonslip when you scrape your food or put it onto a plate.
They're a handy item to have around since they're flexible; you can use them for different purposes.
Our Top Picks
G & F Products Heat Resistant BBQ, Smoker Gloves
These are one of the must-have bbq smoker accessories, recommended by Meathead Goldwyn from amazing ribs.
Making delicious meats in your grill or smoker has never been easier with these best heat-resistant BBQ gloves!
It has a five-finger design, so fingers can stay comfortable and it's made to keep up with high temperatures.
Soft cotton liners are not only supple and padded, but they also fit incredibly to keep your hands comfortable and insulated from heat.
This multi-purpose BBQ glove is fully coated with flexible, waterproof, and chemical-repellant neoprene. It also resists extreme heat, grease, oil, and water to prevent food flavors from being impacted by these.
Make sure to wash your gloves every time they become dirty with soap and hang them to dry. You can use them to pick up hot coals and arrange them on your grill.
They haven't even made me feel the heat yet! I wholeheartedly recommend this product.
Comsmart BBQ Gloves
6. Grilling Tools (Spatula, Tongs, Grill brush)
The best accessory for a barbecue is a good pair of tongs.
Tongs are an iconic accessory for anything grilling. They are great for flipping pieces of meat fish, or vegetables without burning your fingers. You can pick up hot items with ease as well. Tongs are also a great way to keep your hands away from the heat and grease on the grill.
You might also consider investing in a full set of barbecue tools set. These include tongs and spatulas, which come in handy for things like turning food!
If you like to cook low and slow, you'll want to invest in a good pair of tongs that can grip onto the meat and hold it steady.
Our Top Picks
Outset Locking, Tongs Extra Long 22″
Cuisinart Grill Set, 20-Piece
Alpha Grillers Grill Set Heavy Duty BBQ Accessories 
7. Pellet Smoker Pipe/ Pellet Smoker Tube
Pellet smoker tubes are another important accessory for smokers that are not only used in pellet smokers but can be used with any other type of smoker.
Here is a complete guide on How To Use Smoker Box On Gas Grill- (5 Steps Complete Guide)
So, if you've already purchased a grill and you're interested in smoking your food, pellet tube smokers are the way to go.
They're easy to install and they can also save you a lot of money. They're an easy and better alternative to wood chips when smoking on charcoal smokers.
8 Best Wood Chips for Electric Smoker (Ultimate Guide)
These smokers are usually made of thin metal tubes that are filled with wood pellets and heated over a fire.
Simply light the grill, place the smoker in the coals and you'll be smoking within minutes!
Do You Soak Wood Chips For An Electric Smoker?
Our Favorite Pellet Tube Smokers
Smoke Tube – 12" Smoke Tube for Pellet Grill 5 Hours of Billowing Smoke
LIZZQ Premium Pellet Smoker Tube 
8: Marinade Injector For Smoking
An injector for the marinade is a smoker grill tool that can produce a stream of liquid marinade injected into the meat.
The main purpose of this device is to make sure that the meat gets properly cooked and seasoned. It can also be used to inject other types of liquids into food items.
The device is made up of two parts – a reservoir and an injection nozzle. The reservoir holds the liquids, while the injection nozzle produces a stream of liquid that flows through the reservoir and into the meat.
Marinade injectors are easy to use and are perfect for those who want to make quick meals without having to spend too much time in the kitchen.
Our Favorite Marinade Injector for smoking
Grill Beast – Meat Injector Kit
Rösle Rosle Stainless Steel Barbeque Marinade Injector
PIT BOSS Stainless Steel Marinade Injector
9. Smoker Marinades And Rubs
Marinades and rubs are a key component of cooking with barbeque. Marinades add flavor while rubs make food taste smoky and delicious.
Marinating meat can help make it more tender and reduce the need to cook it longer on the grill. There are many different types of marinade and rub for BBQs. A marinade is a liquid sauce of mixed herbs and spices that are used in grilling or barbecuing.
A rub is a dry mixture of spices and seasonings applied to meat, fish, or poultry before cooking to enhance the flavor.
Our Favorite Smoker Marinades And Rubs
Smokehouse by Thoughtfully Ultimate Grilling Spice Set
McCormick Grill Mates Barbecue Seasoning
10. The Best Cleaner For BBQ Smoker
One of the most important things you need to do when smoking meat is to clean your smoker. This includes collecting all your ash, removing any leftover food particles, and cleaning your smoker.
As an avid lover of smoked meats, I learned to clean my smoker properly so that it would always work well.
The best cleaner for meat smokers is one that is all-natural and should not contain any harsh chemicals.
There are many different types of cleaners on the market, but most contain harsh chemicals that can harm your health while cooking your food.
Related Articles:
How To Clean Creosote From Smoker/Pellet Grill-4 Best Ways
How To Clean Mold Off My Grill – Best Way
How to Clean Grill After Using Fire Extinguisher? A Step-by-Step Guide
Our Favorite Smoker and Grill Cleaner
Traeger Grills All Natural Grill/Smoker Cleaner
11. Non-Stick Smoker Mats
A non-stick copper mat is another perfect and must-have smoker/grill accessory. You can grill without grease and prevent foods from falling through the grates. These grill mats Keep your grill looking brand-new and reduce your clean-up time. These mats can be reused over and over again.
What Are Grill Mats? Why You Should Be Using
Are Copper Grill Mats Safe To Use? Truth Revealed
Our Top Picks For Non-Stick Smoker Mats
Frogmats Non Stick Grill Mat
COOKINA Web BB BBQ Reusable Mat 
12. Grill Cleaning Brush
There are many different smoker tools that can be used when smoking, but one of the most important is a grill cleaning brush. If you want to keep your grill in good shape, it is essential that you clean it after every use.
When you cook food on your smoker, it deposits grease and other residues onto the grates. Without cleaning them, the grease will build-up, and the food will stick to the grates. This makes it difficult to cook or grill anything on top of those greasy, sticky grates.
In this case, a grill cleaning brush is an important smoker tool that comes in handy.
If you're shopping for a tool to clean your grill, stay away from models with wire bristles. These types of bristles can easily damage the grates. Wood scrapers are the best for cleaning grill grates without damage.
CAN I CLEAN GRILL GRATES IN A SELF-CLEANING OVEN?
Our Favorite Grill Cleaning Tools
Char-Broil Wood Clean Combo Grill Brush
Full Circle Cast Iron Brush and Scraper
13. Electric Charcoal Starter
If you have a smoker or grill that doesn't use charcoal, skip this smoker grill accessory.
The Electro-Torch fire starter helps you easily light any type of outdoor fire without using matches or starter fluids. It's the perfect accessory for your barbecue, fireplace, or campsite!
This ignites your charcoal grill or wood fire pit in less than a minute.
Our Favorite Electric Charcoal Starter
HomeRight Electro-Torch Fire Starter
Char-Broil Electric Charcoal Starter
14. Smoker/BBQ Temperature Controller
A smoker temperature controller is one of the top smoker accessories you want to get if your grill or smoker doesn't come with one by default. It helps to monitor what's happening inside and you can also set a temperature curve in order to not worry about it while still cooking a meal!
A BBQ temperature controller is a device that can control the temperature of your smoker or grill. It does this by regulating the air intake and making it easier to maintain a consistent temperature. It also allows you to set different preset temperatures for different types of meat and other foods you might want to cook.
Using this smoker tool You can check the charts for everything from the meat's temperature to its pit temperature. You can also set these settings remotely, either from your phone, tablet, or computer.
Set the meat alarm to automatically turn down the pit temperature when you select your desired meat temp. You can also have it send you a text message when your food reaches that temp.
Our Favorite Picks For Smoker/BBQ Temperature Controller
Flame Boss WiFi Smoker Controller (Ceramic/Kamado)
TempMaster Bluetooth Automatic BBQ Smoker Temperature Controller
15. Aluminum Foil – A Must-Have Smoker Grill Accessory
Aluminum foil is a must-have for any barbecue enthusiast's home. It can be used to cover the meat while it cooks, keeps it warm while resting, or line a drip pan to make cleaning up easier. If you're like most Americans and grill at least once a week, you should have an ample supply in your pantry.
You'll want to use thick and heavy-duty foil when shielding your smoker's drip tray. This will protect the drip tray from grease and drip from meat.
Can You Put Aluminum Foil On An Electric Grill?
Our Top Picks
Reynolds Wrap Pitmaster's Choice Aluminum Foil
Reynolds Kitchens Butcher Paper for Smoking Meat
Wrap Up: Best Smoker Accessories
I've analyzed all of these grill smoker accessories and I think they can all be considered the best in their respective categories.
You won't need all of these best smoker accessories at the same time but they can come in handy. If you're an avid griller, you know that the grill is a huge investment.
You can pick up some of these pieces over the lifetime of your grill, for convenience and which will help your grill last for years and enable you to cook all sorts of amazing recipes.
There are hundreds of best bbq smoker accessories available, including grill lights, grate lifter, meat shredding claws, and BBQ rib racks.
Rather than storing some smoker tools and never using them, try to choose the ones that you need and find a good place for them so they're easy to access right when you need them.
If you're looking for an organization system to keep your bbq smoker accessories neat and tidy then you need to know how to organize these tools.
Top 5 Tips To Store Grill Outside