If you have a healthy lifestyle, you can find some healthy Traeger recipes to pair with your pellet grill.
Pellet grills are one of the most popular and healthy options for cooking outdoors. You can make a variety of healthy pellet grill recipes. They are easy to use and don't require any charcoal, gas, or propane. Traeger Pellet grill can be used for a wide range of dishes such as chicken, ribs, and even vegetables.
If you're looking for some easy and healthy Traeger meals, this article features five of the most common and favorite recipes that you can enjoy today!
25 Healthy Traeger Recipes
1. Traeger Smoked Buffalo Shrimp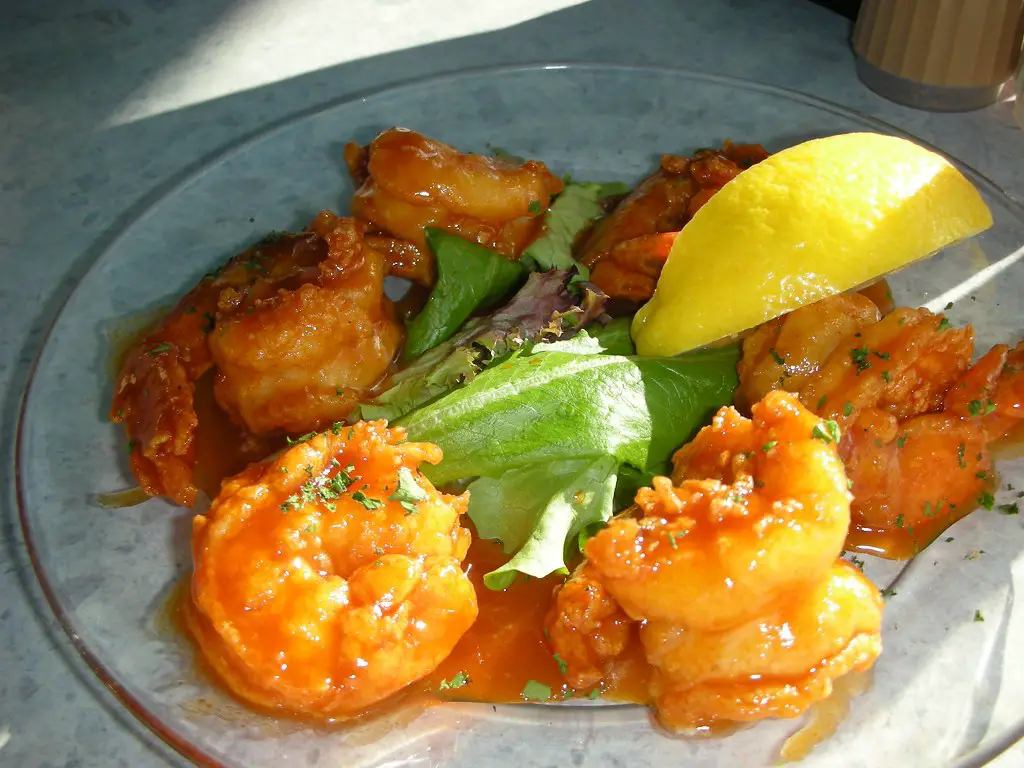 Traeger Smoked Buffalo Shrimp is a dish that can be served as an appetizer or as a main course. The shrimp are smoked and then tossed in a buffalo sauce that is made from butter, garlic, and hot sauce.
This is one of the most popular and healthy pellet smoker recipes on Traeger's website. It is a dish that will surely impress any guest at your next party.
How To Smoke Shrimp on Traeger grill
Smoking shrimp is really quick and easy. These shrimp only take about 5 minutes to cook completely and have a touch of smoke on them.
If you don't already have a Traeger, you could make this with a gas grill. You can also try adding some wood chips for some authentic smoky flavor.
To avoid a burnt and tough dinner, preheat your grill before adding shrimp. You want a quick and even cooking time to keep the shrimp from being too dry.
Skewering the shrimp makes them much easier to add to the grill, remove from the grill, and flip. Not only is this helpful when cooking with many shrimp but it also speeds up the cooking process.
Use a light hand when seasoning the shrimp. You want it to be noticeable, but not so much that the shrimp taste is negatively impacted. As you'll see, freshness and clean flavors will still be present even after the buffalo sauce is on.
If you're looking for a quick way to cook shrimp, this recipe is perfect. And your friends are going to rave about it!
Ingredients:
1 pound large shrimp, peeled
1/2 cup Traeger Buffalo Sauce
1/4 teaspoon salt
1/4 teaspoon pepper
1/4 teaspoon garlic powder
Instructions:
1) Preheat your Traeger grill to 225 degrees Fahrenheit.
2) In a bowl, mix together the shrimp, salt, pepper, and garlic powder.
3) Place the shrimp on the grill and cook for 2-3 minutes on each side or until they are cooked through.
4) Remove from grill and add buffalo sauce.
4) Serve with rice or noodles, blue cheese, celery
Nutrition Information:
YIELD: 6
SERVING SIZE:
1 Amount Per Serving: CALORIES: 57
2. Traeger Smoked BBQ Chicken Meatballs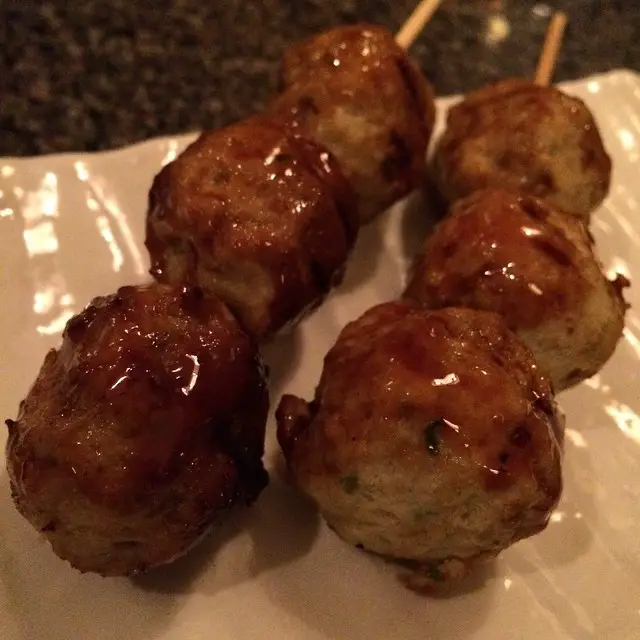 Traeger Smoked Chicken Meatballs are a delicious and easy-to-make dish for any occasion. They are perfect for summer parties, tailgating, or even just a weeknight dinner.
It's also gluten-free, dairy-free, and paleo-friendly which makes it one of the top healthy pellet smoker recipes.
Every meatball has 10 grams of protein but only 4 grams of carbs and 75 calories. It's also great that you can have them cooked up and on the grill in about 30 minutes!
Ingredients:
2 lbs Ground Chicken
4 ounces onion, finely chopped
1/2 Cup Breadcrumbs (I used gluten-free)
2 tsp minced Garlic
2 tsp Smoked Paprika
1 tsp Cumin
2 handfuls of Fresh Parsley, minced
2 tablespoons olive oil
2 Eggs¾ cup BBQ Sauce
½ teaspoon salt, plus more to taste
2 tsp teaspoon black pepper, plus more to taste
Instructions:
1) Preheat the Trager pellet grill to 350 degrees F (175 degrees C) with the lid closed.
2) In a large bowl combine ground chicken with eggs. Add bread crumbs plus garlic, onion, oil salt, and pepper to taste. Also, add 1/4 C of the BBQ sauce to the mixture. Mix well with hands until combined. Form into meatballs about the size of golf balls (about 3″ in diameter).
3) Place it on top of a wire rack or a mesh smoking mat.
4) Grill meatballs for about 20 minutes and brush them in the remaining 1/2 C of BBQ sauce and smokin' for another 15 minutes or until they reach an internal temperature of 165ºF. The BBQ sauce forms a glaze outside of the meatballs in this recipe that keeps the meatballs moist and flavorful!
5) Serve grilled meatballs with rice and enjoy!
YIELD: 24
SERVING SIZE:
1 Meatball Amount Per Serving: CALORIES: 75
3. Traeger Pellet Grill Tahini Chicken Recipe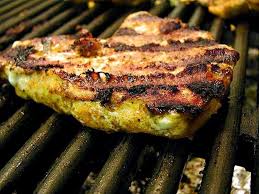 This recipe of pellet grill Tahini Chicken is perfect to make on a Traeger pellet grill. It's easy to make, with ingredients that are easily accessible, and it's sure to please the whole family.
There's a unique blend of flavors going on in this dish: Tahini, sesame oil, soy sauce, ginger, orange zest, and garlic all work together to create a marinade that will be sure to become one of your favorites. Incorporating orange zest is also a great way to add extra flavor without preservatives or artificial ingredients
Ingredients:
⅓ cup tahini (sesame paste)
3 tablespoons soy sauce
2 tablespoons sesame oil
1 tablespoon honey
2 teaspoons minced garlic
2 teaspoons minced fresh ginger
1 teaspoon orange zest
1/3 cup fresh orange juice
2 teaspoons salt
4 chicken breasts
Directions:
1) In a small bowl, stir together tahini, soy sauce, sesame oil, honey, garlic, and ginger. Add the orange zest and juice to the mixture along with 1 teaspoon of salt until you get it to the right consistency. Reserve 1/3 cup of the marinade for basting.
2) Put the chicken in a large freezer bag with the rest of the marinade.
3) Seal the bag and shake it all over to coat the chicken. Place the chicken in a sealed bag and let it chill for at least 1 hour or up to 12 hours.
4) Preheat a Traeger pellet grill to 450°F with a closed lid for 10 to 15 minutes.
5) Remove chicken from marinade. Discard the leftover marinade in the bag. Sprinkle the remaining 1 teaspoon of salt over the chicken.
6) Rub chicken with the remaining marinade. Grill, flipping, and basting every 5 minutes, until a thermometer inserted in the thickest part of the meat reads 155°F. The grilling should take about 20-30 minutes.
7) Take the chicken off of the grill and cover it loosely with aluminum foil for 10 minutes.
8) Serve with veggies or fresh salad and Enjoy!
YIELD: 4
SERVING SIZE:
1 Chicken breast Amount Per Serving: CALORIES: 284
4. Traeger Grill Chicken Breast with Lemon with Herbs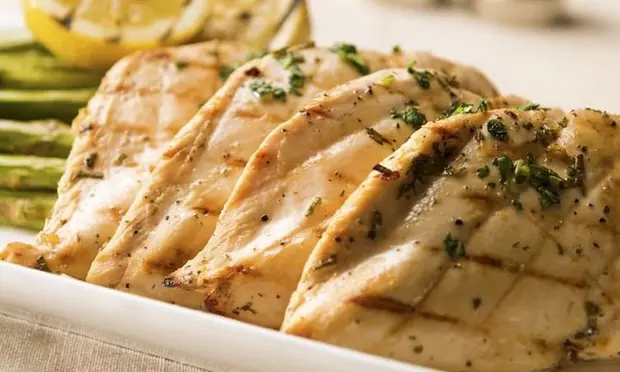 The grilled chicken breast recipe with lemon is one of the easiest healthy pellet grill recipes for dinner or lunch.
This low calorie smoker recipe includes simple and healthy ingredients such as chicken breasts, lemon, garlic, olive oil, salt, and pepper.
This dish is versatile as it can be served as a main course or as an appetizer.
This Traeger healthy recipe is perfect for summer when you want to grill outside.
Ingredients:
2 skinless, boneless, grilled chicken breasts
1 Clove garlic, coarsely chopped
2 Teaspoon honey
2 Teaspoon salt
1 Teaspoon freshly ground black pepper
1 teaspoon of dried thyme leaves, crushed
1 lemon, zest, and juice
salt and pepper to taste.
1/2 Cup high-quality olive oil or vegetable oil
Direction:
To make the marinade: In a small bowl, mix together the garlic, honey, salt, pepper, thyme, lemon zest, and lemon juice. while whisking, slowly add the olive oil. Otherwise, it might clump.. Mix until emulsified.
Put the chicken breasts in a resealable plastic bag and pour the marinade over it. Massage the marinade into chicken breasts until they are evenly coated. Place in refrigerator for 4 hours.
Set your Traeger to 400° F and let it preheat with the lid closed for 15 minutes.
Once the chicken breasts have been marinated, take them out of the bag and discard the marinade.
Stick the probe into the center of the chicken breast. Place chicken on grill grates; close lid and cook until internal temp reaches 165°F. Grill the lemon wedges until you achieve some visible grill marks. Briefly grill for 20 minutes on both sides and then sear it for an additional 10 minutes.
The lemon wedges will go nicely with your chicken dish. Try them and see what you think!
YIELD: 2
SERVING SIZE:
1 Chicken breast Amount Per Serving: CALORIES: 250
5. Traeger Smoked Cauliflower recipe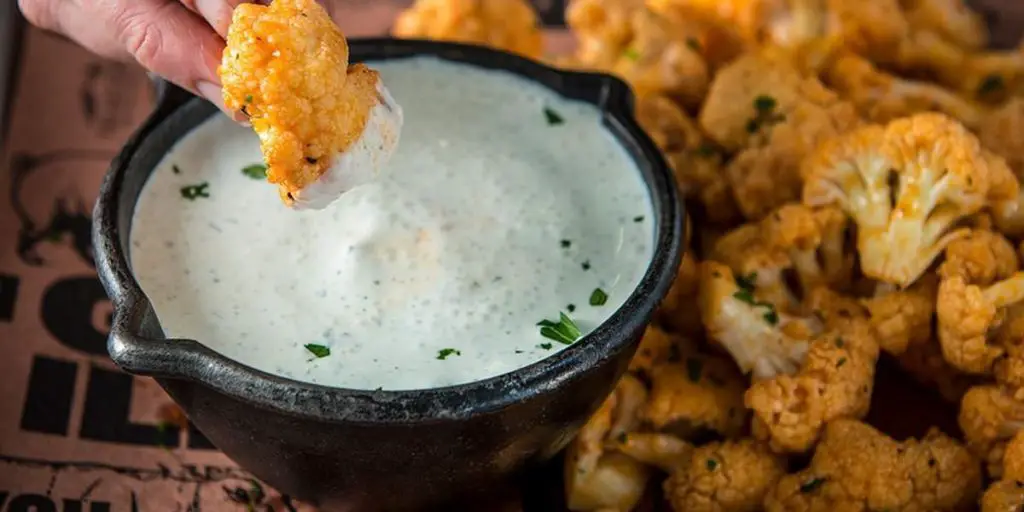 After some experimentation, I found that seasoning and smoking cauliflower florets produced a better-smoked cauliflower than just seasoning and smoking an entire head.
This is one of the healthy Traeger recipes and delicious ways to prepare cauliflower. It's a great side dish for dinner, or you can use it as a topping for salads or sandwiches.
Ingredients:
1 head of cauliflower, cut into florets
2 tablespoons olive oil
1/4 teaspoon salt
1/4 teaspoon black pepper
2 teaspoons smoked paprika (or to taste)
1/8 teaspoon cayenne pepper (optional)
OR Instead of paprika and cayenne pepper, use BBQ rub.
I have used both hickory and the Traeger Signature pellets to smoke cauliflower, but I feel the Signature is my preferred choice after the experience. Hickory cooks quickly and renders out some smoke. So it's important that you pick the right seasonings to go with what you're making.
BBQ seasoning goes really well with hickory and the buffalo ranch might be overpowered by the smoky flavor.
8 Best Wood Chips for Electric Smoker (Ultimate Guide)
Directions:
Preheat your smoker to 300ºF for 15 minutes with the lid closed.
Now prep the cauliflower. Toss the cauliflower florets in olive oil and now add BBQ seasoning.
Transfer cauliflower to a wire rack or mesh grill mat.
Smoke the cauliflower for 50-60 minutes. The cauliflower should be tender and crisp, browning around the edges.
Remove from grill and serve with a side of dip to enjoy as a main dish or as a side.
YIELD: 4 
SERVING SIZE: 1 serving
Amount Per Serving: CALORIES: 105
If you are looking for a gluten-free, nutritious, and Traeger healthy meal, then look no further than this option. This recipe has a grain power with the richness of creamy avocado and crispy lettuce.
You can amp up the texture and taste of this recipe by adding slices of smoked chicken breast over it.
I can bet that this low-calorie recipe will be your new favorite. 
Calories: 410
Protein: 20g
Carbs: 42g
Fat: 7g
Recipe: Smoked Chicken with Avocado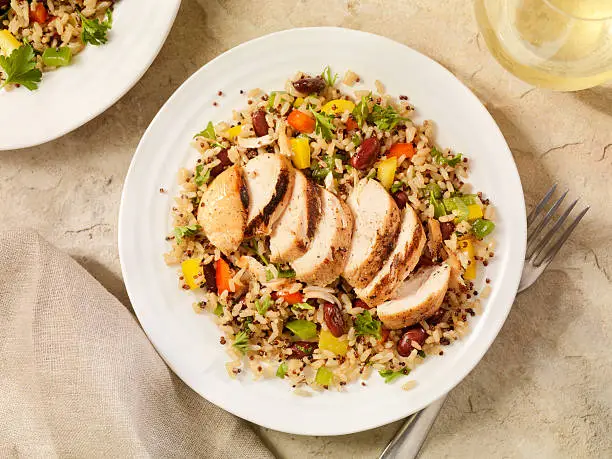 This is a healthy and refreshing option for a summertime meal. Smoked salmon with mango salsa will give you the vibes of a fancy dinner. But it's one of the easiest recipes to whip at your place on a Traeger grill. 
You need to get started by making salmon. You can spread your favorite rub all over it. Then give it a smoky touch by grilling it on a pellet grill.
Meanwhile, you can prepare mango salsa. The combination of smoky salmon and sweet mango salsa can savor your taste buds amazingly. 
Calories: 286
Protein: 34g
Carbs: 15.3g
Fat: 10.9g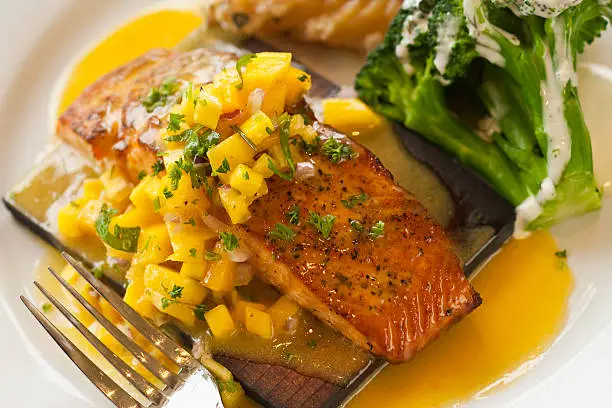 Fresh and healthy ingredients are the only things that can make you and this recipe shine. This low calorie Traeger recipe is inspired by shrimp scampi.
The smoked shrimp will take you off to dream of the beach in no time. On top of that, the combination of roasted garlic and cilantro butter gives this dish oodles of flavor.
If you are keeping your calorie count, then this healthy pellet grill recipe is made for you. 
Calories: 193
Protein: 23.6g
Carbs: 5.2g
Fat: 9.4g
It will be hard for you to find something to beat this smoked beet salad. This salad is a great summer dish that you can make on the grill.
It's a simple salad in which smoked beets are tossed with mustard vinaigrette and peppery arugula. To make this more bright and flavorful, you can top it with almond and creamy goat cheese. 
Calories: 296
Protein: 12g
Carbs: 37g
Fat: 13g
Grilled Swordfish with corn salsa is another great recipe for using your pellet grill to cook fish. Swordfish is one of the easiest fishes to cook. It's firm and easy to grill.
2 Ways to Cook Steak On Pellet Grill
The salsa adds zestiness to an otherwise bland fish, while the corn adds crunchiness and sweetness. The resulting dish will be all juicy, fragrant, and satisfying. 
Calories: 563
Protein: 31g
Carbs: 27g
Fat: 38.7g
This is one the easiest healthy pellet grill recipes that is simple to make, and the taste tops the charts. You can eat it straight off the bone or you can serve it in tacos, burritos, nachos, and much more. 
Chile Verde is one of the traditional stews that is cooked in a spicy green sauce.
This green sauce is made from green chilies and tomatillos. Just prepare the sauce and immerse the meat in it.
Let it cook on the pellet grill and viola! Your healthy smoked recipe will be in front of you in no time! 
Calories: 410
Protein: 54g
Carbs: 0.02g
Fat: 20g
This super flavorful smoked grill chicken is a healthy pellet grill recipe. If you are looking for a low-carb dinner option, then this will be the best bet for you. 
Smoked chipotle lime grilled chicken will make your taste buds sing!
With its spicy chipotle kick,  fresh lime, and smoky flavor, this grilled chicken is sure to impress everyone who tries it.
Calories: 410
Protein: 54g
Carbs: 0.02g
Fat: 20g
Smoked white fish steaks are another easy-to-make recipe that will leave you feeling satisfied! It's packed with flavor thanks to pesto sauce, which makes it a healthy option for anyone.
This delicious recipe can be prepared by grilling fish steaks over your pellet grill. Meanwhile, you can prepare the Orange pesto sauce and top your smoky steaks with that.
You can especially try this recipe when you're having your diet-conscious friends over! 
Calories: 1302
Protein: 43g
Carbs: 4g
Fat: 143g
Mackerel is one of the freshest and most healthy fish. If you want to enjoy this delish fish this season, then this option is for you. Everyone loves this smoked mackerel with lime mojo and is perfect for any occasion.
The mackerel can be easy to smoke and is perfect for any meal. You can give these mackerel fillets a new touch with the acidity of lime and orange.
Calories: 504
Protein: 17.1g
Carbs: 7.6g
Fat: 44.7g
Are you tired of seeing a boring bowl of cereal in every morning breakfast? If yes, then it's time to change it. Smoked salmon toast is a much healthier option than cream cheese and bagel. 
This toast has the goodness of salmon and whole-grain wheat in it. On top of that, it will give you a hearty and satisfying flavor when topped with cream cheese and herbs.
There is no cooking involved except for toasting bread and can be prepared within 20 minutes. So try out this delicious smoked salmon toast recipe to brighten up your next morning. 
How to Cold Smoke Salmon in an Electric Smoker
Is Smoked Salmon Cooked Or Raw (The Truth Unveiled)
Calories: 396
Protein: 15g
Carbs: 39g
Fat:17g
Broccoli is well known for its refreshing taste and health benefits. That's why we have come up with this smoked broccoli recipe for you. It is perfect for summer grilling.
Toss the broccoli florets in fresh lemon juice and herbs and grill them for a few minutes.
Then add some Parmesan cheese to jazz up the overall look and taste of this recipe. 
Calories: 84
Protein: 4g
Carbs: 6g
Fat: 2g
This easy-to-make smoked beef tenderloin recipe is a crowd favorite! You can enjoy this delicacy at weekend dinners or special occasions. It is easy to cook and one can have numerous options to prepare it. 
Tenderloin is a fine lean cut of meat. You need to rub it with your favorite seasonings and then it is ready to go off the grill.
Smoking it on low flames gives it an exquisite taste. This healthy Traeger recipe has loads of ease within it. 
Calories: 189
Protein: 23.9g
Carbs: 1.6g
Fat: 9.6g
Many people think that the flank is the hardest cut of meat.
But do you know that you can make it tender and flavorful with your grilling techniques? This meat cut has loads of proteins in it and it tastes heavenly.
You can marinate it overnight and then smoke it as per instructions. Once it's cooked properly you can have it with your favorite side.
How Long Can Flank Steak Last At Room Temperature?
So skip the steakhouse and make this healthy smoked recipe at your place. 
Calories: 609
Protein: 51g
Carbs: 13g
Fat: 39g
You can never go wrong with meat on the stick. If you are following a diet and want something quick and balanced to eat, then this recipe is highly recommended.
Smoked chicken satay is one of the traditional Indonesian cuisines. 
This version includes flavorful marinated chicken skewed on wooden skewers. You can serve this hot and tender meat with smokey peanut sauce. You can also add veggies to customize it in the way you love! 
Calories: 459
Protein: 34g
Carbs: 25g
Fat: 26g
Finding healthy meals isn't that difficult. You just need to make a few alterations to make your normal foods enjoyable.
Everyone loves burgers, but we all know that it's not a healthy option. 
Well, not to fret! You can enjoy these smoked turkey burgers. Turkey meat is more nutritious than beef and it will be your best partner if you are following a keto diet.
Smoking gives turkey patties a deep flavor and keeps them moist. They are mouth-watering and you should try this low-calorie smoker recipe. 
Blackstone Turkey Smash Burgers Recipe
Calories: 259
Protein: 54g
Carbs: 1g
Fat: 4g
Sometimes we just want something light and tasty to satisfy our cravings. If you are looking for a munchy recipe then Beef Birria tacos are the right choice for you. 
Birria is a traditional stew or consomme that is braised for hours. 
This consomme is the highlight of Mexican dishes and is an incredible mix of seasonings, tomatoes, herbs, and spices. You can prepare it and can enjoy this smoker's recipe anytime.
Calories: 459
Protein: 54g
Carbs: 11g
Fat: 27g
We all have an infatuation for meatballs and we try to look for ways to make them more appealing. But did you know that smoked BBQ meatballs are one of the best ways to have them? 
Smoked BBQ meatballs are so scrumptious and an easy meal option.
Just take out some ground beef and bacon, throw up your favorite seasonings, and add loads of gooey cheese to make them more appetizing. Glaze them with tangy sauce and your perfectly smoked BBQ meatballs will be with you. 
Calories: 391
Protein: 25g
Carbs: 11g
Fat: 27g
What seems more fascinating than a vegan burger made on a pellet grill? This big-on-flavor, gluten-free, and BBQ-infused burger will be your next favorite.
This burger is easy to make and I can bet that all the ingredients will already be on your shelf.
So take out the black beans and make your proteinaceous burger for today's lunch. 
Calories: 289
Protein: 12.4g
Carbs: 45.6g
Fat: 2g
What comes to your mind after seeing the word Fajita? I only think about a sizzling cast iron skillet filled with flavorful chicken and sauteed vegetables. Well, you can try this drool-worthy recipe at home and can beat Tex-Mex with your mastery. 
You just need to marinate your chicken and then char it over your pellet grill. In the meantime, saute onions and bell peppers until they become perfectly caramelized. 
Calories: 490
Protein: 39g
Carbs: 18g
Fat: 29g
You're probably used to seeing corned beef on the dinner table after a big St Patrick's Day party, but did you know that it can also be made at home?
This recipe for smoked corned beef is easy to make and only requires the slow heat of your smoker to cook properly.
This will be a classic staple of the barbeque. It will surely help you get your hands on some of the most delicious smoked corned beef you'll find anywhere.
Calories: 289
Protein: 12.4g
Carbs: 45.6g
Fat: 2g
FINAL WORDS:
Smoking food is a great way to add flavor and texture to your meals without adding unnecessary fat or calories.
We have tried our best to bring a collection of healthy Traeger recipes for you. We hope that this article has helped you to make a meal plan for your upcoming week. 
RELATED POSTS: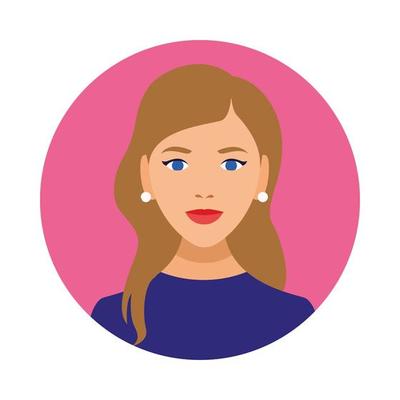 I am a writer, editor, and publisher of Grillcuisines.com – an online blog dedicated to sharing grilling tips, accessories, and recipes to encourage more people to get outside and grill.
I'm off to find out the different types of grill foods, their seasons, and how to conduct outdoor cooking properly. I'll also show you some of my grill-worthy cooking tools & accessories!