If you have a healthy lifestyle, you can find some healthy Traeger recipes to pair with your pellet grill.
Pellet grills are one of the most popular and healthy options for cooking outdoors. You can make a variety of healthy pellet grill recipes. They are easy to use and don't require any charcoal, gas, or propane. Traeger Pellet grill can be used for a wide range of dishes such as chicken, ribs, and even vegetables.
If you're looking for some easy and healthy Traeger meals, this article features five of the most common and favorite recipes that you can enjoy today!
5 Healthy Traeger Recipes
1. Traeger Smoked Buffalo Shrimp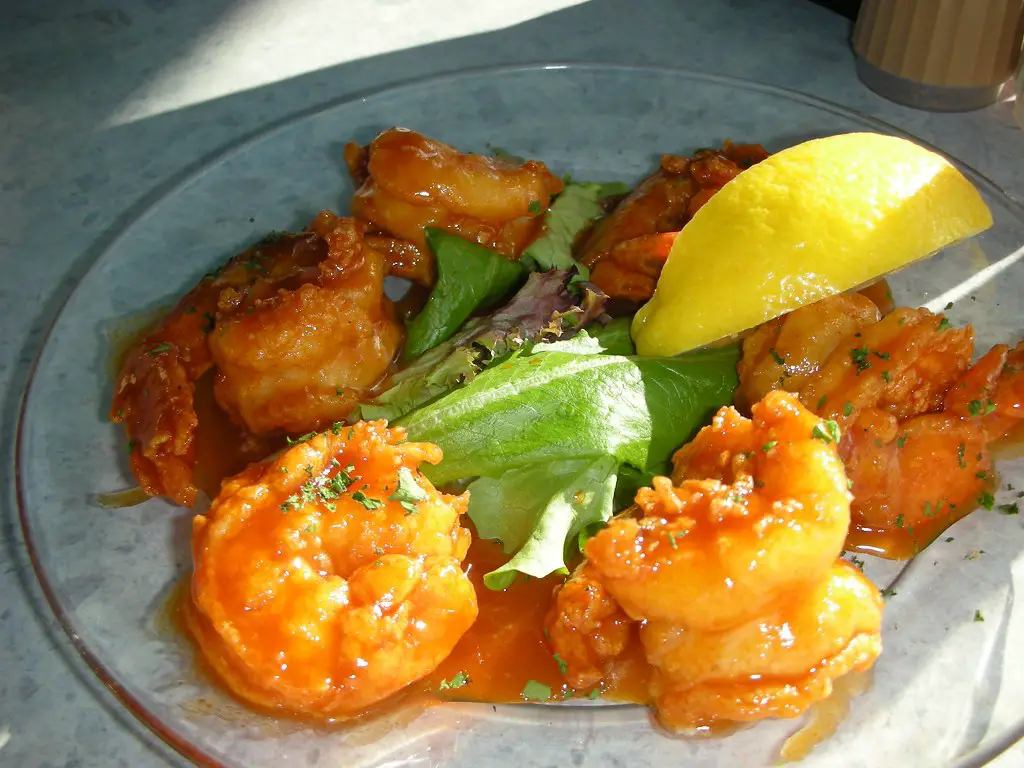 Traeger Smoked Buffalo Shrimp is a dish that can be served as an appetizer or as a main course. The shrimp are smoked and then tossed in a buffalo sauce that is made from butter, garlic, and hot sauce.
This is one of the most popular and healthy pellet smoker recipes on Traeger's website. It is a dish that will surely impress any guest at your next party.
How To Smoke Shrimp on Traeger grill
Smoking shrimp is really quick and easy. These shrimp only take about 5 minutes to cook completely and have a touch of smoke on them.
If you don't already have a Traeger, you could make this with a gas grill. You can also try adding some wood chips for some authentic smoky flavor.
To avoid a burnt and tough dinner, preheat your grill before adding shrimp. You want a quick and even cooking time to keep the shrimp from being too dry.
Skewering the shrimp makes them much easier to add to the grill, remove from the grill, and flip. Not only is this helpful when cooking with many shrimp but it also speeds up the cooking process.
Use a light hand when seasoning the shrimp. You want it to be noticeable, but not so much that the shrimp taste is negatively impacted. As you'll see, freshness and clean flavors will still be present even after the buffalo sauce is on.
If you're looking for a quick way to cook shrimp, this recipe is perfect. And your friends are going to rave about it!
Ingredients:
1 pound large shrimp, peeled
1/2 cup Traeger Buffalo Sauce
1/4 teaspoon salt
1/4 teaspoon pepper
1/4 teaspoon garlic powder
Instructions:
1) Preheat your Traeger grill to 225 degrees Fahrenheit.
2) In a bowl, mix together the shrimp, salt, pepper, and garlic powder.
3) Place the shrimp on the grill and cook for 2-3 minutes on each side or until they are cooked through.
4) Remove from grill and add buffalo sauce.
4) Serve with rice or noodles, blue cheese, celery
Nutrition Information:
YIELD: 6
SERVING SIZE:
1 Amount Per Serving: CALORIES: 57
2. Traeger Smoked BBQ Chicken Meatballs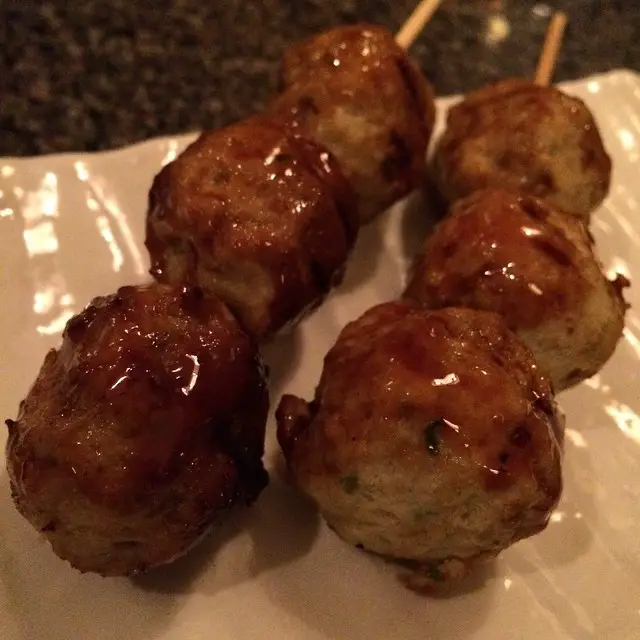 Traeger Smoked Chicken Meatballs are a delicious and easy-to-make dish for any occasion. They are perfect for summer parties, tailgating, or even just a weeknight dinner.
It's also gluten-free, dairy-free, and paleo-friendly which makes it one of the top healthy pellet smoker recipes.
Every meatball has 10 grams of protein but only 4 grams of carbs and 75 calories. It's also great that you can have them cooked up and on the grill in about 30 minutes!
Ingredients:
2 lbs Ground Chicken
4 ounces onion, finely chopped
1/2 Cup Breadcrumbs (I used gluten-free)
2 tsp minced Garlic
2 tsp Smoked Paprika
1 tsp Cumin
2 handfuls of Fresh Parsley, minced
2 tablespoons olive oil
2 Eggs¾ cup BBQ Sauce
½ teaspoon salt, plus more to taste
2 tsp teaspoon black pepper, plus more to taste
Instructions:
1) Preheat the Trager pellet grill to 350 degrees F (175 degrees C) with the lid closed.
2) In a large bowl combine ground chicken with eggs. Add bread crumbs plus garlic, onion, oil salt, and pepper to taste. Also, add 1/4 C of the BBQ sauce to the mixture. Mix well with hands until combined. Form into meatballs about the size of golf balls (about 3″ in diameter).
3) Place it on top of a wire rack or a mesh smoking mat.
4) Grill meatballs for about 20 minutes and brush them in the remaining 1/2 C of BBQ sauce and smokin' for another 15 minutes or until they reach an internal temperature of 165ºF. The BBQ sauce forms a glaze outside of the meatballs in this recipe that keeps the meatballs moist and flavorful!
5) Serve grilled meatballs with rice and enjoy!
YIELD: 24
SERVING SIZE:
1 Meatball Amount Per Serving: CALORIES: 75
3. Traeger Pellet Grill Tahini Chicken Recipe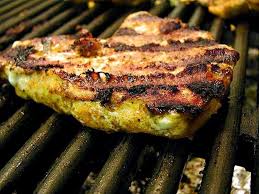 This recipe of pellet grill Tahini Chicken is perfect to make on a Traeger pellet grill. It's easy to make, with ingredients that are easily accessible, and it's sure to please the whole family.
There's a unique blend of flavors going on in this dish: Tahini, sesame oil, soy sauce, ginger, orange zest, and garlic all work together to create a marinade that will be sure to become one of your favorites. Incorporating orange zest is also a great way to add extra flavor without preservatives or artificial ingredients
Ingredients:
⅓ cup tahini (sesame paste)
3 tablespoons soy sauce
2 tablespoons sesame oil
1 tablespoon honey
2 teaspoons minced garlic
2 teaspoons minced fresh ginger
1 teaspoon orange zest
1/3 cup fresh orange juice
2 teaspoons salt
4 chicken breasts
Directions:
1) In a small bowl, stir together tahini, soy sauce, sesame oil, honey, garlic, and ginger. Add the orange zest and juice to the mixture along with 1 teaspoon of salt until you get it to the right consistency. Reserve 1/3 cup of the marinade for basting.
2) Put the chicken in a large freezer bag with the rest of the marinade.
3) Seal the bag and shake it all over to coat the chicken. Place the chicken in a sealed bag and let it chill for at least 1 hour or up to 12 hours.
4) Preheat a Traeger pellet grill to 450°F with a closed lid for 10 to 15 minutes.
5) Remove chicken from marinade. Discard the leftover marinade in the bag. Sprinkle the remaining 1 teaspoon of salt over the chicken.
6) Rub chicken with remaining marinade. Grill, flipping, and basting every 5 minutes, until a thermometer inserted in the thickest part of the meat reads 155°F. The grilling should take about 20-30 minutes.
7) Take the chicken off of the grill and cover it loosely with aluminum foil for 10 minutes.
8) Serve with veggies or fresh salad and Enjoy!
YIELD: 4
SERVING SIZE:
1 Chicken breast Amount Per Serving: CALORIES: 284
4. Traeger Grill Chicken Breast with Lemon with Herbs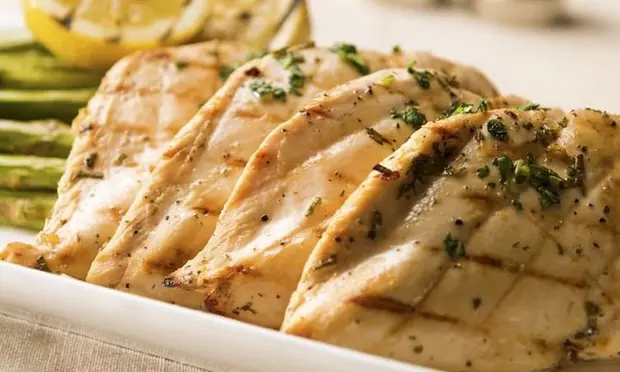 The grilled chicken breast recipe with lemon is one of the easiest healthy pellet grill recipes for dinner or lunch.
This low calorie smoker recipe includes simple and healthy ingredients such as chicken breasts, lemon, garlic, olive oil, salt, and pepper.
This dish is versatile as it can be served as a main course or as an appetizer.
This Traeger healthy recipe is perfect for summer when you want to grill outside.
Ingredients:
2 skinless, boneless, grilled chicken breasts
1 Clove garlic, coarsely chopped
2 Teaspoon honey
2 Teaspoon salt
1 Teaspoon freshly ground black pepper
1 teaspoon of dried thyme leaves, crushed
1 lemon, zest, and juice
salt and pepper to taste.
1/2 Cup high-quality olive oil or vegetable oil
Direction:
To make the marinade: In a small bowl, mix together the garlic, honey, salt, pepper, thyme, lemon zest, and lemon juice. while whisking, slowly add the olive oil. Otherwise, it might clump.. Mix until emulsified.
Put the chicken breasts in a resealable plastic bag and pour the marinade over it. Massage the marinade into chicken breasts until they are evenly coated. Place in refrigerator for 4 hours.
Set your Traeger to 400° F and let it preheat with the lid closed for 15 minutes.
Once the chicken breasts have been marinated, take them out of the bag and discard the marinade.
Stick the probe into the center of the chicken breast. Place chicken on grill grates; close lid and cook until internal temp reaches 165°F. Grill the lemon wedges until you achieve some visible grill marks. Briefly grill for 20 minutes on both sides and then sear it for an additional 10 minutes.
The lemon wedges will go nicely with your chicken dish. Try them and see what you think!
YIELD: 2
SERVING SIZE:
1 Chicken breast Amount Per Serving: CALORIES: 250
5. Traeger Smoked Cauliflower recipe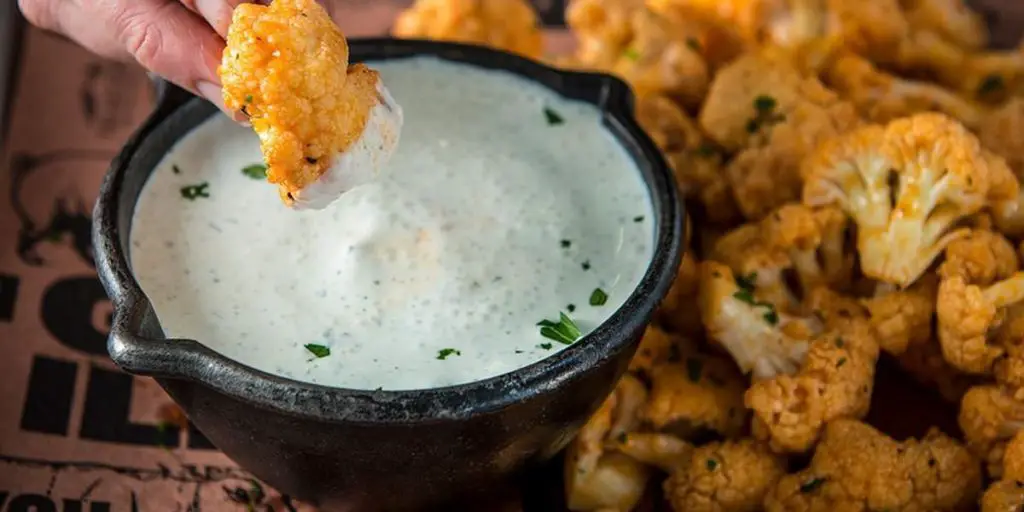 After some experimentation, I found that seasoning and smoking cauliflower florets produced a better-smoked cauliflower than just seasoning and smoking an entire head.
This is one of the healthy Traeger recipes and delicious ways to prepare cauliflower. It's a great side dish for dinner, or you can use it as a topping for salads or sandwiches.
Ingredients:
1 head of cauliflower, cut into florets
2 tablespoons olive oil
1/4 teaspoon salt
1/4 teaspoon black pepper
2 teaspoons smoked paprika (or to taste)
1/8 teaspoon cayenne pepper (optional)
OR Instead of paprika and cayenne pepper, use BBQ rub.
I have used both hickory and the Traeger Signature pellets to smoke cauliflower, but I feel the Signature is my preferred choice after the experience. Hickory cooks quickly and renders out some smoke. So it's important that you pick the right seasonings to go with what you're making.
BBQ seasoning goes really well with hickory and the buffalo ranch might be overpowered by the smoky flavor.
8 Best Wood Chips for Electric Smoker (Ultimate Guide)
Directions:
Preheat your smoker to 300ºF for 15 minutes with the lid closed.
Now prep the cauliflower. Toss the cauliflower florets in olive oil and now add BBQ seasoning.
Transfer cauliflower to a wire rack or mesh grill mat.
Smoke the cauliflower for 50-60 minutes. The cauliflower should be tender and crisp, browning around the edges.
Remove from grill and serve with a side of dip to enjoy as a main dish or as a side.
YIELD: 4 
SERVING SIZE: 1 serving
Amount Per Serving: CALORIES: 105
Other Healthy Traeger Recipes:
The Complete Guide to Cooking a Traeger Ribeye Steak